CopperSmith is Excellent
Based on 443 Reviews on YotPo
---
Robin S.
Verified Reviewer
05/18/2022
I LOVE my rangehood
I couldn't be happier with the decision and investment. It is the centerpiece of the kitchen and everyone compliments. It's beautiful. And the team was extremely nice and helpful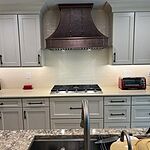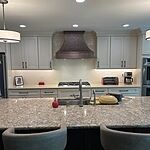 Kathy M.
Verified Reviewer
05/17/2022
Excellent Product
We have a large kitchen and bath showroom. Our Coppersmith hood is a crown jewel in our highest end kitchen display. We use this kitchen to cook and entertain as well and this hood never fails!
Clay R.
Verified Reviewer
05/12/2022
Vanessa was able to direct
Vanessa was able to direct me how to get my light bulbs changed out easily and which ones to replace the old bulbs with.
Lauren T.
Verified Reviewer
05/09/2022
Gorgeous Hood!
We recently updated our kitchen and ordered this 48" custom hood based on a photo I found on instagram and sent in. They made it exactly to my specifications and it looks beautiful in the kitchen. Customer service was always prompt when needed. Would definitely order from World CopperSmith again, highly recommend!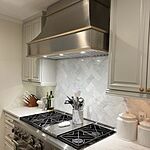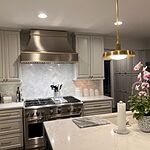 Lisa G.
Verified Reviewer
05/02/2022
1854 Farmhouse kitchen
I reached out to Coppersmith in 2021 to assist me with a kitchen update for a clients 1854 farmhouse. Each point of contact at Coppersmith, from sales to service, were extremely responsive and went out of their way to assist in finding the perfect solution for my client. I will not hesitate to work with your company on another kitchen design project in the future.
Baruch S.
Verified Reviewer
04/26/2022
The best service and production
The best service and production
Great products and service!
I was very happy with the custom sink they provided, as well as the shop drawing process and service.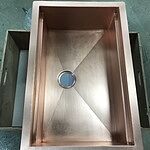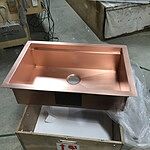 Rema H.
Verified Reviewer
04/19/2022
Seamless experience & beautiful custom hood
Seamless experience with this company. Stephen was an excellent initial point of contact for my custom range hood, and the design team was very fast at getting the proofs over for my review. The hood came out exactly as I wanted it to. Will work with them again!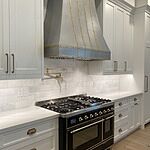 Katie B.
Verified Reviewer
04/18/2022
Designer DS3 Range Hood
Coppersmith was great to work with on the procurement of our hood for one of my remodels ~ my client is thrilled with the final look and the overall functionality of the internal blower ~ already have another hood on order with Coppersmith and will continue to partner with them on future projects!!
Shannon S.
Verified Reviewer
04/08/2022
48" Beauty
Ordering process was very easy. I received one on one attention until I got the exact diagram of the vent hood that I wanted. Had one delay in shipping but the company worked to get my vent hood in time for my new home.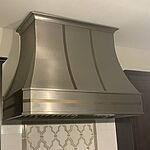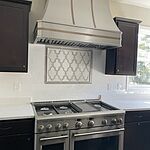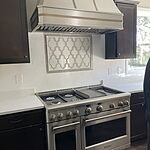 Diane G.
Verified Reviewer
04/07/2022
66 inch mega hood
We ordered a 66 inch hood for a kitchen remodel. My salesperson (Stephen) has been wonderful to work with. He checked in often. Item arrived so well packed and in perfect condition. There were even white gloves for handling the hood during install. (My only complaint was that the shipping company left the giant crate on the street and the contractor had to scramble to get someone to unload it.)
Kathleen S.
Verified Reviewer
04/03/2022
Excellent Problem Solving
We had a problem with the filters and surrounding pieces not fitting into the opening on our new Coppersmith hood. It was an odd problem and Denise was wonderful helping us through this. She connected us with Trade Wind since it was their parts that were in question. They were also great and offered to make a smaller replacement piece, which they did. It arrived quickly and the problem is now solved. We are grateful for the excellent customer service from both Denise at Coppersmith and Shannon at Trade Wind.
Yvonne P.
Verified Reviewer
04/02/2022
Copper Sink
We love our new copper sink! It fits perfectly, is well sealed, blends in well with our counter top, Thank you!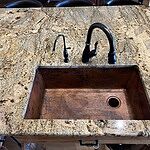 Karen F.
Verified Reviewer
04/02/2022
Copper table top
The copper table top turned out very nice! We really like it!
Sierra S.
Verified Reviewer
03/30/2022
Happy Clients
World Coppersmith is responsive and quick with communication and shop drawings. My clients are happy with the look and function of their hood!
Jeff L.
Verified Reviewer
03/22/2022
Custom hood
Love our custom vent hood. Makes our kitchen look great.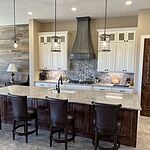 Jennifer W.
Verified Reviewer
03/16/2022
The Best!
We had the best experience start to finish with Coppersmith. Our hood is gorgeous, and when we had a question about cleaning it, we got a response in under 24 hours.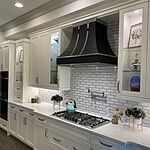 Liane D.
Verified Reviewer
03/15/2022
5-Star Form & Function
As the homeowner and designer of this kitchen project, I really wanted a standout piece. I chose a World Coppersmith hammered brass hood with stainless steel straps and rivets, and it is a showstopper. Not only is it beautiful, the powerful fan insert keeps the air clean throughout the kitchen. - Liane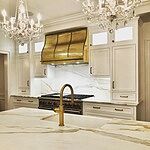 Nancy B.
Verified Reviewer
03/10/2022
Copper and brushed nickel hood
So very happy with the quality and beauty of my new hood!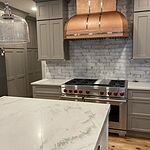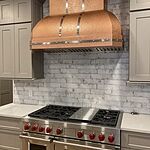 Melissa C.
Verified Reviewer
03/05/2022
Gorgeous!
We ordered a custom hood and sink for our kitchen remodel and love them both! Great quality workmanship.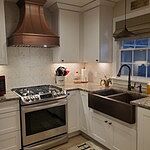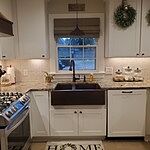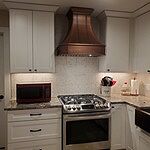 Free standing tub
We customized the size to make the tub taller. Beautiful tub and great service.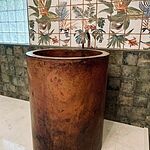 Christine H.
Verified Reviewer
02/25/2022
Hood vent
CopperSmith was always helpful and quick to respond anytime I had a question. Their finishing work is custom and well worth the money. I wouldn't hesitate using them again.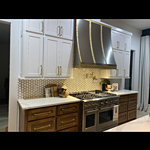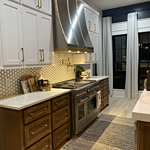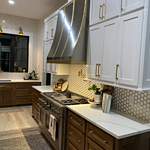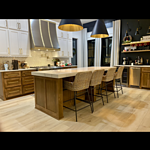 Nick D.
Verified Reviewer
02/25/2022
Beautiful craftsmanship
The copper range hood is the focal point of our kitchen project! It's absolutely beautiful!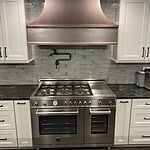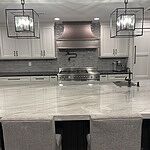 Cindy W.
Verified Reviewer
02/24/2022
Copper Hood Purchase
My overall experience with World Coppersmith was great from start to finish. We love our hood and get so many compliments and it is beautiful and works great!!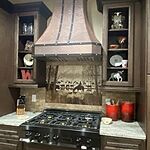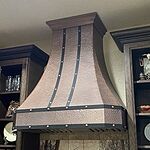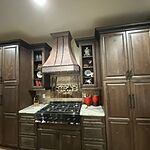 Brian H.
Verified Reviewer
02/24/2022
The Hood Made our Kitchen!
We were highly concerned with making such a significant purchase over the Internet, but with samples and the patient, communicative sales and technical teams, we felt good about our choice. Good turned to great when we opened the box and our contractor got to work mounting it and installing the hood and fan. We love our kitchen and now we just have to get used to answering the questions: (1) where did we get our hood; and (2) how is our fan so quiet. Awesomely happy in Texas!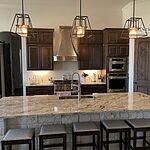 Elaine S.
Verified Reviewer
02/24/2022
Amazing from start to finish
The folks at Coppersmith worked very hard to make sure we had exactly what we wanted. They were very communicative, professional, and just plain nice. We have a beautiful copper table at a reasonable price. Our son's dog made superficial marks on the table the second day we had it. When I called in for assistance Coppersmith could not have been better! They were quick, supportive, and was able to give me a solution. I highly recommend them.
Andrea C.
Verified Reviewer
02/24/2022
A beautiful Range Hood that anchors our new Kitchen
When I let our kitchen designer know we wanted a timeless, sophisticated kitchen, she sent me to World Coppersmith for a range hood. The only difficult part of the process was picking the right hood from World Coppersmith's many options. I designed, purchased and communicated with WCS entirely on-line. WCS has an a responsive, attention-to-detail staff. After selecting the hood, metal, rivet and strap options, WCS provided me with a design rendition so I knew what it would look like. And each time I reached out to get specs on the blower, timing, etc., WCS responded right away. Really, the best customer experience I've ever had. When the range hood arrived, I was blown away by its beauty, boldness, heft and sophistication. World Coppersmith has the most beautiful products and worth the splurge. I went to other vendors but I didn't feel as confident as I did with WCS. Love our new kitchen and new, beautiful range hood!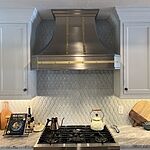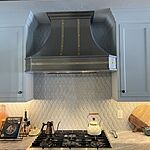 Kellyn S.
Verified Reviewer
02/22/2022
Great Experience!
This is a wonderful company that delivers exceptional customer service and a beautiful, well-made product. I can't wait to be able to use Copper Smith again for another project! We are very happy!!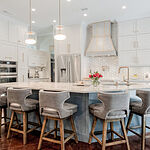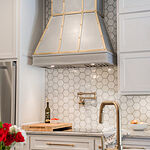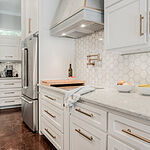 Danica S.
Verified Reviewer
02/18/2022
This is a beautiful product!!
This is a beautiful product!! As an interior designer, it was an absolute pleasure to work with this company. They are knowledgeable, thorough and deliver a top of the line product. I will use them again!
Alicia M.
Verified Reviewer
02/17/2022
Stainless and Copper Hood
The process was seamless form start to finish. I changed my mind about the design several times and received updated renderings to meet my vision quickly. Once I settled on a design, my order arrived in perfect condition, exactly when expected. I received communication throughout the process and there were no suproses. I shopped around for months before deciding on world copper smith and was impressed with the price point, options and craftsmanship. I absolutely love the finished product. Cannot recommend them enough!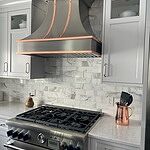 Donna L.
Verified Reviewer
02/15/2022
Custom Hood
We lost our house in the 2018 Carr Fire (Redding, CA - Federal Disaster). Once the rebuilding began we wanted to create beauty from the ashes of our loss. CopperSmith was instrumental in achieving that goal. Their online and on phone representatives were so helpful in assisting us to get the correct measurements and discerning what we were hoping for. The custom hood that they built for us is amazing. It arrived in a beautiful wooden crate, not cardboard, and there were no blemishes on it from shipping. The hood fit perfectly both in the space and for the insert. We are so happy with the result and highly "5 Star" recommend World CopperSmith. They are artisans and the value of what they create: priceless. Thank you for helping us get back into our home after a long three and half years.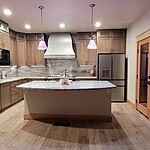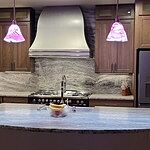 Ruby J.
Verified Reviewer
02/15/2022
Rectangular Coppertop Tabletop
Our copper tabletop looks beautiful and exceeded our expectations.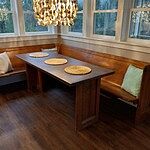 James M.
Verified Reviewer
02/10/2022
Beautiful!
Superb compliment to the changes we are making as part of our renovation of a 150 yr old brownstone.
Karen M.
Verified Reviewer
02/10/2022
Beautiful Copper Sink!
We absolutely love our sink. Everyone that sees it raves about it. CopperSmith was wonderful to work with. They sent me pictures of installed sinks with various patinas until I found the exact one I had in mind. They also sent a CAD rendition of the sink style and patina I chose, so I was able to see the sink I was getting before they made it. Shipping was exactly what they said it would be. I chose the recessed farmhouse sink, hand-hammered with rustic patina. We couldn't be happier about our purchase. Thank you, CopperSmith, for the quality product!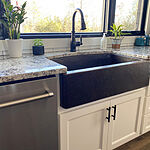 Javier W.
Verified Reviewer
02/10/2022
Amazing Sink!!
There was some Turbulence with Shipping. However the customer reps and sales associates are very helpful. The sink looks amazing!! Would definitely recommend.
Morgan F.
Verified Reviewer
02/04/2022
Great Result and Service
Loved working with the team to create a beautiful copper table top. The team was very helpful and responsive.
Leesa C.
Verified Reviewer
02/03/2022
Hood design and fabrication
Beautiful product, was delivered on time and in perfect condition.
Nancy W.
Verified Reviewer
02/01/2022
Custom Copper Bar Sink with Drainboard
The installation of my sink went great. It is beautiful, and everyone who has seen it comments on its uniqueness and design. My cabinet designers were really unsure about me using a custom sink, as they said many of them don't fit the specifications and the cabinets often need to be altered to the sink. But that was not the case at all. Thank you for providing a beautiful product that is made in America
Marjorie G.
Verified Reviewer
01/26/2022
Great service and beautiful product
Initially I had a hard time navigating the website and ordered hammered copper samples that were not offered for custom tables. Once I spoke to a person at the company, she waived the shipping charges and sent out appropriate samples. She also talked to me about what I was looking for and helped me think it through. They don't make table bases, but I sent the specs for the base from Etsy and they indicated it would work. They were up front about how long it would take to arrive! We had a little problem with the delivery—DHL told me I would need to have someone help unload truck when it was going to arrive that evening because table was so heavy! But when I objected they got a different crew and unloaded to my garage. I told copperworks about the problem and they said they would follow up. So overall…some minor glitches with website clarity and delivery but the table is so awesome and people at copperworks were accessible and helpful.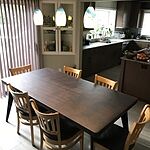 The ordering process was easy
The ordering process was easy and customer service is top notch.
Wendy C.
Verified Reviewer
01/26/2022
We luv the hood. But
We luv the hood. But our kitchen cabinets and backsplash aren't finished yet. When they are, this will look spectacular!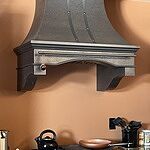 Tony M.
Verified Reviewer
05/30/2021
I bought the kitchen hood
I bought the kitchen hood. Its truly a centerpiece visually. The quality is top notch. I liked the work so much that I bought a sink. Very good value and craftsmanship.
Susan L.
Verified Reviewer
05/20/2021
Great Job, once again
Once again, great job answering my questions, and following up with emailing the installation instructions. I have had nothing but super customer service from World CopperSmith. Thanks again. Susan
Roland K.
Verified Reviewer
05/12/2021
High quality hand made product and ve
High quality hand made product and very responsive customer service…that's a combination you don't see very often anymore! The packaging of our copper sink was the best product packaging I've ever seen and I've seen a lot. Highly recommend CopperSmith!
Susan C.
Verified Reviewer
05/12/2021
I have the most gorgeous copper farm…
I have the most gorgeous copper farm sink. Beautifully crafted. Packed and shipped like it was a fine piece of china. Thank you for the amazing piece of art work.
Ellen B.
Verified Reviewer
05/12/2021
Great service and beautiful product.
Great service and beautiful product.
Audra C.
Verified Reviewer
05/04/2021
Beautiful products
CopperSmith representatives were available to answer my questions and sent me various copper samples in a timely manner. We received our range hood and sink in the time frame. We are in love with how they turned out!!! The craftsmanship was amazing and the two products were perfect for our new kitchen.
Kathy M.
Verified Reviewer
03/31/2021
Perfect addition to our renovation
This company is great to work with and highly recommend. They took the time to ensure the order was as expected before proceeding with the custom work. The end product looks wonderful!
Customer service was great at Copper…
Customer service was great at Copper Smith, sink arrived in excellent condition packaged in a strong wooden box. Didn't install yet but so far I'm pleased with my experience.
Robert B.
Verified Reviewer
03/26/2021
GREAT PRODUCT AND CRAFTSMINSHIP
GREAT PRODUCT AND CRAFTSMINSHIP. CUSTOMER SERVICE WAS EXCELLENT AS WELL.