Tables
Shopping for Copper Tables
Shopping for copper tables can leave your head spinning. With so many materials, styles, shapes, bases, and more, it's easy to come away more confused than when you started. But it doesn't have to be that way. Focus on the metal tables available here at CopperSmith to narrow your search and quickly find something that will look great in the space you have in mind. 
Metal might not be the first type of material you think of when considering tables, but there is plenty to love about metal tables and their package of aesthetics and functional benefits. Whether it's copper, brass, or another metal, you won't regret going in this direction with your purchase.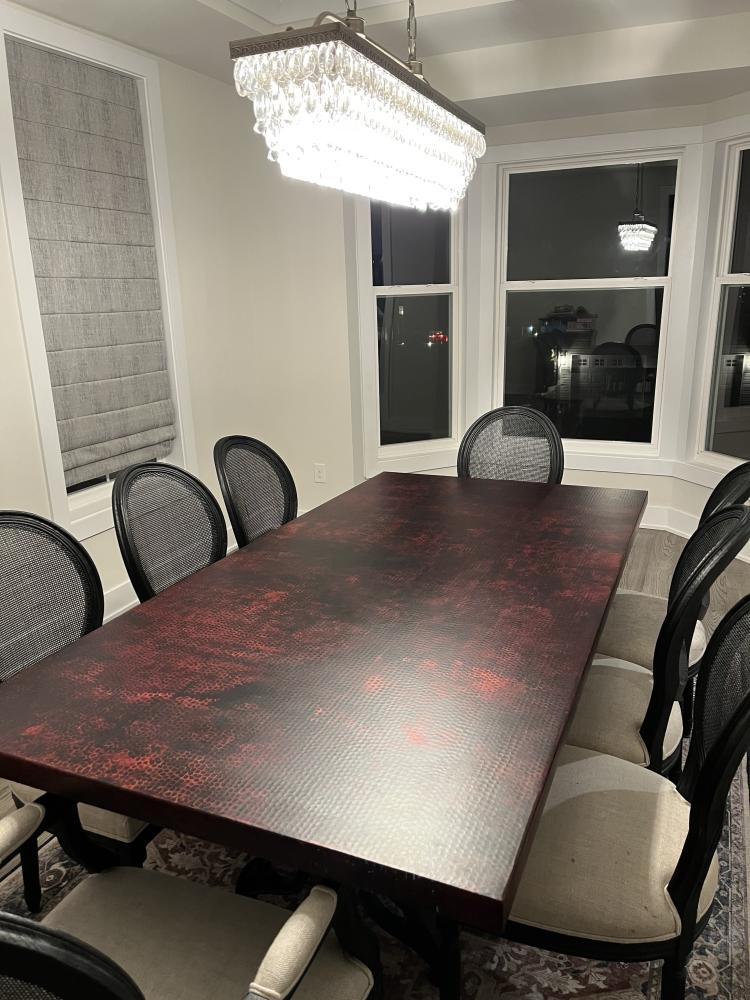 The Appeal of Metal Tables
When you break free of the thinking that all tables are made of wood, or should be made of wood, you quickly come to see how much there is to like about adding a metal table to your home or commercial building. We'd like to go through some of those benefits below to help you see what metal has to offer. 
It Lasts – and Lasts
In a time when more and more items are purchased with no expectation of durability, it's nice to buy something that you know can last for generations. A metal table – one that is produced by a trusted name like CopperSmith, can serve you well indefinitely, as long as it is cared for and treated properly. Rather than buying a low-cost table that will need to be replaced within a few years as it quickly wears out, you can opt for quality and enjoy the kind of lasting performance you deserve for your money. That cheap table you might have considered buying won't feel so cheap down the road when it causes you to go back out and buy a replacement. 
Cleaning Made Simple
Few people love the chore of cleaning off the table, but it's something that needs to be done. With some types of tables – such as wooden models – there are various different little cracks and crevices that make cleaning off the surface trickier than it needs to be. With a metal table, you can set that frustration to the side. Simply clear the dishes, prepare a soft cloth with some warm, soapy water, and wipe it down. Your metal table will soon sparkle once again, and you will have spent just a few minutes on this task. 
Contrasting Material
Metal elements are few and far between in the average home. Generally speaking, residential properties are filled with wood, plastic, and soft materials like cloth. There is nothing wrong with any of those options, but it can help elevate your space to use something like a metal table that creates a bold and interesting contrast. If you look around your space and find that the materials used are pretty repetitive, consider turning to a metal table to break up that pattern and add something that is sure to stand out. 
The Modern Touch
Staying on the topic of design, metal is a great material to use when you are after a modern, sophisticated look. The clean lines of a metal table – especially when paired with some slender, minimal legs – will make sure your design keeps up with the times. And, while adding a modern element, you don't have to sacrifice performance or practicality, as our metal tables will be up for the daily use requirements you have in store. 
It's also worth noting that many different finishes are available when you buy from CopperSmith. Take a moment to explore the finish options to see what colors and styles can be had – it's almost certain that you'll be able to find something you love among our list of options. From relatively neutral finishes to bold looks that are going to grab attention time after time, there is a good fit for every buyer here. 
CopperSmith is the Right Partner
Once you've decided to order a metal table, you can be sure that CopperSmith is the ideal place to make that purchase. Between our commitment to quality, our proven track record of performance, and our fair and competitive pricing, this is an experience you will enjoy from start to finish. Get in touch today to learn more or to place your order. Feel free to check out our great kitchen stove vent!
There is plenty to learn about metal tables and the questions and answers listed below will help fill in your knowledge of this product category.
Is a metal table good?
Of course! Metal tables are an excellent option for a wide range of settings and situations. The durability of metal is second-to-none when selecting a material for a new table, so you can expect the product you purchase to last for generations. You'll also have endless customization options for your new table when you work with CopperSmith on the project, so you can come away with something that is perfect for your vision.
Why is steel furniture better than wood?
Wood tables are common, and they can be beautiful, but metal should not be overlooked in this application. With metal, you get something that is often more durable and resistant to damage than wood, and you can use countless different finishes and pick from many different metals to achieve the look you are going for. It's also quick and easy to clean up a metal table, making it practical as well as pretty.
What metal are desks made of?
A variety of materials can be used to make a beautiful, durable, practical metal desk. The options we make available for tables here at CopperSmith include copper, aluminum, and brass. Each of these makes for a lasting table that will be sure to grab attention and serve as the focal point for the room in which it lives. Reach out to CopperSmith today for more information.
What are accent tables called?
There are many different names used for various types of accent tables. Generally speaking, an "accent" table is one that doesn't play a primary role in the function of a space. So, a dining room table wouldn't be an accent table, because it is the key element in that room. However, a small side table in the dining room – where you place a drinks tray or dessert for example – would fall into the category of an accent table. Using metal as your material of choice for an accent table is a great way to make a bold design statement and draw attention to this small piece.
What is the most durable table?
To have a durable table, you first need to start with a durable material. Many tables are made with wood, of course, and that can be a good choice – but don't overlook what metal has to offer when picking out a table that you want to last for years. The tables offered here at CopperSmith are as durable as they are beautiful, thanks to a combination of tough materials and expert craftsmanship. Consider ordering a metal table to get an extremely long lifespan out of this purchase.
Which brand is best for a table?
CopperSmith is an excellent choice when shopping for a high-end, beautiful metal table. While there are many worthwhile brands on the market making quality tables, the total package that CopperSmith delivers is hard to beat. We are focused on the complete satisfaction of each of our customers, providing friendly support, plenty of customization options, and fair pricing. Reach out to our team today to learn more about our metal tables and the many other products we offer.
What is the price of a table?
You can spend virtually any amount of money to purchase a new table for your home. For something that simply performs the basic function of a table, you could spend $100 or even less – but you won't be getting quality materials, attractive styling, or durability. For a nice table from a trusted brand like CopperSmith, you'll need to make more of an investment. With that said, the investment will pay off over the years as the table continues to look great and stand strong for the decades ahead.
Is metal furniture cheaper than wood?
Often, a metal table will be less expensive than a wood alternative, although "cheap" is the wrong word to use. There is nothing "cheap" about the metal tables created and sold by CopperSmith, as they are durable products made from quality materials and crafted by expert professionals. However, it is true that you may need to pay less for a metal table than a table built with an expensive hardwood, so you should consider metal as a smart, high-value option as you shop.