Planters
Planters Designs
Having a selection of planters for your home is a great way to integrate plants and flowers into your décor. Specifically, going with metal planters is a nice option because of the various materials and textures that are available. As you can see by taking a look around this product category, you'll see we have plenty of different designs available – and you can make some custom choices to make sure the planters you receive match your desires perfectly.
It's important to order from a known name in the metalwork industry when seeking out high-end metal planters. With CopperSmith, you can be sure you'll always get excellent customer service in addition to the outstanding metalwork for which we are known. Feel free to place your order today or take a moment to contact us if you have any questions.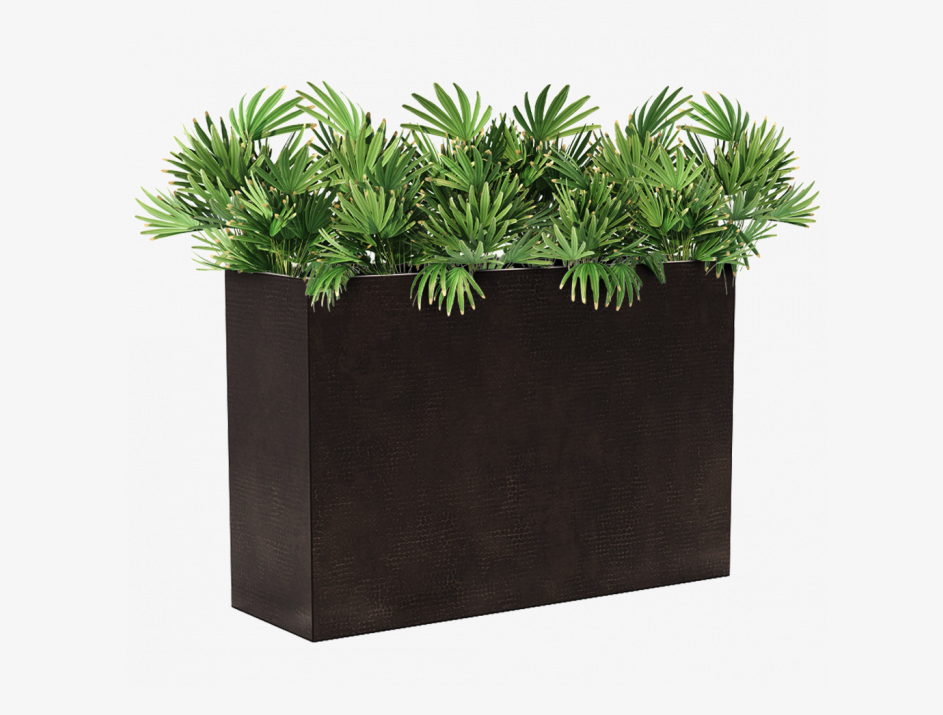 How to Pick Planters for Your Home
Shopping for planters should be a fun experience. These items can play an integral role in your décor, whether inside or outside the home, and you should have them for years to come. So, while you are having fun with the process, it makes sense to have some basic goals and guidelines in mind, so you end up with something that is as useful for you as possible. Below, we have listed out three key points to keep in mind during the planter shopping process. 
Everything Starts with Size and Shape
These are the two critical elements that you need to be thinking about when first going shopping for planters. If you end up with something that is the wrong size, or the wrong shape, for your needs, it won't matter if it's the prettiest planter in the world – it still won't work for you. As a good rule of thumb, start your shopping process by measuring the spaces where you plan to use the planters before you even consider specific models. 
Measuring for size is pretty simple. Just use a tape measure to figure out how much room you have available and leave a little margin for error around that space. On the matter of shape, remember that corners make for great dividers but can make it harder to walk around in a given area. With that in mind, think about using square or rectangle planters when you want to break up a space, while round planters are great when you want to encourage flow and freedom of movement. For instance, on a patio, a large round planter in the middle might work great, while squares or rectangles would be better left to the outer edges. 
Color Comes Next
Once you know what size and shape you are looking for, it's time to think about appearance. And when it comes to appearance, it's the color of the planter that will make the biggest impression. Do you want something bright and shiny, like copper or brass? Or would you prefer a cooler, clean look, like a stainless? There is no right or wrong answer, but you will want to think about what already exists in that space and how it will be complemented by the next planters. 
Material Matters
You won't be surprised to learn that on the matter of planter material, we suggest metal as the best choice for the job. Sure, other planters can look good and perform well, but metal is the better way to go. With a metal planter, you'll get outstanding durability, appealing looks, easy maintenance, and more. In the end, metal planters are an incredible value, especially when you shop with CopperSmith and get a high-end planter for an affordable price. 
What Else Do You Need from CopperSmith?
Planters are a great starting point when shopping on our site, but they certainly shouldn't be your only target. Plenty of our other options will make a great addition to your home, including our fire pits, sinks, bathtubs, and more. Whatever kind of project you might be planning to take on next. Feel free to check out our over the range vent hood, we have something that will take it to a higher level. We can't wait to serve you!
Have more questions about your selection of a new planter? Don't worry, we are here to help. The FAQs below are a good starting point, and the team at CopperSmith would be proud to serve you with anything else you need. Reach out today and let's find the right planter for your needs.
Q: Are metal planters good for plants?
A: While you might first think of clay or wood when imagining a planter, metal makes an excellent material for this application, as well. The durability is a big selling point here, as is the visual appeal of the various metals that can be used for this purpose. If you take a look around our site, you'll find that we have many planter options for you to consider, each of which can be expected to hold up nicely over time while making a comfortable home for your chosen plants. As is the case with all planters, you'll want to make sure they are positioned such that the plants you use get the right amount of sunlight for their needs, and the plants will obviously need to be provided with an appropriate amount of water.
Q: Do metal planters need to be lined?
A: There is no requirement to use a liner with your metal planter – you may want to just add dirt, your chosen plants, and some water to get started. With that said, adding a liner is something you can consider, as it might make your job easier and could lead to slightly better results. Specifically, if you will be placing your metal planters in an area that gets a lot of hot, direct sunlight, using a liner will act as a bit of an insulating layer between the metal and the roots of the plant. This could help the long-term health of the plant, particularly in hot climates.
Q: Will metal planters rust?
A: Not when you purchase them from a quality supplier like CopperSmith. If you buy from us, you can be sure that the metals chosen, and the finishes used for our products, will come together to keep your planters rust-free over the long run. Some people choose to stay away from metal planters because of the fear of rust, when really, that isn't much of a risk as long as you buy a quality product from a known brand. We'd be proud to serve you, so don't hesitate to get in touch with our team today for assistance.
Q: Do metal raised beds get too hot?
A: It's a good idea to think about how you will be managing the temperature of your metal raised beds when you use this type of planter. Of course, metal left out in the sun can pick up quite a bit of heat, so you do want to plan appropriately. One option is to lend some shade to the beds during the heat of the day, while still making sure they get the sun required in the morning or evening for the plants to thrive. Alternatively, you could choose plants for the planter that can deal with high air and soil temperatures. Some plants deal with heat much better than others, so that's another factor to keep in mind.
Q: How long do metal raised beds last?
A: When ordered from the right supplier, the answer is that metal raised beds – and other types of planters – last a very long time. This is one of the main reasons to go with metal as your material of choice for planters. They can be expected to last far longer than other materials, so you'll be able to get great value for your money when making a purchase. Also, by shopping with CopperSmith, you'll have the opportunity to customize your order, so you can get something that is perfect for your needs and your situation.
Q: Are metal planters worth it?
A: There is no doubt that you could find cheaper options for planters on the market today than ordering beautiful metal products from CopperSmith. After all, your local home center probably has basic plastic pots for just a few dollars. But is that plastic going to create the décor that you'd like to see on your property? Probably not. Go with the beauty and durability of metal to create a space you can be proud of.
Downloads
No current downloads