Copper Tables
Add Warmth with Custom Copper Table Tops and Tables
Do you want to add warmth and appeal to your kitchen or other eating space? Are you searching for a table top or table with just the right amount of sophistication and craftsmanship? Consider the benefits of owning a hammered copper table top or copper topped table from CopperSmith. Each of our copper table tops and copper tables are made from gorgeous recycled heavy-gauge copper that has been carefully hammered. Choose the perfect patina for a finished look. Place your order today, and receive your copper topped table or handmade table top within five to six weeks.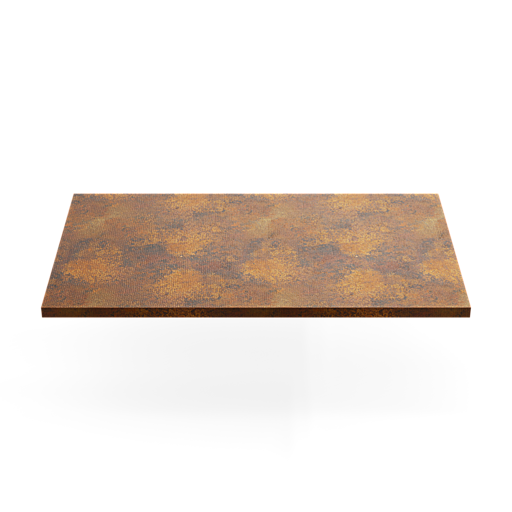 What to Expect from a Copper Table Top
Copper table tops offer a number of attributes. Below are some of the traits that you can expect from every copper table top that you choose from CopperSmith:
Ease of Install – Our copper table tops are constructed to allow easy installation of standard table bases.
Variety of Shape —

We offer kitchen copper table tops for sale in

round, rectangular and square shapes

. If you have a table base that you'll be using for your copper table top, simply measure your current table top to get an idea of the perfect replacement size.
Variety of Patinas —

One of the most intriguing aspects of copper is that it comes in so many delightful, rich patinas! You can pick the one that most resonates with your preferred décor. Please keep in mind that over time, the patina will change subtly. This is part of the living characteristics of copper.
Variety of Sizes —

We know that your perfect handmade copper table top size is different from another customers', so we provide you with choices when it comes to the right size. If this is the first table you have purchased for your indoor or outdoor eating space, make sure to measure the size of the room to ensure that your copper table will fit.
Ease of Cleaning —

As with all our copper products at CopperSmith, a copper table top is simple to take care of. All you need to do is wipe it off with a soft cloth. If debris or residue gets on the copper, you can remove it quickly using a cloth or non-abrasive sponge, warm water and a mild soap. Proper care of your copper table top will eliminate concerns about spotting or staining. We also offer copper table tops with a sealant to ensure to keep your patina from changing.
How Our Handmade Copper Table Tops Are Constructed
We make our hammered copper table tops by taking recycled copper and hammering it to an acceptable depth. The copper is then expertly wrapped around a strong plywood base. This keeps the copper's shape and ensures that it won't change over time. The plywood is completely surrounded by the copper on the top and sides of the table top.
Our copper tables are made similarly. The top of the table is hammered copper wrapped around plywood substrate. Some popular bases are made from acacia wood, and may vary slightly in color due to natural variations in the wood.
To get more information on any of our copper table tops, please call us at 952-800-7380. Feel free to also check our signature vent hood!
Copper tables make a beautiful addition to nearly any space, but you might have some questions that need to be answered before placing an order. Check out the FAQs below for more information.
Is copper good for furniture?
Copper is an excellent material for use in furniture making, including tables. There are many compelling reasons to pick copper for a table, including the natural beauty of the material and the durability that it offers. If you would like to include metal in your décor but you don't want the bright, highly-reflective qualities of some other metals, copper is an excellent pick.
Is copper a good table top?
Using copper as a tabletop is a choice you won't regret. For starters, copper looks great and has the durability to perform well for many years to come. It also has antibacterial properties, which is a nice benefit in a setting where it will encounter many people over the course of a day. Without any notable drawbacks to mention, picking copper for your next table top is a smart move.
How do you clean a copper table top?
The cleaning process for a copper table is as simple as could be. For the job, you'll only need some water, a bit of soap, and a soft towel or cloth. Wet the towel with the soapy water and rub it across the top of the table. Go back and forth across the surface until you have wiped down the entire table thoroughly. Then, reach for a clean towel and dry off the surface to complete the job. Cleaning your copper table like this periodically will go a long way toward allowing it to look great and last a long time.
How do you protect a metal table top from scratches?
Through the course of normal wear and tear, your table is likely to pick up a few scratches along the way. If you'd like to minimize those scratches, or at least slow down the rate at which they occur, there are a couple of steps you can take. First, if you are using your copper table as a dining table, always use placemats to prevent your plates, cups, and silverware from contacting the table directly. Also, if adding a centerpiece to the table, use a cloth or table runner for protection in the center of the top.
Can copper rust?
If you are worried about ordering a copper table because you fear it may rust over time, you can set that worry to the side – copper is not susceptible to rust. For rust to occur, there must be enough iron in the metal to allow a reaction to take place, and there won't be enough iron available in a copper table.
Does copper make a good dining table?
Yes – copper table tops are a great choice for a dining table. Assuming you and your family use your dining table regularly, you'll want to pick a material that has the durability required for years of faithful service. You could go with wood for this job, but many kinds of wood are too soft to hold up to ongoing abuse – and true hardwoods can be very heavy and expensive. A copper table will offer durability, good value for your money, and an appealing look that will be a welcome addition to your décor.
Which table material is best?
While there is no one table material that can stand along with the designation of "best", copper does deserve a place in this conversation as one of the leading table materials. Metal tables in general offer buyers an appealing look and impressive durability, and copper is one of the top picks along with stainless steel and others.
Do copper tables require a lot of maintenance?
No! There are minimal maintenance requirements for the owners of copper tables. Even if you do little other than keep your table clean and wipe it down with a wet cloth from time to time, you can expect it to last for years with minimal change in its appearance. You are, of course, welcome to provide it with more regular cleaning and polishing attention to keep it looking even better, but those steps are not requirements.
Downloads
No current downloads