What factors are relevant when purchasing a new hood?
A copper range hood can be an exclamation point in your updated kitchen space. But to get the function and appearance you want, there are both technical and style factors to consider in purchasing your copper range hood. Vented or non-vented air flow, ventilation power, size, color, design, finish, and cost are basics.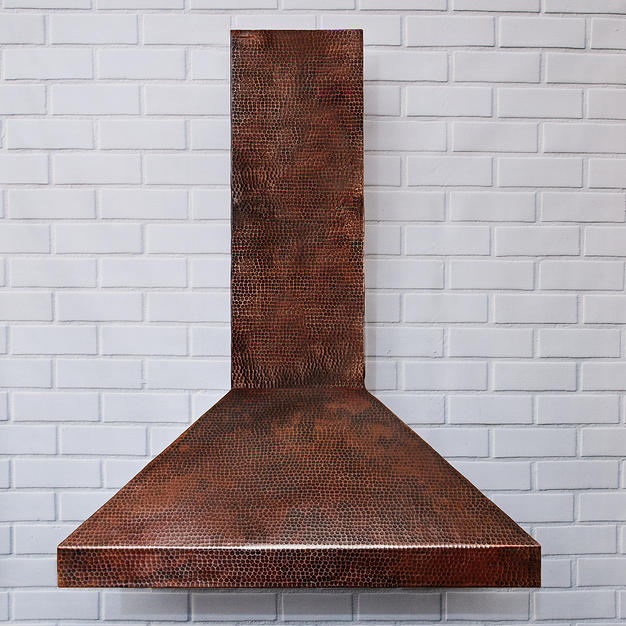 Things to know before you go shopping
Prior to even considering a new copper range hood, these are some things to keep in mind about your home and where the new hood will be installed. This will allow you to buy the right range hood, and will also ensure the installation process is quick and easy.
Should you install a vented or a non-vented hood? It is cheaper to purchase a non-vented hood. However, reviews and professionals say non-vented hoods result in more smoke and heavy odors in a home.
Will a new, vented range hood require duct work to be revised or installed? In older homes installed ductwork may be dated. If so, you have to find out where vents end. If ducting is not in place or needs to be changed, you have to set up the installation process and make sure the new hood's system will match the specifications of the updated kitchen workspace.
What features will your new copper range hood have?
The best copper range hoods function to make your kitchen comfortable, pleasant, and attractive when you're cooking. Not only will one ventilate the entire kitchen, but it also will eliminate odors and smoke and look great in your home.
You'll want a copper range hood that is rated 350 CFM, or cubic feet per minute, or higher. A high CFM results in better performance in your kitchen and it will also help to reduce the smog and smoke build up in the home, as well.
Great air function and air flow, whether through re-circulation or an outside vent system, will ensure that you do not have to worry about smoke build-up or heavy odors when you are cooking.
Adequate lighting is available in range hoods. The hood's lights will supplement the overhead lights already in your kitchen.
The less noise your range hood makes, the better. So, consider the noise levels and whether the hood has different settings, for example: low, medium, and high.
Before selecting, think aesthetics.
Consider the appeal, style, color, size, and where you will place the new hood as well. These are some of the aesthetic factors to keep in mind when shopping for your new hood.
What color and finishes are your appliances, fixtures, walls, and floors? The hood has to work well with your current kitchen scheme. What finish do you want on the hood: something smooth, flashy, or a few deviations in the texture? Finishes even come in different sizes. Do you want something that is aged, or a simple copper finish? This is where your taste and preferences will play an essential role.
Match the proportions. The copper hood is going to look best when it fits the scale of the kitchen. What thickness do you want? You do not want things to look disproportionate; therefore, everything should be properly measured and double checked. Not only will this guarantee a great fit, it also assures other appliances are going to fit and work well with the new range hood.
Final questions
Before making the final decision, each consumer should ask themselves a few additional questions:
How do I care for my copper range hood and clean the vents?
What are the maintenance costs for my new hood?
Where should I buy the new range hood, and is the manufacturer a reliable and trusted one?
By using this blog to compare range hoods, you can rest assured you are going to choose one you are happy with, one that fits in your kitchen space well, and one that is fully functional for your cooking needs.