You'll find copper range hoods in many of the most visually stunning and beautifully functional kitchens in the world. With so many options, features, and designs available, an endless array of exciting choices awaits you!
To get you started with some ideas, here are 7 incredible kitchens with copper range hoods:
1. Smooth and Shiny as a New Penny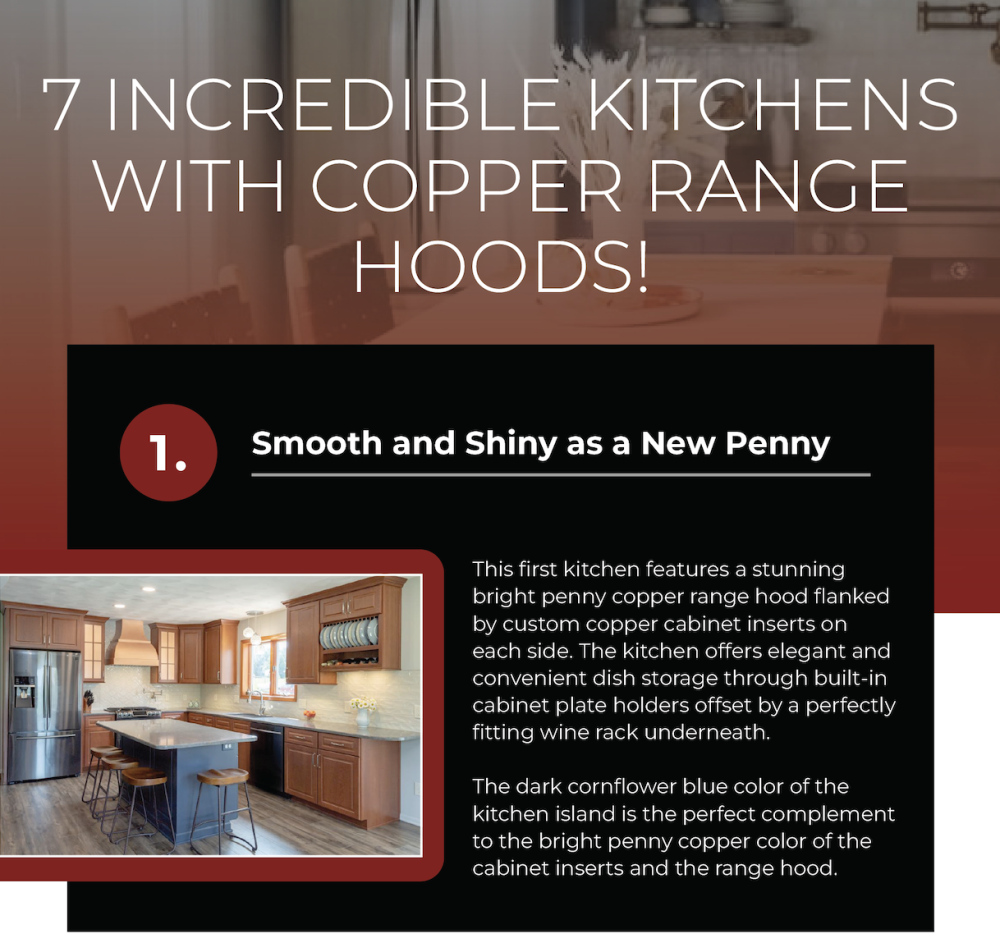 This first kitchen features a stunning bright penny copper range hood flanked by custom copper cabinet inserts on each side. The kitchen offers elegant and convenient storage for dishes by way of built-in cabinet plate holders offset by a perfectly fitting wine rack underneath.
The dark cornflower blue color of the kitchen island is the perfect complement to the bright penny copper color of the cabinet inserts and the range hood.
One of the most attractive and popular trends in kitchen decor lately is blending a variety of finishes and features. From the pendant lighting above the sink to the textured backsplash walls and the copper range hood to the stainless steel refrigerator, the mix of finishes creates aesthetic appeal without compromising function.
Copper is the primary metal in this kitchen, which is a trend that has exploded in popularity in recent years and shows no signs of slowing down.
2. Antique Copper with White Surrounds
Neutral tones serve as the backdrop to a gorgeous antique smooth copper range hood in this kitchen, which pays homage to one of the most alluring decorating trends ever. With its romantic blend of clean white, grounding copper, and earthy green and blue, this kitchen fuses old-world style with clean, modern lines without missing a beat.
Boasting earth-neutral tones in everything from the subtle plants and centerpieces to the blue island base to the stools and range hood, this kitchen creates a down-to-earth atmosphere with a comfortable yet sophisticated design.
The contrasting tones of the appliances (including the copper range hood), walls, cabinets, and countertops offer a clean, contemporary vibe that's simple and elegant at the same time.
The use of white across the walls, cabinets, and counter spaces lends an airy feel to the kitchen while the antique copper range hood, blue island, and wood panel floor keep the room visually grounded and balanced.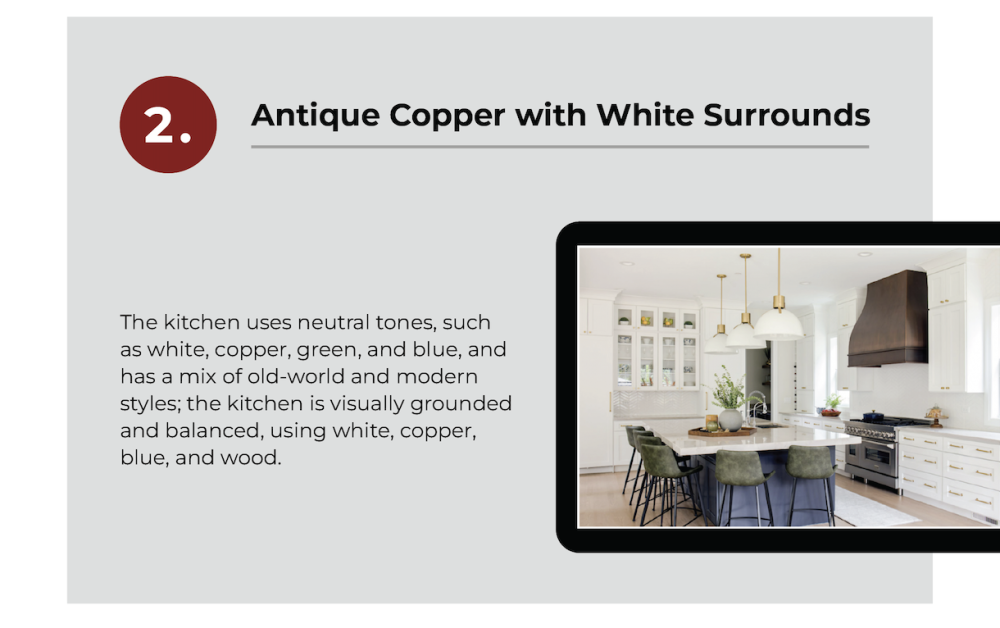 3. Beehive Hammered and a Textured Dream
One of the most eye-catching examples of blending design and texture appears in this kitchen, which features an antique copper smooth range hood with a beehive hammered texture, along with dark antique copper straps and rivets.
With a blend of old-fashioned ambiance and modern taste, this kitchen pulls together a variety of textures that are vastly different from each other. The trick to mixing brick, fabric, wood, antique copper, and dark stone successfully is to maintain the fluidity of the colors.
With shades of brown and similar neutrals acting as the kitchen's primary color scheme, each feature stands out while also blending together flawlessly with the other design elements. The variety of chairs at the table follows a popular trend that doesn't just allow dining chairs not to match — it encourages it!
In addition to all of this, the blue chairs and the touch of yellow from the sunflowers add visual interest and a happy motif to the otherwise darker space.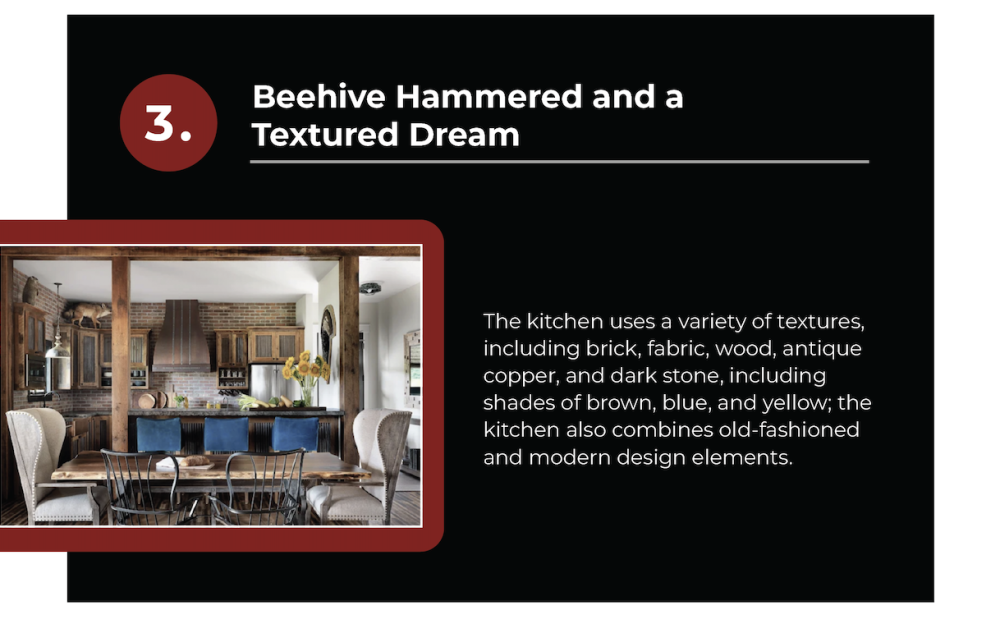 4. Classic Tiling with an Antique Copper Range Hood
When designing a kitchen that features a classic antique copper range hood like this one, you can't go wrong with the classic look. Strong, stable, and timeless, this kitchen presents a classic aesthetic with traditional elements that suggest a clean, modern vibe with their straight lines and unadulterated accessories.
At the heart of this kitchen is the classic smooth antique copper range hood, which features five sides, an arch in the apron for extra character, and clipped corners. This one also has dark antique copper rivets and straps to lend a subtle yet distinct industrial touch.
The bright white tile as an overreaching backsplash behind rich wood cabinetry offers a striking blend of natural beauty with simplicity, and both converge at the copper range hood, which serves as the centerpiece of the design. The curved oval shapes of cabinet handles and round knobs offer a contrast to the sharper lines of the white tile wall.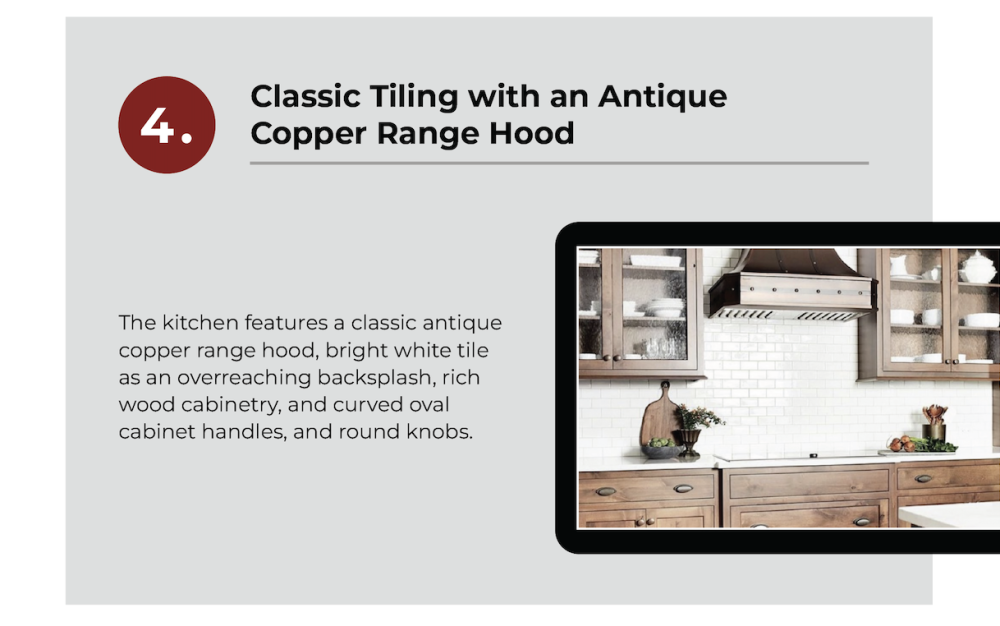 5. Versatile and Classic, Down to the Last Detail
In this kitchen, the classic antique copper range hood provides a distinct focal point among an array of natural complementary textures and colors. Just as mixing textures is a hot trend lately, another trend in kitchen decor is mixing metals throughout the space.
The key to mixing metals in the kitchen is to do it intentionally and thoughtfully. Choosing materials and pieces that contrast with each other but also complement other accessories and finishes is a tricky business. However, the powerful neutrality of a classic copper range hood can pull together divergent finishes and textures with ease.
The trend of mixing metals in the kitchen goes beyond only the appliances and extends to the hardware. It's all in the details, and in this particular kitchen, the austere, straight lines of the contemporary hardware on the cabinet doors contrast the curved classic copper range hood while still producing a complementary visual effect.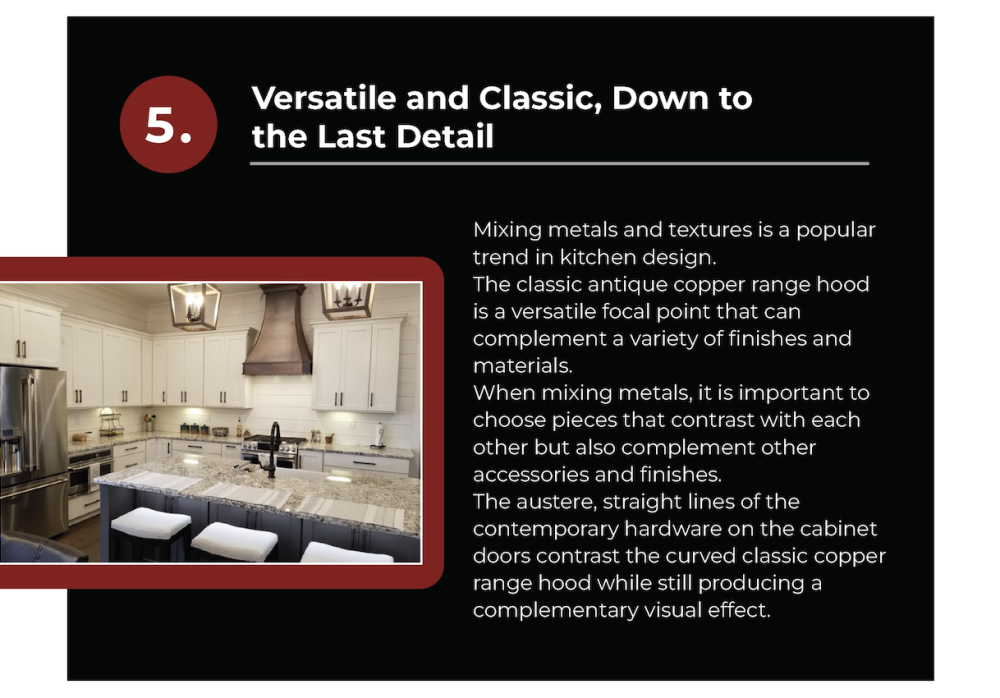 6. Custom Classic Copper and Stone
There are just some kitchens that demand (and deserve) to be nothing less than dramatic, and that's what this classic copper smooth antique range hood does. With a light hammered texture and penny coloration, this classic copper range hood provides a stark contrast to the stone setting behind it, as well as to the polished stone counters.
This combination of elements enhances visual appeal and brings aesthetic interest to the space without seeming out of place, awkward, or overbearing. The recessed lighting on the high ceilings and rustic lantern-style pendant lights above the island provide just the right amount of contrast and demonstrate a thoughtful mixing of materials.
The smooth, reflective surface of the kitchen island gives a sharp, beautiful contrast point to the wall that holds the dramatic range hood. When mixing and matching different textures in the kitchen, it's important to take your time considering which textures to use.
7. Versatile, Dramatic Grandeur
One of the best features of elite kitchens like this one is a dramatic, show-stopping copper range hood like the Signature SX5. The timeless, dramatic, sturdy presentation of copper hoods like this one makes them ideal for a variety of applications within various decors.
From industrial and traditional to contemporary and classic, the right copper range hood can serve as a distinct focal point that draws a kitchen together, regardless of how many textures, metals, and materials are included. Here, the variety of colors used in the tile backsplash along the wall tie together all of the colors in the kitchen effortlessly.
In this kitchen, there are plenty of classic finishes, like the light stone island top and the backsplash behind solid stone counters, that pair beautifully with the dark copper hood and the off-white cabinetry. Mixing metals, materials, and textures never looked as good as it does when a copper range hood is the star of the show!
With a variety of trends making way for more freedom when mixing and matching textures, finishes, and colors in the kitchen, the design possibilities are truly endless.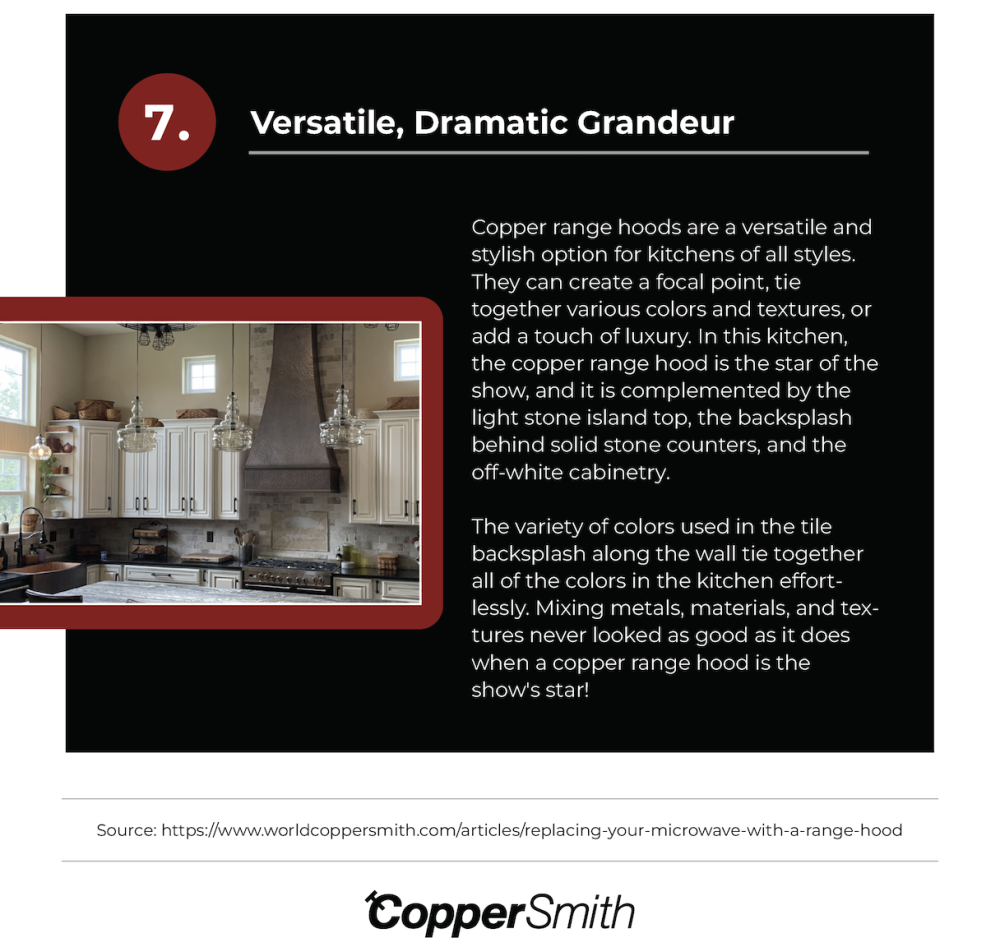 What are the advantages of kitchens with copper hoods?
Copper range hoods offer multiple advantages for homeowners and business owners searching for range hoods for commercial kitchens. If you're thinking of buying a copper range hood, here are some key advantages to take into account:
Simple, stress-free cleaning
Cleaning the kitchen can be a time-consuming and arduous task. Range hoods tend to gather dirt and debris during cooking and meal preparation, but cleaning doesn't have to be a hassle. Copper kitchen range hoods are easy, quick and stress-free to clean and maintain. All you need to keep your range hood in pristine condition is a soft cloth and some soapy water. Gently wipe the surfaces down when you've finished cooking.
One of the main reasons why copper range hoods have become increasingly popular is their distinctive, beautiful aesthetics. Copper has a rich, earthy tone and it adds instant interest and appeal to every living space. With a copper range hood, you can make a statement in your kitchen, regardless of the theme or style. Copper works perfectly for rustic, country homes as well as ultra-cool, contemporary kitchens.
Copper is a fantastic choice for kitchens and bathrooms because it has unique antimicrobial properties. Copper range hoods are simple to keep clean, but they also help to lower the risk of health and hygiene issues because copper destroys bacteria and viruses.
Durability and value for money
When you're designing a new kitchen or replacing an old range hood, it's beneficial to think about durability and buying the best products within your budget. Copper range hoods from CopperSmith are durable and hard-wearing and they offer excellent value for money. Copper lasts for many years, it is resistant to scratches, stains and dents, and the color develops over time. With a copper range hood, you can enjoy peace of mind that you're investing in a product that will look amazing and function effectively for years to come.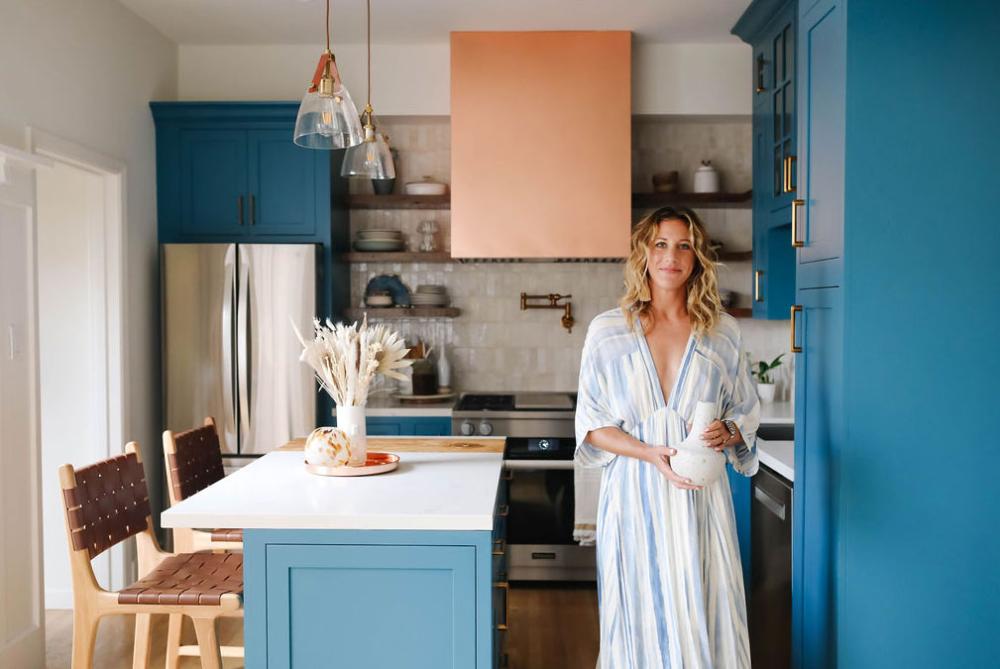 Steps to find the perfect copper range hood for your kitchen
Have you been inspired by the stunning kitchens with copper range hoods in this article? If you're keen to embrace this trend, here are some steps to help you find the perfect range hood for your kitchen:
Explore ideas and design styles
At CopperSmith, we have an extensive collection of copper kitchen range hoods. Take some time to browse different products and view our gallery to get ideas and inspiration. You can choose from classic, timeless styles or opt for something more modern or distinctive. We also offer custom quotes for bespoke projects and we have a 360 3D configurator tool available. If you have a vision, our talented team can help to turn it into a reality.
Personalize your range hood
Once you've selected a design, you can use the drop-down menu options to personalize your range hood. Select the desired finish and texture, find the right height and width and choose the mount you prefer. Once you've finished, we can provide you with a quote within 24 hours (from Monday to Friday). If you have any questions or queries about your custom quote, you can contact your designated sales representative for more information or advice.
Whether you're taking on a large-scale kitchen remodeling project, or you're simply swapping your range hood, it's helpful to establish a budget. Set a budget before you start browsing. This will enable you to find suitable styles and customize your design to fit your requirements. Our team is here to help if you need any advice about different designs or personalization options and we can make suggestions if you have a budget in mind.
Range hoods should look smart, but they also need to be functional. To optimize performance and ensure that your range hood meets your requirements, check the specifications. Consider the best type of mount for your kitchen, check the measurements and size requirements and make sure the range hood offers sufficient ventilation power.
Summary
Copper range hoods suit every style of kitchen. If you're considering adding a copper hood to your home, browse our stunning collection. We have designs to suit all kitchens and we offer a comprehensive range of customization options. Available in a range of finishes, styles and sizes, we can help you to find the perfect copper range hood for your kitchen. Contact us for a custom quote or more information.