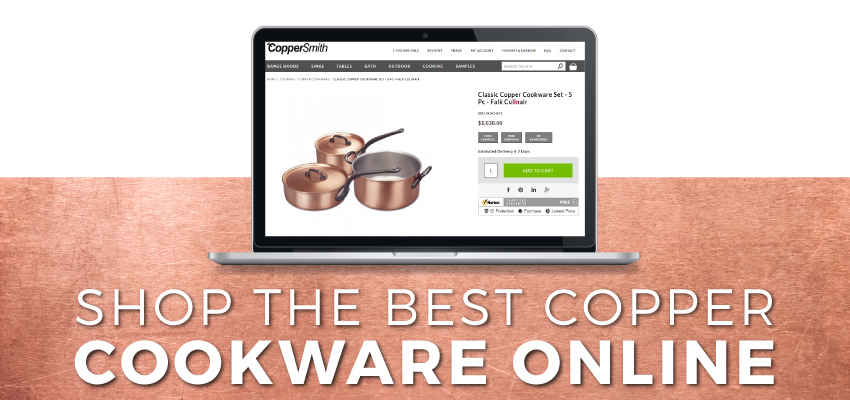 Few metals in human history have been as influential and beneficial to mankind as copper. Copper has a history dating back at least 10,000 years and is still used as an intricate component in almost all modern electronics, telecommunication equipment and plumbing, as well as countless other household products that many people around the country use every day.
What is copper used for in houses? When it comes to uses of copper in everyday life, copper can be found just about anywhere in your home. From the piping in the walls to small electronic components in your cell phone or the microprocessors in your computer, the copper properties and uses in the home are nearly endless because of its amazing properties. Copper is used in your automobile, in motors and in household appliances like washing machines and dryers, but it is even more commonly used in conjunction with other metal in numerous household products because of the abundance of copper alloys.
Copper's unique properties as a mineral and an element have cemented the metal as a keystone in technological and engineering advancements dating as far back as the ancient Sumerians. The metal offers high ductile strength, malleability, corrosion resistance and high thermal and electrical conductivity. It is found within our bodies and is also a vital part of the diets of humans, animals and plants. Copper-rich foods include certain types of beans, almonds, peas, broccoli, whole wheat and chocolate.
When combined with other metals like tin, nickel and zinc, copper produces a range of alloys that increase its strength and other useful properties, making it one of the most versatile metals to use in engineering as well. In addition to providing the basis for more than 400 alloys, copper is also one metal that offers near endless recycle-ability.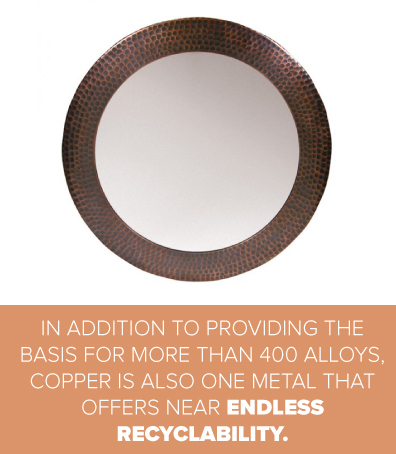 Copper can be recycled again and again, which means the household copper items you see around your home could be as old as the ancient Egyptians or President Abraham Lincoln. Nearly all of the copper resources across the world throughout time, which equate to about 5.8 trillion pounds, are still in circulation today. Today alone, only about 0.7 trillion pounds, or 12 percent of the total copper resources, has actually been mined throughout history because of the metal's immense ability to be recycled.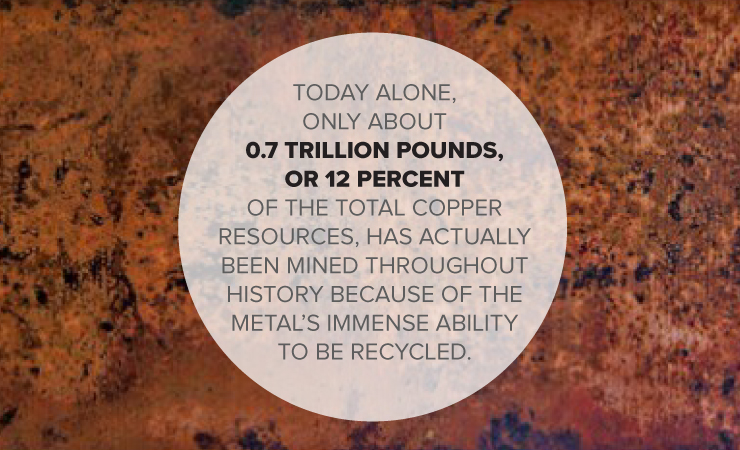 Not only is copper a necessary dietary need for humans, but alloys created from copper also benefit human health. Have you ever wondered why copper alloys such as brass are used for doorknobs so often? It's because copper has its own antimicrobial properties that can drastically reduce the spread of disease and other germs.
Copper by itself is usually recognizable because of its unique color, a characteristic that is only shared by one other metal — gold. However, even some silverware around your home may contain a small amount of copper in the form of a copper, nickel or zinc alloy. Sterling silver, for example, Left to oxidize, copper will begin to show signs of the beautiful green patina akin to what you see on Lady Liberty in New York Harbor. The reason for the sculpture's unique color is that the copper skin of the Statue of Liberty slowly began to change color from its original dull, copper hue over time as it was exposed to the elements. By combining copper with other alloys, oxidation does not occur as quickly and provides some resilience to weathering.
If you are in search of copper alloys around your home, keep your eyes open for bronze, brass and many other numerous copper-nickel or copper-zinc alloys that can be found in everything from doorknobs and cookware to bed frames and chandeliers and even decorative items. The possibilities of household use for copper are endless and have endured throughout time. Take a look at some of the most common uses of copper in your home and everyday life.
Copper Wiring and Plumbing in Your Home
Perhaps the most common home use of copper people have come to know is its use in both electrical wiring and in copper pipes used for the plumbing in most homes and businesses. Copper is highly conductive of both electrical and thermal energy. In addition, copper remains relatively abundant despite increasing demand for the metal — as deposits are still being mined worldwide today — because of its ability to be recycled again and again.
With only solid silver performing better, copper remains the best conductor of electricity and is both abundant and affordable. Because of these unique properties and uses, copper has long been the standard for both plumbing and electrical wiring in homes since their incorporation in construction. Even though aluminum was once used in place of copper for a period of time during the constructing of new homes, it was not as reliable, forcing copper to remain the standard for indoor wiring, outlets and other household electrical conductors used today.
When it comes to plumbing systems, copper is also the most common metal used as it offers superior performance, exceeding required building codes across all 50 states, as well as providing reliability to your system.
Copper does not require maintenance and offers longevity that can outlast many other facets of your home. More than 85 percent of American households have copper plumbing systems. However, the rise of plastic piping is on the rise because of its affordability.

Even if plastic is more affordable, the properties of copper still remain superior for household plumbing and the health and safety of your family. As mentioned above, copper's antimicrobial properties allow plumbing to reduce the risk of contaminants because it's impermeable and naturally reduces the spread of disease by inhibiting bacterial growth. In addition, copper is rigid and can withstand a lot of weathering without becoming brittle, cracking or sagging when subjected to events like house fires, intense heat, and extreme cold.
Because of its ability to withstand heat, copper is often used for sprinkler systems because of its ability to maintain pressure during a structure fire, and it is a safer alternative to other piping methods.
Major Household Copper Products
In addition to the wiring in your walls, the copper pipes in your plumbing system and numerous copper components used in household electronic devices, copper is also used in kitchens, bathrooms and water closets often because of its natural antimicrobial properties.
Everything from your microwave and dishwasher to the washing machine also utilizes copper, but the bathroom and kitchen fixtures are some of the most common copper products you'll find in the home. Take a look at a few of the home copper products that will add a unique aesthetic to your home, while maintaining longevity for years to come.
The main work area of any great kitchen includes durable and aesthetically pleasing counter tops, accessible design and the essential kitchen sink, one of the most vital components in the home. When it comes to choosing the right design for your home, consider the benefits of a copper kitchen sink. A handmade copper sink, like this half moon sink, created by expert designers can be a wonderful addition, which requires minimal maintenance and upkeep despite the appearance. A simple cleanse with just a little warm water and some dish detergent will keep the residue off the copper and maintain the proper natural color of the metal. The properties of copper will also help you destroy bacteria long before you even have a chance to zap the microbes away with your additional cleaning products. One aspect of owning copper that may worry many owners is acidic material staining the metal. However, copper is extremely durable and forgiving, and even a light stain will dissipate over time.
For those looking for a larger style sink, or even a more rustic look for their kitchen, a copper farmhouse or apron sink might be more suited to your style. While single and double basin sinks are available, one thing to consider when picking a copper sink is how you want the color to change over time. For some, an aging patina might be just what they are looking for, while others might want to consider sealing the patina with wax which will minimize how much the color changes over time. Copper drains are also available for any style of sink. CopperSmith brings you durable copper kitchen sinks to fit every lifestyle need and interior decor.

While not common to every kitchen, the right range hood for your stove is important for both functionality and the overall appearance of one of the most important rooms in the house. Copper's versatility and durability make it one of the best choices for materials used, and there are various styles ranging from traditional to more rustic looks you can pick from.
With copper's natural antimicrobial properties always at work, the bathroom might be the best room in the entire house to incorporate a copper sink and copper fixtures such as faucets. Copper can bring warmth to any bathroom with its rich color and a number of patina styles to choose from that will gain richness over time. Also, for bathrooms that see heavy traffic, copper's durability and little maintenance requirements will add longevity to your bathroom and its fixtures while maintaining its cleanliness.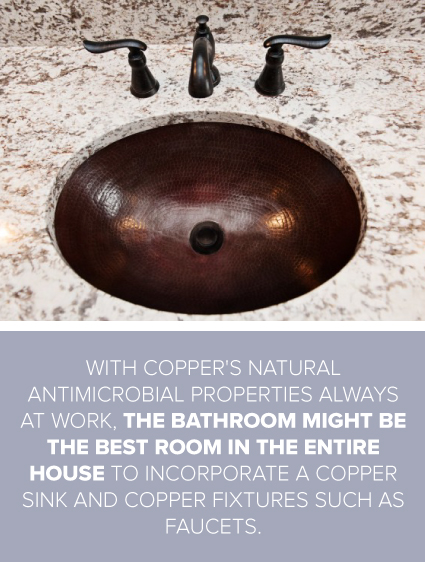 CopperSmith offers a range of bathroom sink styles, hand-crafted to fit whatever look you desire for your bathroom upgrade. Copper sinks can be made in both oval and square shapes, and fit the dimensions of your bathroom. As with kitchen sinks, cleaning with some warm water and a mild detergent is all you'll need to keep your sink's beautiful copper shine. However, it is important to avoid acidic cleaners and chemicals that could lead to unwanted stains. Over time, your copper sink will naturally react to exposure to water and air, and will turn colors. For those seeking something a little different, copper bar sinks are also available. Bronze Sinks
If the distinct look of copper isn't what you had in mind, copper alloys such as bronze offer their own unique look while providing many of the antimicrobial properties of traditional copper fixtures. Bronze sinks are extremely easy to maintain and can be cast in a beautiful array of shapes and dimensions suited to your design needs. In order to cast bronze sinks, production begins by pouring heated bronze into precast molds. Following the casting, hand carving and polishing will produce the brilliant aged color expected of bronze.
As with kitchen and bathroom sinks, copper's unique properties that help destroy bacteria make a copper tub an investment that will require little maintenance and add beauty to the home. A freestanding copper bathtub will provide a natural warmth to your bathroom while adding comfort and relaxation to your bathing experience. Whether you're looking for a classical look or a more rustic country aesthetic, a copper tub is just another way to use copper in your home.

In addition to the copper kitchen and bathroom sinks you may find in the home, other products like cookware and even table tops can be made of copper, offering their own look, feel and properties for use.
When gathering for a long-awaited meal with friends and family, a copper table top might be just the kind of centerpiece to your kitchen or dining room that you can be proud to show off. Copper table tops are unique as they can come in a variety of designs, textures, finishes, and patinas. Rich copper colors can evolve and change over time, creating a rustic look for your next holiday gathering. As with sinks, copper table tops are easy to clean and require little maintenance to keep them shining brightly.
Copper Door Knobs and Pull Handles
Commonly used because of copper's natural property to keep unwanted microbes away, copper door knobs and door handles also provide beauty to your home. Whether you're considering the benefits of an exterior, indoor or even cabinet doors, copper can be used in a range of styles and sizes for whatever your decorative tastes are.
Copper railings for your staircase or bathroom can also be a good option, especially if you're going for an industrial chic vibe. You can even make a DIY copper handrail from old copper pipes!
Copper Cookware
With excellent thermal conductivity, copper has long been used by gourmet chefs because of the metal's ability to quickly transfer and evenly distribute heat. Nearly every style of pot, pan and dish you can imagine can be made from copper, allowing for excellent performance, a lifetime of longevity and beautiful additions to any home kitchen. Even if you aren't a world-famous chef, practicing your culinary skills with copper cookware will provide you with a better tool for the job, with superior functionality and heat distribution as well as minimal cleaning requirements. In addition to cookware, copper can also be used to manufacture cups, flasks and other kitchen utensils. As a metal that has been used for thousands of years, copper can withstand quite a bit of weathering and can always be recycled. For those seeking a durable cup or flask that can last for ages, copper offers superior performance and longevity and will be in the family for many years.
Home Decor
Everything from wall mirrors to the towel bar and rings found in bathrooms can also be made from copper, and provide beauty and durability to your home. For household items, you wish to endure for many years, or even an entire lifetime, copper is superior to many other types of metal. Its rigid nature and ability to withstand temperature changes allows the metal to maintain its strength without cracking or sagging. Because of its resilience to the elements, outdoor fixtures like window shutters and planters can also be made from copper. If you would like to plant outside of your window, consider the benefits of a planter that will never crack or sag because of extreme weather conditions. Even chimney caps can be made from copper, which allows them to withstand years of being bombarded by the elements without needing to be replaced. Around the home, you may want to rid yourself of those plastic switch plates and make them a little fancier. Copper switch plates make a great alternative and help keep the germs from spreading around the home.
With copper, its natural hue is often reflected in many of the ornate designs featured in chandeliers and other lighting fixtures. Lighting is often one of the most important elements in home decoration, and copper is one choice that can provide long-lasting beauty and still achieve a rustic look.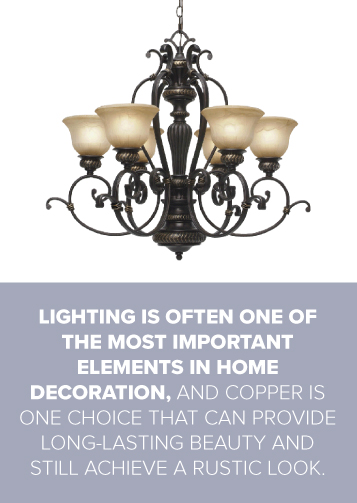 Both indoor and outdoor lighting fixtures can be crafted from copper and provide an alternative to traditional iron and steel fixtures. Copper lighting comes in a large selection of styles, sizes and designs that can provide both important interior lighting for areas like the kitchen, or accent lighting around the home or in a commercial building. Not all copper looks the same, and many different colors and patinas can also be selected, which can add whatever aesthetic feel you're seeking to the home or office. If you are seeking something more sophisticated for your kitchen, living room, dining room or even the bathroom vanity, copper lighting can provide warmth and beauty with its natural color and ability to change over time when exposed to air.
Copper also makes a great material for outdoor lighting fixtures. You can choose a copper lantern or streelight for your front door, or a copper mesh lantern for ambient backyard lighting. You can even get a string of copper LED fairy lights to add some magic to your patio. Copper is great for outdoor use because it looks classy and elegant at any time of day, even when the lights are turned off. Bird Feeders and Bird Baths
Your neighbors aren't the only locals who will appreciate your taste in outdoor decor. Copper is the perfect material for bird baths and bird feeders too. Not only are copper bird baths stylish, but they offer a sanitary habitat that repels algae and bacteria more than other metals. You should still clean your birthbath regularly, to avoid any toxicity due to oxidation or acidic water. Copper is generally considered safe for birds, though not for water features that contain fish or amphibians.
You can set your birdbath up on a pole, or hang it from a chain for an elegant, rust-free option. Pair it with a bird feeder for a consistent look. Some of the most popular copper bird feeders in America are made by Amish craftsmen, such as these Copper Bird Feeders with decorative copper roofs. Use the Instant Patina option to get that classic antique copper look right from the start.
Gutters
Copper can also be used for rain gutter systems that are both pratical and ornamental. Traditional copper gutters look great on Spanish Colonial homes, Tudor homes, Victorian homes, and more. They pair well with brick walls, ivy trellises, terra cotta tiles, and other architectural features.
Choose from half-round gutters, box gutters, and K-style gutters, along with matching downspouts. Copper gutters are more expensive than steel or aluminum gutters, but one of the major benefits is that they can be soldered together at the joints, providing a more durable drainage system that can handle inclement weather in all kinds of environments. Generally speaking, you can not pick a better material for your home than copper outdoor products.
Clocks
Another great way to bring some copper into your home is with a copper clock. The sheer variety of copper clocks out there will give you plenty to choose from. One option is to choose a copper clock face that's set into a frame made of wood or metal. Or, you can look for a clock with only the hands or numbers made out of copper to give it a subtle metallic accent that suits any wall.
Copper clocks give you the option of a coming up with a creative theme for your timepiece: think Roman numerals, a ship's wheel, a planetary orbit, or something else altogether. Since they tend to have a pretty large diameter, they can easily provide some character to an empty wall, especially if they match with other elements in your kitchen, dining room, or study.
Art and Jewelry
While you're looking for copper items to decorate your home, be sure to take a look at the world of copper artwork, both large and small. Artists love working with copper, because it's affordable, easy to work with, and comes in many forms. You can purchase copper beads, sheets, and wire to make a whole range of jewelry — including rings, bracelets, and earrings. All you really need is a hammer and pliers to get started, and a cloth to polish the copper when you're done.
Of course, you don't have to do it yourself, and you'll find a variety of great copper art and jewelry on Etsy and other online marketplaces. From small decorative figurines to large outdoor sculptures, there are dozens of ways to incorporate copper artwork into your living space.
Artisinal metalwork has been around for centuries, from the traditional handmade copper vases that are a specialty of Michoacan, Mexico, to the minimalist copper art found at the National Gallery of Art in Washington, D.C. No matter what your taste, copper art offers something for everyone!
Copper tools
You might also want to purchase some copper tools for your garage or toolshed. Beryllium copper is an alloy that's used to make many common tools, including wrenches, pliers, and screwdrivers.
BeCu tools are non-sparking and non-magnetic, making them suitable for use in metalworking and hazardous workspaces. You can also find utility knives and pocket knives with copper handles for a knife that is practical, durable, and stylish.
When it comes to gardening, you can look for copper-plated trowels and garden forks that are said to enrich the soil and repel slugs and other pests. You can also add copper sulfate to your garden as a fertilizer that deters mold and fungus, when used in appropriate quantities.
Musical Instruments
Finally, we can't overlook the role that copper plays in music. In fact, you could make the case that Western music as we know it wouldn't exist without copper. While horns, trumpets, and saxophones are made out of brass, a copper alloy, you can find copper in other instruments too.
Some acoustic guitar strings are made out of bronze, another copper alloy. Phosphor bronze strings contain a small amount of phosphorous, and are known for their bright, classic sound. You can also find copper alloys in some cymbals, tambourines, and triangles. In short, any musical instruments you have in the house may be contributing to your matching copper color scheme!
How Can CopperSmith Help Me Determine What Copper Products Are Best for My Home?
As mentioned, copper is a wonderful metal that has been part of human history since the late Stone Age. For nearly 10,000 years, the metal has been essential in human development and engineering feats around the world. Even today, copper remains in high demand and offers near endless recycle-ability. If you are intrigued by the natural antimicrobial properties of copper, or you just enjoy the unique warm color of a metal that changes over time, a variety of copper products may be perfect additions to your home.
Founded in 2009, CopperSmith brings unmatched selection and expertise to our customers and is now a leading wholesaler and retailer of premium metal home products. We believe every home should reflect the homeowner's personality and style, and a home filled with beauty is something everyone should aspire to. From copper gutter systems to custom range hoods and copper kitchen sinks, CopperSmith has built a reputation for consistently providing the perfect decor and finishing touches to homes of distinction — from traditional to modern, classic to contemporary. Our focus is on creativity and collaboration, not on the competition. It's an approach that has yielded an unmatched collection of premium-quality, handmade copper, pewter, zinc and steel home products such as copper tables and lighting — each crafted with an artful balance of color, texture, and style. If you're in the process of buying a new home, building a home or just looking to update your living space, CopperSmith offers a number of copper and metal products to choose from. If you have any questions, please contact us or check out many of the frequently asked questions on how to use copper in your home and everyday life.