There are many different styles of kitchen sinks available in the market today. Each one of them is unique in its way, for instance, the material in which it is made of, the manner in which it has been designed, etc. Below is a brief discussion of some of the favorite variety found today.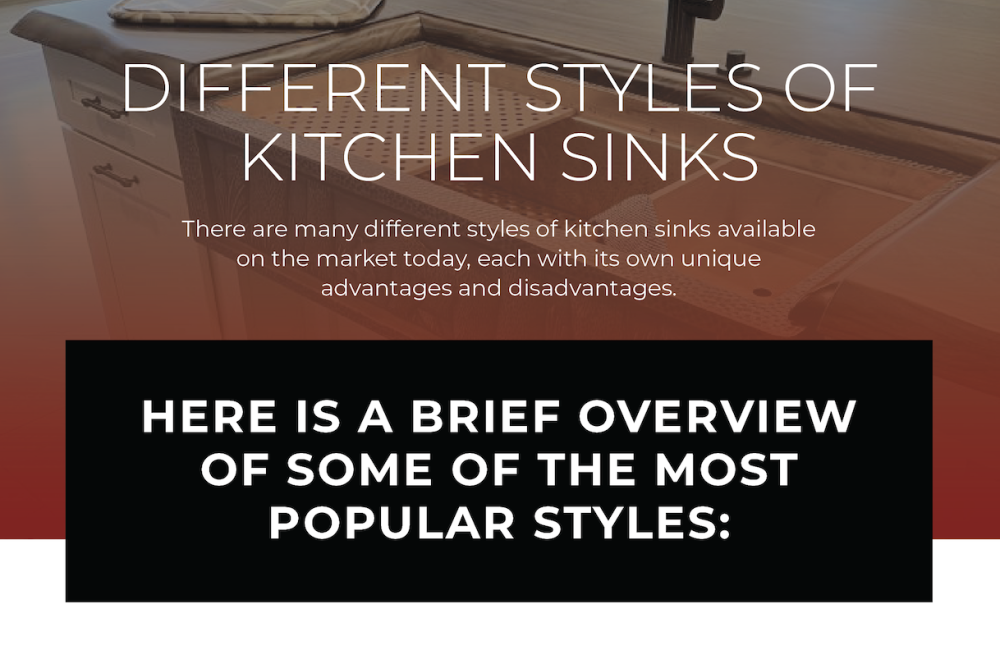 1) Top Mount Sink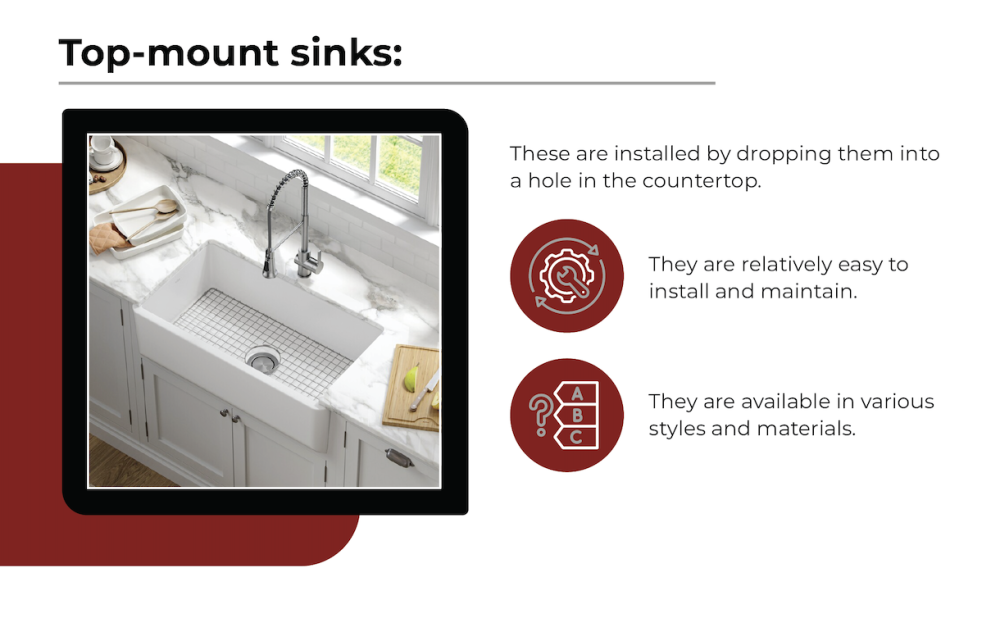 Also referred to as the drop in type of sink because of the manner in which it has been designed i.e. in such a way that it is dropped into a hole in the counter top. It has a rim or a lip that aids in holding it in place thus creating a finished look.
Advantages: This type of sink is very easy and inexpensive to install, and one can easily install it even without any special skills.
Disadvantage: The area between the lip of the sink and the counter can quickly accumulate scum because the sink's rim prevents you from seeping the debris and the water from the counter straight into the sink.
2) Undermount Sink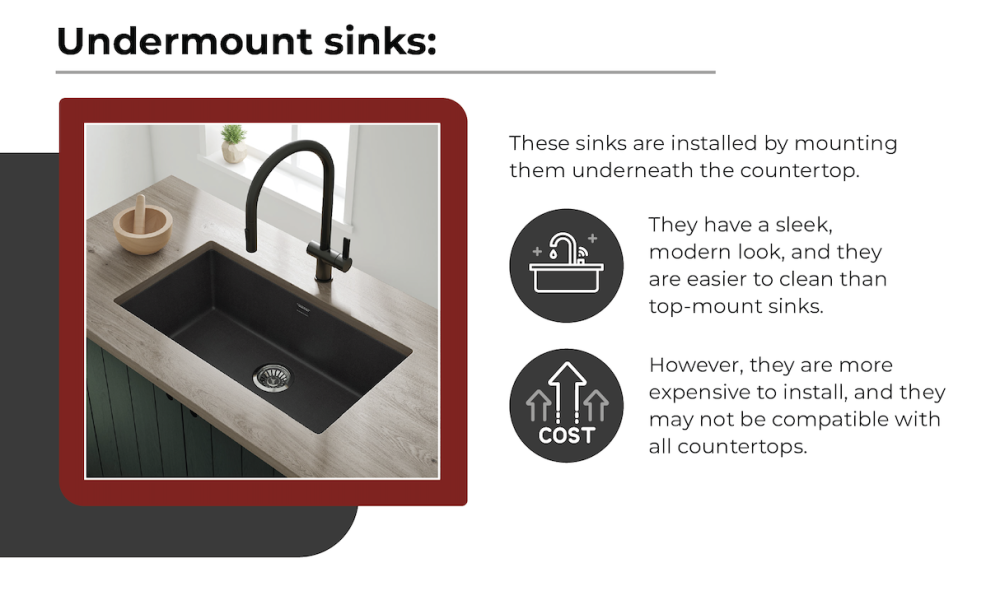 A type of sink that has been mounted underneath the counter. It has no rim or lip thus the edge of the counter directly drops off to the sink basin.
Advantages: Cleaning is much easier because the debris can easily be wiped straight to the sink. It does not have crevices or grooves where food can accumulate. It also provides an excellent, clean, and modern look.
Disadvantage: Cost is a major drawback. Basically during the installation which may even require an internal support system (especially the heavier sinks-e.g. those made of fire-clay or cast iron)
3) Farmhouse Sink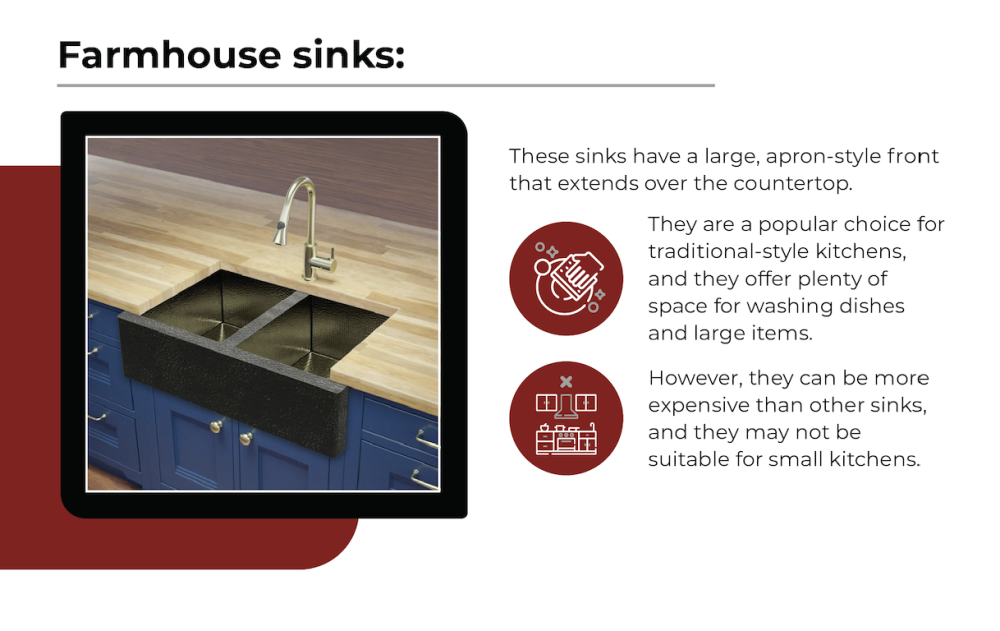 Also referred to as an apron sink. Its unique feature is the large forward facing section replacing a section of the counter (i.e. a front wall that forms both the front side of the sink and the edge of the counter). It is a type of sink that is often preferred by people who love a traditional looking or country-style design. If this is what you're looking for, go for the copper farmhouse sink.
This type of sink can be installed on top of a free standing table (that is fixed to the wall) or on top of a cabinet. These types of kitchen sinks are available in both single and double basin varieties (however, the most common ones are the single basin models).
Advantages: The sizes of these types of sinks are large enough to allow big baking pans and even large casserole pans. The person using the sink does not have to strain because only a little space is left between the edge of the counter and the sink.
Disadvantage: In case the front side of the sink drops, the water will drip straight to the floor.
4) Double Basin / Bowl Sink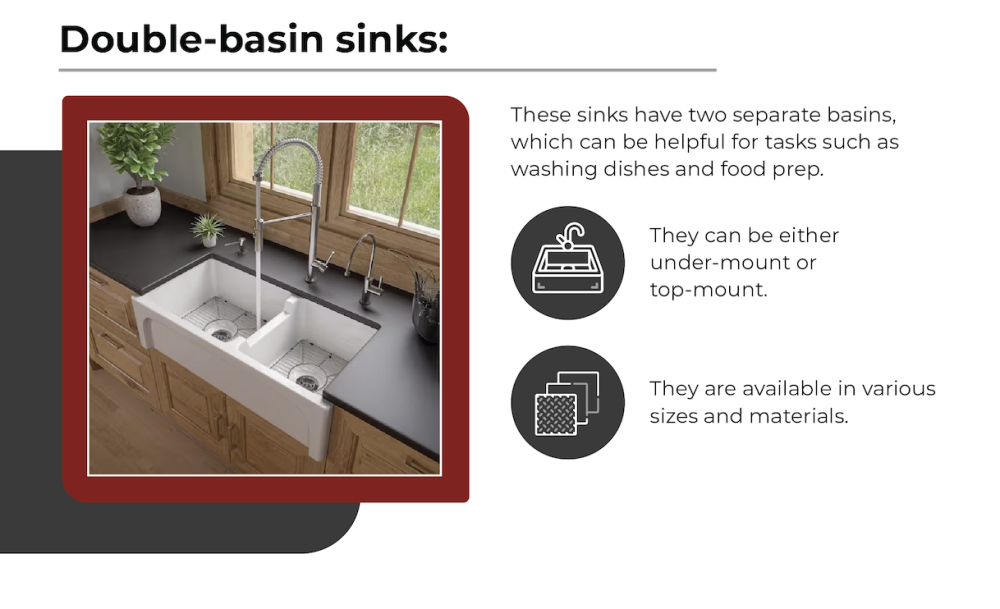 Another popular type of sink that installs in such a way that one can use one side to wash the dishes and the other side to rinse or dry them.
A variation on this style is the corner sink, which has two basins on either side of a drainboard. The drainboard is tucked into the corner of the room, creating a kind of L-shape.
Advantages: Its main advantage is the fact that it is a multipurpose type of sink even in a relatively small space.
Disadvantage: Because it has two bowls, each of the bowls may be too small to accommodate large pots, pans, and even casseroles.
5) The Single Bowl / Basin Sink
As the name suggests, it is a type of sink whose basin is not divided (i.e. it is a one-basin sink). They are usually available in compact sizes, and this makes them ideal for situations whereby space is at a premium.
Advantage: They are large enough to accommodate large utensils that the double basin ones can not. Cleaning such large dishes is therefore much easier. They are also cheaper than the double basin types.
Disadvantage: Since they are just a one basin model, a different drying area is therefore required because they have no room for this.
6) The Double Bowl Sink with Low Divider
Similar to the double basin type of sink except that its divider does not rise to the top level of the sink but instead, it is half the height.
Advantage: With this type of sink, you have the option of either using one side to wash the dishes and the other to rinse (or dry) just like a double basin type or you can use it as a single basin sink by filling both sides with water thus can hold bigger utensils.
Disadvantage: These types of sinks are not easily available in the market because currently, only a few manufacturers make them.
7) Island / Bar / Prep Sink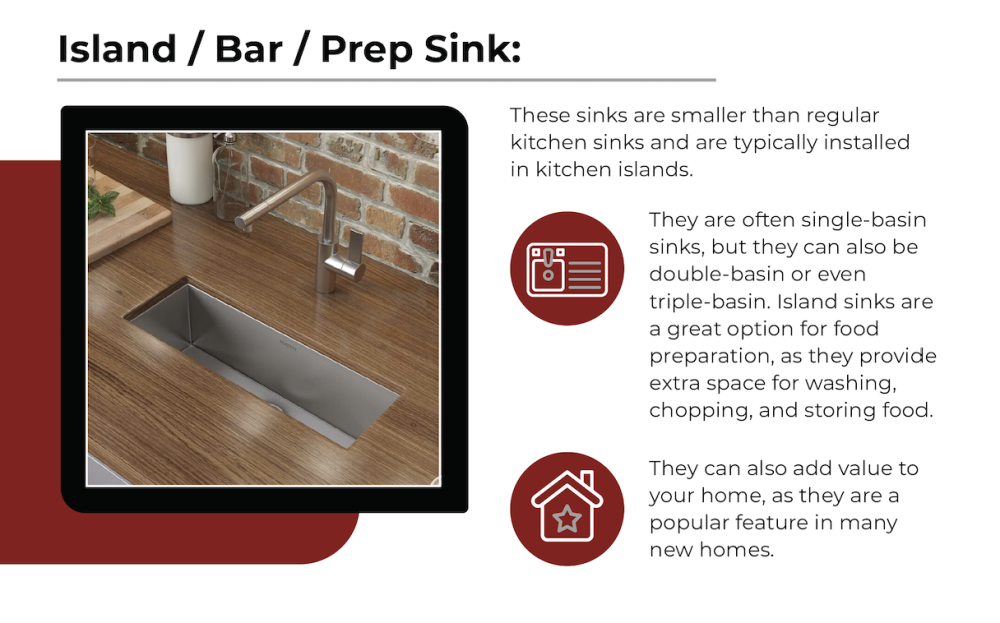 This type of sink is smaller than the regular sized ones, and it is installed in kitchen islands to act as a supplementary sink for food preparation. Most of them are single bowled and are also used in bars that are why it is also referred to as bar sink.
Advantages: They are very useful especially when preparing food such as washing kale, etc. and this adds also adds resale value to your house
Disadvantage: Since they are supplementary sinks, they can sometimes be installed yet may not be used.
8) Workstation Sinks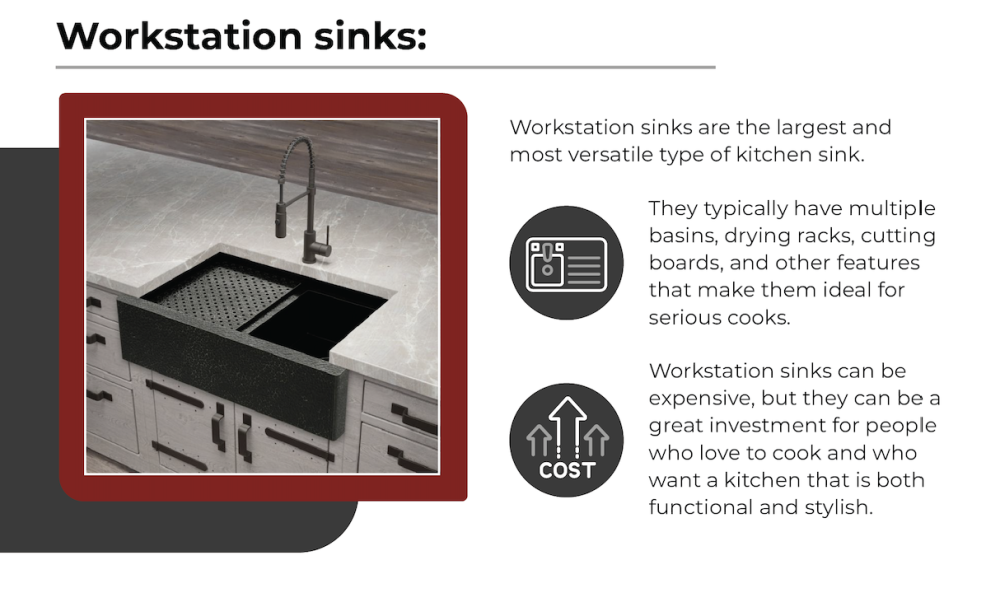 This type of sink is usually larger in size than the regular sized ones, and provides utility by incorporating drying racks, cutting boards, and rinsing bowls. If you are looking for a serious kitchen product, look no further than the workstation kitchen sink.
Advantages: Extremely space efficient. Promote a hygienic cooking area.
Disadvantage: On average they run around 1.5 to 2x the cost of a standard kitchen sink.
Materials used to make sinks
In addition to the size and shape of your sink, it's important to consider the material that it's made out of. The material can have an impact on the price and durability of your sink, but it can also act as a decorative feature in your kitchen if it matches the room's decor and color scheme.
Here are a few of the most popular sink materials, as well as some less common ones:
Stainless Steel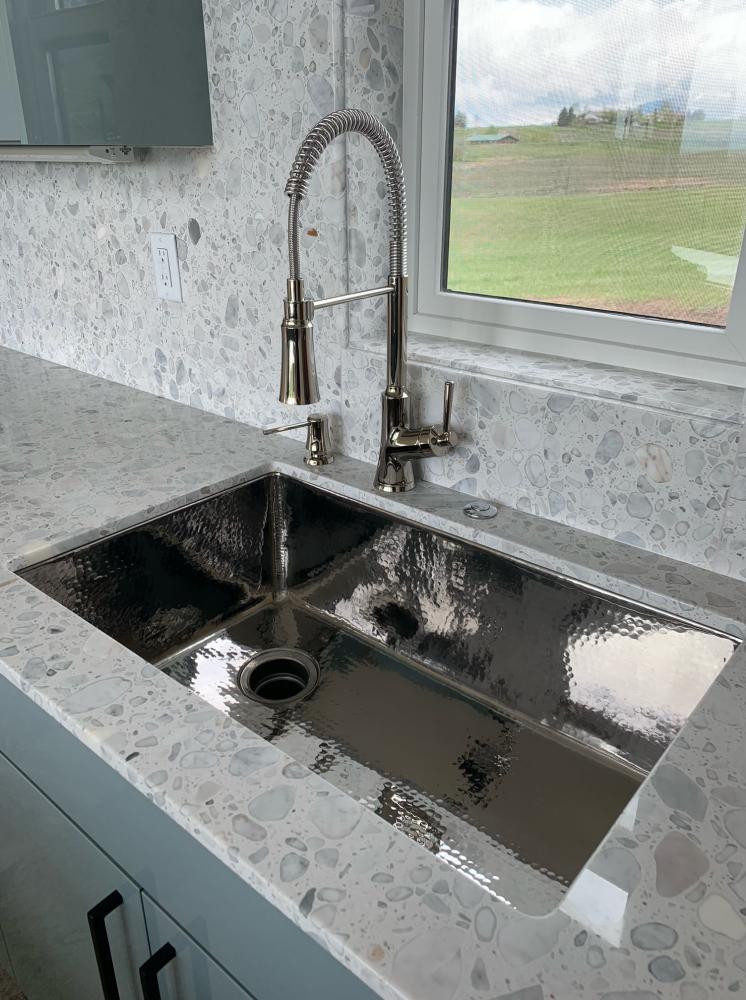 Stainless steel sinks account for a large part of the residential and commercial kitchen sink market because they're affordable and versatile. You can get them in most of the shapes and styles on our list, and they don't require a lot of maintenance to keep them looking shiny.
However, stainless steel sinks don't match with every kind of decor, and although you can choose from a variety of finishes, they all come in the same silver color.
Stainless sinks can also be noisy, unless you take steps to soundproof them. Stainless steels sinks come in many different grades, but are all made with iron and at least 11% chromium.
Don't be confused by gauge measurements: a 23-gauge sink is only half as thick as an 18-gauge sink, so it will be cheaper, but less durable.
Granite/Quartz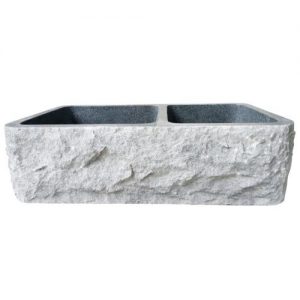 Composite sinks are made of granite or quartz, along with an acrylic material — usually 80% stone and 20% acrylic. The main benefit to compsite sinks is their durability. The surface protects against scratches, as well as heat, and can withstand temperatures of up to 535 degrees F. Composite sinks are also less noisy than stainless steel sinks, and more resistant to bacteria and smells.
One of the biggest drawbacks to a composite sink is that what makes it durable is also what makes it hard on dishes. Fragile dishes can break more easily if you drop them against the surface.
Composite sinks come in a range of colors, and can be installed as integrated sinks, which means they can be made of a single continuous material along with the countertop.
Enameled Cast Iron
Cast iron sinks don't look anything like cast iron pans because they're actually coated with enamel, giving them a smooth, uniform color.
The downside to cast iron sinks is that they're heavy, and may need more support compared to other sink materials. Additionally, they're susceptible to developing chips and stains, and the enamel can wear off if you use abrasive cleaning materials.
Fireclay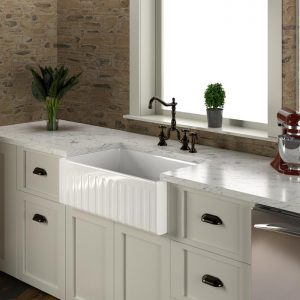 Fireclay sinks are another ceramic-based sink that has many of the same pros and cons of cast iron. In this case, they're made out of clay and glaze that's been fused together at 1600 degrees.
Fireclay sinks are typically handcrafted, providing an artisanal look and feel. However, this means they may not be as uniform as other sink materials.
Fireclay sinks are heavy, and liable to chips and water stains. They can also be hard on glassware and other fragile materials, and require their own special type of garbage disposal.
Bamboo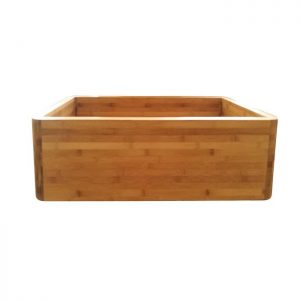 A less common material that can be used to make kitchen sinks is bamboo. These wooden sinks are perfect for a sustainable, eco-friendly kitchen theme.
The main disadvantage to bamboo sinks is that they require a lot of maintenance. They should be drained and dried after each use to avoid leaks and stains, and must be re-sealed yearly.
Copper
Finally, there's copper, which offers a durable material that can also serve as a decorative feature in your kitchen. Its reddish surface develops a protective patina that darkens with age, and it can come with a hand-hammered or smooth finished texture.
One of the most important benefits to a copper sink is its antimicrobial properties. Copper can kill up to 99.9% of bacteria, helping you maintain a safe and hygienic kitchen. It's also highly durable, ranging from 20 gauge to 14 gauge, which is thicker than most stainless steel sinks.
The downside is that copper sinks can be expensive and require more maintenance than other sink materials. In particular, you should limit contact with acidic foods, which can damage the patina.

Faucets, Drainboards, and Disposals
One more thing to keep in mind when choosing a sink materials is how to arrange the components, such as faucets and drainboards. Some materials, such as cast iron, are hard to modify once they've been installed, so it's important to think through the arrangement of faucet holes beforehand.
Other materials, such as fireclay, don't usually have faucet holes at all, so you'll have to mount the faucet on the wall or counter. Also, fireclay sinks require a different type of garbage disposal, since those that fit with other sink materials may not be compatible.
You should also consider the placement of the drainboard, which can be used as a food prep area or to dry dishes. The drainboard should connect directly to the basin, without any gaps, to avoid water damage to the counter or fixtures.
Quality Copper Sinks
Copper has been in use for decades for many other things but currently it has become an alternative to the stainless steel and the porcelain variety used in making sinks because of its aesthetically appealing nature and the ease of maintaining.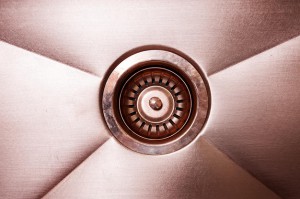 Advantages of a Copper Sink
The main advantage is the glamorous good look that these types of sinks have (this is what has made them very popular)
The copper metal i.e. the material used in making these sinks has essential antimicrobial properties. This means that the harmful bacteria will not survive (they die within a few hours) in it unlike the other type of materials in which bacteria can survive for weeks thus risking your health. This makes it very useful especially for people who like soaking foods like vegetables in the sinks.
Copper sinks are available in all the above, different styles. Thus one can pick any of his/her choices.
Copper sinks also have the advantage of not corroding or rusting over extensive usage or even with time.
How to Choose the Right Kitchen Sink

Now that you know all about the different kinds of kitchen sinks that you can install in your house, you'll need to know how to make the right selection! Remember that whichever sink you choose will be a part of your kitchen for a long time to come, so it's important to take the time to ensure that you're fully happy with your choice. Below, we've put together some handy tips for helping to narrow down the choices and find the one that works for your needs, from both a functional and aesthetic point of view.
Select the Style Sink
You'll probably be drawn to one type of sink, aesthetically. In truth, if you're happy with the style, whether it be a farmhouse sink, undermount sink, or drop-in sink, then that's probably what you should go with. There are advantages and disadvantages to each, and in some cases, you may not be able to pick a particular sink style due to cabinet/counter issues, but in general, most homeowners can get their preferred selection.
Select Your Material for your sink
Next up is the process of selecting your sink material. This is a big decision because it's the material that'll have the biggest impact on the look and function of the sink. Remember, they're not all the same — some are more expensive (but also more luxurious/visually appealing) than others. At World CopperSmith, we specialize in steel, brass, and copper sinks, with copper generally being the most popular option for homeowners looking to add the best of the best to their property.
Select the Size for your kitchen
It's not just about choosing the sink that you want. It's about picking a sink that can fit in your kitchen. You may want to have a large, double-basin sink, but that won't be possible if you're only working with minimal space. So getting a sense of how much space you have to play with will be an important part of your journey. SInks are measures for length, width, and depth, and all three must be in line with the space you have in your kitchen. The most important of these three measurements is length — most homeowners have no issue with the width and depth size but can fall down when it comes to length.
Think of the Aesthetic
Finally, remember that you're not just selecting a sink that you like. You're selecting a sink that needs to work with your overall kitchen aesthetic. You'll have a lot of customization options when you buy a sink from World CopperSmith. So whether you have a modern, traditional, or any other type of kitchen decor, there'll be an option that's right for you. If you need any help choosing a kitchen sink for your property, then get in touch with us and one of our members of staff will be happy to guide you through the process.
What Is Considered the Best Kitchen Sink?
There's no such thing as the best kitchen sink style since they all have their own advantages and disadvantages. It depends on what the sink will be used for! Some homeowners will prefer to add a trendy farmhouse sink, while others may want to get all the multifunctional benefits of a workstation sink. So the style will come down to individual choice, but what about the material? Most people believe that copper makes for the best kitchen sink because, although it's slightly more expensive, it does offer a host of benefits that other materials cannot. For example:
Looks Great: Copper sinks offer almost as much aesthetic appeal to a kitchen as they do functional appeal. The rustic, timeless look offers a hint of nostalgic luxury to both traditional and modern kitchens.
Long Lasting: Invest in a copper kitchen sink, and it'll be the last kitchen sink you ever buy. Not only are they highly durable and made to last, but their appearance actually improves over time, and they can even increase in value.

Remember: Quality Can Vary Widely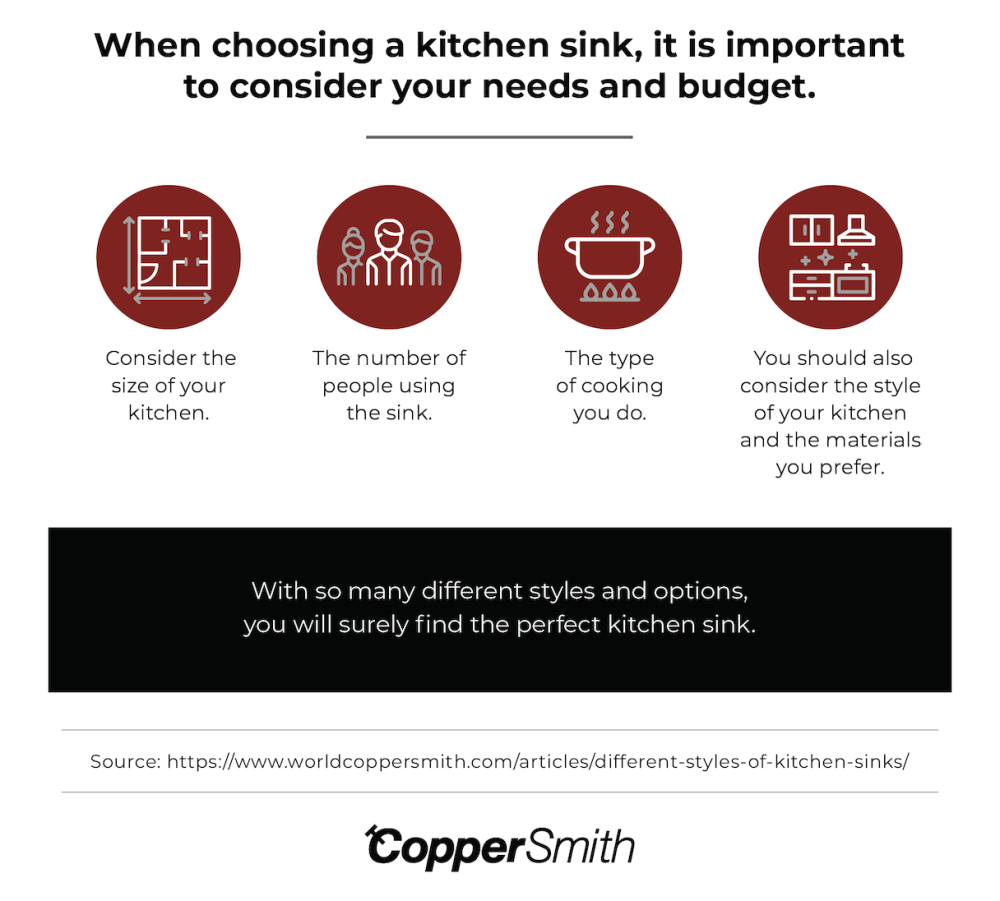 We've talked a lot about the different styles of kitchen sinks available. But remember that the style of the sink won't determine the quality of the final offering; that'll be determined by the manufacturing process. In order to get the kitchen sink that you want and deserve, it's important to work with the best. Here at World CopperSmith, we're experts at manufacturing top-class kitchen sinks. If you're ready to get started, then use our 3D configurator to begin the process of planning your sink or request a free quote.
If you would like to know more about copper, its benefits, or to order a product, call CopperSmith today at 1-888-431-4677 or email [email protected].