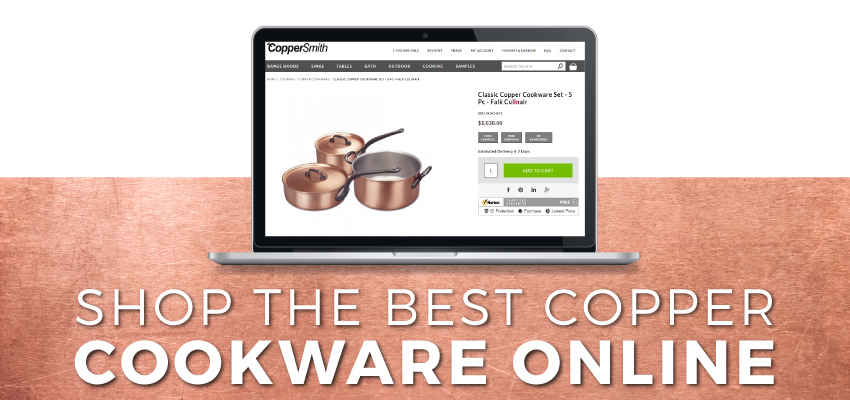 Want to maintain the quality of your copper pan? Cleaning copper pans is of paramount importance, and those who recognize the importance of cleaning copper cookware can reap the benefits of exceptional copper pans, pots, and other copper kitchenware for years to come.
However, it's important to note that not all copper cookware is created equal.
For instance, The New York Times points out some copper cookware may put your health at risk if it's not cleaned properly:
"Copper pots are popular due to their even heating. But large amounts of copper from unlined cookware can cause nausea, vomiting, and diarrhea," the newspaper notes. "Some copper and brass pans are coated with another metal to prevent food from coming into contact with copper. Over time, these coatings can break down and allow copper to dissolve in food. Older copper cookware may have tin or nickel coatings and should not be used for cooking."
Clearly, copper pots and pans can provide exceptional value if they are cleaned properly. But how should you work toward restoring copper pots and pans consistently?

To better understand how to polish copper pots and pans at homes, let's first consider some of the key advantages of copper cookware over the alternatives.
What Are the Key Benefits of Copper Cookware?
Copper can deliver life-saving benefits, as well. Just consider how one hospital recently used it to safeguard its patients against infection.
CleanLink reported that Washington State healthcare facility Pullman Regional Hospital began using antimicrobial copper as part of its efforts to destroy deadly bacteria. The hospital installed copper components "as another way of reducing hospital-acquired infections and keeping patients safe," CleanLink noted.
In the United States, 2 million people annually are diagnosed with a hospital-acquired infection, often caused by bacteria such as E. coli and VRE, according to CleanLink. And, in many cases, those who are diagnosed with a hospital-acquired infection die as a result.

Fortunately, the CDA administered a grant that Pullman used to install copper hardware across its facility. From faucet levers on 40 basins in its public washrooms to the handles of IV poles in its birthplace, ICU and medical surgery unit, the hospital was able to utilize high-quality copper to better protect its patients against infections.
"By replacing the most touched surfaces in the hospital, Pullman is making an easy change to ensure its patients' safety and satisfaction," CDA Project Engineer Adam Estelle told CleanLink. "Bacteria can spread rapidly even in the most sterile locations where hand washing and surface disinfection are common practices. The beauty of copper touch surfaces is that they do not require any special cleaning, are safe to use and provide protection 24/7."
The newly installed copper promises to deliver far-flung benefits for Pullman patients and the hospital itself.
This copper delivers an added layer of infection protection for patients. Also, it is highly durable and proven to last for years to come, ensuring it will deliver outstanding quality.
Now, imagine what it would be like to enjoy unparalleled quality by cooking with copper pots and pans.
For those who devote the necessary time and resources for cleaning copper cookware, you'll be able to reap the benefits of superior pots and pans. Plus, these pots and pans are sure to maintain their appearance and, ultimately, serve you well for an extended period of time.
Cleaning Copper Pots and Pans: A YouTube Lifehacker's Advice
There are many ideas and theories behind how to clean copper pans at home. But YouTube "lifehacker" Dave Hax recently shared his thoughts on a fast and effective way that anyone can use to clean a copper pan in under a minute with The Huffington Post:
Place the pan in your sink and coat it in salt. Simply putting your copper pan in your sink and washing it with dish soap is insufficient. Instead, Hax recommends coating the pan's exterior with salt to help transform an ordinary copper pan into a bright, shiny piece of cookware.
Add white vinegar to the salt on the pan, then use more salt on it. White vinegar offers a wide variety of household uses, so perhaps it's no surprise that you can use it to help clean your copper pan. Hax notes that, after you cover your pan in white vinegar, you should add more salt to it, too.
Leave the pan alone for about 15 seconds. Then, watch the magic happen. The combination of salt, white vinegar, and additional salt is extremely powerful, according to Hax. Thus, those who use these materials in conjunction with one another are sure to notice a superior chemical reaction that ultimately will lead to a pristine copper pan.
Add white vinegar to a sponge and scrub away. Of course, no cleaning task would be complete without scrubbing, and cleaning copper pans is no exception. Hax points out adding white vinegar to a sponge and scrubbing the exterior of the pan will help this cookware dazzle soon enough.
Add more salt to the sides of the pan, then scrub once again. The only dangerous amount of salt during the cleaning process is no salt at all. And at this point, Hax recommends using additional salt on the sides of the pan, then leveraging a sponge to scrub it vigorously.
Rinse off your copper pan, and you're finished! The final step also may be the easiest, as all you'll need to do is rinse off your copper pan in water. By doing so, you'll now be able to enjoy an immaculate copper pan that will maintain its appearance.
It's also important to remember that broad ranges of copper cleaning methods are available that will empower you for cleaning copper cookware, and this represents just one of them.
Which Cleaning Methods Work Best on Copper Pots and Pans?

Although Hax suggests a combination of salt and white vinegar to keep your copper pots and pans looking great, there are alternative cleaning methods available.
Some of the most popular options for how to clean a copper pan at home include:
Lemon and Salt
For those who want shiny, polished copper cookware they can enjoy day after day, there may be no better choice than using a combination of lemon and salt to keep their pots and pans in tip-top shape. The Kitchn points out that copper cookware can offer many benefits, and those who want to maximize the value of their pots and pans should consider the combination of lemon and salt to clean these items." While it's beautiful in any state of use, copper — in its shining, polished form — can double as decor in many spaces or add texture galore to a simple table setting," The Kitchn notes. "If you're looking to spiff up your copper cookware, tackling this kitchen to-do doesn't require a lot of tools, a trip to the store for supplies, or even much elbow grease. It only requires two little ingredients (lemon and salt) you already have in the pantry." Ready to give lemon and salt a try for cleaning copper pans?

Here are The Kitchn's recommended steps for using lemon and salt to clean up your copper cookware:
Cut the lemon in half and add salt to it. Then, rub the lemon on the copper pan. You don't need a sponge or rag to apply the lemon-salt mix. Comparatively, The Kitchn recommends using the lemon with a dash of salt on it to get the desired cleaning results.
Create a lemon-salt paste. Are you noticing stubborn areas where grease and other tough stains refuse to budge? Thankfully, you can squeeze lemon juice into a bowl, add salt and voila! Together, lemon juice and salt can form a powerful paste that will help you clean up difficult stains without delay.
Rinse and dry. Use warm water to rinse your copper pan. And after you're done, let your copper pan dry thoroughly.
Buff your copper pan. For those who demand the best from a copper pan, be sure to buff it out with a dry, clean cloth. This will allow you to keep your copper pan shiny and looking new for days, weeks, months or years. The Kitchn also notes that lemon and salt isn't a good fit for lacquered copper. Typically, a lacquered copper pan will not change color or brown with use.
Baking Soda
Remember the box of baking soda you've been using to keep the food in your refrigerator smelling great? Well, baking soda also may serve as a terrific option to keep your copper pots and pans glistening.
Ketchup
Ketchup is more than just a condiment that usually tastes great with French fries. In fact, ketchup may help you change bland copper pots and pans into extraordinary ones at any time. According to Real Simple, a tiny amount of ketchup can make a world of difference on your copper pots and pans. "Squeeze ketchup onto a cloth and rub it on pots and pans. They should go back to their coppery color in minutes," Real Simple writes. An unexpected cleaner like no other, ketchup could help you improve the appearance of your copper pots and pans instantly.
Beer
Believe it or not, beer may actually help you keep your copper pots and pans clean! Gregg Smith, General Manager of Idaho Brewing Company, tells Men's Health that beer once was used to polish the copper vats in breweries. "Because of its acidity, you can just pour some on, let it sit for a while, then wipe it off. It also works well on Revere Ware pots," Smith says. Today, Smith uses beer to keep his establishment's copper-top tables looking superb, and you may be able to use extra beer to help your copper pots and pans shine, as well.
Copper cookware offers immense value, particularly for those who understand how to clean it correctly. Moreover, those who invest in top-of-the-line copper pots and pans can benefit from the unsurpassed quality provided by these items.
What Should You Look for in Copper Pots and Pans?

Copper pots and pans should become mainstays in your kitchen. These items should be rugged enough to be used consistently without wearing down. And after you clean your copper cookware, each piece should sparkle.

Finding the right copper pots and pans for your home, however, may seem like an uphill climb. Fortunately, we're here to help! Here are three factors to consider when you're searching for reliable, top-rated copper pots and pans:
Appearance. Copper pots and pans usually come in two finishes: Hammered or smooth. Although the hammered finish may have a handcrafted look and feel, both hammered and smooth pots and pans deliver amazing quality. "Almost all examples are made with machines, and the hammered appearance is really a decision based on your aesthetic preferences and availability of finish choices in the particular pot or brand that you are interested in," Foodal notes. "A smooth finish will be much more common throughout most of the decent quality brands, although most manufacturers do offer some pieces in both finishes." Search for both hammered and smooth copper cookware, and you're sure to find reliable pots and pans that will look great and perform consistently.
Linings. Check out bare, tinned and stainless steel lined copper cookware — you'll be glad you did! By doing so, you'll be able to discover distinguished copper cookware that is simple to clean and will match your personal style beautifully.
Foodal outlines how you can differentiate between the three types of copper cookware linings, as well:
Bare: Often inexpensive and a superb conductor of heat, bare linings are good options for any home. At the same time, however, these linings offer limited protection against acidic foods like tomatoes, which can make it more difficult to maintain their quality.
Tin: With tin, you can enjoy a natural crystalline structure that is smooth and nonstick. However, it will oxidize over time and darkens after extended use.
Steel: The stainless liner is so thin that the stainless steel will make no perceptible difference to the amount of heat that permeates through the bottom of the pan," Foodal notes. Steel does not rust or tarnish and requires no special cleaning agents or detergents to ensure its quality.
Choose wisely when deciding between different types of linings, and you'll be able to find the right one that fulfills your cooking needs continuously.
Best practices for cooking with copper pans
One of the best things you can do to maintain your copper pots and pans is to make sure that you know how to cook with them properly. The more carefully you cook with them, the less time and effort you'll have to put into polishing or repairing them.
If you share your kitchen with family members or housemates, or are having guests over, give them a rundown of how to cook with copper so they don't accidentally ruin your favorite cookware.
Some things to keep in mind when cooking with copper are:
Don't heat up the pan while it's empty. While you might be tempted to throw your pan on the stove and heat it up before adding oil, this can cause discoloration and damage the pan's lining. Wait until you've added oil, then turn up the heat slowly.
Use reduced heat. Because copper conducts heat more effectively than other metals, you should always use a lower temperature setting than you would with other pans. Start with a medium-low setting, or turn the flame to half of what you'd use when cooking with stainless steel.
Don't use metal utensils. If your pan is lined with tin or a nonstick surface, then the surest way to reduce the life of your pan is to scratch it with a metal fork or spatula. Use wooden or silicone utensils to preserve the coating, and of course, avoid abrasive sponges and scourers.
Not all copper pans can go in the oven. Sometimes you want to put your saucepan in the oven to keep your food warm or to broil it. Copper that's lined with stainless steel can handle an oven up to 500 degrees, but tin linings can't go any higher than 450 degrees. Play it safe so you don't have to worry about cleaning up melted tin with your dinner.
Don't use the dishwasher. Copper pans aren't dishwasher safe, so always wash them by hand.
Store them away from the stove. A big part of copper's appeal is its decorative value, so don't be afraid to hang up your copper pans in the kitchen. But if you do, keep them a safe distance from the stove to avoid oils and food particles from drifting up to them while cooking.
What are copper nonstick pans? While researching copper pans, you might come across pans that are marketed as nonstick copper, and have the same reddish copper hue you've come to expect from copper pans. We don't want to burst your bubble, but these aren't the same copper pans that you'd find in a French restaurant. They're actually aluminum pans with a copper-colored ceramic coating. Some of them may contain small amounts of copper, but you won't be getting any of the qualities that you'd get from a genuine copper pan. They have more in common with other nonstick cookware than with copper.
Do you have to season copper pans?
Another question you might have is whether you need to season your copper pans. In general, the answer is no. Seasoning is usually reserved for cast iron and carbon steel. However, depending on what your copper pan is lined with, you might need to season it a few times a year. You can check the manufacturer's guidelines to see what they recommend.
As a general rule:
Seasoning is required for nonstick linings if you want to retain its quality.
Seasoning isn't necessary for tin linings, which are already resistant to sticking.
Seasoning is optional for stainless steel linings. Seasoned stainless steel won't look as shiny, but it can make it easier to cook exceptionally sticky foods like eggs. Some cooks suggest seasoning just one of your stainless steel pans and setting it aside for this purpose.
How do you season a pan? There are four basic steps:
Wash and dry the pan thoroughly.
Coat it in a thin layer of vegetable oil or whichever cooking oil you prefer.
Heat it in the oven or on the stove until it begins to smoke. If you're using an oven, then 20 minutes at 300F should do.
Let it cool and drain or wipe away any extra oil.
When a pan is seasoned, the chemicals in the oil bond with the surface of the pan, forming a layer that can last for up to 6 months. However, it's vulnerable to detergents, so you shouldn't wash it with soap and water during this time. If you do, then you'll have to season it all over again!
How to repair copper pans
Sometimes, your copper pans need more than just a thorough cleaning. If the tin lining of your pan is worn or scratched, and the copper underneath is showing, it may be time to get it relined. A fresh tin lining can last for 10 years or more, helping you increase the longevity of your copper pan.
If you're feeling up for it, you can do it yourself — or you can hire a professional to do it for around $4-6 per square inch. They'll remove the tin lining to reveal the copper underneath, then melt down a fresh layer of tin and spread it evenly over the surface.
How do you know when your copper pan needs to be relined? A few scratches aren't likely to be an issue, but once the area of copper that's visible is the size of a quarter, it's time for a repair.
Copper cookware is a must-have for expert and novice cooks alike, and those who are committed to finding the best pots and pans should consider investing in copper products from an industry-leading brand: CopperSmith.
Since 2009, we've offered copper cookware that delivers a variety of benefits, including:
Exceptional Heat Conductivity: Why should you be forced to settle for pots and pans that fail to conduct the necessary amount of heat to help you produce great meals? With our copper cookware at your disposal, you'll never have to worry about a burnt or undercooked meal, as our pots and pans ensure you'll be able to heat evenly.
Outstanding Non-Stick Products: We supply hammered copper cookware that is lined with tin, ensuring outstanding quality. Plus, all of our products come from the Amoretti Brothers, which offer chemically created non-stick cookware that is of the highest quality.
Improved Safety: With our selection of copper cookware, you can enjoy items that are made of copper, tin and cast bronze. This guarantees that all of our copper pots and pans have no harmful chemicals that may leach into your food.
Cost Savings: Want to maximize your return on investment in your copper cookware? Thanks to our assortment of copper pots and pans, you can benefit from cookware that will maintain its quality and appearance. This ensures you won't be forced to replace your copper pots and pans anytime soon.
Style: At CopperSmith, we understand that your personal style may be unique. As such, we offer a large selection of styles designed to fulfill your personal needs. From our copper pots and pans to our copper sinks, copper faucets, copper lighting and other copper accents, we make it easy to revamp your kitchen décor at any time, too!
Advanced Durability: For those who want cookware that works just as hard as you do, our copper pots and pans serve as perfect choices. These pots and pans offer advanced construction and durability, guaranteeing they consist of sturdy materials that enhance each piece's overall value.
Simple to Clean: Cleaning up after a large meal has never been easier thanks to our superior copper cookware. You can hand-wash each piece, buff the outside of the copper cookware with a soft, dry cloth and make it shine brightly instantly.
CopperSmith products remain top choices among homeowners and architects alike, as we go above and beyond the call of duty to produce copper pots and pans that will satisfy all of your needs.
Our consistent focus on creativity and collaboration has helped us become an industry leader among copper pots and pans suppliers. And with our unbelievable collection of premium-quality copper cookware, we continue to make it easy for just about anyone to enjoy awe-inspiring pots and pans.
---
Ready to upgrade your ordinary cookware to copper cookware that will serve you well every day? Take advantage of the offerings available from CopperSmith, and you can benefit from deluxe copper pots and pans that are likely to become instant favorites in your home.
We offer copper cookware that's backed by our money-back guarantee. And if you ever have concerns or questions along the way, our team of copper cookware experts will be happy to respond to your queries at any time.
Check out our massive selection of copper pots and pans today! To learn more about the CopperSmith copper cookware offerings, please visit our website or call us at 1-888-431-4677.