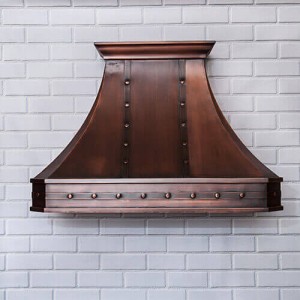 Custom Range Hoods
There is no better way to transform your kitchen than to incorporate a custom copper range hood above your stove. Not only will the range hood tie your kitchen together by creating an artistic center point, but the copper range hood will provide functionality to your cooking space that any casual cooker or seasoned dinner party host will appreciate.
Designer Copper Range Hoods
When designing the range hood for your dream kitchen, there are some considerations you will want to make. It is important that the range hood is the correct size for your range. Also, the total height above the range is critical to functionality and how it looks. Generally, between 18" and 35" will allow the proper height above your range. Some things that affect height recommendations are the size of the custom range hood, kitchen size, and height of the primary person who is doing the cooking.
Copper Range Hood Ventilation Fans
The ventilation fan insert for your range hood is an incredibly important aspect of your custom range hood. The process starts with you or your contractor working with us to provide the specifications of your kitchen or construction plans. The amount of cooking you plan on doing, how quiet you would like the system to be, and any other considerations that go into selecting the right insert. By taking the time we cover all these bases, you know everything will go smoothly!
Textures & Patinas
Once you have the size, texture, color and insert picked out, it is time for our artisans to begin hand pounding your custom range hood masterpiece! Expect to get what you want. Browse our website and you will see a variety of favorite styles of range hoods that past customers have designed. If you see one you like, we can make that exact style. Have slight changes you want to make; that is no problem.
Quality Range Hoods
There is much variance in quality of range hoods available on the market today. An important factor is the thickness of the copper. When a coppersmith starts with copper that is too thin, you will see several waves and imperfections in the range hood. Without the use of proper sheeting thickness, your range hood will not have durability and strength. Instead, you will have the manufacturer re-enforcing the inside of sub-par products with iron or steel framing.
At Coppersmith, we guarantee quality made copper products!