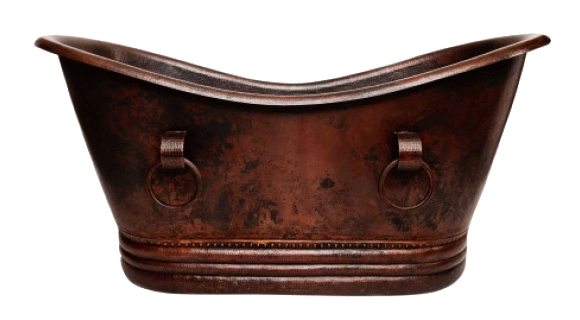 A bathtub is an integral part of any bathroom whether yours is a traditional, rustic, modern or a contemporary themed bathroom. As such, different factors need to be carefully considered before buying and installing a bathtub in your home. Any home owner will be looking for the best deal on the market and when it comes to bathtubs this means a durable, attractive and affordable bathtub that compliments their individual tastes and preferences while blending flawlessly with the rest of the bathroom and home decor. CopperSmith's professional copper experts would like to offer you some guidance when choosing a copper bathtub.
Choosing a Quality Copper Bathtub
One of the materials used to make bathtubs today is copper. Copper is a beautiful and strong and can be used to make quality, long lasting bathtubs that are unique enough to meet different homeowners' requirements. So after you've settle on copper as the material of choice for your bathtub, what do you look for when buying one? Where do you go in order to ensure that you end up with a quality copper bathtub you can use for many years to come? These questions seem to be overwhelming homeowners but we can help find the answers.
Below is a copper bathtub buyer's guide to help you navigate through all the options available and choose the best tub for your needs:
1. Quality of the Copper
The quality of copper bathtubs differ depending on the thickness of copper used to make the tub, the purity of the copper used and the workmanship involved when making the copper tub. Copper is gauged depending on thickness. You will find out that gauge 20 copper is very thin and this means that a gauge 20 bathtub will be cheaper than a thicker gauge 14 or gauge 12 tub. If you are looking for a bathtub that will stand the test of time and need minimal or no repairs in years, go for the thickest copper tub you can afford.
Thin bathtubs have been known to wear quickly leading to leaks and dents. Thin tubs will also produce some noise, especially when filling the tub and this can be a tad annoying. Another factor that comes into play when considering the quality is the purity of the material of the copper used. While this might not be very easy to discern just by looking at the end product, most sellers will tell you the percentage of copper in relation to other metals added. A higher percentage of cooper to other metal is always better as it produces a stronger more durable alloy.
Workmanship is also a consideration when it comes to quality. Different manufacturers will produce different results - even when using the same type and gauge of metal. The overall time used to make the tub, the level of expertise and the general attention to detail will affect the final outcome and thus affect the quality of the bathtub make. Workmanship can be seen. If you keenly look at the options available to buy you can easily tell the product that was completed to perfection, even if all are the selections are made from the same type of copper metal.
2. Copper Bathtub Finishing
Most copper items will come in either a smooth, well-polished finish or a rugged, hammered finish. In most instances, it makes more sense to buy a tub with a well finished and smooth interior especially when considering the level of comfort you expect not just from a copper bathtub but any other bathtub you use. For the outside, you have the option of choosing a smooth and polished finish or the hammered and rugged one for a more adventurous look.
A smooth finish goes well with a contemporary theme that makes use of symmetry and smooth finishing in all areas.
A rough rugged look on the other side goes well with a rugged countryside or traditional theme and will blend well with other rustic decor items that are both striking and adventurous.
Finishing also affects the color of the metal and consequently the bathtub color. There are four main colors when it comes to copper bathtubs. These colors range from a shiny penny look to darker coffee or dark chocolate hues. Of course more hues do exist, all depending on the origin and age of the metal as well as the type and percentage of other metals used to make the copper tub. Select the color that best suits your style and blends with the rest of your bathroom items as well.
You should, however note that the while shiny colored copper tubs are bright and smooth, their color can change, especially when the tub comes into contact with salty water or other compounds found in water, soap and other bath products. While the change in color does not, in any way, compromise the quality of the tub, the color change can affect your overall bathroom look. Corrective measures can be taken to get the tub back to its original color.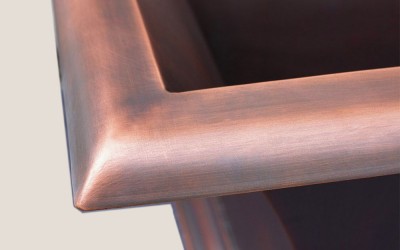 Darker colored bathtubs are always a safe choice for those who do not want to think about extra care and maintenance while using copper bathtubs. Whatever your option, be sure to select the finishing that meets most, if not all your requirements.
3. Copper Bathtub Style
There are copper bathtubs in enough styles to suit most, if not all homeowners. There are rectangular and circular bathtubs and many shapes in between all made to fit different users' needs. Some bathtubs also come with decorations like flowers or other attractive designs - especially on the outside. There are some manufactures that are ready to custom make a copper bathtub in a unique style, specifically designed to suit a certain bathroom. The secret when it comes to choosing the right style lies in taking adequate time and going through a number of suppliers until you find the style that fits you. Some manufacturers are known to come up with unique styles every now and then and those should be your first choice when selecting your tub. The fact that a bathtub can also be custom made is a huge plus. While custom made copper bathtubs might come at an extra cost, home owners are given the option of owning a bathtub that is designed to fit their bathroom and meet their unique requirements.
4. Copper Bathtub Brand
Some copper bathtub buyers guides include the names of several known brands in a bid to help buyers choose the correct tub. What such guides highlight are the different brands of copper bathtubs available either in stores close to you or online. There are many advantages of buying a well-known brand as opposed to buying an unknown brand. One of the advantages is that with a known brand you can be guaranteed of good quality or at least the right information when it comes to quality and pricing. Another advantage is that most people who have come into contact with a known brand will in most cases leave a review.
Product and Company Reviews are very important and while most reviews will not include everything you might need to know about a particular tub, they highlight some important characteristics of the product and company. Customer reviews available online give you a feel of the copper bathtub that you intend to purchase and the companies reputation that is offering the products. And it's all from the view of a user as opposed to that of the manufacturer which might be biased.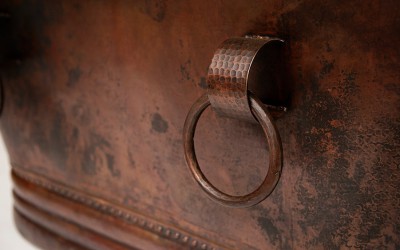 Well-known brands remain for one reason alone, they deliver products that they have been designed to meet customer needs and this means that dealing with a known brand will lessen the possibility of buying a substandard tub. On the other hand, there are other unknown and upcoming brands dedicated about making a name for themselves by provide quality and unique products that rival those made by the known brands. For an item like a bathtub, especially the handcrafted ones, an unknown manufacturer might have the exact product you are want and you should not just limit yourself to the known brand. Known brands are also known to be a bit pricey. If you settle for an unknown brand, be extra cautious and ensure that you are dealing with an honest dealer who produces nothing but the best quality copper tubs.
5. Copper Bathtub Size
The size of the bathtub you want to purchase will depend on a number of factors, top among them being the size of your bathroom. A small bathtub in a big bathroom will look odd while a large tub in a relatively small bathroom will look out of place. It is therefore important to have your bathroom proportions in mind when selecting a bathtub. While it is true that proportions matter and a large bathtub will go well with a large bathroom. It is important to always put quality before size. You would rather have a medium sized but high quality bathtub in a large bathroom other that purchase a large but low quality bathtub that will need to be replaced after a few years.
6. Copper Bathtub Cost
The cost of a copper tub just like any other product should be factored before the purchase is made. While most copper bathtub buyer's guides will clearly point that cheap is indeed expensive, and any buyer is better off with a more costly but high-quality tub, one has to live with what they can afford. The final price of a copper bathtub is pegged on many factors, top amongst them being the thickness of the metal used to make it and the level of expertise involved. Select a bathtub that is well within your budget. It is possible to get a better deal with one supplier when compared to others, so it pays to conduct adequate research on available suppliers and the prices charged for different types and brands of copper bathtubs. It is important to be cautious, especially if the deal sounds too good and you are purchasing a copper tub online, where you cannot see and touch the actual tub. If you take your time and do your research, you will find a bathtub that is in the quality that you desire and at a price that you can afford.
7. Copper Bathtub Accessories
Accessories include all the small things that are to be incorporated with the copper bathtub to make it complete and functional. With the numerous designs and types of accessories available in the market today, and considering the important role these accessories play in ensuring a seamless, complete bathroom, It is important to select accessories that go together with the bathtub and all other bathroom features. Some suppliers have copper tiles among other copper themed accessories that are designed to complement individual bathtub styles and designs. Have your accessories in mind when selecting a copper bathtub and where possible, purchase the accessories while buying the tub to prevent the likelihood of having a mismatched look or lacking some essential accessories when the bathtub and other fixtures are installed.
Conclusion
The points discussed above and in our other blogs form the bulk of the copper bathtub buyer's guide and will help you a lot when buying your copper bathtub. Of course, there are many more factors to consider depending on resources available to your unique requirements. Take your time to visit different stores whether online or in stores close to you. Go through different tubs without rushing to buy the first tub that you see, and you will be amazed by what the market has to offer when it comes to copper bathtubs.
It pays to take different factors into consideration, in particular for a purchase that will form a focal point in your bathroom and cost you more than just a few bucks. By doing your research and taking most or all the factors listed above into consideration, you can be guaranteed that you will end up with a copper bathtub that will serve you for many years to come. You will also have the advantage of bringing in the much needed extra warmth and personal touch that is sure to make every bath time a memorable experience to cherish at an unbeatable bargain!
If you have any questions, concerns or requests about our products or copper contact us online or at 888-431-4677 today!