What would you say if I told you that the kitchen is the heart of every home?
A professional designer can help you create a custom kitchen design that reflects your personality and taste. Let's now have a look at eight remarkable custom kitchen designs we have prepared for you.
1. Modern kitchen paired with SX7 Stainless Steel Range Hood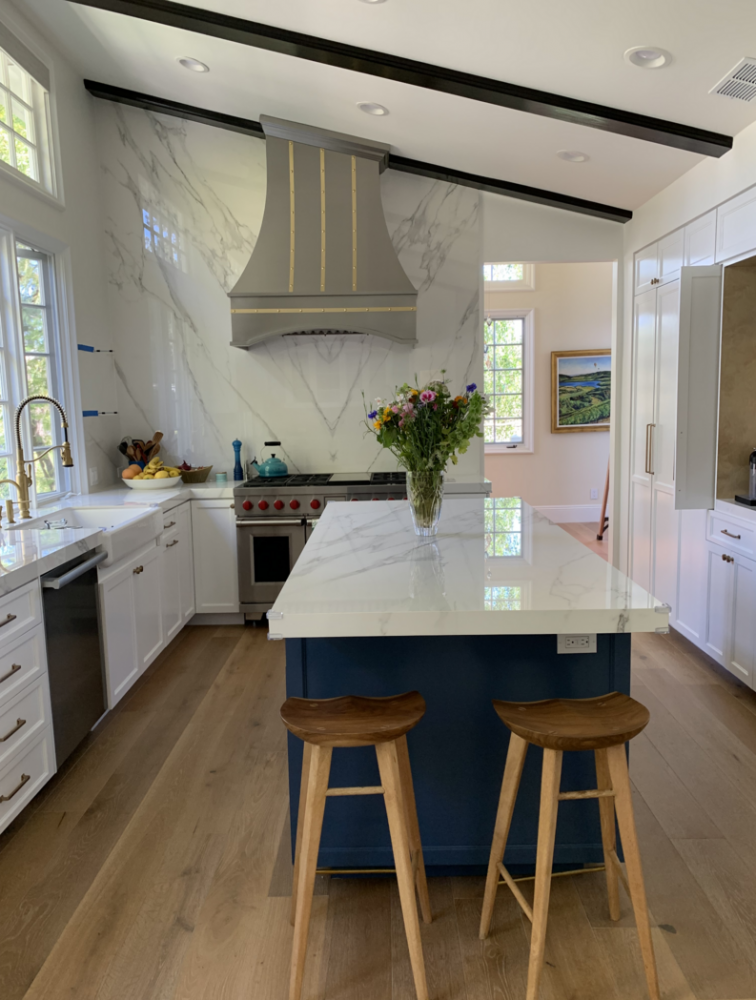 If you want to make the most of the available floor space in your kitchen, installing a free-standing kitchen countertop is one of the best ways to do it.
This contemporary arrangement features a bespoke design characterized by white gloss and granite finishes, as well as slanted ceiling and down lights.
The interior designer wanted to accomplish a color and trend concept, and the SX7 Stainless Steel Range Hood ceiling mount is a perfect complement to that concept.
Installing this stove hood on a sloped ceiling and directly over a gas stove console requires little effort.
Ideal additions for a contemporary living space are a few bar stools, a lot of cabinet space, and maybe a potted plant or two to complete the look.
2. Cozy and simple kitchen with the MX2 Copper Range Hood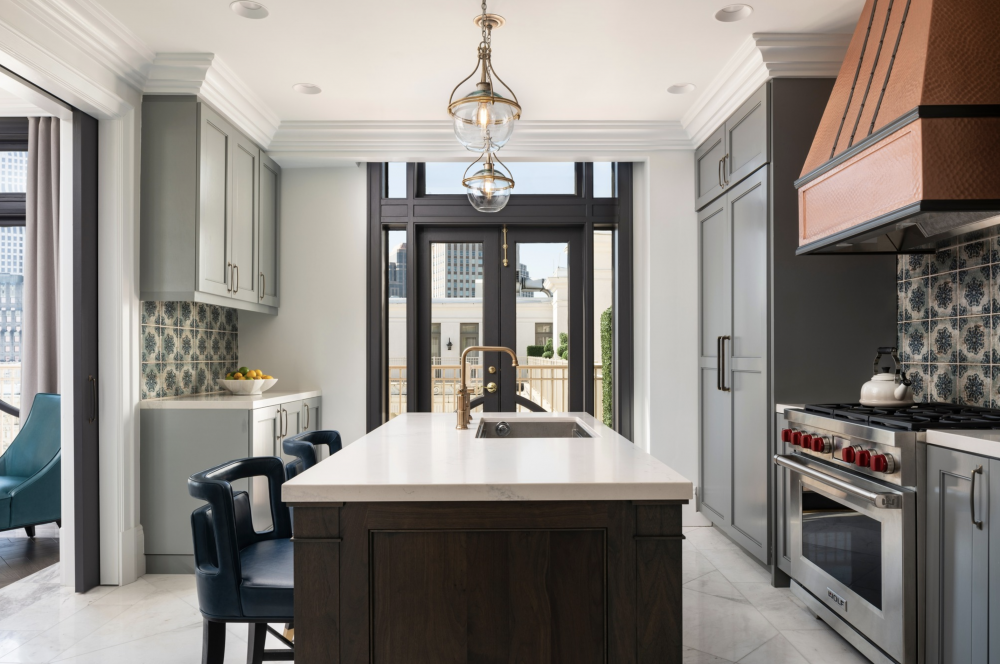 This cozy kitchen with a gray finish is perfect for households with only a few members. The layout makes it an ideal space for hosting intimate dinner gatherings.
Having a free-standing counter space in the middle of the kitchen, with a single bowl sink and gold mixer tap, is a good way to make use of the available floor space.
The gray mystic finish works well with the kitchen's low ceiling, which features a design that incorporates down lighting. The MX2 Copper Range Hood matches the color scheme rather nicely.
This cozy masterpiece is completed with finishing touches such as a low-hanging little copper chandelier and medium-height bar stools.
3. Old school kitchen design with the SX6 Copper Range Hood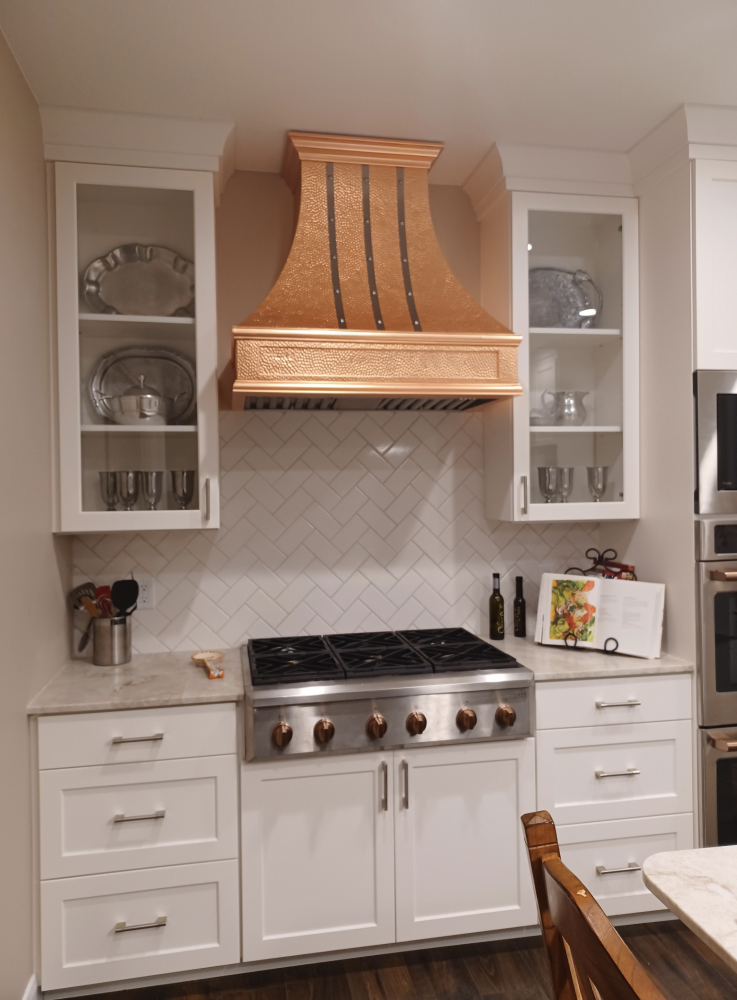 This arrangement is reminiscent of being at Grandma's house, and it is ideal for individuals who enjoy the classics while also keeping up with current trends.
With white cabinet finishes, a low ceiling and wall mount, and glass front cabinets to store antique pieces like that rose tea set, this custom kitchen setup is best suited for a medium-sized family that enjoys dining in the comfort of their own home.
As much as this design may give off a rustic, traditional appearance and feel, this design remains on the cutting edge thanks to the SX6 Copper Range Hood.
4. Cosmopolitan kitchen design with PR8 Stainless Steel Range Hood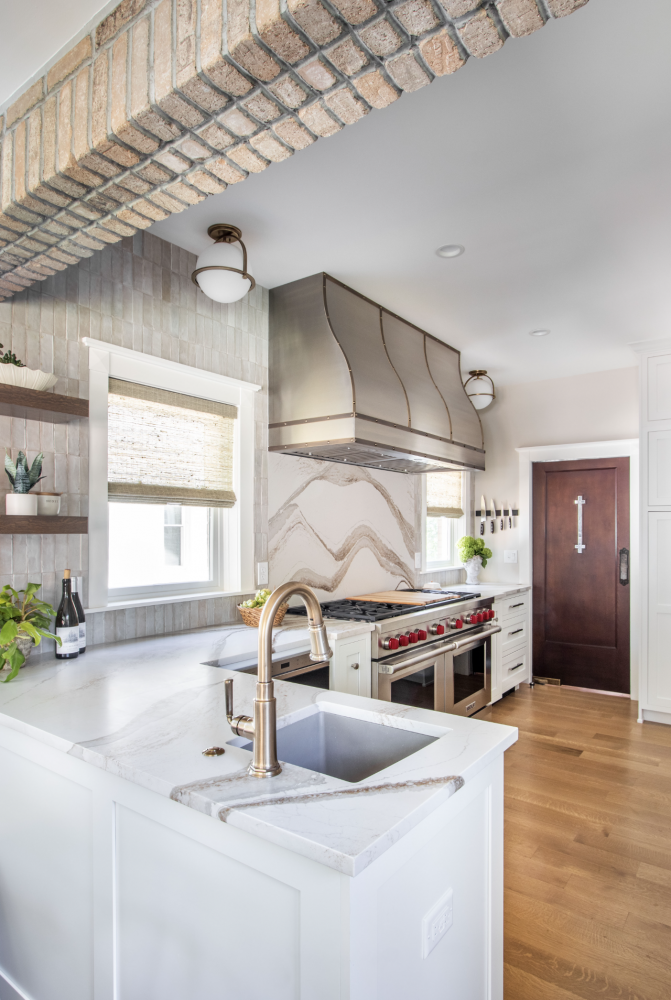 This modern kitchen layout features an L-shaped countertop arrangement, making it ideal for use in homes that have a limited amount of square footage.
Its white finishes, with a hint of gold and stone texture, keep the kitchen looking fresh. There is a lot of space for cooking, and this layout does a very good job of hiding the fact that the floor space is on the smaller side.
Since the double stove and oven fitting permits a little less cabinet space, this configuration is best suited for households with only a few members that enjoy cooking and baking.
It is possible to avoid overworking a single range hood by using a double range hood, which allows for adequate extraction of cooking fumes. Our PR8 Stainless Steel Range Hood fits perfectly and looks great over the double stove and oven setup.
5. Go all out with our CX8 Copper Range Hood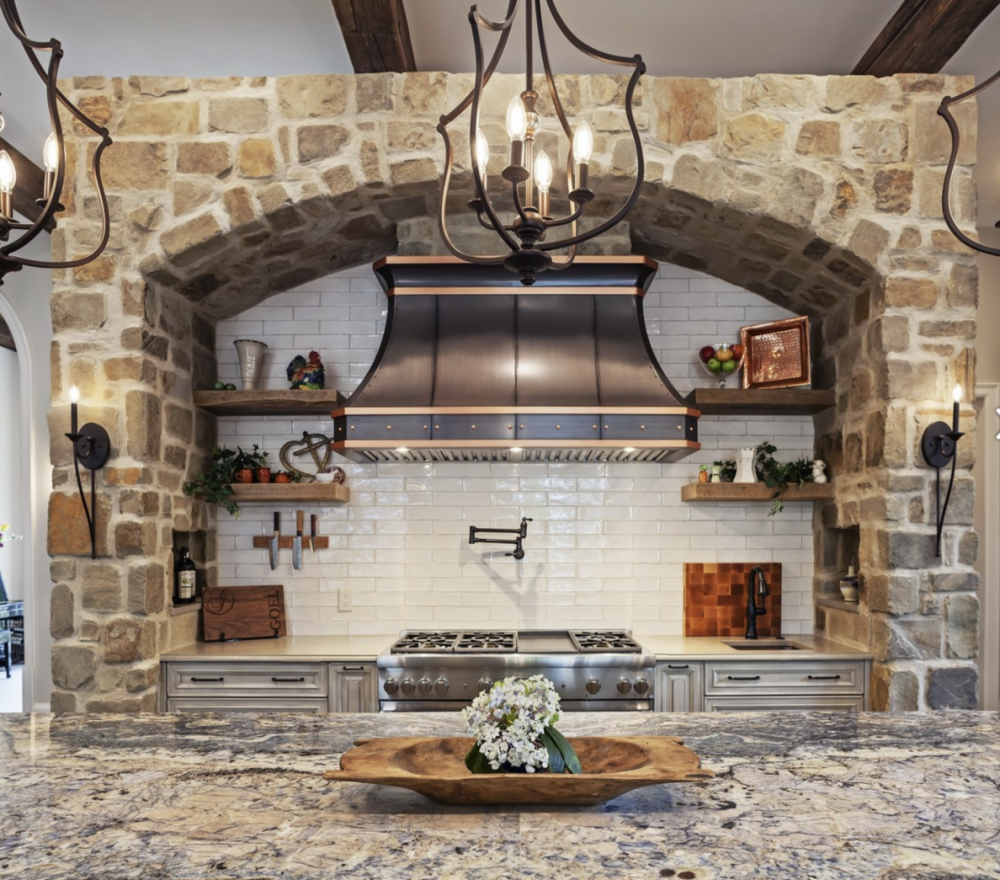 Stone arches have a way of turning open areas into more private ones. Whoever said that cooking couldn't be an intimate experience hasn't seen your kitchen with this finish.
Because of the stone finish and the feel of a ranch with high ceilings, this contemporary design must be enhanced with sophisticated lighting in the form of low-hanging candle lamp-style lighting.
This arrangement is wonderful for Thanksgiving and Christmas dinners and can even serve as a setting for a private romantic getaway in the kitchen.
Our CX8 Copper Range Hood in a stunning dark coppery color works well for this kitchen design. Because the range hood is suspended above the large oven and the wide stove fitting, it can effectively remove the odors and gases produced by cooking.
6. Spacious, woody custom kitchen paired with the SX4 Copper Range Hood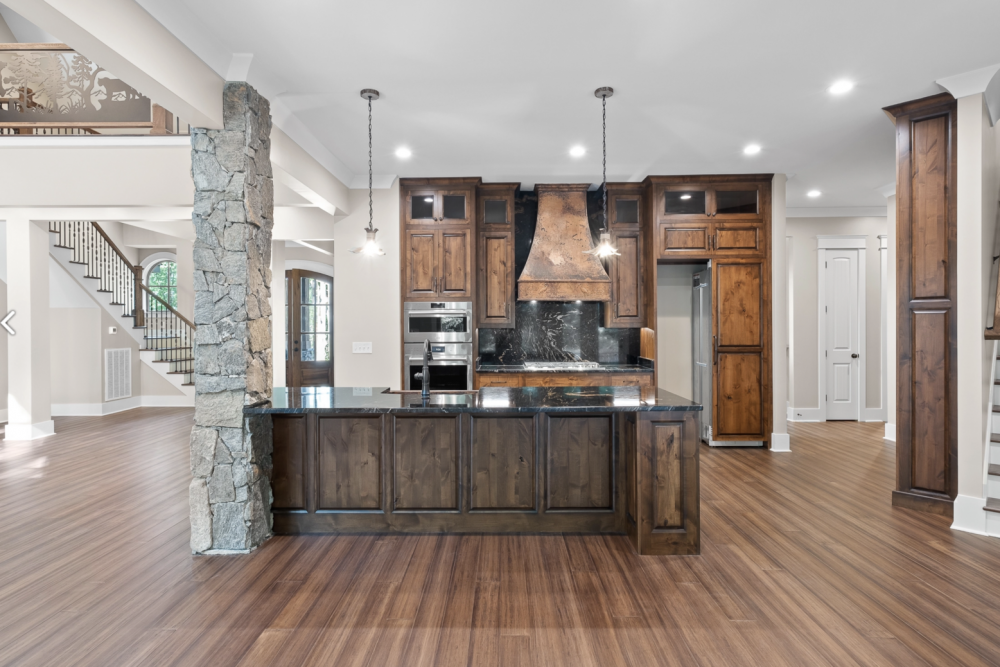 Modern custom kitchen design seems to be all about a high ceiling, lots of light, a big floor, and the perfect oak-finished cabinet tops with a lot of space for cooking.
This kitchen layout is perfect for a family that likes to have gatherings and parties. The ample floor space lets you have cocktail-themed parties or set up a big table for that long-overdue family reunion.
The SX4 Copper Range Hood can be fully customized to match the woody finishes, so it will fit in perfectly with the rest of your furniture. In addition, this range hood above the stove not only removes cooking smells but also gives light to the stove to help with cooking and cleaning.
7. All white finishes with our MX3 Aluminum Range Hood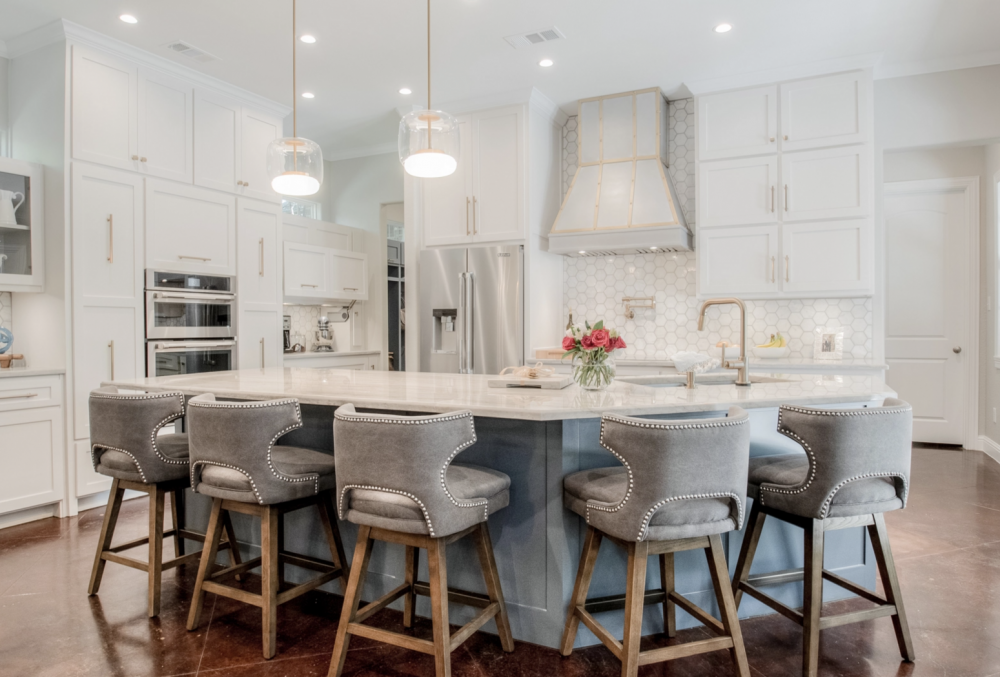 This custom-made kitchen, which is all white, goes well with our MX3 Aluminum Range Hood.
It features an L-shaped countertop layout. The bar chairs have wooden legs that match the color of the floor. During the day, the warm wood shines because of the sunlight.
In this kitchen design, the stove and oven need a smaller range hood, which makes the space look less crowded.
In this case, you would need one of our MX3 Aluminum Range Hoods, whose finish can be customized to match the white kitchen and wooden floors.
8. Entertainment kitchen design with our Farmhouse Copper Kitchen Sink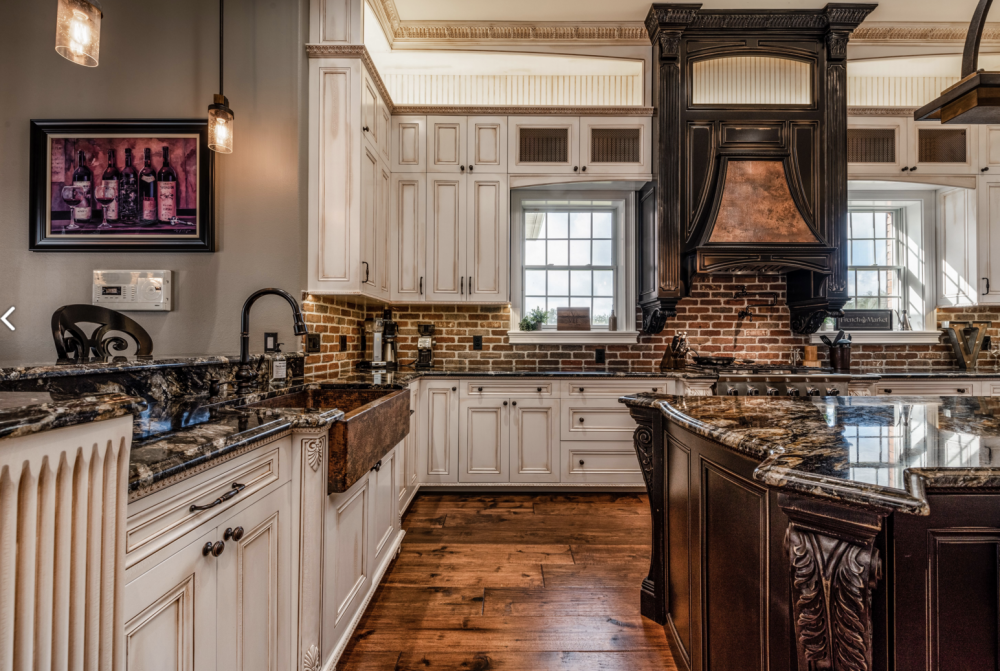 This large kitchen with a modern finish has a lot of space for cooking. It can be compared to a modern farmhouse in that it is warm and inviting. It is ideal for a family that lives together.
With its wooden flooring and overhead range hood, paired with the face brick walls, this custom kitchen design is ideal for entertaining.
The stand-alone center countertop with a dark granite finish makes intelligent use of the floor space, still leaving room for waltzing around while doing food prep. There's even room to install a dining table for you and your family.
The warm lighting pairs perfectly with our fully customizable Farmhouse Copper Kitchen Sink, giving you the option to brighten up this cozy yet modern space.
Pros and Cons of a Custom-Designed Kitchen
When you decide to remodel your kitchen, you want to choose the design that suits your lifestyle best. What would you do if you had to choose between a custom-designed kitchen and a ready-made one?
Pros
When you decide to invest in a brand new kitchen, there are many reasons why you should consider building your dream kitchen yourself.
1) Your personal style: The biggest advantage of having a custom-designed kitchen is that you don't have to compromise on style or size. When you build a custom type of kitchen layout, you have full control over every step of designing and building it.
You can tailor the kitchen to fit your personality and taste. For instance, you can make a traditional kitchen with a lot of storage space. However, if you prefer something modern, contemporary, or even rustic, you can incorporate those styles into your new kitchen.
2) Value: Having a custom kitchen can raise the value of your home. This means that you will have an easier time selling your home at a higher price and in a shorter amount of time.
3) Durability: Finally, a custom-built kitchen is more durable than a pre-planned one.
Cheap materials like particle board and MDF are often used to make kitchens. These materials are not intended to withstand prolonged or frequent use. They can break down quickly and become damaged very easily.
On the other hand, a custom-built kitchen will be constructed from high-quality materials like solid hardwood flooring.
Cons
Like any major purchase, a kitchen requires careful planning and consideration of costs versus rewards.
There are many reasons why people opt for a custom kitchen design over a standard model.
Some say it gives them the freedom to express themselves creatively, while others just love the idea of having a unique space that no one else shares. And some homeowners simply prefer the look and feel of a custom kitchen over what's offered by the mass market.
But there are drawbacks to building a custom kitchen — especially if you don't know what you're doing. You might end up spending too much money on materials and labor, and you could wind up with something that doesn't fit into your budget or lifestyle.
Here are a few things you need to keep in mind about custom kitchens:
Costs:

A typical kitchen remodeling project can range anywhere from $10,000 to $50,000, depending on whether you hire a contractor or do the work yourself.

Time:

Building a custom kitchen typically takes several months, although it depends on the scope of the job. For example, a small kitchen remodel can take around three weeks, whereas a larger kitchen renovation can take six weeks or even longer.

Materials:

When building a custom kitchen, you'll need to buy everything from cabinets and appliances to countertops and flooring. Depending on the room size, you might need to spend thousands of dollars on materials alone.
Yes, the kitchen is undoubtedly the most important room in every house. It's where the whole family gets together to eat, cook, and talk.
Kitchens come in various shapes and sizes. They share some common features, such as countertops, cabinets, appliances, and lighting fixtures, but each design has its unique look and style.
If you choose the right layout, your kitchen can become a cozy place to relax and a useful place to work.
What to Consider When Creating Your Kitchen Design
Whether you're looking to renovate or simply want to design a brand-new kitchen, it's vital to consider every aspect of the space – including how it fits into your overall house plan.
Kitchen planning is about much more than just laying out a few cabinets and a sink; it's about creating a space that works best for you and your family.
The best way to start thinking about what sort of layout you need is to look at your current kitchen and ask yourself questions like:
How much storage space do I have?

Do I cook regularly?

What appliances do I already have?

Where am I going to put my fridge?

Will I ever use my dishwasher?
Depending on your needs and preferences, you will also need to consider whether you want a smaller or larger kitchen.
A larger kitchen
If cooking is a big part of your life, a bigger kitchen will give you plenty of space to prepare meals without having to run around too much.
A larger layout gives you lots of storage options and a great amount of countertop space. In addition, you can fit more seating in a large kitchen.
A smaller kitchen
If you live alone and don't cook often, you might prefer a smaller kitchen where everything is within easy reach. And if you like entertaining, you'll love a compact layout.
You can still have plenty of cupboards and drawers to store items and keep things organized.
Whatever your style, think carefully about how you'd like to use your kitchen and how you'd ideally like to see it laid out.
CopperSmith's Kitchen Range Hoods
At CopperSmith, we work hard to make sure that every part of your masterpiece is made by hand and is perfect.
We try to use recycled materials as much as possible and are always looking for ways to reduce our impact on the environment and our carbon footprint.
So, if you're looking to renovate your kitchen and need ideas for the ideal sink, contact one of our CopperSmith sales consultants any time. We're ready to help you make your dream kitchen a reality!