A copper kitchen farmhouse sink is the finishing touch your kitchen has been waiting for. Our farmhouse sinks are fully customizable in premium quality copper, stainless, or brass.
Farmhouse sink designs are becoming increasingly popular in today's high-end kitchens. These sinks feature a deep bowl, often with a raised lip around the perimeter of the basin, giving it a unique look and feel.
They're also designed to fit in smaller spaces, making them ideal for laundry room and bathroom applications.
In this post, we will describe eight appealing farmhouse sinks, what to consider when buying one, and why you should dump the idea of getting yourself a standard sink, and rather buy a farmhouse sink instead.
Types of Farmhouse Sinks
Let's start by looking at the different kinds of farmhouse sinks.
There are many different styles of farmhouse sinks and depending on how it is designed, each style provides unique benefits.
Deep bowls

are ideal for storing larger items such as pots and pans.

Pedestal sinks

give you extra countertop space.

Shallow bowls

are great for washing dishes and smaller appliances.

Double bowl sinks

are ideal for preparing large quantities of food.

Single bowl sinks

are best suited for small tasks like rinsing or hand washing dishes.

Farmhouse Sinks: Advantages
In kitchens where you prefer to keep things uncomplicated, a sink with the look and feel of a farmhouse is an excellent choice. Like everything, though, farmhouse sinks have advantages and disadvantages.
1) Appearance: The most obvious advantage of a farmhouse sink is that it looks great in almost any setting. They are renowned for their rustic charm and classic allure.
A farmhouse sink adds a touch of warmth to a room without being too much of a focal point. This type of sink is perfect for kitchens where there isn't a lot of space and you don't want something fancy-looking.
2) Ease of cleaning: The best part about having a farmhouse sink in your home is that it's easy to clean.
You won't have to worry about scrubbing off food splatters, grime, and stains like you would with a stainless steel sink. You won't need to do anything more than wipe down the surface from time to time, and you'll be ready to go.
3) Easy installation and customization: Farmhouse sinks are also simple to install. And they are available in a wide range of sizing and design options.
Farmhouse Sinks: Disadvantages
However, there are some drawbacks to consider.
1) Durability: First off, most farmhouse sinks are made from natural materials like stone, wood, or metal. This gives them a rustic appearance that many people love, but it can make them less durable over time.
If you live in a humid area where water tends to collect around your sink, you'll have to keep it clean regularly to prevent mold growth.
2) Kitchen compatibility: Next up, farmhouse sinks aren't always designed for modern kitchens.
Many of them don't include faucet holes and mounting hardware, making installation tricky. And if you do decide to install one yourself, you might find that the drain hole isn't large enough to accommodate your pipes.
3) Maintenance: And lastly, farmhouse sinks tend to be heavy. While they can certainly hold up well against daily wear and tear, they require extra care during cleaning and maintenance.
For example, you'll have to scrub away mineral deposits every few months. You'll also have to take special precautions when installing plumbing fixtures because they can crack over time.
Given their many benefits, though, farmhouse sinks are still often the better option due to their spacious, customizable size and their rustic look and feel.
Now that we have covered our basis, let's have a look at the CopperSmith range of farmhouse sinks and what they can do for you!
8 Farmhouse Sinks That Stand Out from the Crowd
1. Farmhouse Workstation Kitchen Sink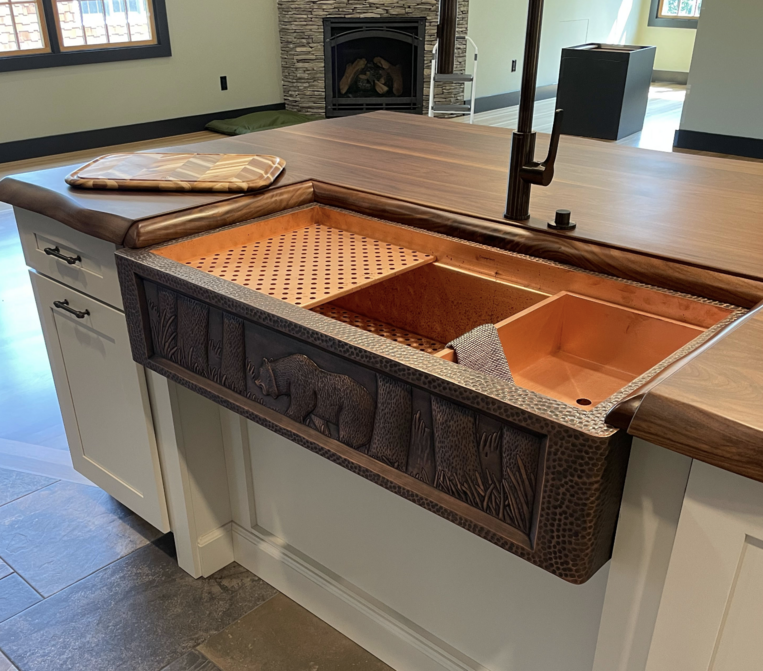 This double bowl sink is ideal for those who need a little more storage than a single sink offers.
The Workstation Farmhouse Sink has an easy-to-remove drying rack that can be transformed into a cutting board ledge. Its unique shape allows it to sit comfortably on countertops while providing ample drainage.
It also comes with its own work area and can be changed in any way you want. It is made with recycled copper.
In addition, this sink features high-quality designer finishes that can be customized to your liking. There are only certain living finishes available for each sink bowl; however, the front-facing apron can be custom-made in all finishes available.
Check out our fully customizable Farmhouse DW - Workstation Kitchen Sink. You will be able to choose from a wide range of options, from sink drain style to apron finishes.
2. Semi-Convex SW Copper Kitchen Farmhouse Sink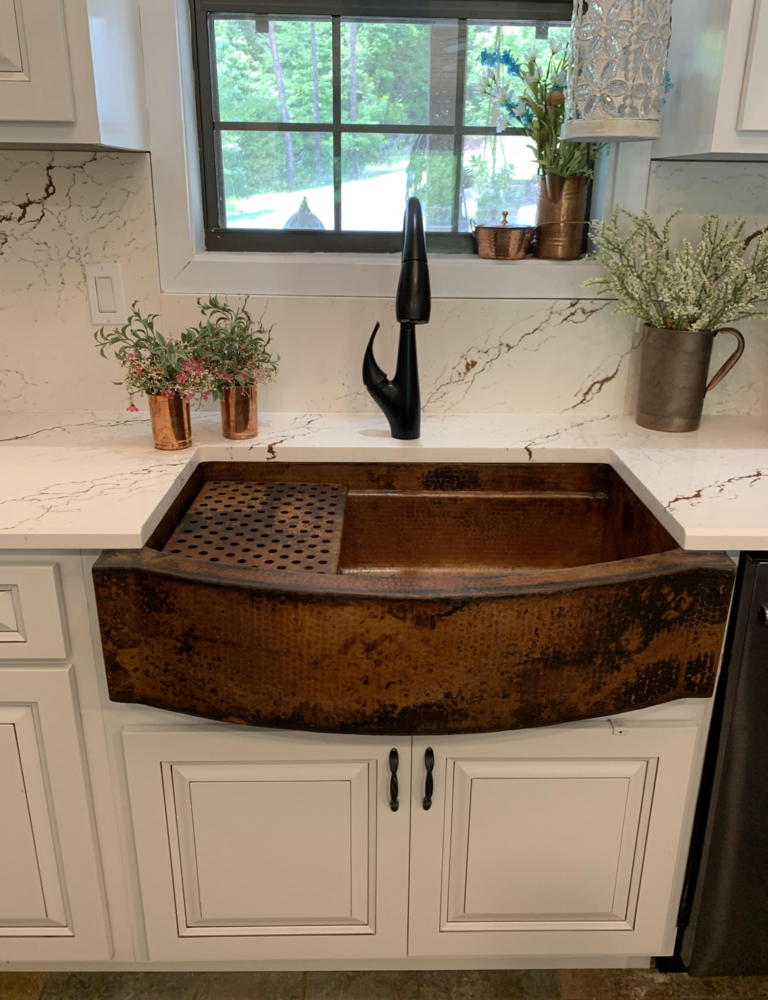 This curved workstation sink, with a detachable drying rack that doubles as a cutting board ledge, along with high-end artistic finishes, offers unparalleled adaptability.
This one-bowl sink is made to order and can be built to specification in terms of size, finish, metal, and texture.
This heavy-gauge farmhouse apron sink is made by hand and features beautiful copper and meticulous attention to detail. It also has a living finish, so it will age gracefully and require no maintenance for years to come.
While the bowl of each sink is only offered in a few different living finishes, the apron that faces the sink is available in any of them, and there are different sink drain options to choose from.
The Semi-Convex SW - Farmhouse Kitchen Sink is fully adaptable to your needs. From custom-made sizes to bowl texture, you'll have plenty of room to make this sink fit your personal sense of style.
3. Farmhouse SB Sink Copper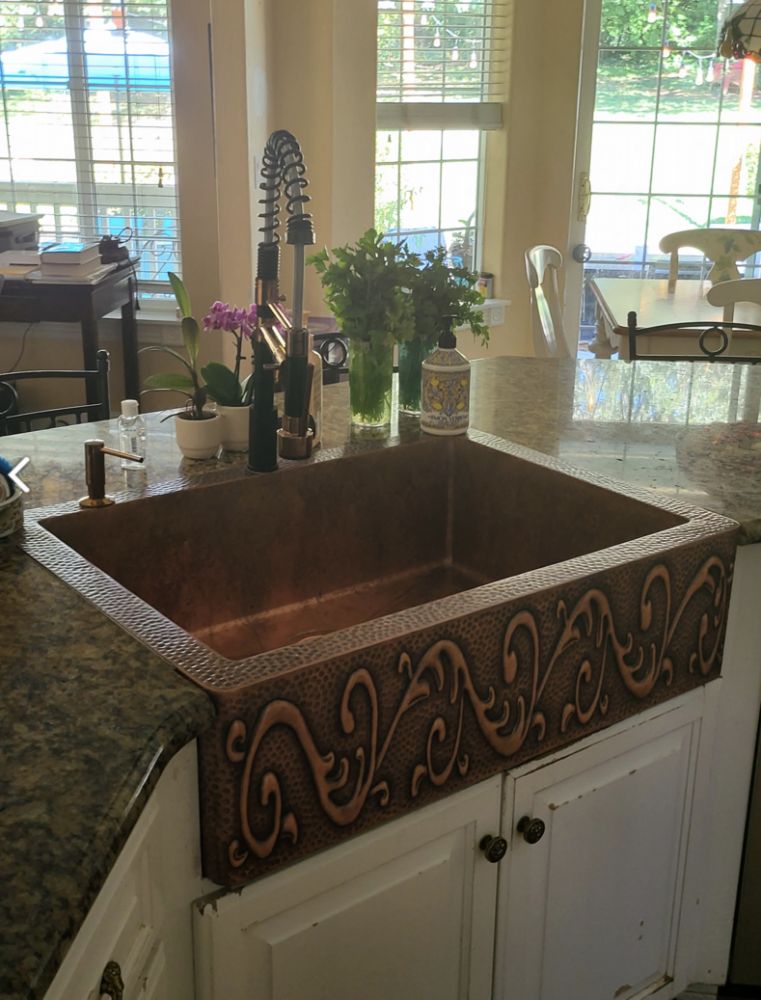 This one-of-a-kind sink was created for the minimalist who also values efficiency and durability. Each custom sink is cut, shaped, and textured before being packaged in high-quality wood packaging to prevent damage during shipping.
The materials used to make this one-of-a-kind sink are all eco-friendly and sustainable.
There is a virtually infinite variety of finishes available. If an elegant copper finish complements your home décor, then this sink should be at the top of your viewing list.
View our Farmhouse SB - Kitchen Apron Sink for a wide variety of customization options that go along with a powerful kitchen fan hood. You have the option to customize your sink textures and size, and then to decide on the type of faucet that would best compliment your copper farmhouse sink.
4. Recessed SB Copper Kitchen Farmhouse Sink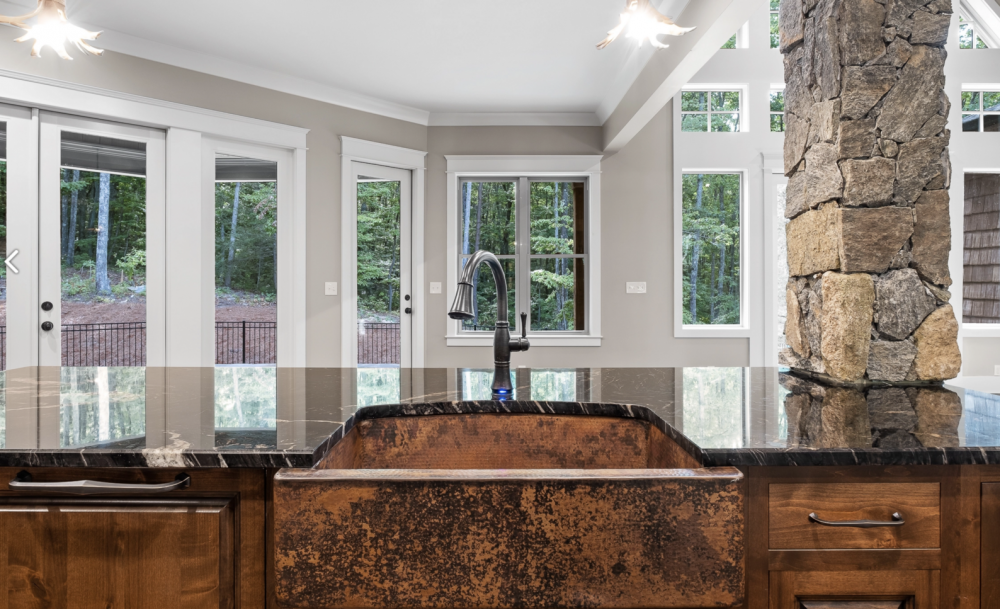 This one-of-a-kind sink is made from natural materials and features high-end designer woody finishes to complement the curved farmhouse sink's incredible versatility.
The Recessed SB Copper Kitchen Farmhouse Sink is fully modifiable in terms of size, surface, metal, and tiling. So if your kitchen is spacious and curvy, this is a sink you should consider.
The sink is meticulously handcrafted from organic materials and features our signature living finish, which ensures that your rounded farmhouse sink does not fade but rather transforms with age.
Have a detailed look at our Recessed SB Copper Kitchen Farmhouse Sink, which is totally customized to your specifications. From either the size of the sink to the feel of the surface, you will have a lot of options to choose from.
5. Farmhouse Copper Kitchen Sink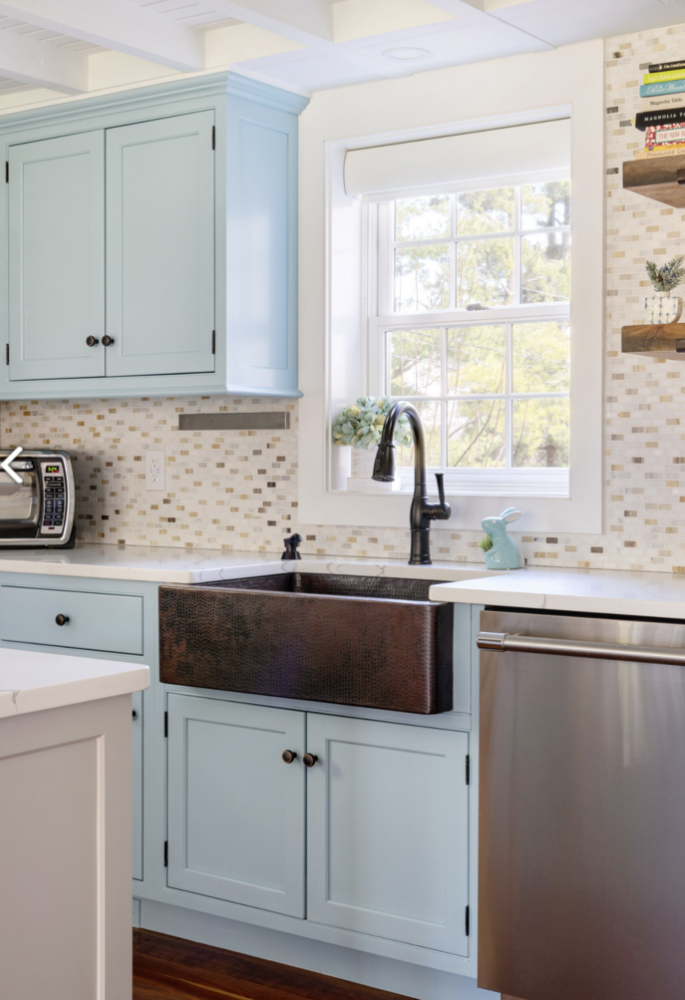 Exactly like the Farmhouse SB Sink Copper, if you're a minimalist who places a premium on efficiency and longevity and an elegant copper finish, this sink was made with you in mind.
This sink was made from sustainable and environmentally safe materials, and each sink is made to order before being shipped off.
Because the options for endings are practically limitless. This Farmhouse Copper Kitchen Sink is a must-see if you're in the market for a copper sink because of its exquisite finish.
6. Deer Motif Copper Sink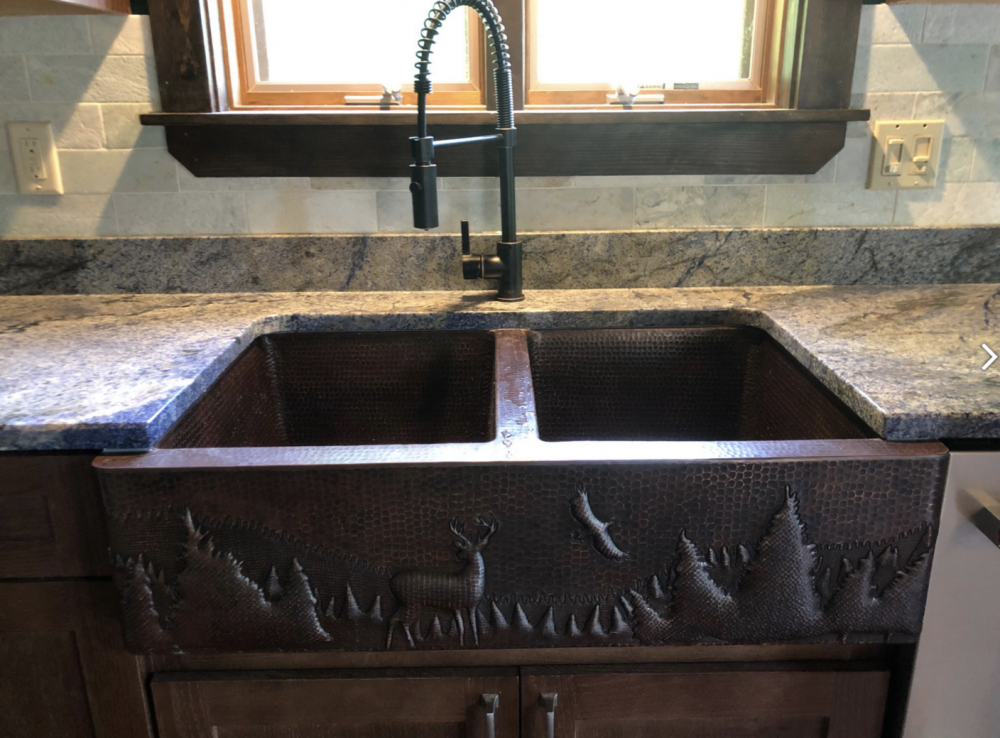 The pinnacle of elegance is represented by our convex rounded farmhouse single bowl sink with a deer motif apron front.
Our round farmhouse sinks are expertly made so that they can be fitted with an undermount. This means that the edge of the sink can sit firmly under your countertop.
This ensures that our sleek and contemporary design will flow from the sharp lines of your kitchen countertops right into your undermount round farmhouse sink, tying the whole look together and making it the center of attention in your kitchen.
It is possible that you may see some small differences in the final product, which is normal as each item is made by hand with hammered copper.
Our Heirloom collection sinks are fully customizable to suit your taste. And they are lead-free and resistant to corrosion, assuring a long lifespan and the safety of your entire family.
7. Farmhouse Recessed Copper Sink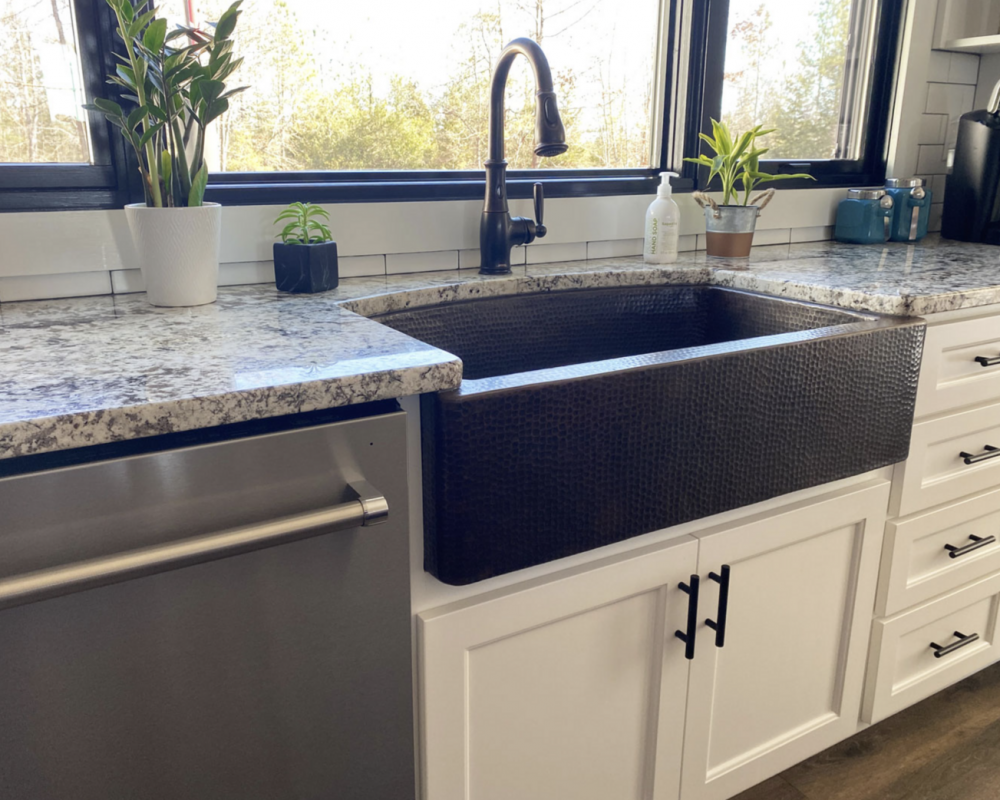 This modern finish recessed copper sink is perfect for a home with a small to medium size kitchen.
The rim of this trendy farmhouse sink should be mounted underneath the countertop using an undermount. This enables the sleek and modern design to spill across the flawless lines of your kitchen counters and into your undermount copper sink, which pulls the entire look together to create a cohesive whole.
Explore this simple yet elegant Recessed Farmhouse SB - Kitchen Sink, best experienced for its look and cozy feel with incredible colors to choose from.
8. Convex SB Stainless Steel Kitchen Farmhouse Sink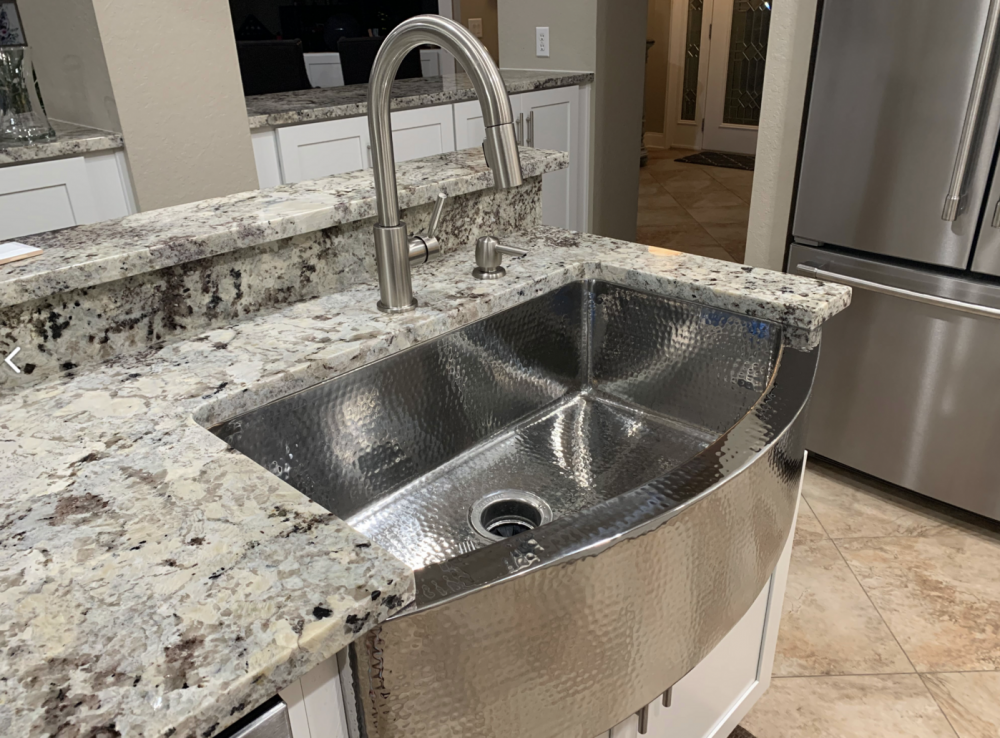 If you enjoyed the read on the Deer Motif Copper Sink, you will be excited to note that our convex rounded farmhouse single bowl sink is custom-made in stainless steel as well!
This sink is also skillfully crafted such that an undermount can be installed in any one of them, which ensures that the rim of the sink may be securely positioned under the countertop.
Again, it is likely that you may detect some minor differences in the final result, which is natural because each item is manufactured by hand using hammered copper. This means that each sink has its own unique character, with no two sinks alike.
Our Convex SB Stainless Steel Kitchen Farmhouse Sink is completely personalized to fit your preferences. What's more, they do not contain any lead, making them resistant to corrosion and guaranteeing a longer lifespan.
Before You Buy a Farmhouse Sink
Buying a farmhouse sink can be an exciting prospect, but there are a couple of things to keep in mind before you decide to buy one. Don't rush out to buy one without first doing some research.
Is a Farmhouse Sink Right for You?
We've covered some excellent farmhouse sink ideas in this post, but is it really the type of sink for you? It's worth reviewing some of the pros and cons of farmhouse sinks that we've mentioned above.
For instance, if you live in a humid area where water collects around your sink, then you'll need to ensure you keep the sink as clean as possible to prevent mold growth. This is because most farmhouse sinks are made from natural materials. In short, this could seriously affect the durability of your sink and you may need to replace it sooner than you'd think if you don't take care of it.
Another concern is that not all kitchens are compatible with farmhouse sinks. This is especially true for modern kitchens. While they may suit your ideas for a kitchen renovation, it doesn't mean that your style of sink can easily be replaced with a copper farmhouse sink. If you're ever in doubt about compatibility, don't hesitate to contact CopperSmith today and we'll offer our assistance to help you check if our farmhouse sinks can be a quick and easy replacement. If not, then you'll likely need to perform a couple of changes to ensure our farmhouse sinks are compatible with your kitchen.
If you've fallen in love with the look and style of a farmhouse sink, then nothing should stop you from having one installed! They offer plenty of space and functionality, and they look absolutely stunning in the right conditions. If the ideas above have convinced you that it's right for you, then don't hesitate to give us a call so we can help you design the kitchen of your dreams.
Consider Size and Dimensions
At CopperSmith, we offer lots of flexibility when it comes to our farmhouse sinks. We offer lots of customization options in terms of length, width, and depth, meaning we can help you design the perfect farmhouse sink to fit your space. We encourage our customers to measure their current sink in order to get accurate dimensions that we can use to build a suitable replacement. This will ensure that the sink fits comfortably in your kitchen.
Do remember that farmhouse sinks tend to be much larger and deeper than standard sinks. If you live in a modern home, then you may need to make more space for a farmhouse sink. This could require you to alter the plumbing a little as the bottom of the sink will be lower than your typical modern sink.
In terms of width, many of our farmhouse sinks can be as small as 25 inches all the way up to 60 inches. So no matter where you plan to install a farmhouse sink, you can rest assured that we'll build it to your exact specifications.
Choose a Style and Design

There are so many different types of farmhouse sinks that it can be difficult to choose one. From dozens of different finishes to having a drainboard, there are countless different combinations to choose from. Since a farmhouse sink can be quite an investment in your kitchen, it's worth thinking about the type of style and design that you're most interested in.
We'd suggest picking a farmhouse sink that somewhat resembles your existing sink. This will help ensure that the size of the sink matches yours and that no extra work needs to be done on your kitchen countertops in order to fit the sink. For example, a drainboard farmhouse kitchen sink offers increased functionality and is usually a direct replacement for most existing sinks.
In terms of design, CopperSmith offers dozens of different finishes and textures for both the apron and the bowl. Our 3D configuration tool allows you to quickly switch between the designs and see the changes reflected in the model. This gives you a great idea of what the farmhouse sink will look like, and you can use it to match your existing decor.
If you're ever in need of assistance when it comes to choosing a farmhouse sink that fits your preferred style or kitchen decor, then feel free to contact us for advice.
At CopperSmith, we work very hard to make sure that every part of your masterpiece is made by hand and is perfect.
We work with thick steel metals because they are strong and look better when they are finished. If you choose only high-quality accessories, your product will not only look great but also work perfectly.
We prioritize using recycled materials and are always looking for ways to cut down on our carbon footprint and impact the environment.
If you're looking to renovate your kitchen and need ideas for the ideal sink, consider our Kitchen Farmhouse Sink line. You design it, we make it and deliver it to your door.
Give one of our CopperSmith sales consultants a call today to find out more.