6 Awesome Green Range Hoods
When you have the opportunity to customize a range hood for your kitchen, you don't want to take any chances — you want it to be perfect! After all, the custom vent hood you order will be the highlight of the entire room and the most eye-catching piece in the kitchen.
While the right custom hood can elevate your kitchen in an instant, the wrong one can create the opposite effect. One of the most challenging colors to incorporate into a dynamite kitchen is green. Not the seafoam green of the 1950s, but a deep, gorgeous emerald green. The wrong shade comes off tacky and nauseating, but the right one is regal, impressive, and — we dare say — breathtaking.
If you love this bold color choice as much as we do and are looking for ideas for a new green range hood, we have six amazing options you've got to see!
The Artisan AT5 Green Range Hood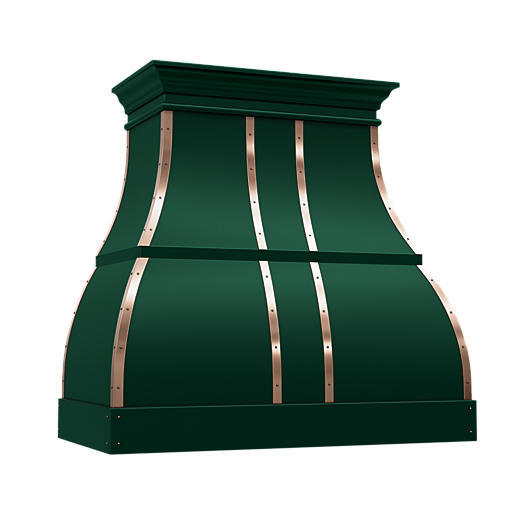 If ever there was an elegant green vent hood that could turn heads and command attention, it's the Artisan AT5 range hood. Shown here without rivets but with brass straps and edge trim, this hood can be customized with any number of options to ensure the piece you end up with is uniquely and unequivocally yours.
The Artisan AT5 features three gorgeous sides, sophisticated convex curves, a box apron, and a divider. This particular style is ideal for kitchens that are traditional, victorian, or have an old-world aesthetic. There are dozens of finishes available for this model, in addition to several options for details, textures, and more.
As for dimensions, the depth of this green range hood will depend on the width you choose. The cubic feet per minute (CFM) of the insert fan will also depend on the width, as well. The width for this model ranges from 30" to 72".
It's important that you remember to choose a hood that is at least the same width as your range or wider. Most often, though, people choose a hood that matches the width of the range precisely. Just never use a hood that's narrower than the range itself.
The height of the Artisan AT5 ranges from 24" to 72". Your hood should be installed no lower than 24" above the range, but this varies depending on the type of range you have. Usually, if you have a gas range, the hood should be installed 24 to 36 inches above it. If you have an electric range, you can install the hood 20 to 24 inches above.
Finally, the Artisan AT5 is available as an island mount unit or as a wall mount unit. If you can't decide which one you want, or if you're torn between the finishes, straps, and rivet options, let us know! At CopperSmith, we're here to help.
Green as Envy Artisan AT8 Custom Range Hood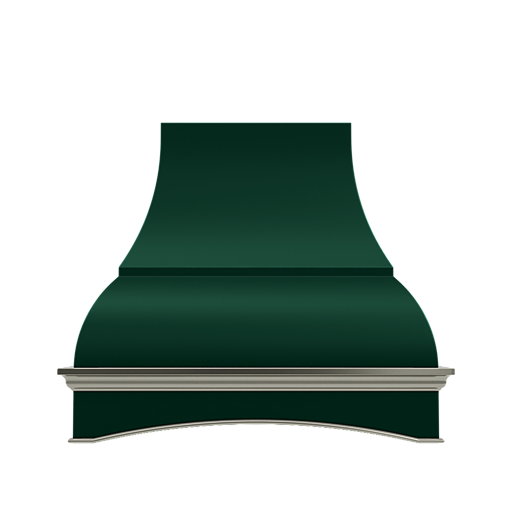 This is one of our most popular green range hoods, and it's easy to see why so many of our customers enjoy this one. The Artisan AT8 can be constructed from your choice of metals, including stainless steel, 16-gauge copper, aluminum, or brass. Every hood is manufactured to meet the highest quality standards, which ensures that you will enjoy your green vent hood for several years to come.
Our artisan-led workshop has over 80 different options for textures and finishes that are available for this model, and our design team is available to help you choose all the best options to accent your kitchen.
Some of those options include variations for the rivets, straps, moldings, and pot rails. Choose between dozens of width options, from 36" to 72", and height options between 24" and 72". With such a wide range of options, you're sure to have a perfectly fitting range hood no matter what size you need.
This green range hood with an artisan finish is available in hammered or smooth textures. For the crown finish, you can choose anything from green to blue to white, along with a couple dozen other options.
There are ten beautiful options for the crown profile, dozens for the strap finish and texture, and just as many for the rivet finish and texture. The pot rail can also be customized according to your liking with a variety of different available options.
As for the insert fan, the CFM rating will be determined by the width of your new green Artisan AT8 hood. For example, if you choose a 36" hood, it will come with a fan with a rating of 290 CFM. Hoods that are 72" wide, on the other hand, have blowers with a rating of 1260 CFM.
The Classic Beauty of the CX9 Green Range Hood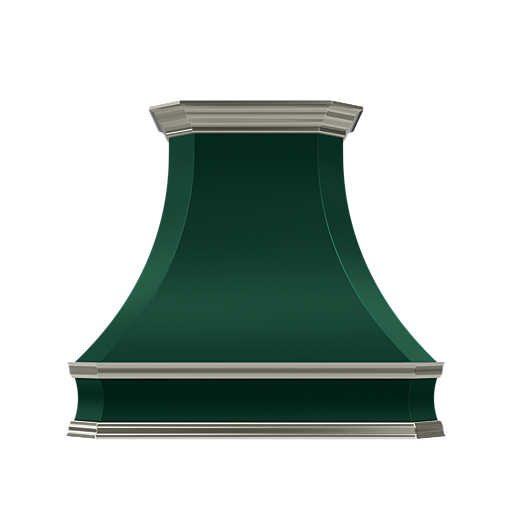 If you've been searching for the perfect green custom range hood with a classic style and dramatic flair, look no further than the Classic CX9 range hood. The one shown here has a stunning smooth texture, is void of rivets and straps, and has a spectacular crown profile at the top.
You'll also notice the beautiful concave curves, along with the clipped corners that run all the way from the top of the crown to the bottom trim of the apron (both of which can also be customized).
Like our other custom green range hoods, the Classic CX9 is available in a wall mount configuration as well as an island mount configuration. The five-sided design ensures that it will accentuate the look and feel of any kitchen, blending in seamlessly while still making a statement.
One important thing to note about the custom green range hoods available through CopperSmith is that the copper we use is thicker than the metal other companies use. This is crucial because when copper is too thin, it easily gets scratched, foiled, and dented. The metal used with this range hood is 16-gauge rolled copper.
Another one of the biggest issues that people have is that other companies tend to use blower fans that are not the optimal size for the range hood. However, CopperSmith ensures that your needs are met and that you end up with a blower that is the exact size and strength you need for your hood and your kitchen.
Premier Style with the Custom PR1 Premier Range Hood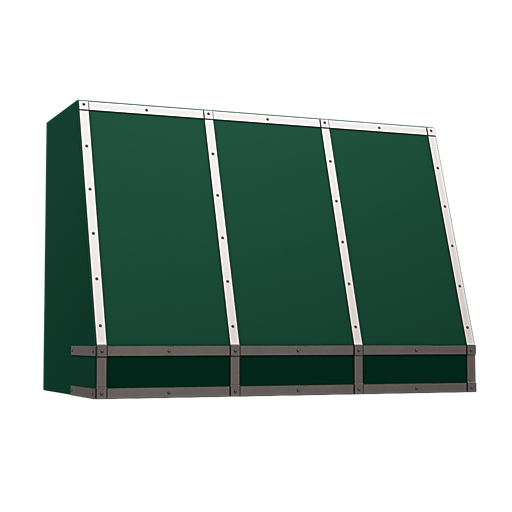 A modern home deserves a grand modern kitchen, and there's perhaps no better addition to that kitchen than the Premier PR1 custom range hood from CopperSmith. This design is perfect for kitchens with a minimalist, contemporary, or modern design. If you've been searching for the perfect modern range hood but are disappointed that all you find are curvy traditional ones, this is the hood you've been looking for!
The straight-sided custom range hood pictured here has extra wide straps and beautiful rivets, lending visual appeal to the piece. The long sloped front panel meets with a straight flush apron, giving the range hood a simply sophisticated look.
With a variety of choices of textures, finishes, straps, and rivets, and even options for a pot rail and pot rail finish, now is your chance to finally customize a range hood to use in the kitchen you've always dreamed of.
CopperSmith's artisans are able to not only design your range hood according to your exact preferences, but they also can help you select the best options that will elevate your kitchen. Want to customize that apron with a unique design on the front? CopperSmith can do it.
A design that resembles organization and linear stability never looked so good as it does with the Premier PR1 custom green range hood. Whether you stick with an emerald green artisan finish or you change your mind and choose from over 80 other options, you'll love your new custom kitchen range hood.
Pretty in Green: The Premier PR9 Range Hood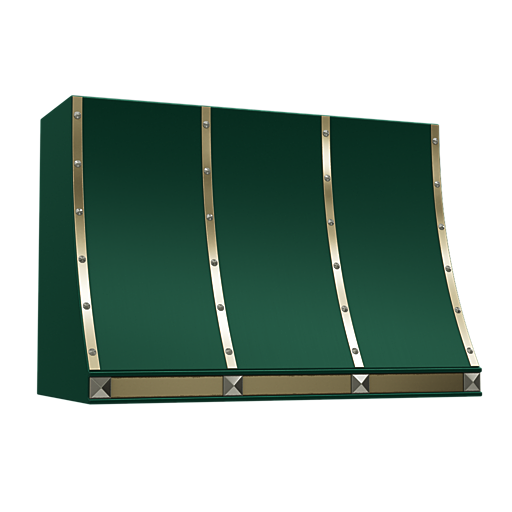 For those who are looking for a custom green range hood that features both straight lines and curves, look no further than the custom Premier PR9 range hood! The bold but clever incorporation of both elements means that it's one of the most versatile kitchen range hoods available.
The green Premier PR9 features a gorgeous front panel with a sweeping concave curve that leads from the top of the hood down to a box apron. Sporting a wide strap that runs its entire width, the apron of this custom green hood is anything but ordinary, and it can be customized with designs, oversized rivet accents, and more.
Choose straps for the front panel without rivets, straps only at the edges with rivets, or any other combination of these features. The striking design of this hood enables it to blend seamlessly into almost any style of kitchen, from modern and minimalist to old-world and traditional.
One of the best things about hand-crafted products is that each and every piece is unique. All hand-made products have slight variances in finish, tone, and construction. They're not imperfections; they're how you can tell that your item is truly a one-of-a-kind piece.
A quality custom green kitchen range hood should not just be a functional appliance that sits above your range — it should be a work of art! While it's true that the purpose of a hood is to remove pollutants, grease, excess moisture, and contaminants from the air in your kitchen, there's no rule anywhere that states that it can't look great while doing so.
The Signature SX7 Green Custom Range Hood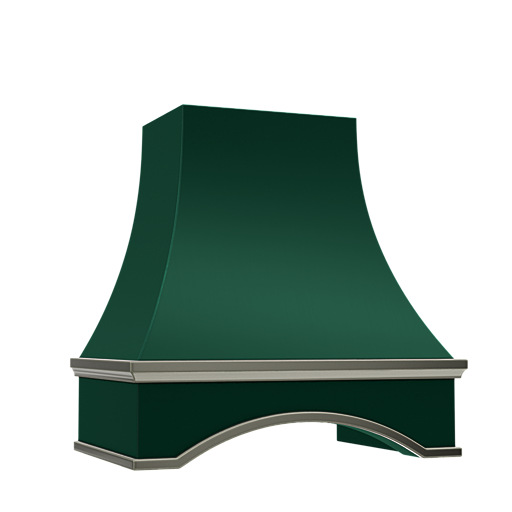 This customizable green kitchen vent hood is gorgeous on its own, and it's even better when installed above an equally gorgeous range or cooktop. The Signature SX7 in a green artisan finish offers hundreds of possible combinations that can be customized to accent your kitchen flawlessly.
The kitchen hood here has three sides with an oversized apron, an arch in the front apron, decorative trim, and a crown. The best part is that it can all be completely customized by you! If you'd like straps and rivets in a copper finish, just say the word. If you prefer no rivets but stainless steel straps, we can do that, too.
If you'd like a fully customized unique design on the apron, our design team and artisans will create exactly what your dreams entail. Many customers like to add an engraving on the apron that details initials, a phrase, or a meaningful date.
If you want a warm design, copper trim and accents will do the trick. If you're looking for a more contemporary or modern look, consider stainless steel. Alternatively, you might be looking for a monochromatic green range hood to add as much color as possible to your kitchen. No matter what you envision, we can make it happen.
Choose CopperSmith for Your Customized Range Hood
When you're ready to elevate the ambience in your kitchen with an awesome green range hood, go with the experts at CopperSmith. We can help you realize your vision, and if you're not sure what you want, our artisan designers are here to help you pick out the custom range hood you've always wanted.