Sink Accessories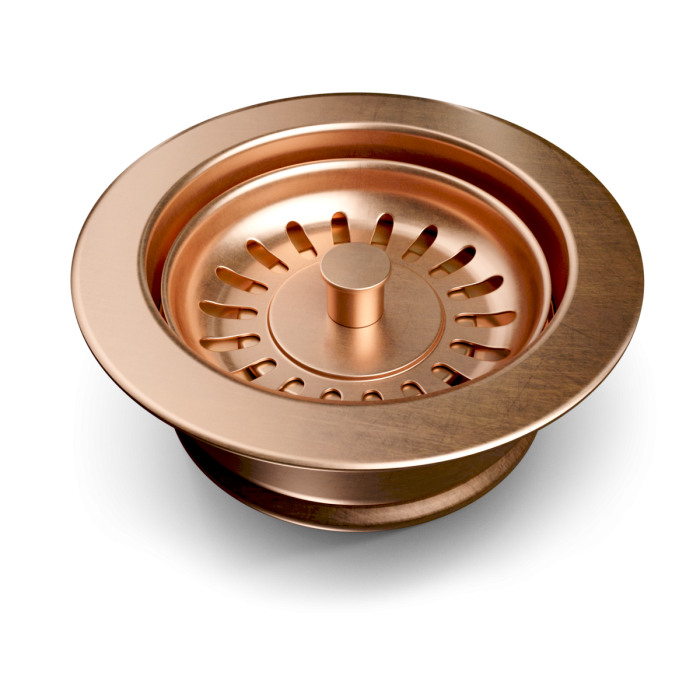 3.5" Natural Copper Disposal Sink Drain
CSD-0190
3.5" DISPOSAL SINK DRAIN, NATURAL COPPER
Do you need a better-performing garbage disposal sink drain? Are you looking for quality and durability that will last? Look no further than the 3.5" Natural Copper Disposal Sink Drain.
This beautiful 3.5" natural copper disposal drain will be a perfect fit in any standard sink, no matter if you have a farmhouse sink, an apron sink, a double sink, or another type of sink. It is made to add a luxurious touch with the construction of solid raw natural copper.
You'll love how it patinas naturally over time, and it matches a wide range of kitchen designs. Whether you have modern, contemporary, or minimalist decor, it will fit in well, and it will be an eye-catching addition. It is a simple upgrade that will make a world of difference in lifting the design of your kitchen.
It's important to make sure that you have a top-quality garbage disposal drain, so you can make sure that you're avoiding clogs in your pipes. If you have an inefficient drain, you could experience inconvenient clogging that may cost a lot of money. With this well-made, beautiful natural copper disposal drain, you won't have to worry about any costly repairs anytime soon.
This stylish and durable copper disposal drain is also simple to install. You'll receive your product from our team quickly, and once you do, you can easily install it in a cinch. You'll love the quality and long-lasting durability of this piece that is made to stand the test of time.
STRIVING TO PROVIDE THE HIGHEST QUALITY SERVICE
At CopperSmith, it's our goal to provide the highest level of service in the industry. We're here to meet all of your home design needs, whether you need patina samples,3D rendering, or something else, we strive to go above and beyond to be of service.
We are proud to provide low cost shipping to any of our customers who live within the continental U.S. If you are one of our valued customers who lives outside of the continental U.S., such as in Hawaii, Alaska, or overseas, we can quickly provide a shipping quote to you when you call 1-952-800-9013 or email [email protected] Please get in touch prior to completing your order.
It's time to take your kitchen sink up a notch with this beautiful, high-quality 3.5" Natural Copper Disposal Sink Drain. When you need a copper disposal drain that will last a lifetime, look no further. We ensure your satisfaction for years to come. Order today!
Specifications
Downloads
No current downloads