Sink Accessories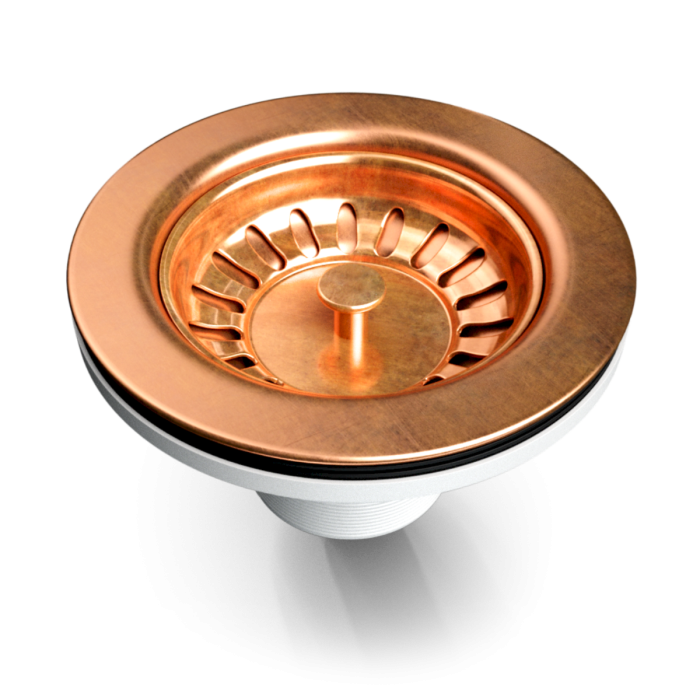 3.5" Natural Copper Basket Sink Drain
CSD-0189
Estimated Delivery 1-2 Weeks
3.5" BASKET SINK DRAIN, NATURAL COPPER
Are you looking for a better sink drain for your kitchen sink? Whether you're doing a full-blown kitchen renovation or making a few updates here and there, you'll love the addition of this 3.5" Natural Copper Basket Drain. It matches perfectly with CopperSmith's raw copper kitchen sinks, and you'll love how it patinas over time. 
It's constructed with durable and long-lasting material, and it is built to fit any standard 3.5" drain opening. You'll love the natural copper finish that stands up to wear and tear to remain a beautiful piece for years to come. It is a perfect match for a wide range of kitchen design styles, including modern, contemporary, or minimalist. 
By choosing this high-quality copper basket drain, you'll be able to effortlessly keep your drain unclogged and your garbage disposal in top condition. Since a wide range of food items and debris goes into your sink, it's vital that you make sure to keep your drain clear, or you could run into some serious plumbing issues. Clogs can cause costly repairs, but not with this premium strainer drain.
It will go great with any type of sink you have, whether it be a double sink, a farmhouse sink, or something in between. It is made to last and stand up to frequent use. Plus, it is easy to install, so you can easily replace your old sink drain in a snap.
DELIVERING THE INDUSTRY'S HIGHEST QUALITY SERVICE
CopperSmith's goal is to provide the highest quality service to exceed your expectations every time. That's why we strive to meet your needs in every aspect, whether it be providing freepatina samples or our3D rendering service. No matter what changes you're making to your home, we'd love to help in any way we can.
We're pleased to provide low cost shipping on this beautiful natural copper basket drain to anywhere within the continental United States. If you are a customer who lives overseas or in Alaska or Hawaii, we'd love to provide a quick shipping quote at your convenience. Please contact us at 1-952-800-9013 or email [email protected] prior to completing your purchase.
When you're ready to make the upgrade to a quality-focused, high-performing sink drain, look no further than the 3.5" Natural Copper Basket Drain. Finally, you can easily keep your pipes cleared and avoid costly clogging. Order now!
Specifications
Downloads
No current downloads