Sink Accessories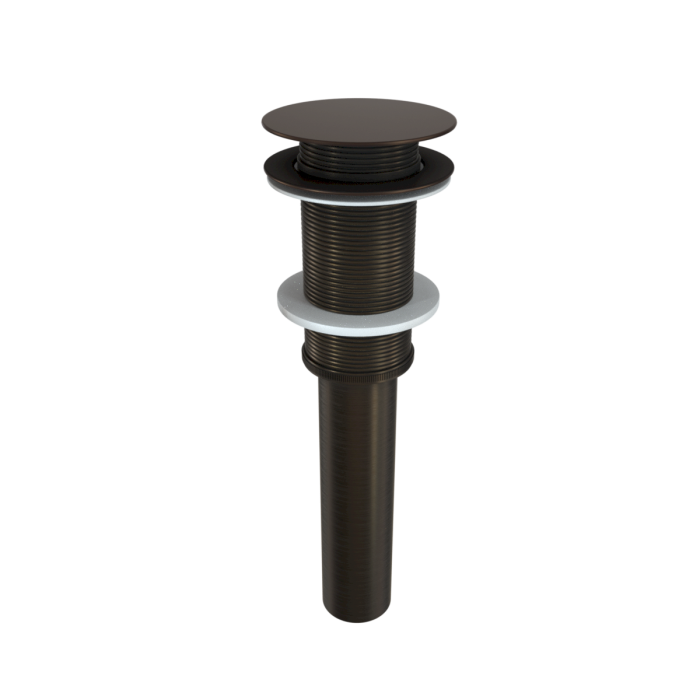 1.5" Oil Rubbed Bronze Bathroom Sink Pop Up Drain
CSD-UBZ
Estimated Delivery 1-2 Weeks
1.5" POP-UP BATHROOM SINK DRAIN, OIL-RUBBED BRONZE
Are you making updates to a bathroom in your home? Are you in need of a beautiful and durable sink drain that also adds a touch of style to your bathroom? This 1.5" Pop-Up Oil-Rubbed Bronze Bathroom Sink Drain is here to impress. Whether you're doing a full-out bathroom renovation or making a few updates, this oil-rubbed bronze bathroom drain will be a great addition. It can be used for any bathroom in your house: powder bath, master bath, kids bath, and beyond. It is a simple, stylish upgrade that will make a long-lasting impression.
 It is a standard 1.5-inch size that fits perfectly with our custom-made CopperSmith sinks or any standard size sink. It has a beautiful oil-rubbed bronze finish that won't fade over time and is resistant to wear. While it fits well in most sinks, it is not a good fit for overflow sinks. It functions as a pop-up sink drain for easily plugging and unplugging your sink for various uses. You'll love the oil-rubbed bronze finish that can suit a wide variety of design styles in your bathroom, from rustic modern to minimalist and contemporary. It will both complement your style and stand out to make a subtle statement.
 It is built to last with the highest-quality components to ensure that it lasts a lifetime in your bathroom and exceeds your expectations in durability and performance. After your bronze bathroom drain quickly arrives at your home, you will be able to install it with ease, no matter your skill level.
ENSURING YOUR SATISFACTION IN EVERY FACET
At CopperSmith, we aspire to be your partner in every way we can when it comes to making your home design dreams a reality. From patina samples to our expert 3D rendering visual service, we can help you make the right choices for your home.
In addition to expert design guidance, we are happy to provide low-cost shipping on this 1.5" Pop-Up Bathroom Sink Drain in Oil-Rubbed Bronze to everywhere within the continental United States. For our valued customers that live in Hawaii, Alaska, or internationally, we can offer you a quick custom quote when you contact us at 1-952-800-9013 or [email protected]dCopperSmith.com. In these unique cases, we ask that you do so before completing your order.
 When you're ready to add a high level of style and quality to your bathroom, look no further than this beautiful bronze bathroom drain. It is made with the highest quality components and materials on the market to ensure it lasts a lifetime. Order now!
Specifications
Downloads
No current downloads