Ventilation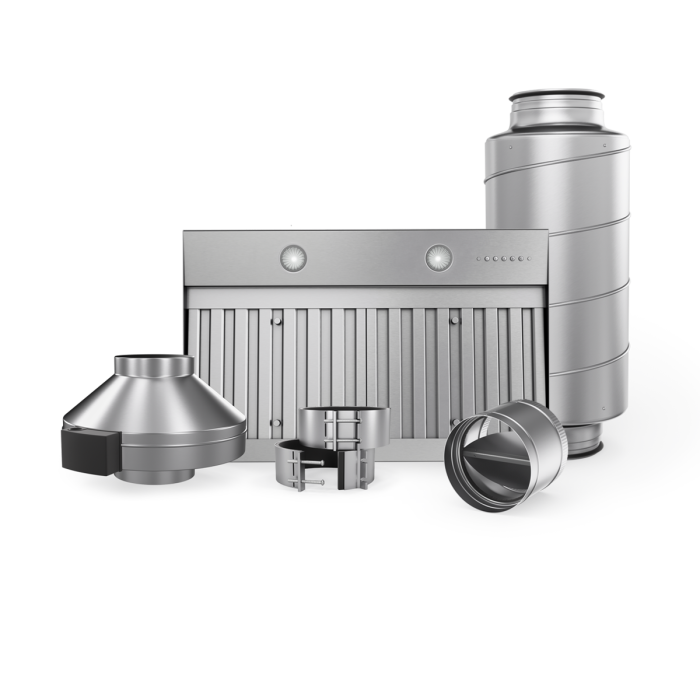 Wall Mount Remote Blower
WMRB
COPPERSMITH REMOTE BLOWER SYSTEM
Are you ready to take your kitchen ventilation to the next level? The CopperSmith Remote Blower is expertly designed to provide efficient, high-velocity air movement for ultimate cooking performance. It is built to be installed in coordination with CopperSmith or comparable hoods. Your CopperSmith Remote Blower System is custom-made to order. You can easily select from a wide variety of add-on options to create the perfect package for your unique kitchen setup. 
The standard CopperSmith remote blower/ventilators are manufactured in galvanized steel housing with a powder-coat finish. It includes a Direct Drive motor that is professionally constructed to eliminate maintenance, adjustments, and alignments for an in-wall or in-roof location. It can be installed at any angle, and attic installations are highly recommended. This system comes with all necessary components, including a damper, fast clamps, and an in-line duct silencer. This allows you to get everything you need – all in one order.
All orders come with detailed installation instructions to make the setup as simple as possible.
This and all CopperSmith Professional Series Kitchen Ventilation Products include a three-year warranty.
TOP-NOTCH CUSTOM REMOTE BLOWER SYSTEM & TOP-QUALITY SERVICE.
The Remote Blower System is custom-made per your order specifications, and delivery will take approximately three to five weeks. CopperSmith offers multiple shipping options to all states within the continental United States. For our customers who live in Hawaii, Alaska, or internationally, please contact us at 1-952-800-1913 or email [email protected] for a custom shipping quote. CopperSmith products are manufactured to the highest standards and packaged with care by our outstanding customer service team. We make sure our products exceed expectations so that you can enjoy them in your renovated kitchen for years to come. When you and your family are in search of a high-performance blower system to create a well-ventilated custom kitchen for all of your cooking needs, search no further than CopperSmith Remote Blower System. Get started ordering your complete custom blower system today!