Bathtub Accessories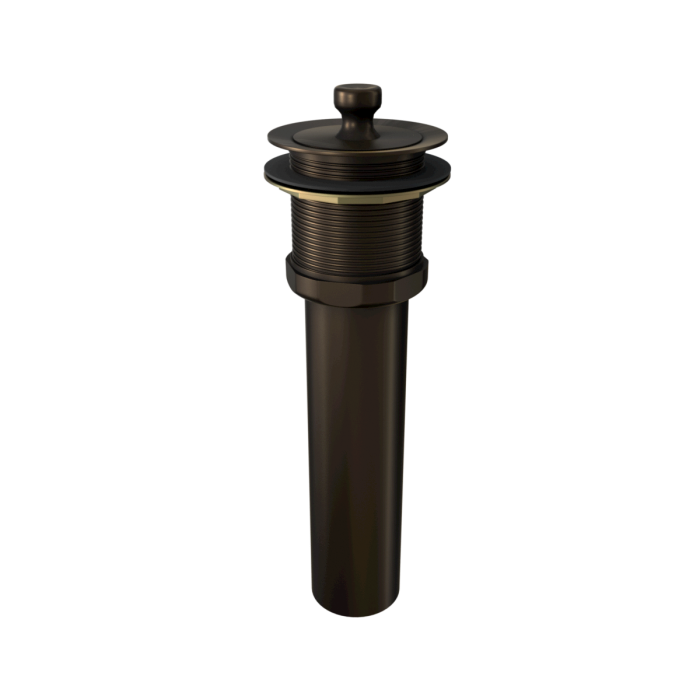 Lift & Turn Tub Drain Oil Rubbed Bronze
5599LT-ORB
TURN BATHTUB DRAIN, OIL-RUBBED BRONZE
Do you need a better option for your current tub drain? Whether it's been in your bathtub for many years or the material is breaking down to the point of no return, a new tub drain is an easy upgrade that can make a big impact on the overall functionality and style of your bathtub.
Even though it's a necessary component of every bathtub, it doesn't mean you need to choose a basic, cheap component. This Barclay Lift & Turn Bathtub Drain in Oil Rubbed Bronze is well-made with the highest quality components to ensure it lasts a lifetime. It is made with solid brass construction to endure wear and resist corrosion for years to come.
This premium oil-rubbed bronze lift turn can match a variety of bathroom styles. Whether you're remodeling your master bathroom, updating your kids' bathroom, or just simply replacing this piece with a new one, it fits in with decor styles like modern, contemporary, minimalist, and even rustic. It will add a beautiful, updated touch to your bathroom, no matter where it is located in your house.
It has a lift and turn closure and operation to make it easy to use, and it is meant to be used in tubs without overflow. 
Reliable Customer Service for All of Your Needs
Our trusted service team is standing by to help you with your design decisions in any way we can. We are pleased to offer a wide range of design-centered services for your convenience, including patina samples,3D rendering, and expert guidance. Whether you need advice on a component selection or help designing your kitchen, our team is here for you.
We provide low cost shipping on this beautiful oil-rubbed bronze lift turn to wherever you live in the continental U.S. We'd love to provide our customers in Alaska, Hawaii, and international locations with a custom shipping quote when you call 1-952-800-9013 or email [email protected] before completing your order.
To get a stylish and functional tub drain that will stay in your bathroom for years to come, look no further than this high-quality oil-rubbed bronze lift turn. You will not regret adding this stylish component to your bathroom. Order now!
Specifications
Downloads