Bathtub Accessories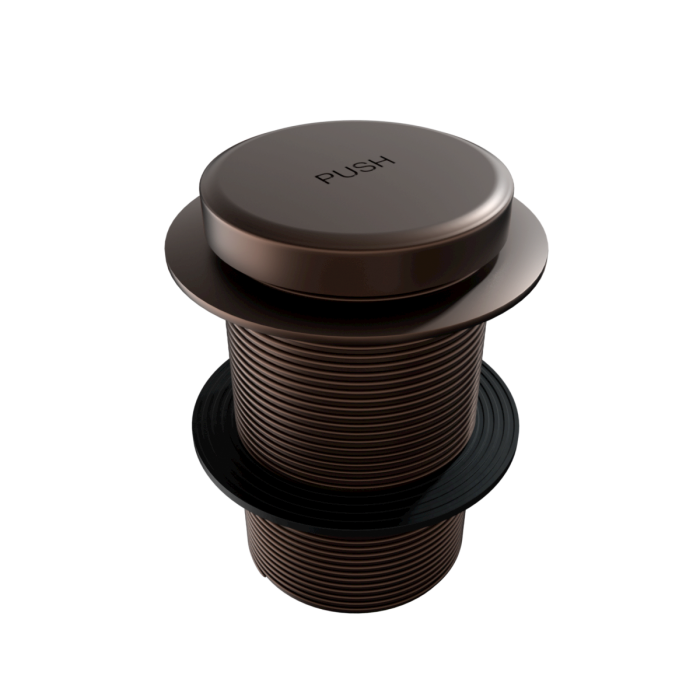 Push Button Tub Drain Oil Rubbed Bronze
5599EX-ORB
EXTENDED SOFT TOUCH ASSEMBLY BATHTUB DRAIN, OIL-RUBBED BRONZE
Are you looking for a better, higher-quality replacement for your bathtub drain? When you're looking for a step up from your old bathroom drain that also impresses in style, look no further than this Extended Soft Touch Assembly Bathtub Drain in Oil-Rubbed Bronze. 
Whether you're making small changes to your bathroom or renovating it in its entirety, this beautiful oil-rubbed bronze bathtub drain will add a stylish touch. It can fit into a wide variety of design styles to accommodate any bathroom in your house. With the oil-rubbed bronze finish, it can easily complement modern, contemporary or minimalist decor.
It is made with durable material to ensure it lasts a lifetime, and it is easy to use. You'll love the extended soft touch stopper assembly for convenience during use. Whether you're taking a bubble bath after a long day or just in for a quick soak, you'll love the functionality of this modern oil-rubbed bronze bathtub drain.
It goes great with any tub without overflow, and it includes a rubber gasket. The threaded body is four inches long, and it accommodates tubs with thicker floors. Once you receive it from us, you'll be able to easily install it yourself without the hassle and enjoy it for many years to come.
STRIVING FOR THE WORLD'S MOST SATISFIED CUSTOMERS
We love to assist you in any way we can at CopperSmith. We want to be your partner in making your design dreams come to life, so we offer a wide variety of services to help along the way, including patina samples and 3D rendering. We hope to help you make the best decisions on the products and colors that you bring into your home.
We are also happy to provide low cost shipping to anywhere in the continental U.S. on this gorgeous oil-rubbed bronze bathtub drain. For our customers who live in Hawaii, Alaska, or internationally, we can give you a custom quote quickly when you call 1-952-800-9013 or email [email protected]. In these cases, please contact us before completing your order.
When you're ready to give your bathtub a facelift, this product is here to impress and function flawlessly for a lifetime. You'll love the durability and style it brings to your bathroom, and you will never look back. Order today!
Specifications
Downloads
No current downloads