Bathtub Accessories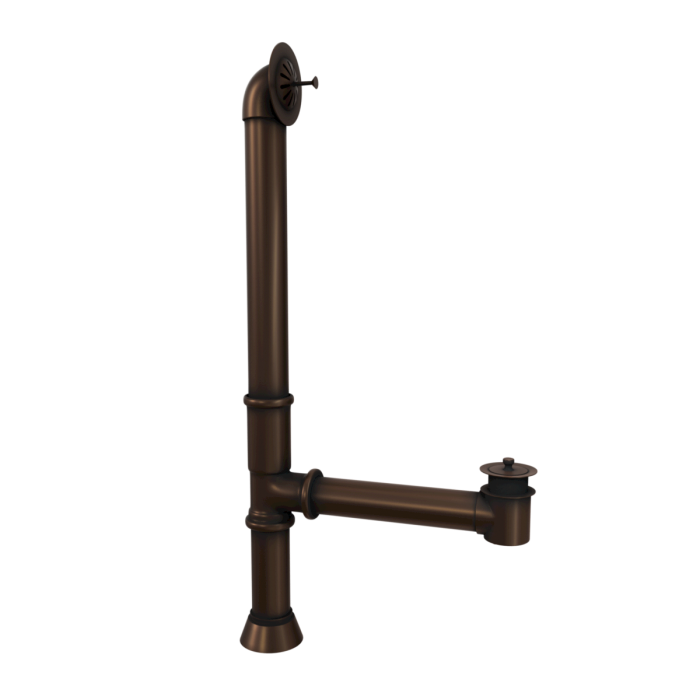 Overflow Drains - Oil Rubbed Bronze
5599PD-ORB
OVERFLOW DRAIN, OIL-RUBBED BRONZE
Are you ready for a better quality tub overflow drain? When you're updating a bathroom in your home or you just simply need a higher quality part, this Barclay Pivoting Leg Tub Overflow Drain in Oil-Rubbed Bronze is the stylish, high-performing component you're looking for. It includes a variety of functions and features that beat the competition every time. 
It is made with solid brass construction for the highest level of durability and quality on the market, so you can trust that it will stay in-tact and perform without a flaw for years to come. It has a revolutionary style that is well-adapted to new tub designs, so you can trust that it's the ideal choice for your renovated bathroom and your new soaker tub.
It comes with a pivoting, swivel head that gives you the adjustment you need to work with your unique tub's wall slope and slants, which is a common feature in modernized bathtubs. It also has an extended neck to eliminate any issues with leaking that can happen in some double-walled bathtubs. The drain pipe is 21-½" long, and the overflow pipe is 25-¼" long.
When you are in need of a long, hot soak after a busy day, you'll love that this premium pivoting overflow drain comes with an optional soft-touch push button drain cover to allow for a luxurious, deeper fill for maximum relaxation. It also includes a lift and turn drain cover and an open daisy wheel drain cover.
This luxurious, well-made piece has a maximum allowable tub thickness at the overflow of 3-½ inches. You'll also love the oil-rubbed bronze finish that matches a variety of styles. Whether you lean towards a contemporary style, minimalism, or rustic modern, it will stand out in your bathroom for a lifetime.
TRUSTED SERVICE WITH TOP-QUALITY PRODUCTS
Our team at CopperSmith is available and ready to assist you with all of your design needs. We offer a wide range of convenient services to provide the guidance and support that you need to make decisions and bring your dreams to life. From patina samples to3D rendering and expert design help, we do it all. 
CopperSmith offers multiple shipping options to all states within the continental United States. For our customers who live in Hawaii, Alaska, or internationally, please contact us at 1-952-800-1913 or email [email protected] for a custom shipping quote.
To accompany your modern tub with style, functionality, and durability that lasts a lifetime, look no further than the Barclay Pivoting Leg Tub Overflow Drain. Order today!
Specifications
Downloads