Copper Sink Thickness and Gauge Guide

When you are designing your kitchen, the sink plays a pivotal role. In many respects, the kitchen sink is the center point of kitchen operations. Do you want your sink to be the focal point of the kitchen or harmonize with the rest of the decor?
A handmade copper sink infuses style and individuality into your kitchen. Copper is a durable metal and copper sinks often last 30 years or more. World Coppersmith specializes in handcrafted copper sinks and other copper items for your home. When you are looking for the best in both aesthetics and quality, visit World Coppersmith for all your handcrafted copper needs.

Wondering which copper sink is ideal for your kitchen? Here are a few facts about copper sinks, as well as our selection of the 5 Best Copper Sinks for Kitchens in 2022.
What Are The Benefits of Copper Sinks?

To understand what makes copper sinks so desirable, here are a few facts about copper. Copper is known as the oldest metal used by humans on a large scale. Copper was first used in tools as far back as 10,000 years ago. It originated from Cypress and was mined there by the ancient Romans. Copper has amazing antimicrobial properties. Germs and viruses cannot live on copper. This is beneficial for any kitchen surface, especially sinks. Another benefit of copper kitchen sinks is they generally remain stain-free. You will need to be careful about acids.
Copper is a soft yet durable metal with interesting properties. Sharp objects can scratch copper. Hot appliances, containers, and utensils can mar the copper finish. Over time, copper tends to darken in color. This characteristic is called patina. Copper can be polished or natural. Both varieties of finishes are beautiful and a matter of choice. Copper sinks are more expensive than sinks made from other materials, and they require special care, but the end result is well worth the investment of money and effort.
How to Select Your Copper Sink

Size and Space - What size of a sink do you need? How much space do you have in your kitchen? Take time to visualize the sink in your kitchen. What details and finishes do you prefer? Do you like smooth copper or hand hammered?
Single or Double Sink - Do you prefer a single bowl or do you prefer the convenience and look of double bowls?
What Copper Sink style do you like? An Apron Front Sink extends all the way to the front of the cabinet. An Undermount Sink will be even with the countertop. If you're looking for a stylish sink, a Copper Vessel Mount Sink sits on top of the cabinet and creates a beautiful focal point for your kitchen.
What Copper Finish do you prefer?
You may be able to customize and select the finish you prefer for your copper kitchen sink. In general, you can choose between textured and smooth finishes. Textured finishes are hand hammered in different styles such as Beehive, Bouquet, Grain, Heavy, Hood, or Light.
If you prefer a smooth finish with little to no texture, you can look at Antique Copper finishes, New Penny, Old Coin, Rose, and Weathered copper. As you look at the shades and copper finishes available for your kitchen sink, you can see the customization options enable you to create your own unique signature focal point for your kitchen.
How Difficult Is It to Clean A Copper Kitchen Sink?
It is easy to keep your copper kitchen sink clean. All you need is a sponge or soft microfiber cloth, some warm water, and mild dish soap. Avoid using scrubbing or scouring pads. Never clean with abrasive cleansers. There is no need to. Also, avoid placing too many heavy pots and pans in the sink at once. The sink may be scratched or damaged from the weight. Your copper sink with its antimicrobial properties kills harmful bacteria. You can dry your copper sink with a soft cloth.

One more thing to remember. Avoid placing acidic foods in your copper sink. Examples of acidic foods include oranges and tomatoes. Rinse your sink immediately if acidic food is placed in it.
Is The Gauge of A Copper Sink Important?

As you select your copper kitchen sink, you will find references to the gauge of the copper. The gauge is the thickness of the copper. Pay close attention to the gauge because it provides important clues about the quality and longevity of the copper. Your copper sink should last you forever if you care for it properly and choose the highest quality sink within your budget. Any sink with a gauge higher than 18 may dent easily and should be avoided. The lower the gauge number, the thicker and more durable the sink is.
The higher the gauge number, the thinner, more lightweight, and potentially less durable the sink will be. All of our copper kitchen sinks at World CopperSmith are made of high-quality 16 gauge copper or premium 14 gauge, which is 33% thicker.


You can feel the difference in quality when you hold a copper sink made of 16 gauge copper compared to higher gauge sinks. There is a definite weight and solidness. Here is a way to test the thickness of your copper sink: If you hit the copper, less expensive copper sinks (made with higher gauge copper) give a tinny sound. High-quality 16-gauge or lower sounds fuller in tone.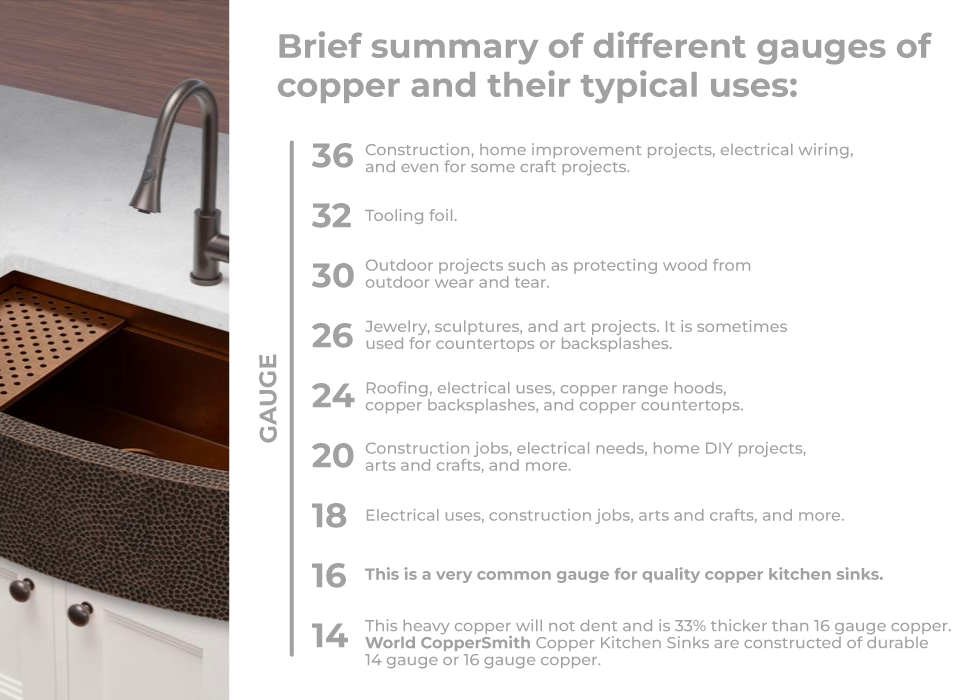 You can customize your sink with a variety of options so it fits perfectly into your kitchen design and layout. Now that you have a little background information on copper and copper kitchen sinks, it will be easier to understand what makes the following the 5 Best Copper Sinks for Kitchens in 2022.

Copper farmhouse sinks get their name because they were common sinks in farmhouses, where the need for a large sink in the kitchen was essential. Plumbing was not always installed in these houses, so sinks had to be able to hold adequate water.
Now, plumbing is expected, but this type of sink remains very popular because of its versatility and ability to hold a large quantity of water and many dishes at once. Farmhouse sinks come in many styles and types, but we are starting with the Copper Farmhouse Double Bowl Apron Kitchen Sink.
What Makes World CopperSmith Sinks the Best Copper Sinks?
This sink makes a statement. Completely constructed of natural materials, this double bowl style offers plenty of space and options for a busy kitchen. The drain hole (3.5 inches in diameter) is designed for compatibility with today's standard kitchen plumbing. What makes this Copper Farmhouse Double Bowl Apron Kitchen Sink great is the attention to detail. The bowls are made of living finishes.
The front-facing apron is available in a variety of customizable textures and finishes to achieve the perfect look for your kitchen. An Apron Front Sink is a great choice if you are designing a wheelchair accessible kitchen.
Does These Sinks Have Any Drawbacks?
If you do not have much space in your kitchen, this sink may not be the best choice for you. Farmhouse apron sinks take up a lot of space and are traditionally for large families or for active kitchens that benefit from a lot of sink space.
Copper Farmhouse Apron Highlighted Details:
14 Gauge
Front Apron styling with ample sink space
Customizable size, finish, and texture
Double Bowl
Brief Buyer's Guide to Copper Sinks
Here are a few things to consider as you select your favorite copper kitchen sink.
Consider the size of your kitchen.
Copper sinks are large in size. This is normally a benefit, but if your kitchen is unusually small and space is at a premium, you'll want to measure carefully to ensure you have enough room. Decide whether a single or double sink will better suit your needs and the kitchen space.
Installation of a copper farmhouse sink requires a professional.
You will probably want to have your copper sink professionally installed to ensure it is done correctly. Copper farmhouse sinks and undermount sinks, in particular, are difficult to install and are worth the cost to have professionals handle the work.
Copper sinks should be welded, not soldered.
Soldered seams can eventually leak and become gray over time. World Coppersmith sinks are created with the highest quality craftsmanship and full apron welded seams.
The positioning of the drain on your chosen copper sink may slightly affect its draining effectiveness. The drains in most kitchen sinks are located in the center of the sink, but sometimes other locations are preferred. Confirm the size of the sink hole to ensure everything aligns. You may have a preference for the position of the drain that can be customized when the sink is made. The bottom of the sink will slightly slope downward so draining will not be a significant issue.

These are 5 of the Best Copper Sinks for Kitchens in 2022
A copper kitchen sink provides an attractive focal point to your kitchen space. It is an investment piece that may add to the overall value of your home.The best copper kitchen sinks listed above work well with modern or traditional designs. Copper is a living metal that will last many years with proper care. You can feel good about the antimicrobial nature of copper.
With customizable styles and features and highly skilled artisans, World Coppersmith offers copper kitchen sink options for every kitchen. Call us at 952-800-7815 and our specialists will help you select the perfect copper sink that captures your vision for your kitchen.