The color blue is a longtime favorite of homeowners and designers alike, and it likely will be forever. As a result, blue kitchens are timeless. Light blue hues work wonderfully in smaller kitchens, while deeper blue shades are fabulous in large spaces, giving a dramatic look without making the room feel smaller than it really is.
No blue kitchen is complete, however, without a stunning blue range hood to act as the central focal point of the room. Kitchen range hoods, also called vent hoods, are not only functional but can also be classy additions to kitchens of any size and decor style.
The right custom blue range hood can transform your kitchen into your favorite room in the house, so you want to make sure you choose the best size, style, color, and features for yours.
If you're looking for some inspiration, we've gathered six of our favorite blue range hoods here for you to consider.
The Classic CX7 Custom Blue Range Hood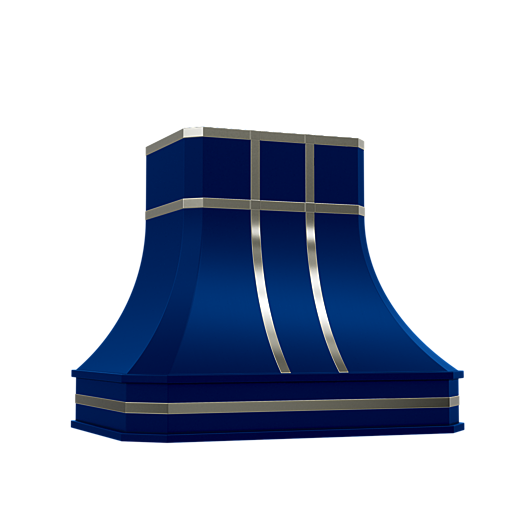 A stunning fixture that puts ordinary range hoods to shame, the gorgeous CX7 is a five-sided beauty that can be customized from top to bottom. For example, while the model shown has no crown at the top, you have the option of adding one, and we offer ten different crown profiles to choose from!
The clipped corners of the Classic CX7 custom blue range hood offer a dramatic flair to the overall look of the piece. The apron across the bottom is a box apron and is wide enough for you to add a decorative strip and rivets, as well as a pot rail if you'd like.
This particular model shows two straps splitting the center of the front curved panel, which gives dimension to the hood and presents a gorgeous contrast. The concave curves of this hood offer a design that isn't overly clunky or boxy. Instead, it's just curvy enough to draw the eyes to the hood and add plenty of sophistication to your kitchen.
For the straps and rivets, we offer various metallic finishes, from brass to stainless to copper. We also provide the option of customizing the color of the finish. All these choices mean that when you order a custom-made blue range hood from CopperSmith, you'll be able to create a one-of-a-kind piece for your kitchen that you'll be proud of for many years to come.
The CX7 range hood is the perfect addition to kitchens of any style, from traditional to contemporary and everything in between.

The Classic CX6 Custom Range Hood in Blue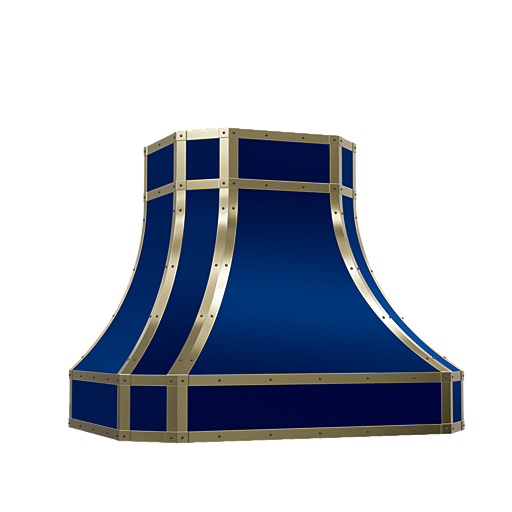 The Classic CX6 range hood by CopperSmith is designed to attract attention, no matter what style kitchen it's in. This is a classic five-sided design that features clipped corners and a box apron. While the custom blue range hood pictured has brilliant brass trim over every edge, you can customize yours in any way you want.
No matter what finish you choose for your trim, whether you choose to include rivets, or whether or not you want straps running down the front concave scoop, there is one thing that will always be the same: you won't be disappointed. There are hundreds of different combinations of customized features, finishes, and options available, which means that you'll finally be able to get the perfect custom blue range hood you've always wanted.
You can also add a pot rail at the front if you wish, and like everything else, you can customize it with one of several available finishes. The Classic CX6 is also available as a wall-mount installation or as an island mount hood.
Make sure to choose the right width for your custom blue kitchen range hood; it should be as wide as your range and never any narrower. Few colors make an impact like blue, and you'll fall in love with this smooth blue finish the second you set eyes on it.

The Sophisticated CX9 Custom Blue Hood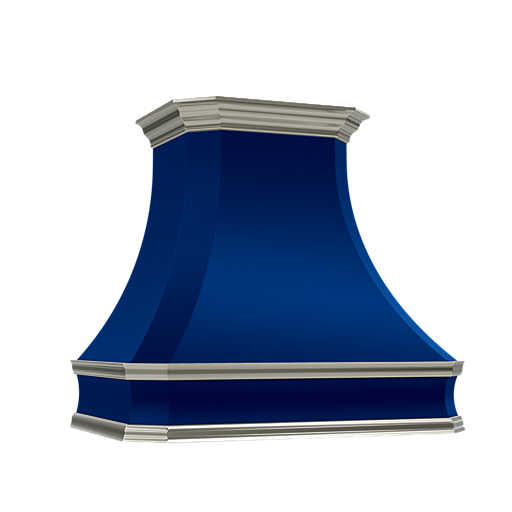 Sophisticated hood designs like the Classic CX9 are made for kitchens that are the envy of the neighborhood. This model has a rich, smooth texture, and since it doesn't have straps or rivets, it relies on the gorgeous trim to add flair and visual interest. This one also features a fantastic crown at the top.
When you customize your blue range hood with CopperSmith, you can choose this same crown or one of the nine additional options you'll find. You can also choose to match the finish of the crown with the finish of your edging — or not! Many of our customers enjoy adding straps to accentuate the concave curves of the CX9, along with decorative rivets.
If all the customization options make you nervous about not ending up with the perfect design, don't worry! When you've chosen your options, our design team will create a computerized drawing of what your final product will look like so you can be confident in your choices. We never move ahead to production without your approval on this design.
If you're not even sure how to get started or you don't know what options to choose, we can help! It's what we do, and we can help you choose everything so that your hood will accentuate your blue kitchen perfectly.
The Brilliant Blue Euro ES5 Custom Range Hood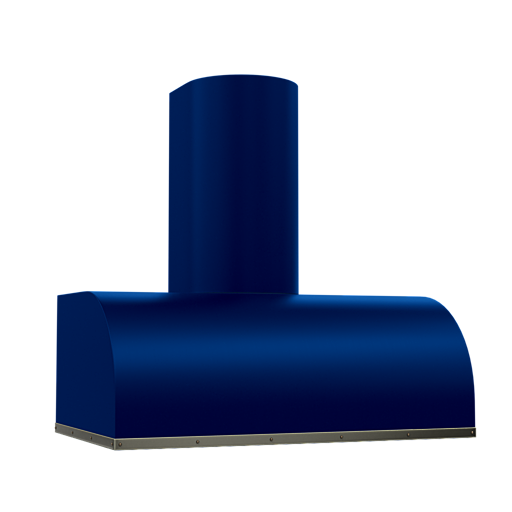 If you've been looking everywhere for an industrial, European custom range hood that is as blue as blue can be, you'll love the Euro ES5 custom range hood. The main idea behind this hood is to incorporate a unique and unforgettable aesthetic into your kitchen, elevating it instantly.
This beautiful custom range hood can be customized to your exact specifications and preferences, giving you a unique hood that is both striking and smooth. The wall mount version is ideal for installation either on its own or between cabinets, and there is also an island mount version available too.
Just because this range hood has a convex front, straight sides, and a cylinder chimney doesn't mean you can't add straps and rivets if you want to. With CopperSmith, you can!
You can pick a metallic finish that's either brass, stainless, or copper. You could also choose any number of colors for the straps and rivets. It's all up to you, and if you need help, our designers are ready to assist.


We have dozens of sizes available for you to choose from, ranging from 30" to 72" wide. The width you choose will determine the depth of your new customized range hood, along with the strength of the insert fan.
All too often, people order custom range hoods but end up with insert blowers that are not the appropriate size for the range. This can cause several issues, from inadequate air circulation to subpar purification and more. The Euro ES5 has an integrated blower that's rated at 290 cubic feet per minute (CFM) for the narrowest width and a blower with a rating of 1260 CFM for the widest option.
The ES5 is a bold, impressive choice that is designed to complement any European-style kitchen.

Make a Statement with the Euro ES8 Blue Hood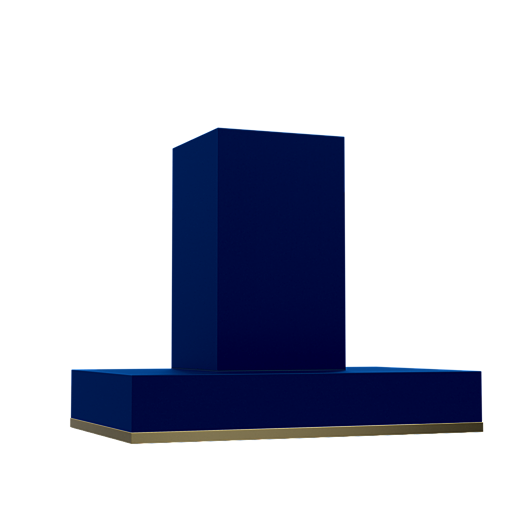 You might think that it would be quite the challenge to blend old-world kitchen styles with the modern twist of a breathtakingly bold range hood, but the Euro ES8 makes it easy. With a modern take on an old-world vibe, this blue range hood is sure to make your kitchen the showcase of your home.
Make the entire straight-edged blue custom range hood all one shade of blue, add some straps and rivets in a stunning gold finish, or add trim in a copper or stainless steel finish — it's all up to you. You can also choose the type of crown profile out of ten different options.
There are so many different combinations of finishes, features, colors, textures, sizes, and accessories that you can customize that the possibilities are as good as endless. If you'd like a pot rail along the edges of your new customized blue range hood, we can do that too.
When choosing the width of your new range hood, make sure that the one you choose is the same width as your range. The Euro ES8 is available in widths between 30" and 72", and the wider your hood is, the deeper it will be and the more powerful insert fan it will have. You can choose the height, too, with options ranging from 24" to 72".
The Custom Blue Premier PR9 Range Hood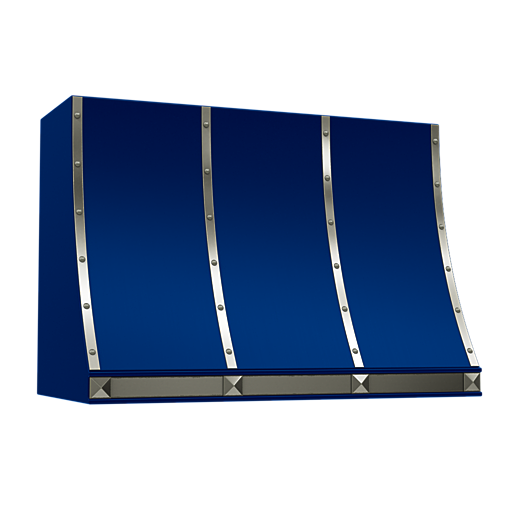 When ordinary just isn't good enough, you shouldn't have to settle for a mundane blue kitchen range hood. You deserve the best fully customized vent hood: the Premier PR9 range hood available from CopperSmith.
This design is for those who want it all: sleek straight edges along with sinuous curves, a deep, bold blue finish along with bright contrasting straps and rivets, and a box apron in the front that shows off a bold decorative front plate or pot rail. And those are just a few of the customizations that you can consider.
The front panel of the custom blue PR9 range hood is a sweeping concave panel that slips on down to the narrow box apron. The model pictured here has straps and rivets in a stunning stainless steel finish, but you can choose your favorite from dozens of other finishes that are available.
The strong form of the PR9 makes it a versatile one that easily integrates into just about any kitchen style imaginable. This model looks great in contemporary and modern kitchens, traditional and vintage ones, and others. Few custom range hoods are able to pull off the flexibility that this one does.
Hand-forged hoods like this one from CopperSmith are truly one-of-a-kind products that are made out of premium, responsibly sourced materials. We use metal that is either 14- or 16-gauge — significantly thicker than what other manufacturers use — resulting in a durable hood that will stand the test of time.
Make this stunning range hood all one color for a dramatic monochromatic look, or mix it up with a variety of accents and main finishes. If you want to add warmth, copper or brass accents might be what you're looking for. Alternatively, if you're looking for something more bright and modern, stainless steel might be what you need.
As with the other models of kitchen hoods, this one is available in different widths, heights, and depths. The widths range from 30" to 72", and the height can be as few as 18 inches or as many as 72 inches.

How Blue Range Hoods Can Elevate Your Kitchen Decor
The kitchen is the heart of your interior, and as such, every detail contributes to the overall aesthetics of your home. Therefore, when it comes to enhancing the visual appeal of the kitchen, one important aspect not to overlook is the range hood. Needless to say, there can be no kitchen without a functional range hood. But it is time to consider a value-enhancing investment that doesn't just serve a practical purpose, but also adds a luxurious focal point in the kitchen design. Blue range hoods come as a response to blue kitchen trends. Understandably, there is more than one way to inject a touch of blue into your kitchen decor. But blue range hoods have unique advantages that can truly elevate your interior.
Blue or Not - The Importance of Quality Range Hoods
First and foremost, it is essential to establish the importance of installing a high-quality range hood in the kitchen. According to indoor air quality researchers, range hoods are vital for maintaining a healthy home environment and improving indoor air quality. Indeed, many Americans fail to realize that cooking is one of the major sources of indoor air pollution. Cooking-related contaminants are tightly connected with h health problems, causing asthma attacks and respiratory illness. Cooking can release a variety of pollutants and harmful compounds, including VOC and carbon monoxide, which can dramatically affect the quality of the air inside your home. Consequently, the top priority when remodeling or installing a brand new kitchen is to focus on removing as many of those pollutants as possible through quality range hoods. As range hoods are a necessary investment, it makes sense to consider solutions that not only deliver high-quality performance but can also integrate into your decor seamlessly, such as blue range hoods.
Blue Range Hoods - A Luxurious Focal Point
Colorful kitchens are trending for their playful and elegant twist on the interior decor. More and more designers are looking at ways to include colors into the decor without necessarily turning to traditional solutions, such as paint or flooring. Considering structural elements and appliances in a range of hues can help modernize the traditional kitchen decor. Blue range hoods can offer a refreshing twist to the design, with a variety of shades available, ranging from vibrant cobalts to the ever-popular soft pastels. A blue range hood brings the pop of color that can anchor the kitchen into the 21st-century home. Using the range hood as a focal point adds depth and character to the kitchen space. A quality range hood is a luxury addition to the kitchen. So it makes sense to tailor and adjust it to your existing decor.

Why Blue Range Hoods Are Best For Maintenance
Maintaining your range hood is essential for optimal performance and long-lasting services. Indeed, regular cleaning and upkeep are required to prevent grease buildup and maintain efficient airflow. However, if you are familiar with the saying "out of sight, out of mind", you probably know how easy it is to fall behind in chores for things you don't notice. Your eyes can skip over a conventional range hood and forget about maintenance. On the other hand, things we notice and cherish are more likely to be maintained regularly. So, blue range hoods that are visually appealing and an aesthetic part of your decor tend to receive more attention when it comes to cleaning than more conventional models. Moreover, you are more likely to be motivated to look after your hood and keep it in pristine condition when its visual impact enhances your kitchen decor.
Blue Range Hoods - A Great Choice for Large Structures
A range hood is no small structure. The size of a range hood will depend on a variety of factors. Range hoods can come in 3 distinct sizes, ranging from small with 24 inches wide to large with up to 36 inches in width. The dimensions also convey added performance. For example, a large range hood will be better suited to remove cooking-related pollutants in bigger kitchens with a lot of cooking space. The truth is that, by nature, range hoods are bulky and can be overwhelming in your kitchen decor if you are not careful. There is no point trying to hide the appliance. But what you can do is select a captivating design that fits smoothly into your existing decor. Blue range hoods stand out, but they also fit in and create a sense of harmony inside the kitchen. The once bulky appliance can become stylish and elegant.
At CopperSmith, we are committed to helping you create a beautiful interior design that ticks all your boxes without sacrificing performance and functionality. So, if you are in the process of upgrading your kitchen, we recommend exploring our range of color match range hoods for the best blue options. We also invite you to use our 3D configurator to design your dream kitchen and request a quote.
Customized Kitchen Range Hoods with CopperSmith
The expert artisans, crafters, and designers at CopperSmith are all dedicated to delivering custom hand-crafted range hoods that go far above expectations. We're here to help you create and order the perfect hood that will not only fit into your kitchen but also look fantastic in it too.