The dining table is one of the most frequently used pieces of furniture in the home. Therefore, it's also one of the most important, which means it's a good idea to do some due diligence about all of the options available before you purchase a new one.
A dining room table is an investment piece of furniture, and the right one can last a lifetime, serving as a focal point in your space for years into the future.
Personal Considerations When Purchasing a Table
Before you dive head-first into browsing for tables, you should take into account some important details regarding your present living situation as well as changes that may come into play in the future.
When you're in the market for a new table, it's crucial that you look at your life now and down the road. Since your new table will be an investment, you'll want to choose one that will either grow with your needs or remain as consistent as your living situation over the years.
For a dining table to be the best choice for you, it must pass four important qualifications. Your new table must:
Be made of high-quality materials and built to last
Work for your budget
Fit comfortably in your space
Have a style that you will be in love with for many years

There are some additional tips to keep in mind when choosing a good table. Be wary of falling prey to passing trends. If you go out on a whim and choose a table full of outlandish details, you may very well wake up in five years wondering why you ever thought it was a good idea. Keep it simple and solid.
Make sure that you take plenty of time to think about how you and your dining guests will feel while sitting at different tables. Consider things like:
Whether everyone will be comfortable sitting for long periods
How easy it will be to care for different types of tables
The ambiance you want your table to create
In addition, there may be certain situations or people for you to consider. This might include small children, elderly loved ones, or people with physical limitations, all of whom may impact the type of table you should ultimately choose.
Family Size and Dinner Guests
If you plan to have a large family in the future or frequently entertain guests at dinner, you may want to focus on choosing a larger table. If you are short on space, consider using tables that come with extensions to maximize the flexibility of your dining area.
Your Plans for Decorations and Centerpieces
Some people enjoy keeping everything from fresh fruit and seasoning shakers to napkin dispensers and place settings on their tables. Others prefer a completely clear tabletop when it isn't being used. Depending on your preferences, keep in mind that the more objects you keep on your tabletop, the more dining space you will lose. Plan accordingly.
Application and Usage of Your Dining Table
People use dining tables for many activities other than dining, from wrapping holiday presents to playing board games during family game night. Some people frequently entertain guests at dinner parties, and others may have children who use the table for homework. A wide array of applications and uses must be considered when looking for a new table to purchase.
Durability
If children will be seated at the table for activities other than eating, such as homework or arts and crafts, you may want to steer clear of glass. Instead, consider other durable options, such as copper or stone.
While solid wood is durable, some wood species are softer than others, and running a pencil over them will leave imprints of writing on the table. Stay away from MDF and plywood, which can be easily damaged and are never as strong as solid wood, stone, or metal.
Weight
Consider whether you plan to move frequently, as many military families do. If so, you may want to consider a lightweight table. Avoid marble or granite, which is extremely heavy. This also applies to people who like to rearrange furniture from time to time.
Indoors or Outdoors?
Related to application and usage is whether you will be using the table indoors or outdoors. Outdoor tables should never be made of wood, and glass tables will show every single bit of dust, pollen, and dirt. Natural, stone tables are not ideal for the outdoors since they are porous. An excellent choice for the outdoors is metal – specifically, copper.
Buying a Table: What You Need to Know
There are certain materials that are best for dining tables, certain heights that are appropriate to match different home designs, and specific chairs that are appropriate to properly complement each table type. It's important to choose a table first, followed by the chairs, not the other way around.
To find the perfect dining table for your home, needs, and lifestyle, you'll need to consider some important factors, including:
Materials
Size
Shape
Aesthetic and support styles
Height
Colors, undertones, and finishes
Chairs
Sourcing
To make the best-educated decision about a new dining table that will suit your needs and decor perfectly, look to this Ultimate Table Buyer's Guide and read on.
The Best Materials for Dining Tables

There are a few materials that are commonly used for tables, but those materials aren't necessarily the best for your situation. Take a few key considerations into account before moving to make your big purchase. The most popular materials for high-end, high-quality tables are:
Solid wood
Glass
Marble or granite
Metal, specifically copper
Any combination of these
Which material(s) you choose will ultimately depend on the style and decor of the room and the activities you plan on hosting at the new table.
Solid Wood Dining Tables
As one of the more popular choices for dining tables through the years, solid wood is a sound choice for good reasons. Solid wood dining tables are classic in design, and wood is durable and has excellent longevity.
Wood dining tables are also easy to repair if they become damaged. Furthermore, they are available in several beautiful species of wood that vary in color, hardness, and design.
Each piece of wood used in a solid wood dining table is unique and has a gorgeous, natural grain that shows depth and character. Dining room tables made of wood are always unique. However, there are some drawbacks to solid wood dining tables, especially when it comes to heat and liquid.
You must immediately wipe up any moisture to prevent stains and discolorations (like water rings) from permanently damaging wooden tables. If moisture sits on a wooden table too long, the wood will swell and could crack or become otherwise distorted and damaged.
Hot plates, serving bowls, and dishes may require a trivet underneath to protect the solid wood dining table from scorching. Keeping up with maintenance is fairly simple, with daily washings, regular dusting, and intermittent polishing often being required. Care must be taken at all times to prevent scratching solid wood dining tables.
Glass Tables
Glass-top dining tables are elegant, sophisticated, and surprisingly strong. They make perfect additions to contemporary and modern homes. They are often used outdoors, thanks to the weather resistance of glass, although they require frequent cleaning.
Although you need to clean them often, glass dining tables don't require any tricky cleaning methods or solutions. They are popular choices for people who have small indoor dining rooms because the transparent surface reflects light and helps to create the illusion of more space.
However, glass is extremely fragile in its untempered state, so any glass table must be made from tempered glass. When glass is tempered, it has been treated thermally and chemically to resist scratches, cracks, and shattering much better than untreated glass.
While tempered glass tables are beautiful, strong, and elegant, they may not be the best choice in homes with young children.
Marble or Granite Tables
Marble and granite have been used as solid, elite materials for flooring, countertops, fireplace mantels, and more for many years. Both materials are now becoming popular choices for tables, too. The natural beauty of stone has a timeless appeal and is sure to be an eye-catching addition to stately homes.
However, natural stone is also susceptible to staining and scratching because it is a porous material. Liquids and foods can stain marble if spills are not quickly cleaned. Maintenance includes regular sealing, and efforts must be made to routinely provide additional protection from scratches.
Marble and granite, two of the most environmentally friendly materials, are always in style and can complement almost any decor or setting.
Natural stones like granite and marble also have patina, which changes over time. Although changes are not usually dramatic with age, you may find that the marble or granite table top you originally ordered will not look quite the same decades down the road. They do tend to easily become dull, and professional refinishing can be expensive.
Metal Dining Tables
Although metal tables are commonly found in kitchens and restaurants, they are more popular as dining tables in homes than ever before. Anyone with home decor that follows an industrial-chic, rustic, or elegant design will find no better choice to complement the look than a metal dining table.
Copper, in particular, is catching the eye of the public as a beautiful, durable dining table material. It's extremely easy to clean and adds a unique, beautiful depth and warmth to any space.
Its enduring strength and natural ability to retain its luster over time are two other qualities that grab the attention of homeowners and decorators. If you're searching for a table that offers a striking appearance with its eye-catching color, copper is the material that stands out more than any other.
Whether you're looking for a metal dining table as a focal point or a complementary accent piece, your choice is guaranteed to be an interesting, elegant, and warmly sophisticated addition to your home.
Metals (especially copper) pair beautifully with any table base, and it's easy to have a clear coat added for protection. In addition, the rich, bright tone of copper adds warmth to the dining room.
Many people with dining rooms that have a rustic, country, farmhouse, or vintage style will find that a copper tabletop is a perfect complement. This has to do with its new color and the color of the patina that develops over the years.
Copper tabletops clean up easily and only require a soft cloth and a little mixture of soap and water. If you'd rather not have patina develop, a combination of lemon juice and table salt with a rinse of water is all you will need to clean it. If you opt for a sealed copper tabletop, cleaning products designed for glass or stainless steel will do.
Copper table tops have natural antimicrobial properties. In fact, copper alloys kill microbes better than stainless steel does. Copper is also eco-friendly because it requires no manufacturing processes that produce harmful waste.
If you like the idea of a dining table material that will stand the test of time and is beautiful and easy to care for, a copper dining table may be what you're looking for.

Choosing the Right Size Table
The scale of your table in relation to your chairs must be perfect. Part of that is ensuring that you have the right number of chairs for the table you have selected. It also, of course, means you'll need to select the proper table to accommodate the number of chairs you need.
It's recommended that you have at least 24-26" of tabletop space per place setting. You may want to consider factoring in additional space for dishes, centerpieces, candles, etc. Here are easy-to-use scales for different shapes of tables:
The number of chairs for different lengths of oblong and rectangular tables:
4 chairs: 24" in width, 48" in length
6 chairs: 24" in width, 60-72" in length
8 chairs: 36" in width, 80-87" in length
10 chairs: 42" in width, 92-108" in length
12 chairs: 42" in width, 120" in length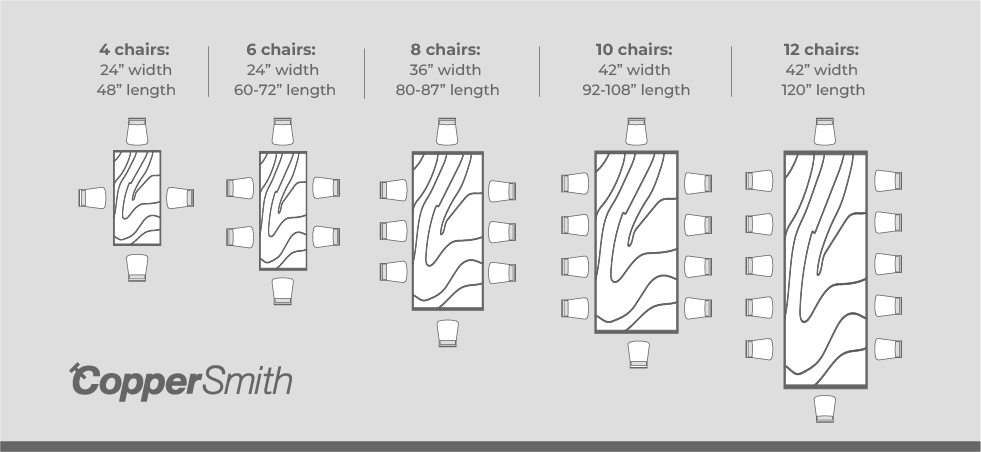 The number of chairs for different sizes of round and square tables:
2 chairs: 30" in diameter
4 chairs: 42-48" in diameter
6-8 chairs: 60" in diameter
10 chairs: 72-84" in diameter
12 chairs: 96" in diameter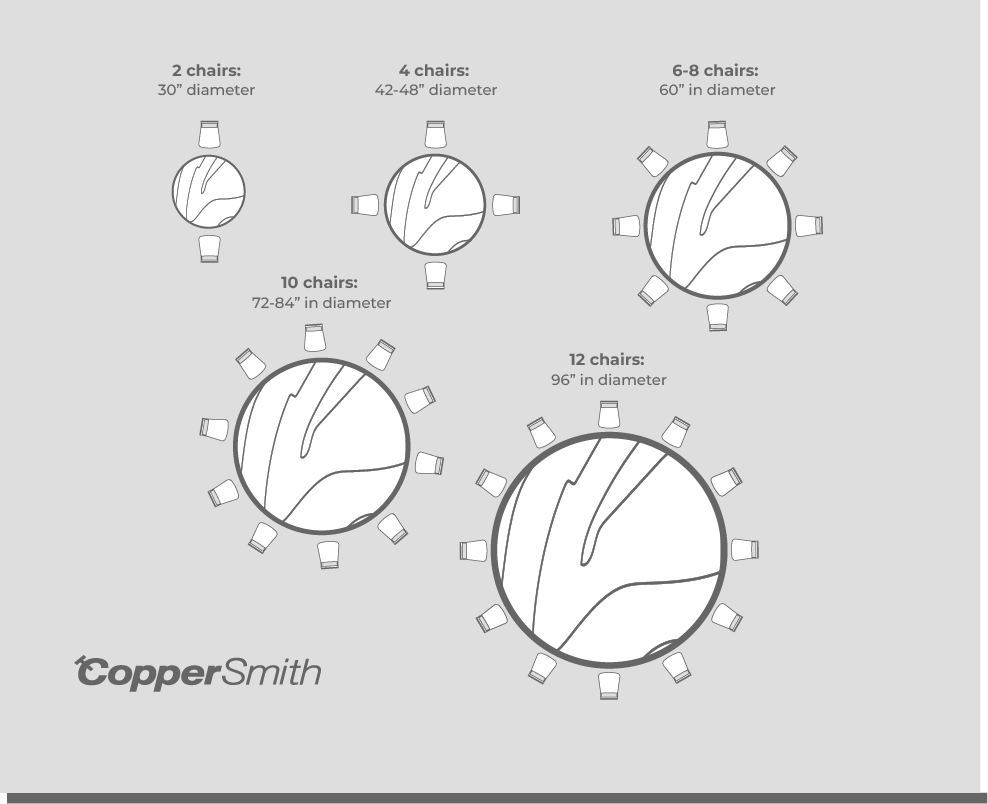 In the middle area of the table, you should consider allowing nine inches of shared space for serving dishes. However, this isn't required, and you can use a sideboard to keep the dishes on instead.
How to Choose the Shape of Your New Table
The shape of your new table will ultimately contribute to the ambiance and emotion that the room emits, so you need to make sure you devote plenty of time and consideration to choosing the best shape for the table's intended room. The most popular shapes for dining tables are:
Oval or oblong
Round/circular
Square
Rectangular
The right table for you will be one that fits in your space and has a style that you will enjoy for a good amount of time. Regardless of the type, design, size, or style of your dining room, the table is always the focal point. For this reason, it's vital that you get it right.
Measuring the Room for a Table
Before you start looking at tables, you'll need to measure the dimensions of the room in which yours will be placed. One of the worst results you can have is when there is too little or too much space once you finally have the new table in the room!
The general rule of thumb is to leave about four feet of space (3½ feet at a minimum) between the table and any walls, counters, or doors nearby. This is to make sure that anyone seated at the table has plenty of room to get in and out of their chairs with ease.
Oval/Oblong Tables
Oval or oblong tables offer linear simplicity in their design, lending more table space than round tables and the same lovely feelings of warmth, visual interest, and intimacy. One thing that oval tables do exceptionally well is creating the illusion of more space than a rectangular table of the same length, thanks to the curved edges.
Oblong tables are often the shape of choice for those who have narrow, long rooms but still want to be able to fit a good number of people around the table. The oval design delivers the smooth, curvy look of a round table but with a lengthier surface area for diners.
The rounded ends can accommodate additional chairs when needed, and they also give the illusion that the table is taking up less space than it really is.
Round/Circular Tables
Round tables are often the best choice for people who have a smaller amount of available space, such as those living in small houses or apartments. Round tables can fit into tight spots, and they also have the advantage of being able to support an intimate dining experience where everyone is facing each other.
What adds to the "friendliness" of round tables is that there is no head of the table, and everyone can see each other as they converse. With no sharp corners, circular tables are also very child-friendly.
One main drawback of circular tables is that they are usually not suitable for oversized families or large gatherings. There are, however, some round tables that come with extensions that lengthen the table to an oblong shape and provide more table space. However, if the dining room is already very small, extensions are not often a usable option.
Square Tables
Square is the least common shape for tables, although this shape offers a bit of extra room at the corners compared to round tables. They can be too large for small spaces for that same reason.
A square table that is too large for a room can make the space look and feel overly "rigid" or "boxy" with its four identical sides and corners. This is especially true because most rooms are rectangular or square.
When a square table is perfectly sized with a room, it lends symmetry to the space. As with round tables, a square table gives everyone an equal seating arrangement that is ideal for intimate conversation.
Square tables can also lend clean lines and crisp edges to a room that may be more circular and otherwise too "flowy." Keep in mind, however, that if more than two people are dining at a time, there may be a lack of comfortable dining space if an overly small table is purchased.
Rectangular Tables
Rectangular dining tables are the most popular choice when it comes to shape, perhaps because the shape of most dining rooms is also rectangular. Rectangular tables can provide ample table space without taking up too much room.
The linear shape of these tables makes them excellent for allowing for traffic flow in the room while still providing plenty of seating space for at least two people. Twelve or more people can be seated at some large, rectangular tables. In addition, the rectangular table is perfect for the central serving platter set-up.
If you have a formal space that you will use just for dining, rectangular tables allow you to go as large as the room will let you. In large rooms, choosing an oversized table can make an impact, and it will surely become the room's focal point.
How to Choose the Style of Your Dining Table
Once you've determined the size and shape of your new table, you will need to choose the style. There are countless styles available. Some of the most popular styles are:
Industrial
Live edge
Rustic farmhouse
Reclaimed wood
Contemporary or modern
Minimalist
Retro
Traditional
Freeform
Most people choose a table that follows the overall style of the home's decor or the dining room. Different materials and contours define various styles, so make sure you are familiar with them to find a coordinating table.
Industrial-Style Tables
This type of table style is fuss-free and minimalistic, and it's inspired by the lofty look of warehouses. This style conveys the look and feel of factory tools and machinery. Some of the key features of industrial-style decor are the raw materials used, including wood, brick, and metal.
Industrial-style tables are excellent choices for a modern dining area with character. Their strong features include naked metal and bold wood shapes.
Live-Edge Tables
Sometimes referred to as natural-edge furniture, tables in this style incorporate and pay tribute to the beauty of living trees in their designs. While the dining surfaces of these tables are often smoothed, treated, and coated or polished, the outer edges are completely left alone.
Many people enjoy live-edge tables because they appreciate their preserved, raw look and the sense of authenticity they bring. In addition, no two live-edge tables are ever going to be exactly the same, which is a big selling point for anyone looking to purchase a truly unique, one-of-a-kind table.
Rustic Farmhouse Style
One of the most popular table styles ever is the rustic farmhouse style, which is inspired by rural living and peaceful, simple farmhouse spaces. One word that is often used to describe this style is "charming," and it's easy to see why.
This style works beautifully for almost any style of home. Typically, rustic farmhouse tables have a textured or weathered finish that creates a vintage look. Most are made of wood, which means that people can easily customize and paint their tables. Many rustic enthusiasts prefer a design of "true rusticism," in which wood remains unpainted and natural, giving a simplistic, "back to nature" vibe.
Reclaimed Wood Tables
As people generally have become much more aware of their carbon footprints, they are also increasing the purchases of environmentally responsible products of all kinds, from foods to clothing to furniture to appliances. Reclaimed wood is wood that has been recycled or reused, which reduces the need for heavy deforestation and chemical processing.
Each piece of reclaimed wood is original and has the bonus of offering unique tales of its past life. Reclaimed wood tables can double as excellent conversation pieces.
Many people find that they also make ideal pieces of furniture because the wood has already been exposed to cold temperatures, hot temperatures, and the elements, so it won't expand or contract as new wood does.
Contemporary or Modern Style Tables
Contemporary and modern tables embrace minimalism and simplicity. These are the pieces of furniture that have sharp lines, subdued hues, and simple, if any, patterns. This style of table keeps the focus where it should be – on the food and the people.
Contemporary tables often rely on geometric shapes and clean lines to make a statement, as opposed to the ornate designs you see in traditional-style tables. The legs of these modern tables are usually tapered or straight.
This modern style is heavily influenced by Scandinavian design, which is where the influence of neutral, subdued colors comes in. Earth tones and clear materials are the go-to, but you can also find many pieces in darker tones in this style of furniture. Materials are often glass, reflective metal, mirrored surfaces, or acrylic.
Another feature of the modern or contemporary style is contrasting textures. Examples of contrasting textures include bright acrylic with wood, marble paired with metal, and glass paired with any other material.
Minimalist-Style Dining Tables
The minimalist style is similar to the contemporary/modern style in that its beauty lies in simplicity. Neat, clutter-free, and organized are characteristics of minimalist-style tables. The colors are completely neutral and typically include various shades of:
Blue
Beige
Brown
White
Gray
If your home is a minimalist-style home, and you have one shade that serves as the base color, one that is a secondary color, and a third color for accents, make sure to follow through with your color scheme with your table color choice.
As part of the minimalist simplicity of your dining table, you will want one that does not require lavish tablecloths, over-embellished placemats, or busy centerpieces to look complete. Having all of these items on a minimalist table defeats the purpose of the uncluttered, neat look.
Retro-Style Tables
Traditionally, retro-style furniture pays homage to the styles of the 1950s and 1960s with rounded edges, shiny chrome features, vinyl seating, bright, bold colors, and repetitive patterns. These mid-century dining tables were made of stainless steel and plastic tops, with vinyl seating around them.
The retro style is one of the most popular "forever favorite" styles of furniture that makes for a sleek, exciting, polished option. Today's retro-style tables are often made of the same materials as the original furniture was, creating a charming, vintage aesthetic in any retro dining space.
Another version of the fun, bright, retro-style tables is the mid-century modern style. While its colors are much more natural and subdued, this style of dining table has warm, natural wood construction and tapered legs that are slender. These tables always have smooth silhouettes and are made of light- or medium-colored wood.
The mid-century modern version of the retro style developed during an era when many Americans were moving in droves into smaller urban spaces, which gave way for the clean lines, sleek simplicity, and geometric shapes of the retro style to rise (and remain) at the height of dining design.
Mission Style
Mission-style tables are made of solid wood. They are known to be chunky and blocky as well as functional and durable. Signature characteristics of this table style include plenty of 90-degree angles, flat panels that accentuate the grain of the wood, and straight lines in the design, both vertical and horizontal.
Although mission-style tables are often made of oak and are finished in a medium-colored stain, there are plenty of variations. Other popular wood options include cherry, ash, maple, and walnut.
There are few curves, if any, in mission-style table designs, and the overall idea is a focus on thick simplicity. Therefore, ornamentation is usually missing, and if it is present, it's simple and slight in nature. Mission-style tables can often be mixed with other styles to create visual appeal, as this style is not overly dramatic or attention-seeking.
Traditional Table Style
The traditional dining table is almost always made of heavy, sturdy wood that shows off a dark or medium finish. These tables are ornamental and often have more carved features and scrolling details than the other styles, especially when it comes to the table legs. The traditional design offers plenty of room for guests, and tables are often large enough to adorn with a chandelier above them.
Traditional table styles never go out of style. They are elegant, timeless, and versatile. Traditional tables can have four legs or, less often, two pedestal legs or one large leg in the center. These one-legged, traditional tables are known as "pedestal tables." They continue to be as popular today as they have been for decades.
Freeform Style Tables
Tables that are included in the free-form style of design are those that don't neatly fit into any of the other categories of styles. These include any table for which there is no concrete definition, such as L-shaped tables, tables that fold up into walls, triangular-shaped tables, and the like.
Since free-form tables do not neatly fit into any one of the other categories of tables, they are versatile and suitable for a wide variety of decor styles. Free-form tables are often a mix-and-match of various other styles.
Choosing the Right Height for Your New Table
A dining table is a piece of furniture that is useful every day, so it must also meet your needs for comfort. In order to do that, it should be at an appropriate height that suits your usage and aesthetic preference, as well as the style of the room.
To determine what the best height for your new table is, consider a few things:
Do you entertain often?
Are you looking for a more casual or more formal setting?
Will the table need to accommodate small children?
Will anyone with physical limitations be seated at the table?
There are three different heights in which dining tables are available: standard, counter, and bar height.
Standard Height
Standard-height tables generally stand no less than 28" from the floor to the top of the table and no more than 30". This is the most common height for dining tables, which also means that you will find more options in style, shape, color, materials, and seating for standard tables than for any other height.
If there are small children or people with physical limitations who will be seated at the table, you can't go wrong with one that is standard height. It's also the most flexible option, especially when it comes to entertaining; seating options are endless, and the length of the table can be adjusted by using an extension or removing it.
Chairs with arms, chairs without arms, upholstered or non-upholstered chairs, benches, and most wheelchairs can be accommodated by a standard-height table. Most formal dining rooms have tables that are standard height.
Counter Height
Counter-height tables are a bit higher than standard tables, standing between 34-36" from the floor to the top of the table. Counter-height tables are very popular options for rooms that are slightly more casual in style. They are also excellent for rooms that are a bit smaller because the increased height helps to give the illusion of a more airy, open feel.
If you entertain often, you may be interested in a counter-height table because they are typically level (or very close to level) with countertops, making these tables conveniently helpful for preparing or staging food. They're also at a comfortable height for guests to enjoy hors d'oeuvres and beverages as they sit or stand.
For households with young children, counter-height tables are tall enough to open up space yet short enough for little ones to easily get in and out of the chairs. Counter-height tables bring a refreshing, unexpected look to kitchens and dining rooms.
Bar Height Dining Tables
As you might have guessed, bar-height tables are the tallest tables, usually standing 40-42" from the floor to the top of the table. Also commonly known as pub-height tables, these are the most casual option. They are popular with people who don't usually consider meal times to be formal affairs.
Bar-height tables are excellent choices for those who want to create a conversational, comfortable, and unique atmosphere in the home. Informal entertaining is very simply done with bar height tables, and adults can easily move from a standing to a sitting position and vice versa at this height.
However, small children and people with physical limitations or those who must use a wheelchair will have difficulty with bar height tables, so if you need to, opt for a standard-height table or a counter-height table instead. Bar-height tables are excellent choices for people who want something other than the traditional dining set-up.
How to Choose the Right Table Support Style
One of the other elements that you need to choose for your new table is the type of support system (table legs) you would like. There are several to choose from, and not all of them are usually available with all styles of tables.
Table supports, legs, and bases can be broadly separated into three categories: single post (pedestal), double-based, and four-legged. Some of the most popular styles of table supports are: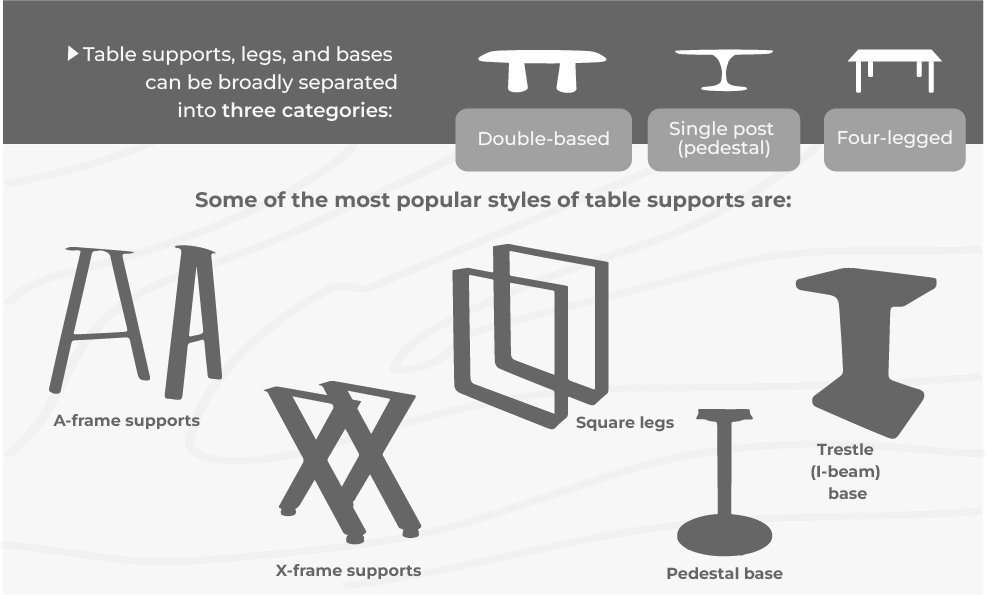 A-frame supports
Square legs
X-frame supports
Pedestal base
Trestle (I-beam) base
The specific type of support or base used for a particular table will be determined by the table's size, style, and structure. Within these different types of supports are dozens of styles of table legs, some of which include: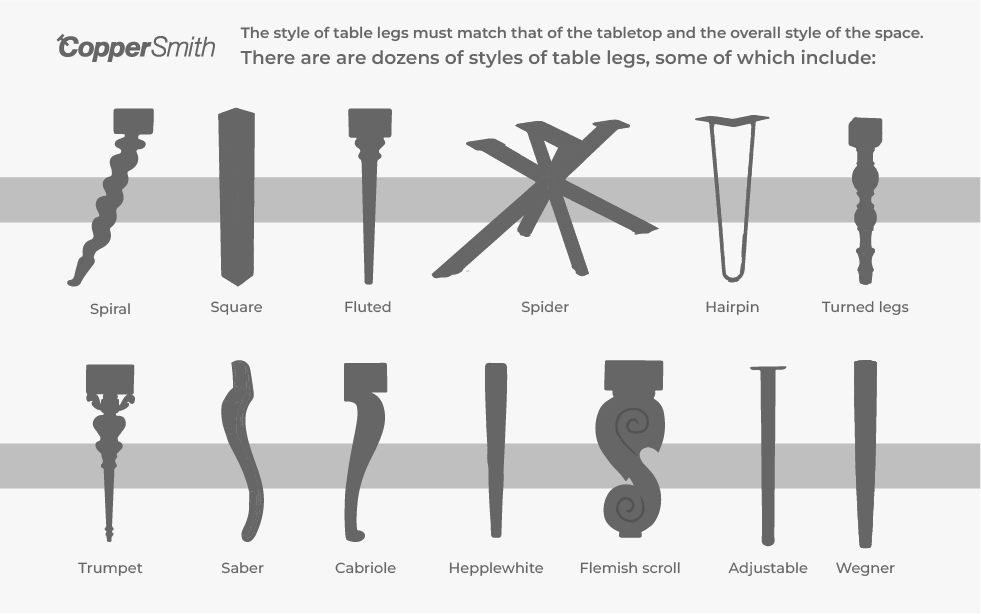 Spiral
Square
Fluted
Spider
Hairpin
Turned legs
Trumpet
Saber
Cabriole
Hepplewhite
Flemish scroll
Adjustable
Wegner
The legs of a table are not just to support the tabletop; they are also there to add to the design and highlight the table as the focal point of the room. The style of table legs must match that of the tabletop and the overall style of the space.
A-Frame Supports
A-frame leg supports are excellent for tables that are industrial, modern, minimalist, or contemporary in style. The sturdy box legs can support heavy, large loads, which means they are also ideal for heavier tabletop materials like marble and solid wood.
Square Legs
Square leg supports are situated at the short ends of a rectangular table and are not usually used for oval or round tables. Square leg supports are normally minimalistic in size, making them excellent for smaller spaces because they don't take up a lot of visual space.
Simply put, this type of support system resembles a square at each end of a table that lends sturdy support. They create a modern-yet-classic look, especially if steel is used as the construction material.
X-Frame Supports
Tables that have X-frame supports are often the classic-styled picnic tables, with legs designed in an "X" shape at each of the two shorter ends of the table. However, many minimalist tables for dining rooms are now sporting this style, as it can provide a solid base with good support without appearing overly thick or clunky.
X-frame supports are almost always seen exclusively on rectangular tables. Their striking design and shape help even a minimalist table stand out in a room as the star of the show.
Pedestal Base Supports
The most common shape for pedestal tables is round, but many oval tables and some square ones (especially in restaurants) are pedestal tables. These are easy to spot because they have one thick, sturdy pedestal leg in the center of the table that runs down to the floor to provide support.
Depending on the style, many pedestal tables have four "mini legs" at the bottom of the pedestal to prevent the table from falling or leaning one way or another. However, some pedestal tables have circular or square bases at the bottom.
Trestle (I-Beam) Bases
Trestle tables are thought to be the oldest style of table. They were widely used throughout the Middle Ages. The bases of trestle tables, which are very easy to spot, are what make them noteworthy.
There are usually two, but sometimes three supports (whether those are legs, sides, or pedestals) that are evenly spaced, not at the edges of the table, but equidistant from the middle, hugging the inside space. These supports, or trestles, are almost always connected by a single beam or stretcher that runs horizontally between the middle or bottom of the trestles.
Determine the Color, Undertone, or Finish of Your New Table
Choosing the color of your new table can be as difficult as deciding on a paint color for a room. There is a dizzying array of options available, so the task can seem overwhelming at first. However, by keeping a few key points in mind, you'll be able to confidently make the right choice.
Just as is the case with paint color, lighter-colored tables can help a small room feel more spacious, and they tend to blend in with rooms more than darker-colored tables do. Many people pair lighter-colored tables with bold, darker wall colors to create a "complementary contrast." However, this also means that light-colored tables may not work as well in large, airy, open rooms.
While lighter tables add a certain cleanness and brightness to a room, darker tables add warmth and depth, especially when paired with neutral-colored walls. Dark tables against neutral walls evoke a sophisticated look, regardless of the specific style of table.
Keep in mind that you must consider more than just the tabletop when it comes to choosing colors; don't forget the legs! Having table legs that are a different contrasting material and color than the tabletop is a popular way of enhancing the interest that the table can create.
For example, you can choose a copper tabletop with a warm, solid wood base or a solid wood top with raw metal legs for an industrial feel. You could also choose to whitewash a wooden tabletop and finish the wooden legs with a dark stain. A popular option is to go for a bold, bright color for the table supports that contrast against a more subdued tabletop or vice versa.
If you're certain that you want a table with some color in it but aren't sure which one, try picking out a color that is already part of the decor you have in the room. This could be a color in the walls, the flooring or floor coverings, the window treatments, or even an accessory in the room. Remember that staple hues, such as brown, white, black, and grey, will always be on-trend and offer a timeless look.
The colors or finishes you choose for your table are up to you. Just keep in mind that your decision should reflect how you want people to feel when they sit at your table, whether grand, relaxed, energized, or simply and purely comfortable.
How to Choose the Right Chairs for Your New Table
You might be tempted to pass on gorgeous tables just because they don't come as a set with chairs, but don't! While your chairs do need to suit the style and scale of your table, when you keep a few key points in mind, the task of finding the ideal chairs won't be a difficult one.
You will need to consider the following features to find the right match:
Chair height and width
Seat height
Seat width and depth
Arms and backs
Style
For optimal use and comfort, the features and characteristics of your table and the accompanying chairs must be compatible to create a dining set that is both functional and comfortable.
Dining Chair Height and Width
Depending on the style of chair you are interested in, you'll find some general guidelines for typical heights from the bottoms of the legs to the tops of the chairs' backs:
Standard dining chairs are 32-34" tall (with backs that lend 12-16" of support) and 16-20" wide
Counter-height dining chairs are 38-40" tall (with a variable amount of lumbar support, depending on the style) and 16-20" wide
Bar-height dining chairs are 42-44" tall (with variable support at the back) and 16-20" wide
Keep in mind that these measurements apply to the average dining chair of each type, and depending on the specific design and style of a chair, dimensions can vary.
Seat Height
In general, there are certain standards you should keep in mind when looking for chairs that are the right height for the table you have chosen:
Standard chair seats are 18-20" in height
Counter-height stools should be 24-26" from the floor to the seat
Bar-height stools or chairs should be 28-30" from floor to the seat
Counter-height and bar-height dining chairs should have a place attached to the supports for diners to rest their feet. Just as standard chair seats are about 18 inches off the floor, the footrests of counter and bar stools should also be about 18 inches from the seat.
Since the scale of your dining set must be in line, it's recommended that you have 10-12" of space between the underside or apron of your table and the seat of the chairs.
Measuring While Out and About
To find the right distance from the height of the seats to the height of the table you find comfortable, you can test a variety of different chairs with different tables. Keep a small tape measure with you when you dine out, and keep note of distances if you sit at a table that feels very comfortable to you.
Any time you measure the heights of tables and chairs, make sure that you don't just measure from the top of the table to the seat. If the table you're interested in has an apron, which is a panel that connects the legs and the tabletop, measure from the bottom of the apron to the top of the seat of the chair.
Pro tip: Be aware of whether the seats are upholstered or not, as they tend to compress when they are sat upon. The thicker the padding, the more significant the compression will be.
To get the best measurement, measure from the top of the upholstered seat to the floor while the chair is empty. Then, measure again while someone is sitting in the seat. Add the difference between the two measurements to your final table-to-seat distance.
Seat Width and Depth
Part of finding the perfect table with perfect chairs to go with it concerns the width and depth of the chairs, not just the compatible height between all of the pieces. With chairs that are too narrow, wide, shallow, or deep, your diners won't be very comfortable.
Some good measurements to remember for chairs are:
A seating width of about 17.5-20"
A seating depth of about 16-18" from front to back
While many people will pay attention almost automatically to the width of chairs, they tend to forget to consider their depth. The depth needs to be ample enough so that a user can sit with their back against the back of the chair while leaving about two to four inches of space between the seat of the chair and the back of the knees.
The Issue of Space and Chairs
If two or more chairs are to be used along the sides or around your table, there should be room to slide them underneath without chair legs bumping into each other. If chair seats are too close or there are too many at the table, diners will feel uncomfortably close and cramped.
In general, the more formal the dining room ensemble, the more space there should be between seats. Allow a minimum of 20-24 inches between chairs when measured from the center of the seats. Ideally, in addition to those 20-24 inches between chairs, you should allow another six inches for elbow room.
If you're looking for a rectangular table but are concerned that you won't have enough space, you may want to consider using a bench on one side (or on both). Benches are very popular substitutes for chairs as of late, and they provide an excellent way to add seating without having to use so much space for chairs.
The best part is that the benches can be tucked under the table to make extra room when the table or benches are not in use (just watch the table legs or supports).
Arms and Backs
The most important consideration for chairs that have arms is that the tops of them should never brush or bump the bottom of the table or the table apron. If they do, you'll inevitably damage the chairs and the table.
If the arms are too tall to easily scoot under the table, leave the chairs out (if you have the space) or opt for different chairs. Be careful if you must leave the chairs out; diners might be too far away from the table to be comfortable.
As for the backs of the chairs, they should always, without fail, be taller than the top of your table. The absolute minimum is two inches taller than the tabletop. However, the taller, the better. Otherwise, the chairs will look overly "squatty" and awkward.
Chair Style
Make sure that the style of chairs you choose complements the style of the table. Usually, people prefer purchasing chairs that match the table (and each other) in style, color, and material. Having everything look the same helps the flow of a room and solidifies the dining set as one complete unit.
Exceptions to the Chair "Rules"
As with many other decorating rules, there are exceptions when it comes to table styles and the glorious chairs we choose to go with them. The same is also true when it comes to the dining rooms, kitchens, breakfast nooks, or outdoor spaces in which we place them.
Even though many people prefer chairs that completely match their tables, the chairs don't necessarily have to look the same as the table, and in fact, they don't even have to match each other.
Many people enjoy using chairs that are intentionally mismatched. Some pairings work fascinatingly well because the combinations of chairs used with the table in a room are so outrageous. However, be aware that pulling off a "coordinated mismatched" look can be a tricky business.
For example, if you have a grand, solid wood table from the 19th-century with scrolled, rounded legs, it's not going to look right if it is paired with contemporary, boxy chairs with short backs finished in bright chrome. A retro table would be the better choice for chairs like these.
There are reliably successful ways to mix and match dining room tables and chairs, and there are ways that will not look right, no matter how you may try. The key to successfully "mismatched" pairings is the element of consistency.
Chair Mix and Match Know-How
The goal of mixing styles between your table and chairs is to create an interesting nuance that flows. Without care, that nuance can quickly turn into nothing but a mess.
You can change some of the qualities of the chairs you put around your table but keep others consistent. There are some specific strategies for mixing and matching chairs that are time tested and always in style:
Vary the colors but not the shape
Alternate armchairs
Stay within one age or geographic range, and change everything else
Be consistent with color but vary the shapes
Choose complementary shapes across the table from each other
Keep all armless chairs consistent while varying only the end armchairs
When done correctly, mixing and matching should carry the eyes through the room. The finished look should appear intentional and not forced or even accidental. Limiting yourself to changing just one or two factors while keeping others consistent will bring visual consistency to the room.
A Note About Bench Heights for Tables
Benches are popular types of seats that can help solve space issues. They're an attractive seating choice that is particularly popular in breakfast nooks, informal dining rooms, and open-plan living areas. They're also commonly found in many casual kitchens.
You need to be able to sit on a bench comfortably without feeling like you are being squeezed in any direction, either by the table, the wall behind you, or the person next to you. For safety reasons, benches are not used with anything except standard height tables. The best height for a bench is 18 inches tall.
The Details: Choosing a Rug and Lighting
Many people have area rugs under their tables and light fixtures above them, but not everyone does. If you want to complete your new dining room's look with lights and rugs, you'll need to keep a few tips in mind.
How to Choose a Dining Room Rug
Rugs underneath a dining table serve a few important purposes:
They protect your hard flooring and your table and chair legs
They complete the focal point of the dining table area
They add a decorative, inviting element of design to a room
Choosing the right size rug is paramount. While there are general guidelines to use to determine the right size, many people like to begin by using masking tape to outline where different rug sizes would fall so they can visualize the room before making a final purchase.
Pro Tip Guidelines for Choosing a Dining Room Rug
When the chairs of your table are pulled out, you want to be able to have all of the legs still on the rug. Many people use a rug that is too small, which is not only awkward when the back legs of a chair are off the rug, and the front legs are still on it, but it also makes dining room tables look stuffy and cramped.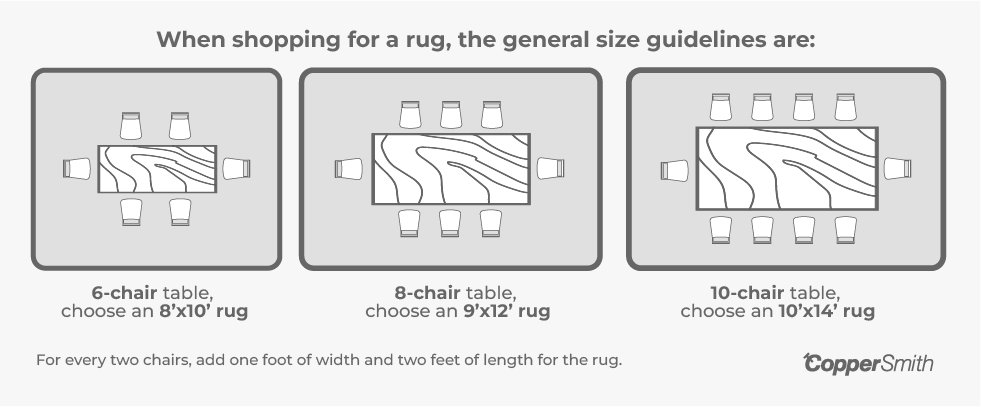 When shopping for a rug, the general size guidelines are:
For a 6-chair table, choose an 8'x10' rug
For an 8-chair table, opt for a 9'x12' rug
For a 10-chair table, pick a 10'x14' rug
For every two chairs, add one foot of width and two feet of length for the rug.
How to Choose Dining Room Lighting
Lighting serves a bigger purpose than just illumination. It also showcases your personal style and pulls the entire dining area together. It's important to consider many details before you purchase lighting, from the size of a chandelier to the proper placement of pendant lighting.
Common Types of Lighting Fixtures
In general, lighting fixtures can be categorized into three groups:
Pendant lighting
Chandeliers
Flush-mount lighting
Smaller areas require smaller fixtures, such as small pendants or flush-mount fixtures. Large rooms and open-concept spaces can accommodate larger fixtures like chandeliers to create a central focal point.
Pendant Lighting
Single pendants make a beautiful, simple statement that lends a modern, streamlined look to dining rooms. If you have your heart set on pendant lighting and have a larger room, consider using two or three small pendant fixtures. Pendants are popular with square and round tables.
Chandeliers
Chandeliers offer classic, traditional lighting and are available in a wide variety of styles, shapes, and features. The diameter of a chandelier should be one-half to two-thirds of the length of your table. Oversized chandeliers look great above rectangular and oval tables.
Flush-Mount Lighting
Flush-mounted lights should align with the size of the space. They are usually appropriate for smaller rooms and more casual settings with an understated look. To make rooms with low ceilings feel more spacious, consider a semi-flush mount light to add dimension.
The Bottom Line for Table Buyers
When all is said and done, remember that to find the perfect table, you must consider more than just the table. Careful planning and consideration should also include the style of the room, chairs, decor, and any rugs and lighting that you will use to highlight the space.
Keeping the information from this guide in mind as you shop will help you find the perfect table for your home. You can use color, style, size, and material to reflect your vision for your incredible dining space. World CopperSmith offers premium copper tables, copper sinks and copper range hoods for the home!
Sources:
https://www.grainandframe.com/buying-guides/dining-table-buying-guide/
https://www.homestratosphere.com/types-of-dining-room-tables/
https://blog.modsy.com/home-design-tips-guides/interior-design-buying-guides/the-ultimate-guide-to-dining-table-styles/
https://dengarden.com/interior-design/marble-table
https://www.wayfair.com/furniture/pdp/wade-logan-culbert-2-person-bar-height-dining-set-w006717805.html
https://www.worldcoppersmith.com/tables/rectangular-table-top
https://www.houzz.com/products/dining-tables/shape_name--Free-Form
https://www.thespruce.com/how-to-choose-chairs-for-your-dining-table-1313436
https://www.wgrfurniture.com/inspiration/blog/which-dining-table-height-is-right-for-you/
https://www.webstaurantstore.com/guide/541/types-of-table-tops-and-bases.html
https://ideas.rejuvenation.com/how-to-choose-dining-room-lighting/
https://www.dutchcrafters.com/blog/4-facts-about-trestle-tables/
https://ideas.rejuvenation.com/how-to-measure-for-a-dining-table/
https://www.hunker.com/13403732/recommended-distance-between-dining-chairs
https://www.architecturaldigest.com/story/mix-and-match-dining-room-chairs
https://www.nytimes.com/2018/01/09/smarter-living/how-to-choose-the-right-dining-table-for-your-home.html
https://homereference.net/copper-countertops-pros-cons/
https://www.sugarhousefurniture.com/what-is-mission-style-furniture/
https://homereference.net/copper-countertops-pros-cons/
https://designingidea.com/dining-chair-dimensions/
http://theinterioreditor.com/furniture-design/how-to-choose-the-perfect-dining-table-for-your-home/
https://www.theperfectrug.com/how-do-i-choose-right-rug-my-dining-room?gclid=CjwKCAjwlcaRBhBYEiwAK341jTbRLd-HI5oBAnt3IkG5HSVQJid1eb6XPVGtS4cZwQo_n5FNqkFmthoCR_0QAvD_BwE