Wild rice is a Minnesotan specialty, and there's no better way to show off this Midwestern treat than in a home-made casserole (which Minnesotans usually refer to as "hot dish"). This savory baked dish is made with plenty of veggies, baked chicken breast, and just enough butter to take this meal to the next level. This casserole recipe makes enough food for 8 servings, but you could easily double the recipe if you plan on feeding a crowd. Lastly, don't be surprised when people beg you to whip up this comforting meal on a regular basis!
Ingredients
1 onion

5 carrots

5 celery stalks

1 cup wild rice

3 cups chicken broth

1 pound chicken breast, cut into small pieces

10 tablespoons butter, divided

1 teaspoon salt

1/2 teaspoon poultry seasoning

4 tablespoons flour

2 cups milk

3-4 cups bread, cut into cubes (day-old or dry bread is best for this dish)
Directions
Preheat the oven to 350° and begin chopping the onion, carrots, and celery.

Put the veggies in a large casserole dish, and then add the wild rice and chicken broth.

Cover the dish tightly with foil, and bake for approximately 75 minutes.

When the veggies are almost done baking, melt 4 tablespoons of butter in a small saucepan and then ddd the flour, salt, and poultry seasoning. Cook on medium heat for about 1 minute.

Slowly pour the milk into the butter mixture, whisking it until it becomes a thick, creamy sauce.

For the bread topping, melt 6 tablespoons butter and toss it with the bread cubes until thoroughly coated.

When the veggies and wild rice are finished, remove the foil from the casserole dish. Add the raw chicken pieces and sauce, and then stir until combined. Sprinkle the bread in an even layer on the top of the other ingredients.

Turn your oven up to 450° and then bake the dish, uncovered, for 20-30 minutes. You'll know the meal is ready when the chicken shows no pinkness and the bread cubes are toasted to a golden brown.
Recommended Product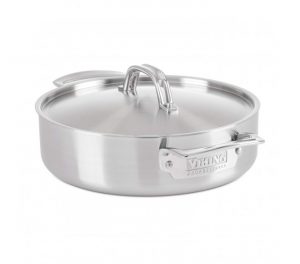 If you're searching for the perfect casserole pan to make delicious, home-cooked meals, the Pro Stainless Steel Casserole Pan is one of the best options on the market. This sturdy pan can easily withstand heat up to 500° thanks to layers of professional-grade stainless steel wrapped around an aluminum alloy core. The heat-absorbing pan will cook each meal evenly and keep it warm long after you remove it from the oven, and you can have confidence knowing that this product has a Lifetime Guarantee. Bon appétit!