Are you eager to grow your kitchen or bathroom showroom business and take your company to the next level on the market? If so, then you must focus on increasing demand while protecting and nurturing your brand identity. There are lots of ways to ensure that your company is poised for future levels of success. Here are some of the options we recommend you explore.
Offer More Services
One of the best ways to gain more interest in your business is by offering more services to potential clients. The more services you offer, the more likely it is that clients will be able to find the solution they want from your company. This means that they won't have any reason to search elsewhere on the market. It's important to conduct the right amount of research to find out which services your target audience is interested in. This will allow you to fill in the gaps that may exist in your business model.
Partner With The Right Companies

You can also grow your kitchen or bathroom showroom business by partnering with the best companies and suppliers on the market. If you partner with the right businesses, then you will always be able to deliver a high quality service or solution to customers and clients. There are various business partners that could give your company the right boost. For instance, you need to make sure you find a top supplier for your kitchen or bathroom company. CopperSmith has an extensive history working as a trade partner with kitchen and bath showroom owners, delivering the best copper products that can be used in their showrooms.
When exploring potential business partners, make sure that they can offer products and materials which match with the current interests of buyers on the market. It's important to ensure that your bathroom or kitchen designs are on-trend.
You should also conduct a thorough search before choosing the trade partners for your company. While finding a service to fit your budget is important, you need to think in terms of referrals and reviews as well. Don't fall into the trap of investing in a service that isn't able to deliver the quality standard your customers expect.

Widen Your Market
You could also consider working to widen the market of your business. In the past, you may have focused on a highly specific target audience or demographic. It's possible that you have exhausted the potential of this audience base. If that's the case, then it's time to explore new avenues with your company. For instance, you may want to focus on offering your services and solutions to clients with different budgets.
Or, you could choose to offer consultations before letting clients select their own designs and contractors. If you provide clients with more freedom when visiting your showroom, then you will immediately increase the size of your audience.
Promote Your Business

The best way to grow your business is to explore new forms of promotion. This can be divided into two different categories: offline and online.
Let's explore each option in turn so that you know about all the possibilities.
Offline
Offline marketing tactics are important because clients for a kitchen or showroom business will be local. It is unlikely that they will be traveling far and wide to visit your company.
Fliers
First, you may want to consider using fliers to promote your business to a local audience. The big benefit of fliers is that they are easy to distribute and quite cheap. You just need to make sure that they aren't immediately viewed as trash or junk. They need to look and feel professional. They should also provide your potential clients with real value. One of the ways that you can do this is by designing them with a QR code. This is a great way to link offline elements of your marketing campaign with a far wider digital strategy. The code could even link to a software that will allow them to design their own bathroom or kitchen before visiting your showroom.

Business Cards
Business cards are another great offline marketing tactic that will help your kitchen or bathroom showroom business seem more professional to potential clients. It will also provide you with an immediate marketing option that you can use whenever there's an opportunity. For instance, you might meet someone at a business event or a personal celebration. You can use your business card to present your company as the ideal solution if they are keen to renovate their bathroom space or modernize their kitchen. Again, this is just a matter of creating a stylish design.
Radio And TV
If you have more money in your marketing budget, then you could explore using radio and TV ads. TV will be more suitable for your type of business because the service that you offer is highly visual. You can use a TV ad to showcase your showroom to a wide audience and ensure that they are eager to learn more. This could be a great way to gain more foot traffic to your company. You just need to find the best video production company who will create an ad that converts viewers into serious leads.
Curb Appeal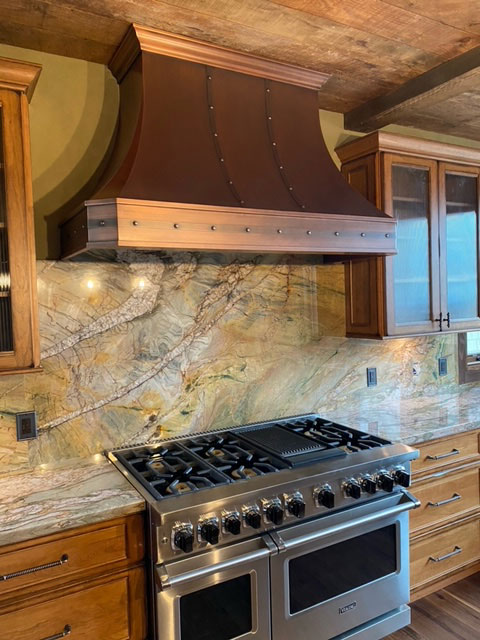 Depending on the location of your business, you could be largely reliant on organic foot traffic to your company. If that's the case, then it's important to make the exterior of your business as appealing as possible. There are lots of ways to do this including signage. The right sign can ensure that a lot more people choose to stop by your kitchen or bathroom showroom to explore what you can offer. You could also use the walls of your business to promote your company or utilize your windows. Regardless of what option you explore, it's important that it matches the ideals and standards you want associated with your company.
Guerrilla Marketing
Again, dependent on your business location, guerilla marketing tactics could also improve the growth levels of your business, leading to more demand. This could simply mean ensuring members of staff are outside the doors of your showroom, encouraging individuals passing by to come inside and take a look at the kitchen or bathroom designs that are available. Guerilla marketing like this is largely dependent on hiring the right people. They need to be charismatic, friendly and ensure that potential customers are more interested in what your business has to offer.
Exhibitions
Another way to promote your business offline would be by participating in exhibitions and tradeshows. This is one of the best ways to ensure that your company stands out from similar competitors who are also on the market. Trade shows also provide a unique opportunity to gain interest from potential investors who can fund future growth plans for your company. While a trade show or exhibition appearance is always going to be expensive, it can provide the right future opportunities for your business if you design the right presentation. You can also show off key products such as a selection of range hoods, sinks, or bathtubs.
Online
It's important to understand that local clients visiting your kitchen or bathroom showroom business will still begin with an online search. That's why it's important to finetune your online promotion if you want your business to thrive.
Web Design
First, you need to think about your website. Your web design will determine whether users who find your business online, contact your showroom, make an appointment, or stop by. It needs to tick all the boxes. It's incredibly easy these days to design a website. There are free templates available online. However, it's always worth taking the extra step and hiring a professional designer. They'll ensure that your site fits perfectly with the message that you want attached to your business and suits your target audience.
It needs to work on a technical level too. Your website should load rapidly. If pages take more than a couple of seconds to load, you've already lost a customer. A great web hosting service will always speed up your side. Then, there's the site structure. Focus on ensuring that your site follows a three click rule. This means that users should never be more than three clicks away from what they are searching for.
Content is king when it comes to your website. The right type and level of content will ensure that people remain on your site for longer. This will improve your bounce rate which will directly contribute to a better overall reach and ranking. One of the ways that you can add more content to your website is by setting up a blog.
You can use your blog to provide information such as how to create the perfect kitchen, the latest bathroom trends, or information about key kitchen materials.Finally, your site should have a unique selling point. It must have something that helps your business stand out from similar companies that they could explore instead. One of the best ways to do this is by investing in a bespoke design software. This is another way you can put the power firmly in the hands of your client.

Social Media
Social Media is another great way to elevate your kitchen and bathroom showroom business on the market. One of the benefits of social media is that it allows you to engage with your target audience in a way that is both non-intrusive and highly effective. However, you do need to make the right choices with this strategy.
First, you should explore the social media options that appeal to your target audience and that matches with the requirements of your business. For instance, for a kitchen or bathroom showroom company, you should be using options such as Instagram and Pinterest. Instagram is effective because you can publish and promote images of your showroom online. This will allow you to show off new features or exciting new additions such as a different style of range hood.
Other social media options such as Twitter are suitable for announcing new business updates and developments or reposting key industry news that is relevant to clients. As with other aspects of your business. It is important that your social media accounts deliver real value to your audience. Follow the 80:20 rule here. This means that only 20% of what you post should be direct forms of marketing.
SEO And PPC
Approximately 93% of online experiences still begin with a search engine. This is important because it means that users don't know what they are searching for when they begin their journey. That means that there's a lot of opportunity to win over new clients who have never heard of your business before. But to do this, they need to be able to find your brand. This all comes back to SEO. Without the right SEO marketing strategy, your kitchen or bathroom showroom business will be dead in the water online.
SEO is more complex than most people realize. This is why it's worth using a professional marketing agency to complete all the right steps for you. This will also help you avoid blackhat marketing tactics completely.
As well as SEO, you should also explore PPC marketing tactics. PPC is the opposite of organic SEO. However, it can still be effective. Research shows that approximately 30% of people searching online will click on the sponsored links. It's also one of the best ways to ensure that your marketing strategy is efficient as well as efficient. As such, it can be useful if you are operating with a smaller promotional budget.

Start Growing Your Business Today
As you can see, there are various steps that you can take to expand the reach of your kitchen or bathroom showroom business. It's important to ensure that you retain the right quality standards, whether through your marketing or the services you deliver. This remains true when you are selecting your business partners. You should also focus on promotion. The right forms of promotion will ensure that you gain more interest from your target audience and gain a higher level of foot traffic to your showroom.