If you're looking for a quick and delicious meal that will satisfy your whole family, look no further than this honey garlic chicken stir fry. Easy to whip up in half an hour or less, this versatile recipe is sure to become a staple dinner option for busy weeknights. This recipe makes enough to serve 4 people, but it can be easily doubled or tripled if need be.
Ingredients
1 tablespoon + 1 teaspoon vegetable oil, divided

1 cup carrots, thinly sliced and peeled

2 cups broccoli florets

1 lb. boneless skinless chicken breasts, cut into 1 inch pieces

4 cloves minced garlic

1/4 cup low sodium chicken broth or water

1/4 cup soy sauce

3 tablespoons honey

2 teaspoons cornstarch

Salt and pepper to taste
Directions
Whisk the chicken broth, honey, and soy sauce in a bowl. Set aside.

Mix the cornstarch with 1 tablespoon of cold water. Set aside.

Heat 1 teaspoon of oil in a

large pan

over medium heat.

Add the broccoli and carrots and cook until vegetables are tender (approx. 4 minutes).

Take the vegetables out of the pan, place them on a plate, cover, and set aside.

Turn the heat to high and add the rest of the oil.

Season the pieces of chicken with salt and pepper to taste, and add them to the pan. You may have to do this step in a few batches to avoid overcrowding the pan. Cook the chicken pieces for about 3-4 minutes on each side, until they're golden brown and cooked through.

Add the garlic to the pan and cook for about 30 seconds.

Transfer the vegetables back into the pan and cook for about 2 more minutes, or until the vegetables are warm.

Take the chicken broth, honey, and soy sauce mixture and pour it into the pan. Cook for about 30 seconds, making sure to thoroughly cover the chicken and vegetables with the sauce.

Add the cornstarch and water mixture and bring the pan to a boil. Cook for about 1 minute, or until the sauce begins to thicken.

Serve with rice, noodles, or quinoa.
Helpful Tips
If you'd like to make this dish with another protein, you can easily swap out the chicken breast with shrimp, steak, or tofu.

You can substitute any vegetables you'd like in place of the broccoli and carrots. Try mushrooms, bell peppers, or zucchini for a delicious alternative.

Use a versatile, high-quality copper wok pan for a truly enjoyable cooking experience. See our recommended product below!
Recommended Product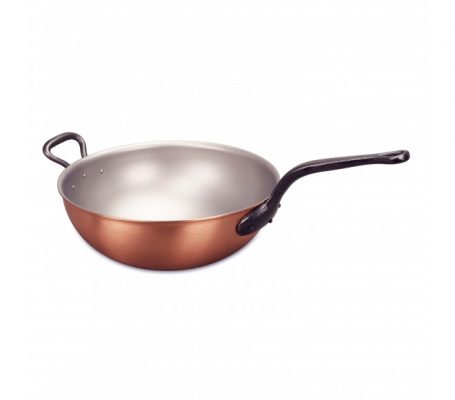 We consider this classic wok an essential when it comes to kitchen cookware! With a copper exterior, stainless steel interior, and 11-inch diameter, this pan provides an efficient cooking environment with sufficient surface area for an even heat distribution.