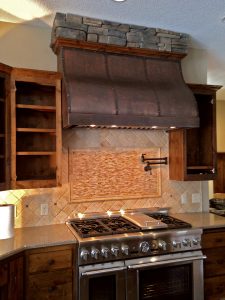 Four Technical Questions You Need to Ask Before Buying a Copper Range Hood
There are four technical questions that you need to ask before the purchase of a copper range hood. Whether you are buying the range hood from a brick and mortar store or a web-based store, there are many styles and options. We often get calls from customers who purchased a copper kitchen range hood and are now in a position where they are unable to complete the project. Often the customer is either not able to install the product, not qualified to integrate the insert fan, left with thin or unstable materials, or has odd sizes for the kitchen or cooking environment.
Copper Thickness?
Many copper range hoods consist of a thin layer of copper that can be easily dented, foiled, or cracked. A quality range hood will is made of heavy gauge, thick copper. The thicker the metal, the fewer waves and the more solid the construction will be. We prefer to construct our range hoods from 16 gauge (48 oz) cold rolled copper. This allows us to attach the range hood directly to studs.
Will my insert fan fit?
The range hood will need to be made to fit the exact specifications of an insert fan to function correctly. It is important to realize that insert fans come in all types of shapes, sizes, and styles. We choose to make all our range hoods compatible with a particular brand of professional grade vent fans. They are quiet, reliable, efficient and easy to install.
What about installation?
Installing a range hood is something that should be left to a qualified construction professional. Depending on your state or building regulations, you may need a licensed HVAC and electrician involved. Your building contractor will be able to organize the installation with our detailed installation instructions. If you have any questions regarding range hood installation, CopperSmith customer support is available via phone and email.
What size should I purchase?
Often overlooked, the size of your range hood should be a thorough consideration. Each of our products come with detailed specifications on how high we recommend you hang the range hood over the cooktop. Range hoods look great free standing, installed directly up to the ceiling, or under cabinets. This is a matter of preference and something we recommend you work with your contractor or designer to find the right fit for you.