Our custom copper range hoods come in a variety of designs, shapes, styles, colors and patinas. Many customers know that they want a hood, but have a hard time finding a company in their area that can provide them with the style they are seeking. At CopperSmith, we specialize in kitchen vent hood designs that fit your preferences.
We work with interior designers, contractors, and other trade professionals to custom create a design that not only fits and works with your kitchen from a functional standpoint but also is visually appealing. Our copper range hood design center makes it easy for you to come up with the perfect hood for your kitchen.
Custom Bronze Copper Range Hood Design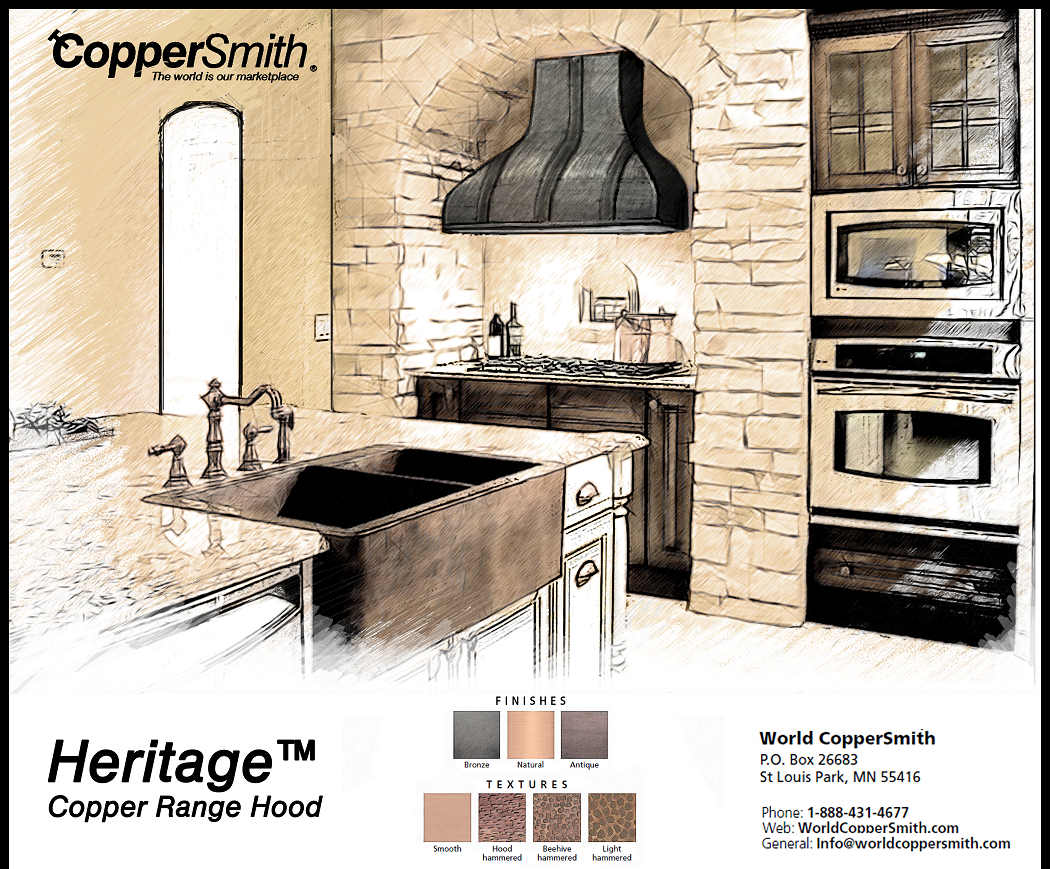 The heritage, is shown in smooth bronze finish with decorative dark bronze straps. This kitchen vent hood design can be customized by size, finish, and texture. In this picture, it's shown tucked into a decorative brick feature surrounding the cooktop. This is a great way to add a rustic element to the kitchen, use space and simply be unique.
Rustic Kitchen Copper Hood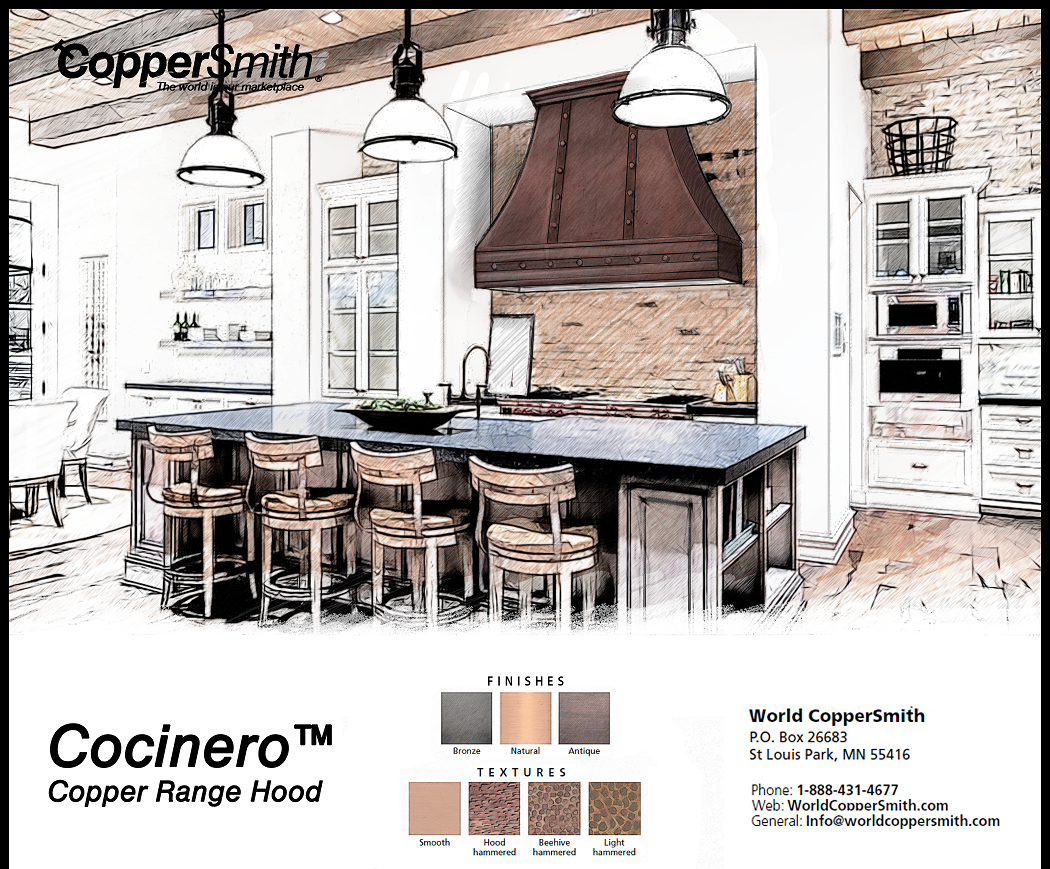 The Cocinero is perfect for large custom kitchens, and can be customized in any color or patina. Popular styles are smooth texture, antique color and bronze straps. This hood is also shown with a custom wall build-out, which allows the hood to blend into the space. The brick backslash really meshes well with the white walls and rustic hood. A great combination of textures.
Bright Copper Custom Hood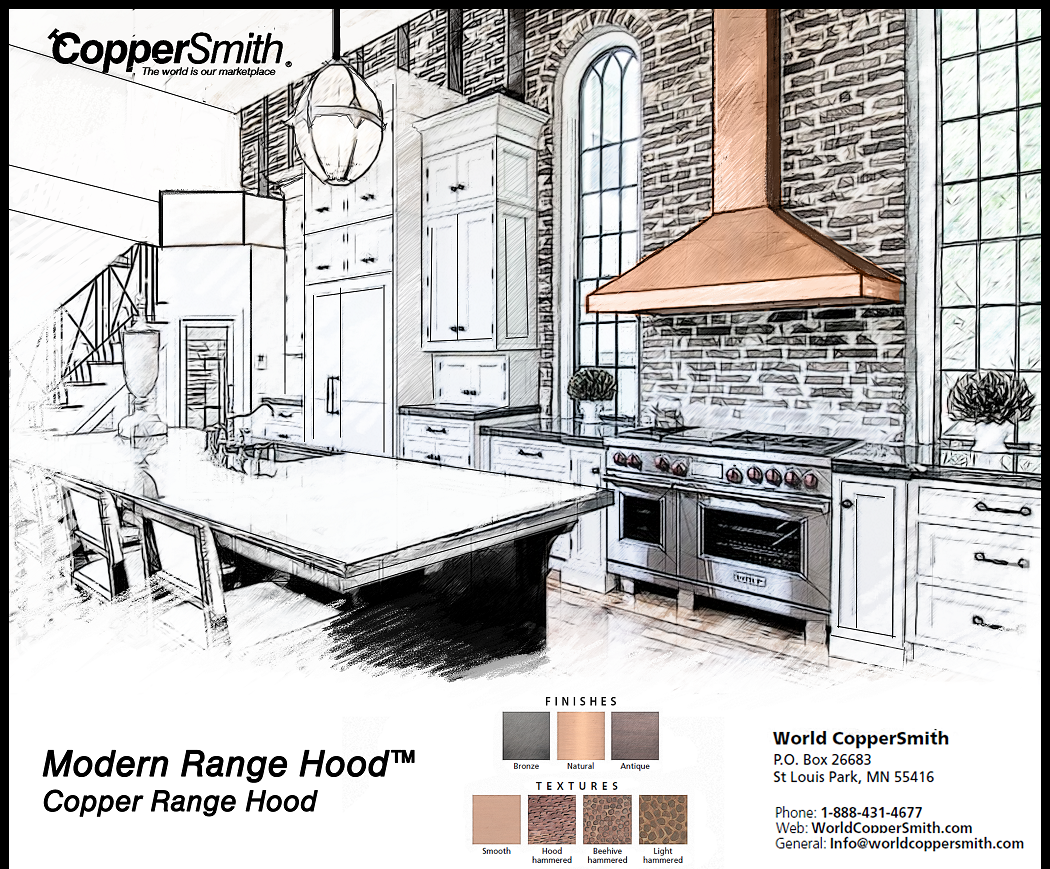 The Modern range hood style is perfect for those with a high kitchen ceiling. It really can make the design in a large kitchen pop, especially in the natural color. If you have a 10-, 11- or 12-foot ceiling in your kitchen, consider running the neck of the range hood all the way up! Even if the venting is going out much lower, this can really finish off a kitchen. Many interior designs get boring on the top third of the space. This is a great way to avoid that.
Unique Custom Kitchen Vent Hood Design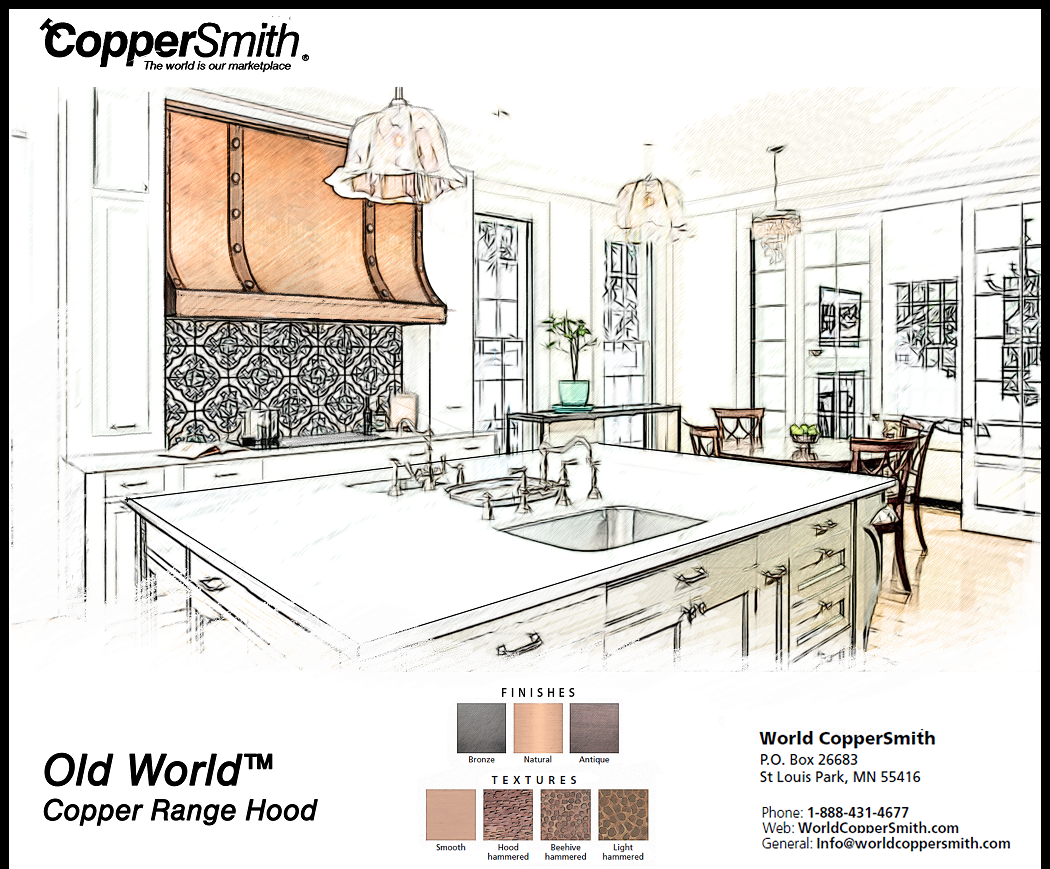 This Old World Range Hood is another popular range hood style. Perfect for those looking to get a large CFM, or cubic foot per minute, fan inside, and place it over a large range. The hood can be custom made to fit under cabinets. This vent hood design is very classic and looks good even when cabinets are touching both sides of it, making a custom hood possible even with limited space.
Standing Seam Metal Hood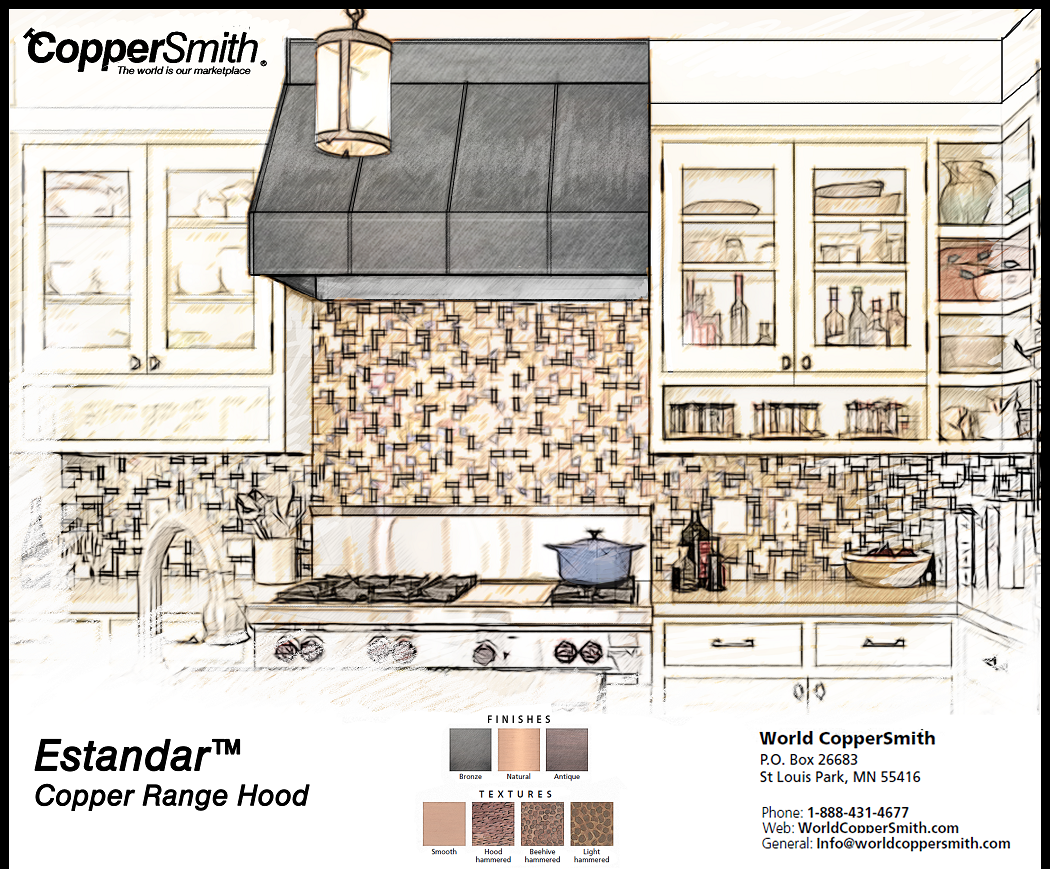 The Estandar is another take on a range hood that can be implemented over a large range, be equipped with high CFM and incorporated into custom cabinetry. It is shown in bronze, smooth finish with standing seams. This picture shows how a contrasting backsplash full of texture against a smooth metal hood can give your kitchen pleasant variety.
Bronze Range Hood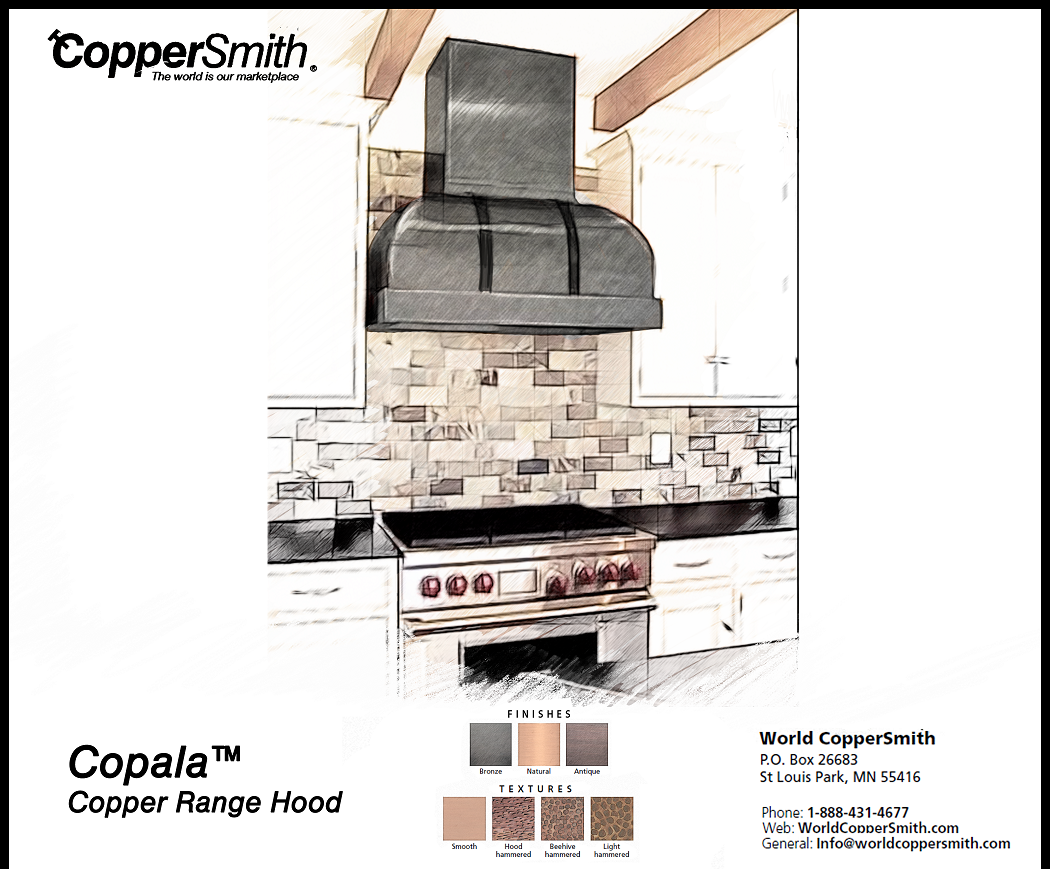 The Copala is a unique style of copper range hood with a light bronze finish that can easily accommodate a large CFM fan. This picture shows a perfect combination of a stone backsplash, metal hood and wood beams. These three great materials will make your kitchen anything but boring.
Custom Bronze Island Range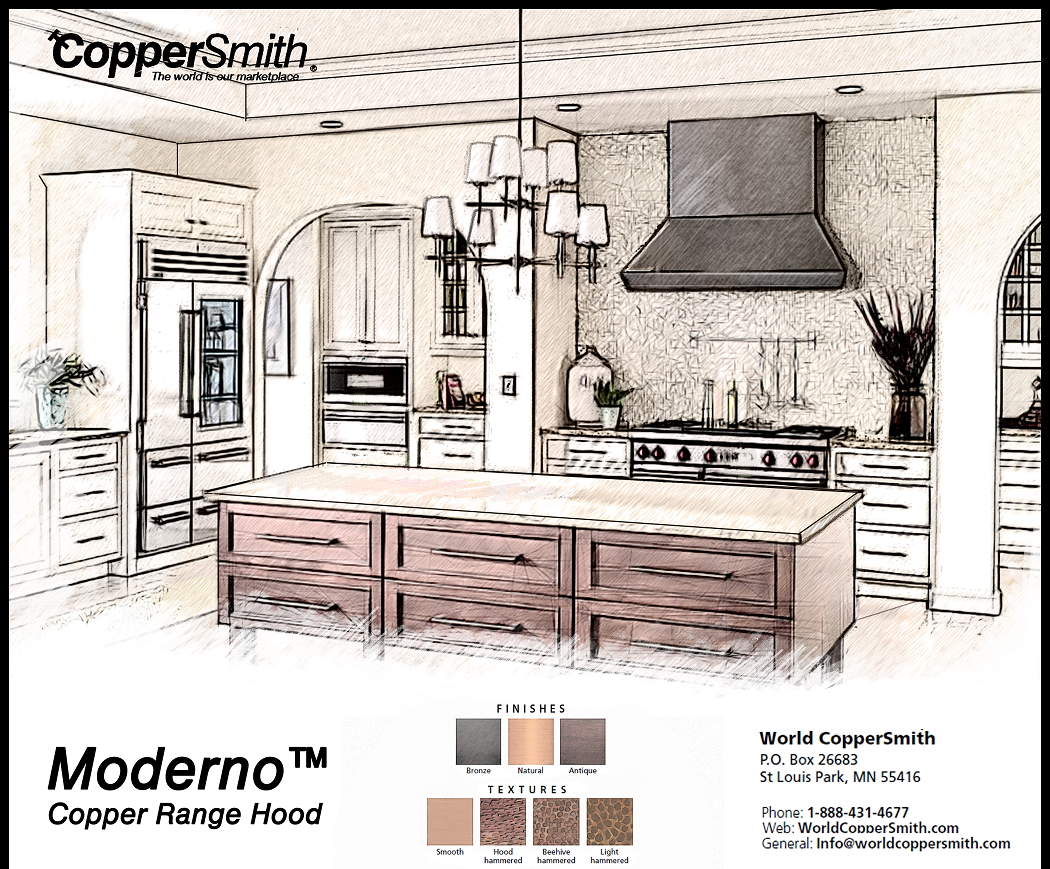 The Moderno is perfect for those looking for something with straight, proportionate angles and a modern look. Shown in smooth bronze finish, this vent hood design is yet to be made by us. It's still in the concept stage.
Small Copper Hood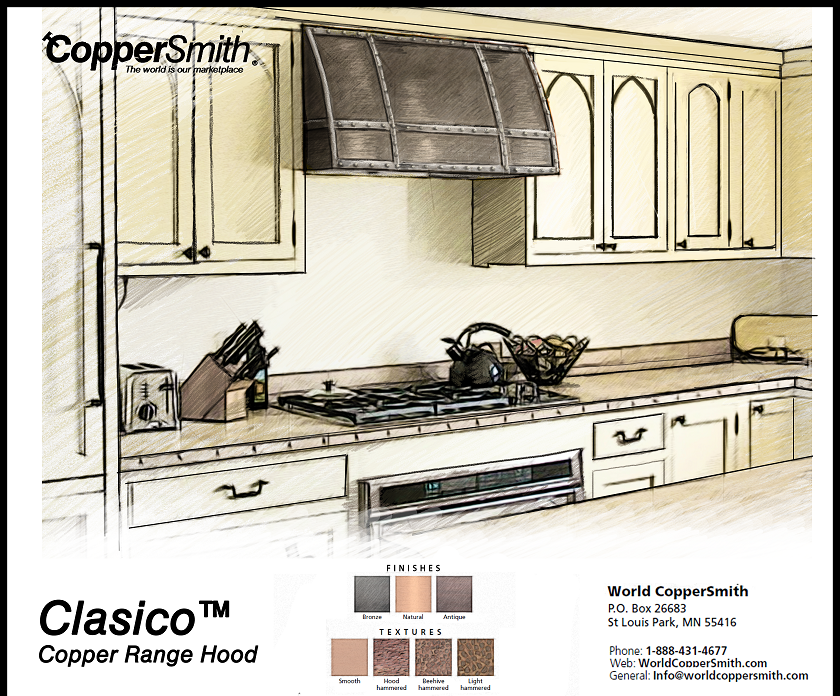 The Clasico is a great style for those who have a low ceiling or limited space. Instead of putting a microwave over your cooktop, put in a decorative and functional vent fan. This will draw the air directly outside and give your kitchen a refreshing look!
Signature Island Copper Hood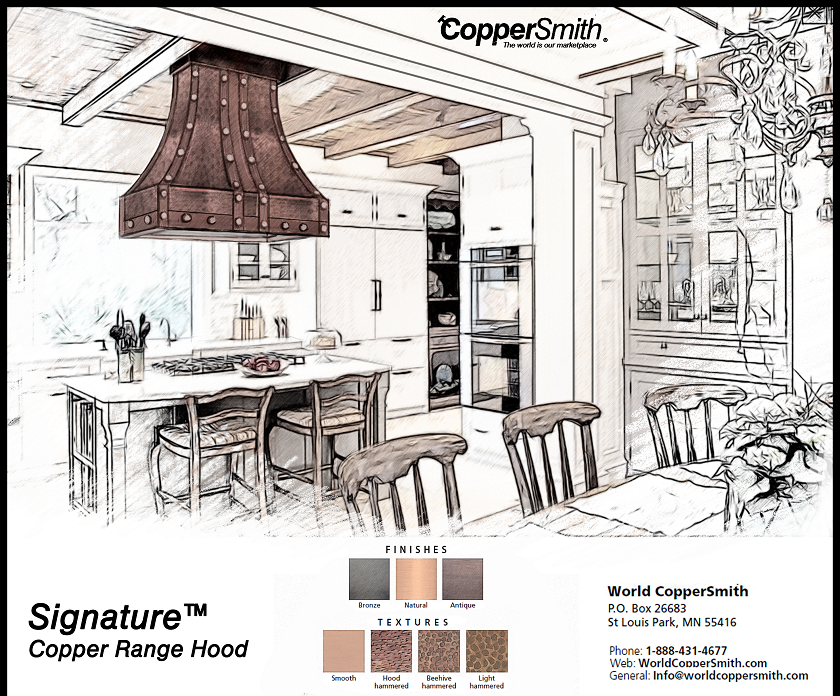 The Signature range hood is a very popular style in our beehive hammered texture and antique color. It's shown here in an island installation. Island hoods really make a statement. If you have the right kitchen space, an island hood can leave your guests in awe. Space friendly, they make a copper hood the centerpiece of your kitchen.
Smooth Metal Range Hood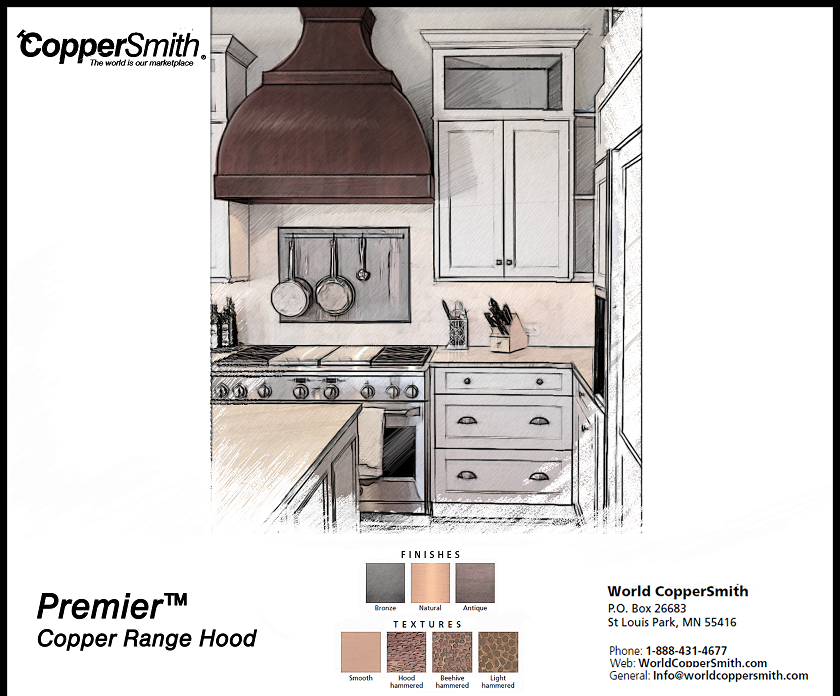 The Premier range hood has sleek, modern features in a decorative style that make it a favorite for new kitchens. These hoods feature a crown molding on the top. They blend in with the crown molding in the kitchen, showing that every detail of your kitchen was planned out carefully.
Contact Us
These are just a few of the custom copper range hood designs CopperSmith offers. We specialize in wholesale supply to interior designers, supply houses, showrooms, and other industry professionals.