It's really exciting to renovate a bathroom, and from the initial planning to the arrival of new fixtures to seeing it finally all come together, the entire process can be a superb experience — as long as you make planning a priority. The importance of planning with a bathroom remodel checklist ahead of time cannot be understated. Without a proper checklist, a bathroom renovation can be time-consuming, costly, frustrating, and overwhelming. We've prepared a comprehensive bathroom remodel checklist for you to follow to help your project stay on track, on time, and on budget, right from the get-go.
Bathroom Remodel Checklist
Many things have to be considered, researched, and planned for the project long before the first hammer strikes. From money to time to materials and the environment, there are plenty of things that demand your attention before anything tangible happens.
The Budget
The budget is the first checklist item for most people because it's critical that they have an idea of how much they have to spend (and want to spend) on the bathroom renovation project.
Starting with a budget will help you set limits and make decisions about what you can include in the new bathroom, what you may need to substitute for, and what will be left out altogether.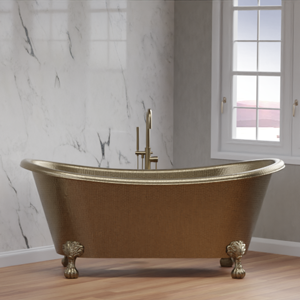 Functionality and Design
Some people begin designing their bathrooms by piecing together a few elements they have found. Alternatively, there are other people who begin with one single item they absolutely must have and design the entire space around that one item.
Whichever route you take, remember that functionality must work hand-in-hand with design. Take into consideration the people who will be using the bathroom, whether they have anything unique that must be considered (such as the need for accessibility accommodations), and make sure you've designed for everyone appropriately.
Also, make sure that you take a few moments to think about how the finished bathroom design will fit and flow with the rest of the house. Carefully consider if you're okay with having an ultra-contemporary bathroom in your Victorian house, for instance.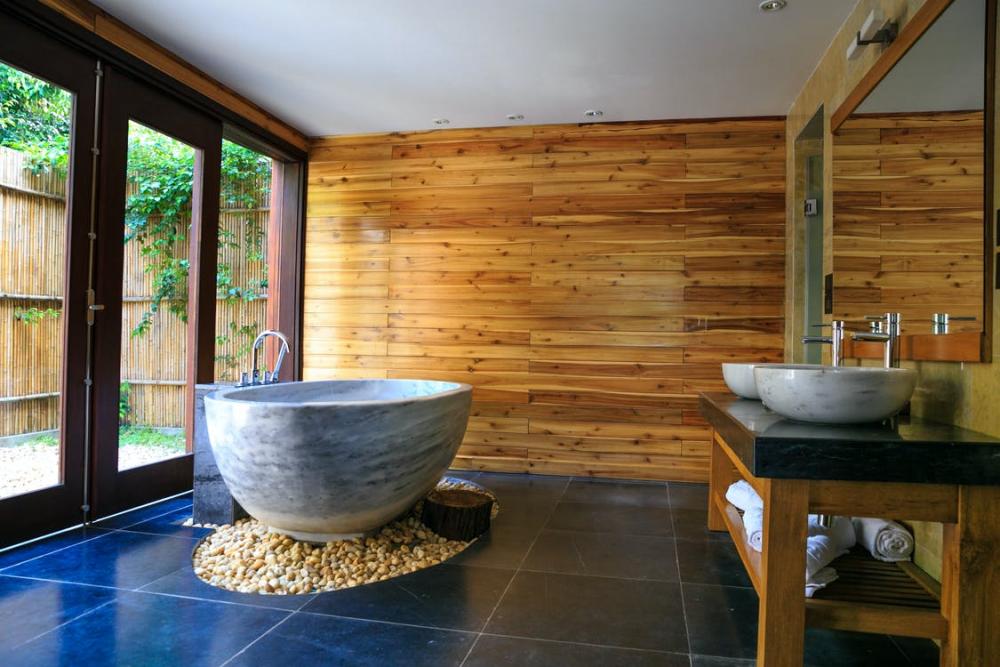 Measurements
Regardless of what your bathroom remodel project entails, there are four things for which size and measurement matter considerably, without exception:
The location of any existing electrical wiring

The location of existing plumbing pipes

The dimensions of bathroom fixtures

The overall size of the bathroom
It's vital that you have exact measurements before you shop for anything that will go in the remodeled bathroom. It's stressful trying to shop when you haven't taken any measurements. What's more stressful is spending your hard-earned money on items for the room and finding out they don't fit.
The Sequence of Work
Many people don't think too much about the order in which tasks in the bathroom remodel should be completed — that is, until it's too late. Completing the work in a specific order can save you from unnecessary costs, unnecessary mistakes, and a lot of clean-up and lost time.
It doesn't matter if you're doing a complete gutting of the room or you're simply repainting walls; you always need to start your remodel at the top of the room and work your way down.
Do your ceiling and ceiling light fixtures first, followed by the walls, then finish with the floors.
Flooring and Walls
The coverings you use for your floors and walls have to be waterproof, first and foremost. They can be materials that are waterproof by nature or by design. For the flooring, popular finishes and materials include painted or stained cement, vinyl tiles or sheet vinyl, ceramic or marble tiles, or even rubber or bamboo.
For the walls, many of these same materials are popular, along with some others. If you're looking for something that makes a statement, you'll want to go with a material that has a striking appearance. Popular choices for bathroom wall coverings include:
Laminate, acrylic, or PVC

wall panels

Stone cladding

Brick

Faux stone cladding

Beadboard panels

Waterproof vinyl wallpaper
No matter which materials you choose, make sure they will deliver the aesthetic, durability, and level of waterproofing your bathroom requires.
Sinks, Faucets, and Other Plumbing Features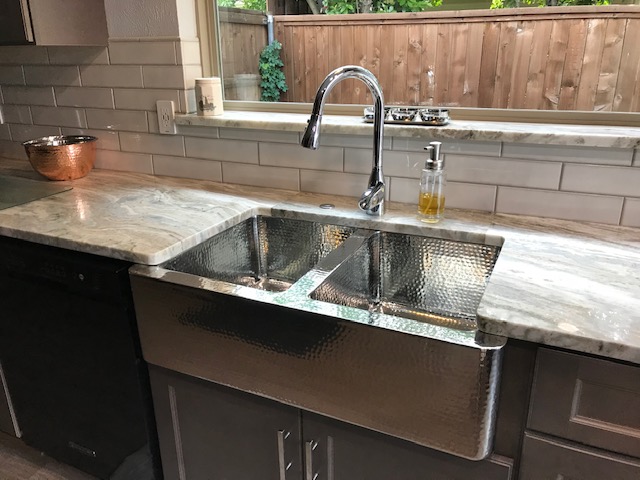 Your plumbing fixtures and the features that go with them are some of the things in your new bathroom that will stand out the most. These include the shower, bathtub, sink, sink accessories, bidet, toilet, and faucets, along with stoppers and showerheads.
Consider materials for some of these features other than the standard porcelain for fixtures and chrome or steel for features. One of the most popular materials and finishes for bathrooms is copper. Copper bathroom sinks are stunning, sturdy, and strong, and they're available in an impressive array of finishes, textures, and colors.
Copper bathroom sinks give any bathroom an elegant feel, and they resist dents, cracks, and corrosion. They have natural antimicrobial properties, as well. Bacteria that live for days on standard material sink surfaces die within a few hours on copper.
By the same token, copper bathtubs are making quite a statement in all kinds of bathrooms these days, and for good reason. Copper bathtubs are durable and scratch-resistant, they're available in a multitude of styles, sizes, and colors, and they also retain the heat of bathwater longer than other materials.
Storage: Shelving and Cabinets
Some people choose to include a closet or stow-away space in the design of their new bathrooms, and others focus more attention on shelving and cabinets to serve their storage needs.
Planning storage solutions can be tricky, especially if the bathroom is an irregular shape. Cabinets and shelves have to be functional while keeping everything within easy reach.
To make it even more tricky, they have to look great while fitting into the available space. If you're working on a very small bathroom, consider building a closet outside of the room in which to keep some necessities. Don't forget to include bathroom hooks!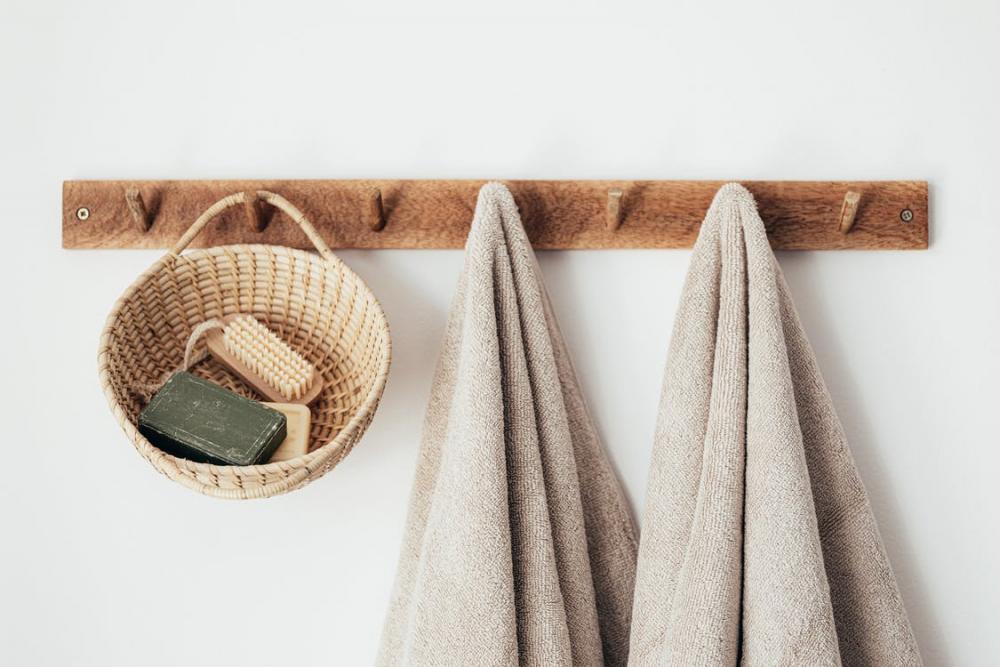 Ventilation
Many areas have codes in place that require either a window that can open or an exhaust fan in a bathroom. Ventilation is critical in damp rooms like bathrooms, laundry rooms, and mudrooms.
Poor ventilation could be responsible for mold growth and increased mildew, both of which could become health hazards. Proper ventilation can also prevent wood trim or fixtures from rotting.
Make sure you're aware of the building codes in your area and don't cut corners here.
Going Green
When considering everything from the fixtures to the wall and floor materials, choosing eco-friendly bathroom components is definitely a market trend. There are several opportunities with bathroom remodels to do more than just save the earth; you can also save on your utility bills.
Look for low-VOC or no-VOC paints, a low-flow or water-recycling toilet, water-conserving faucets and showerheads, vanities made from sustainably harvested wood, and glass countertops that have been recycled.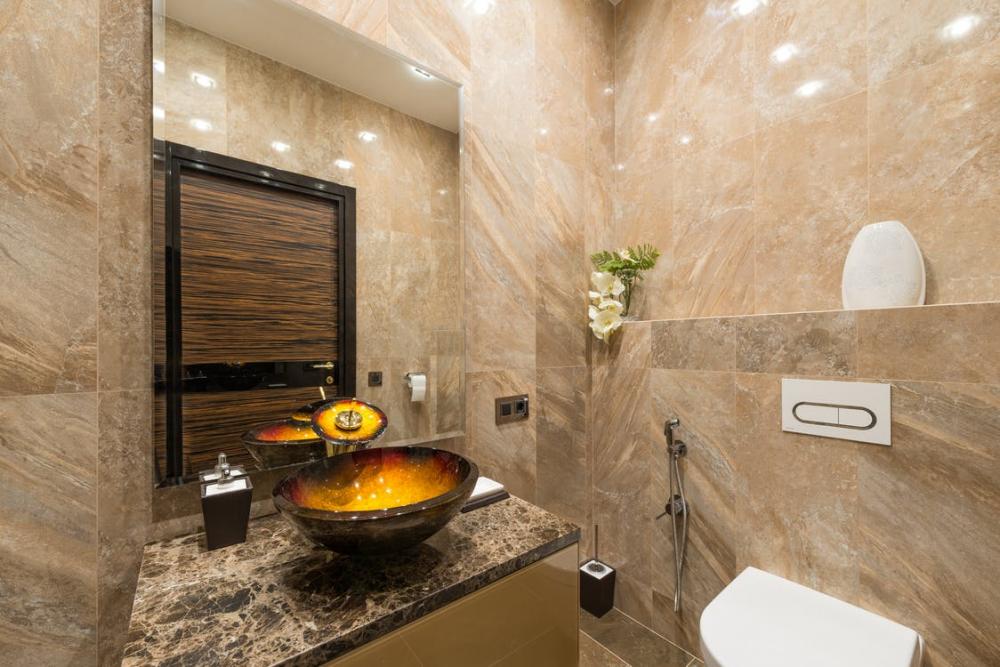 Time
Remodeling projects are famous for taking longer than people think they will, so make sure to add extra days to the timeline you draw up, just for good measure. It's also a good idea to do a deep cleaning once the project is finished before the new bathroom goes into use.
Add an extra day onto your timeline for this cleaning, and then enjoy your new space!