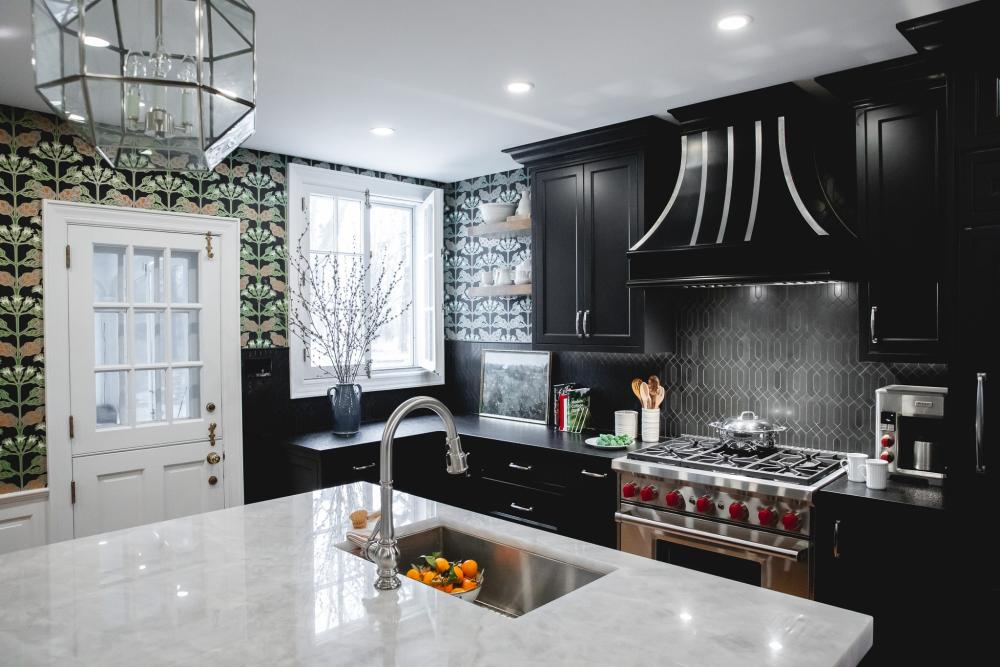 One of the biggest kitchen trends right now is smart appliances. A smart kitchen can seem overwhelming if you aren't sure what it entails. When shopping for kitchen appliances, you've probably seen smart kitchen devices: smart ovens mixed in with steam ovens, and Wi-Fi refrigerators with the standard ones.
What makes a smart kitchen worth it? Are the features available able to make life easier? Keep reading to learn about 10 of the biggest smart kitchen trends. This guide will help you make sense of what a smart kitchen is and whether smart kitchen devices are suitable for your kitchen design.

1. Start Your Oven Remotely
One of the best additions you can make to your smart kitchen is a smart oven. You may think this sounds unnecessary, but smart ovens can be turned on remotely using technology like apps on your phone, Google Assistant, and Alexa. This means you can preheat your oven before you leave work, and it will be ready when you get home.
That's not all smart ovens can do either. Some smart ovens have the option of automatic settings. This can look like a connection to a recipe ideas app that allows you to send the recipe information to your oven, and it will adjust its temperature and other settings automatically. Others have an app where you can customize presets for your oven, which is great for meals you cook all the time.
There are even smart ovens on the market that have a built in camera that can help you keep an eye on the food you're cooking. This means you can be upstairs preparing for dinner or doing chores and make sure your casserole isn't burning without going downstairs. You can then use the app to turn the oven off to keep the food from cooking longer.
Another excellent feature for multitaskers is getting a notification from your oven when your food is ready. Some smart ovens have roasting and baking sensors that can read when the food is likely done. This is done using the environment in the oven or probes in the food. You can also get push notifications when your timer goes off, allowing you to do outdoor chores while cooking dinner.
If you're starting to think about transforming your kitchen into a smart kitchen, a smart oven is a great place to start. Smart ovens are relatively easy to use and are an excellent option for making cooking more convenient for your busy family.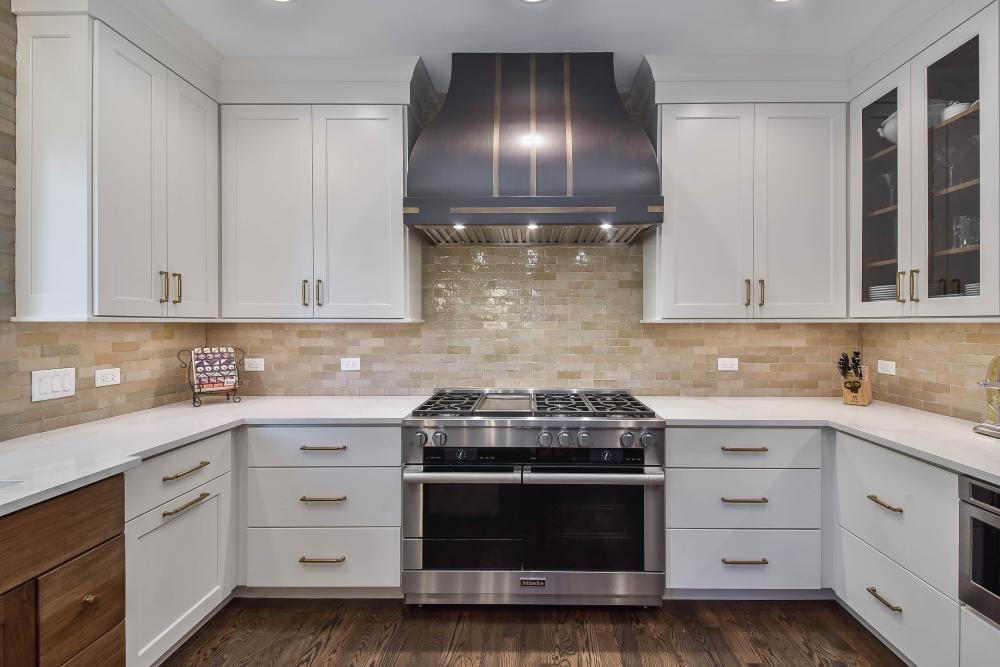 What About Speed Ovens?
Speed ovens are different than smart ovens but can fall under the smart kitchen umbrella. Speed ovens are compact and faster at preheating and cook quicker than your oven or microwave. When in convection mode, you can use metal cookware inside. A speed oven is a nice luxury in addition to your oven, but it shouldn't replace your smart oven.
2. Save Money with a Wi-Fi Enabled Refrigerator
Even though a smart refrigerator is more expensive than a traditional fridge, purchasing this smart kitchen appliance is a good investment because it can actually help you save money. Your refrigerator is one of your most important kitchen appliances because it helps keep your food cold and safe to consume. As food prices rise, preserving your food as long as possible is even more important.
Enter the Wi-Fi refrigerator. A smart fridge will likely have a touchscreen on the front of it and the ability to connect to your Internet to give you a wide range of features. Your available features will vary based on the brand of fridge you buy, but most of these smart appliances will have a good variety of options.
First, let's look at the touchscreen component. Adding this to your smart kitchen will give you plenty of ways to stay in the know about what's inside your refrigerator. This can help prevent you from buying something you already have and help you consume food you've already purchased before it expires, which can be a massive help if you want to lower your grocery bill or your waste.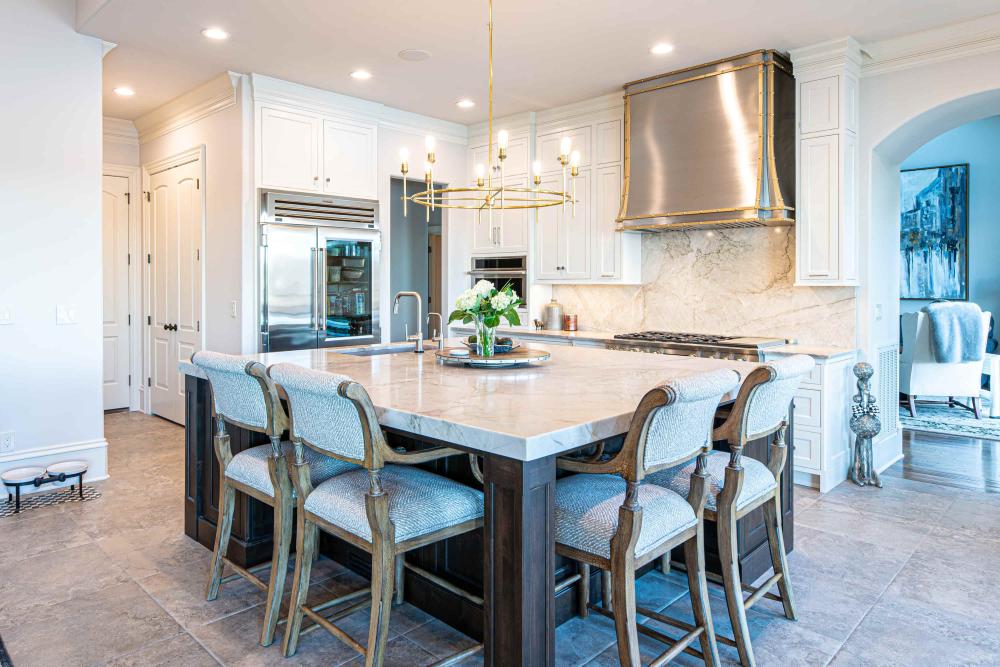 How can a touchscreen do this? A smart fridge's touchscreen can give you access to features that keep an eye on your food and much more. Use the touchscreen to do the following:
Set expiration dates, allowing you to receive notifications to use food before it expires.

Look up recipes and have your fridge read the steps aloud using Google Assistant while you're cooking.

Create grocery lists that sync to your phone in real time with the connected app.

Coordinate schedules for everyone in your family.

Use it as a whiteboard to leave messages.
Some smart fridges can turn transparent and allow you to look into your fridge without opening the door, lowering the appliance's energy consumption.
The touchscreen isn't where the great features end. Depending on the model, your smart refrigerator may even be able to help you with these tasks as well:
Customizing the temperature of each drawer from the app.

Use a built in camera to look inside your fridge while at the grocery store to see if you have an item at home.

Sending notifications when the water filter needs to be changed.

Turning the ice maker off or on from the app.
There are even some models of this smart appliance that can give you cold or warm water. You can choose the amount of water you need, and you'll get a notification on your phone or fridge when the water is warm and ready to be dispensed. Are you a coffee drinker? You can find a smart fridge with a built-in Keurig coffee maker to save counter space.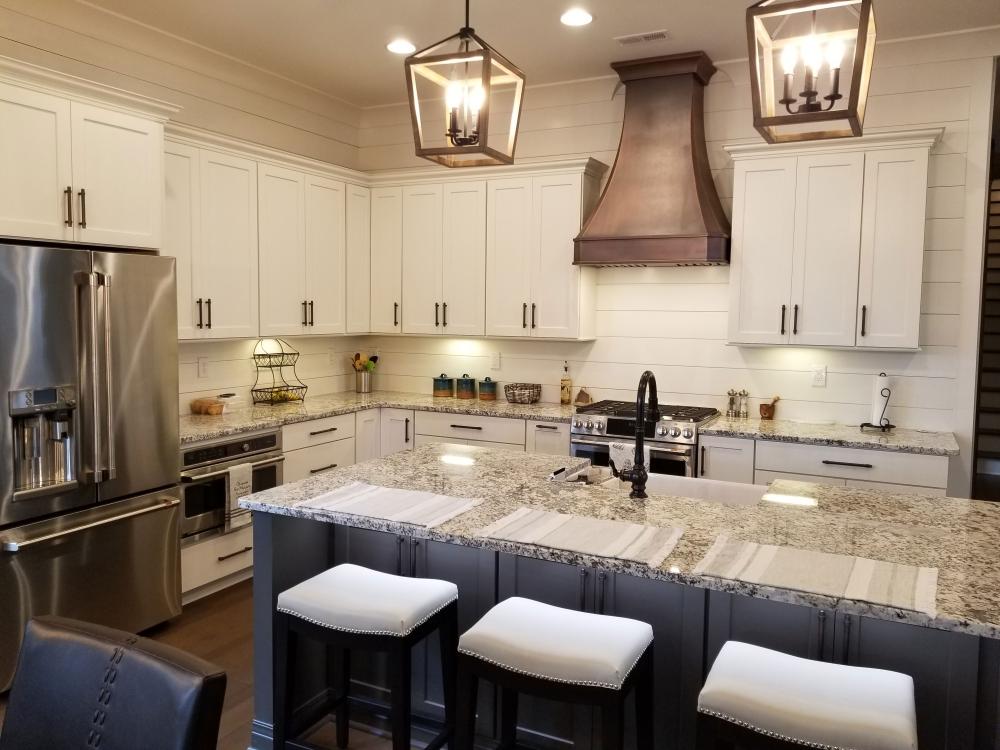 The point is a smart refrigerator can save you money in the long run by helping to lower your grocery bill. Plus, adding this to your smart kitchen will only add more convenience and features for you to enjoy every day.
3. Voice Controlled Smart Coffee Maker
Are you one of the many people who rely on coffee to wake you up in the morning? If so, you've probably wished more than once that you could just ask for coffee, and it would appear. Well, the next option on this list of smart kitchen devices will get you way closer to that dream. A smart coffee maker can help you get your morning coffee fix quicker than ever before.
Many smart coffee machines can connect to Google Assistant or Alexa and be voice-activated. Yes, this means you can ask your Google Assistant for a cup of coffee, and when you walk into your kitchen, it will be brewed and ready for you.
The features of a smart coffee maker don't stop there. These machines can customize your coffee experience in ways you may have never thought possible. These smart kitchen devices can typically do a mix of the following:
Customize the amount of coffee brewed, from a single cup to a whole carafe.

Reorder coffee supplies through the connected app.

Monitor energy consumption on the app and even save energy by reducing the electricity used to brew coffee.

Brew various coffee types, including iced coffee, espresso, and more.
Some smart coffee makers even offer additional accessories built in. You can find a smart maker with a milk frother for lattes or a grinder to grind your coffee beans to the perfect consistency.
Some people may find smart coffee makers to be the least necessary of smart kitchen devices, but they can be an easy entry into the world of a smart kitchen. Smart coffee makers will cost less than other smart appliances, so you can try out the features before splurging on a larger smart appliance. Plus, who doesn't love it when their coffee is made for them, just the way they like it?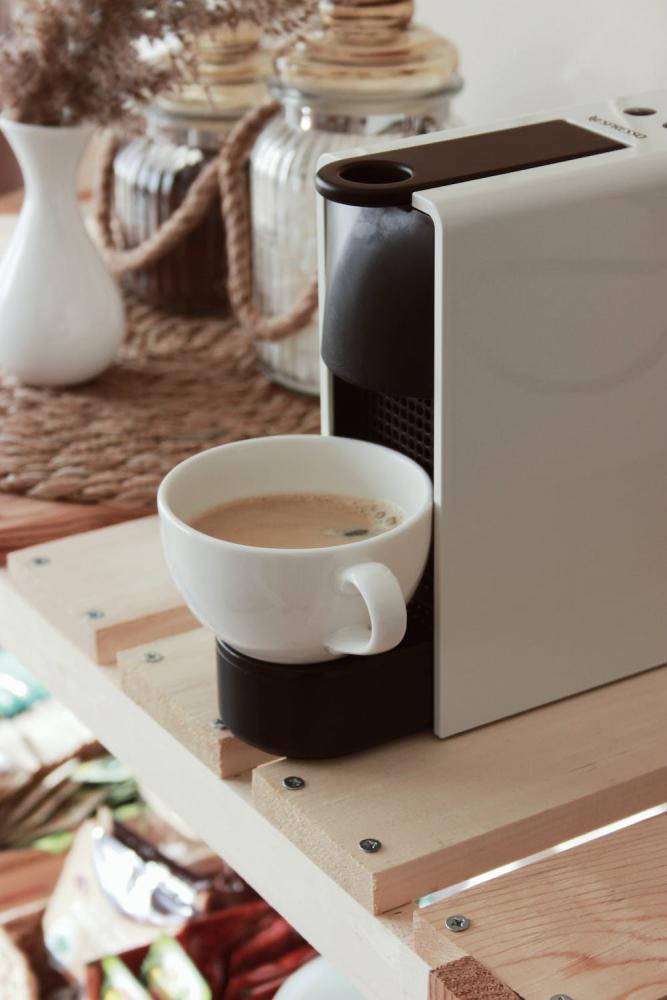 4. Safer and More Efficient Induction Ranges
Concerning smart kitchen trends, it's essential to talk about induction cooking. This newer way to cook is safer for your family and lowers energy consumption compared to other cooktops. While designing your smart kitchen, you may want to consider including an induction cooktop. First, though, it's important to know the pros and cons.
Pros of an Induction Range
There are many advantages to induction compared to electric and gas ranges, which is why it's grown in popularity. Some of the pros of choosing induction include:
Easy to clean:

The glass ceramic surface is effortless to clean, especially compared to gas ranges. Simply wipe the surface with a damp cloth, and you're good. The surface doesn't get hot, so splatters won't cook onto the cooktop.

Quick and responsive temperature control:

Induction heat is very responsive and quick to heat, which is its most prominent selling feature. It's also quick to cool down, causing water to stop boiling as soon as the power is turned off.

Safer cooking:

With induction, only the pots and pans you use get hot. This means the cooking surface itself doesn't get hot. This is a huge perk for those with small children and pets who may get burned on other cooktops if curiosity gets the best of them. Plus, there are no gas fumes, removing the exposure to carbon monoxide. Induction requires the least ventilation, allowing for a healthy cooking environment.

Efficiency:

according to the EPA, induction is 85% efficient compared to radiant electric at 75% to 80% and gas at only 32%.

Modern technology:

if you're designing a smart kitchen, you want high-tech options. An induction range will have a lot of modern technology features because of how the induction technology works.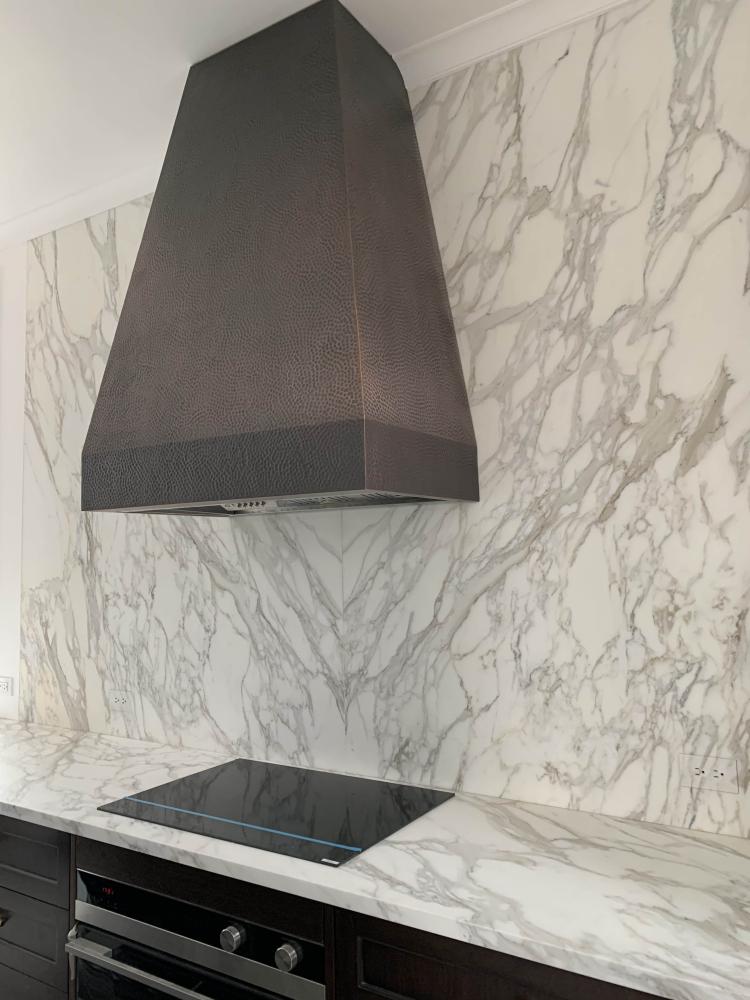 Cons of an Induction Cooktop
Of course, you don't have to have an induction cooktop to have a smart kitchen. Before you go out and purchase this newest technology in cooktops, consider the disadvantages, including:
The cost:

An induction range will likely cost you between $200 and $1,000 more than a gas or radiant electric model with similar features. If you're considering induction, know that industry experts expect the price to dip in the coming years as technology advances.

The need for specific cookware:

induction ranges require strongly magnetic cookware at the bottom. Odds are, you have a couple of pots and pans that will work, but some common styles of cookware aren't compatible. Check if a magnet sticks to the bottom of your cookware to see if it will work with induction.

The learning curve:

Cooking with induction differs significantly from gas and radiant electric ranges. Your pans will heat up and cool down much faster, so it will likely take some time to get used to the changes.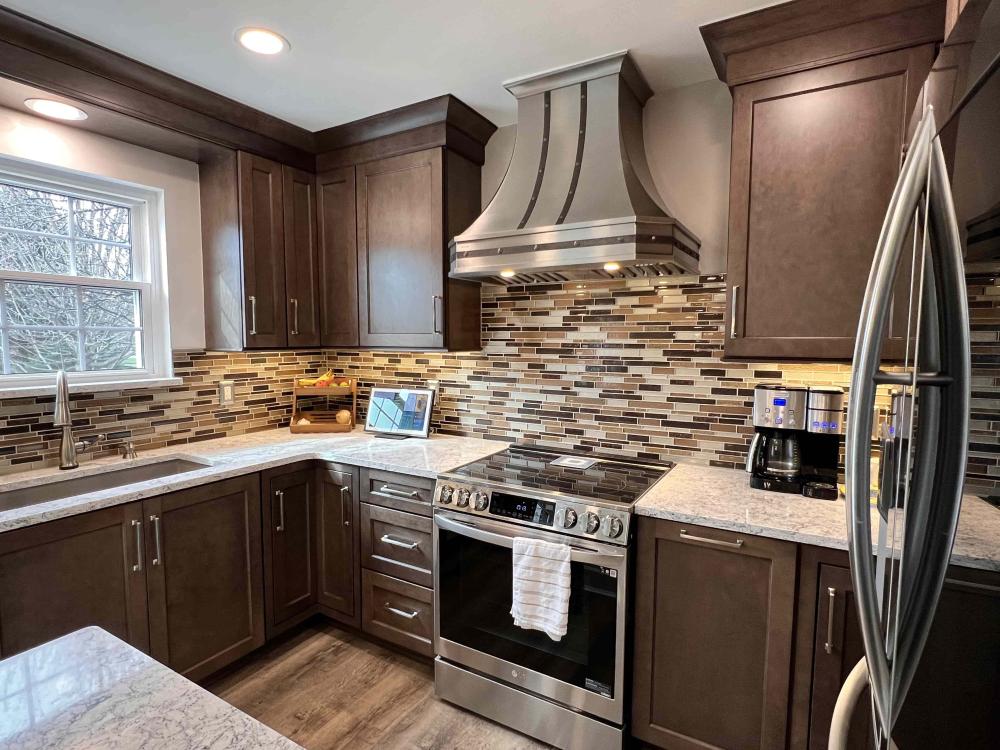 Smart Cooktops
Whether you choose an induction cooktop or a gas or radiant electric option, you can get a range with plenty of smart features. Many smart ovens also have cooktops, making the cooking surface likely smart already. However, you can get standalone cooktops with smart features as well.
Like smart ovens, smart cooktops make cooking easier through compatibility with Google Assistant, other voice assistants, and compatible apps. You can enjoy a customized cooking experience for every pot and every meal.
If you want to boil water or sear meat, you can use a power burner to produce more intense heat. Are you looking to keep your food warm while other meal elements finish cooking? Use a simmer burner to do so while keeping your energy consumption low. Some smart cooktops even offer a bridge element connecting multiple burners to make one large cooking surface. This is great for larger pots or even griddles.
Induction takes the smart features of a cooktop up a notch, making it even safer and more energy efficient. If you use your stovetop a lot, it's worth looking into the new technology that improves many elements with induction.
5. Air Fryer Smart Cooking Presets
Most people are likely aware of one of the biggest kitchen trends of recent years: the air fryer. This kitchen appliance gives you the crispy crunch of your favorite fried foods without the health concerns of traditional frying. Now, air fryers are among the smart kitchen devices available.
A smart air fryer will come with the benefit of cooking presets that you can customize to match your favorite recipes. This will help ensure your favorite foods are cooked correctly every single time. A smart air fryer may also come with an app that you can use to access functions from your phone.
No matter what you're looking for in your smart air fryer, you will likely find one of these appliances that will blow you away. You can choose an air fryer combined with a convection oven that will be large enough to fit a pizza or one big enough to roast a chicken inside with a roasting cooking function.
Are there other small appliances that come with these smart cooking functions? Instant Pot offers a combination pressure cooker and air fryer, combining two of the biggest small appliance kitchen trends. This Instant Pot can cook many of your favorite recipes at just the touch of a button, making the most of the popular technology.
The options are endless with a smart air fryer. You can find many recipes online for roasting vegetables, baking sweets, making chips, and even boiling eggs. Simply choose the cooking mode in the app on the device, and you're ready to go.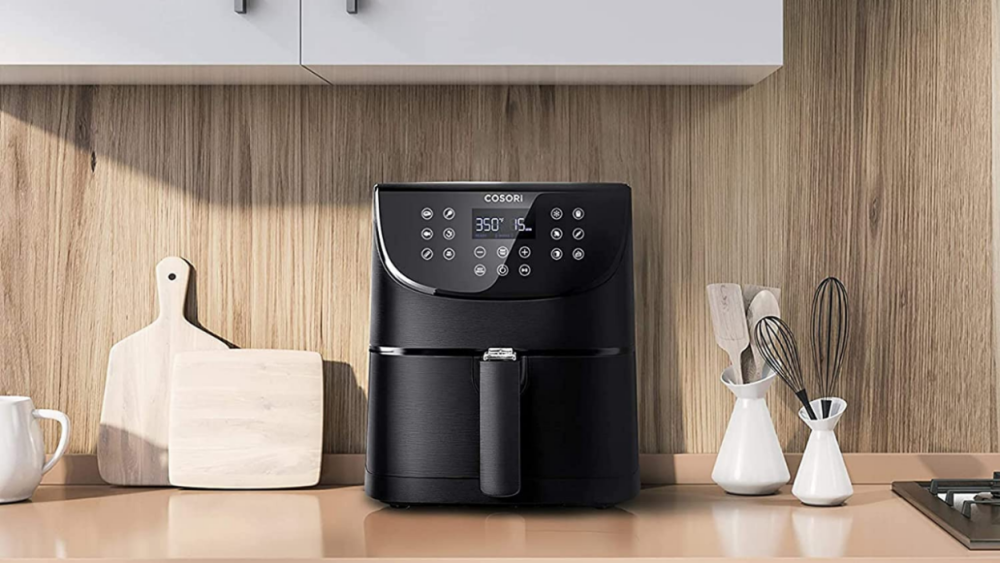 6. Microwave Oven Scan-to-Cook Technology
Some people argue that the smart microwave oven is the best of all smart kitchen devices because it makes the convenience of microwaving somehow even more convenient. A smart microwave has many impressive features, but one of the most revolutionary has to be the scan-to-cook technology.
How Scan-to-Cook Works
Microwave meals have always had an art to them, but the smart microwave oven is here to take the guesswork out of cooking frozen meals. Scan-to-cook technology uses a connected app to scan the barcode on microwavable food.
Once scanned, the cooking instructions will appear in the app on your phone: the time to cook, the power level you should use, and any special instructions. This feature isn't available for your personal recipes, but it was made with microwave lovers in mind. Your frozen meals will now be easier than ever to cook.

Other Smart Microwave Features
Smart microwaves don't stop at barcode scanning. They will have many features in an app or through voice assistants like Google Assistant. Your microwave may even have an oven-style door that opens down instead of out.
Should you invest in a smart microwave? Here are some of the most common features you'll find in them that make them worth the investment:
LED touchscreen cooking controls

Control through your phone with presets and app-based commands

Ability to download recipes

Customized cooking functions

Cooking guidance

Additional heating features like a built-in air fryer
Smart microwaves are great for many dishes, from leftovers to frozen food. If you use your microwave oven regularly, you'll enjoy the added convenience of these smart kitchen devices.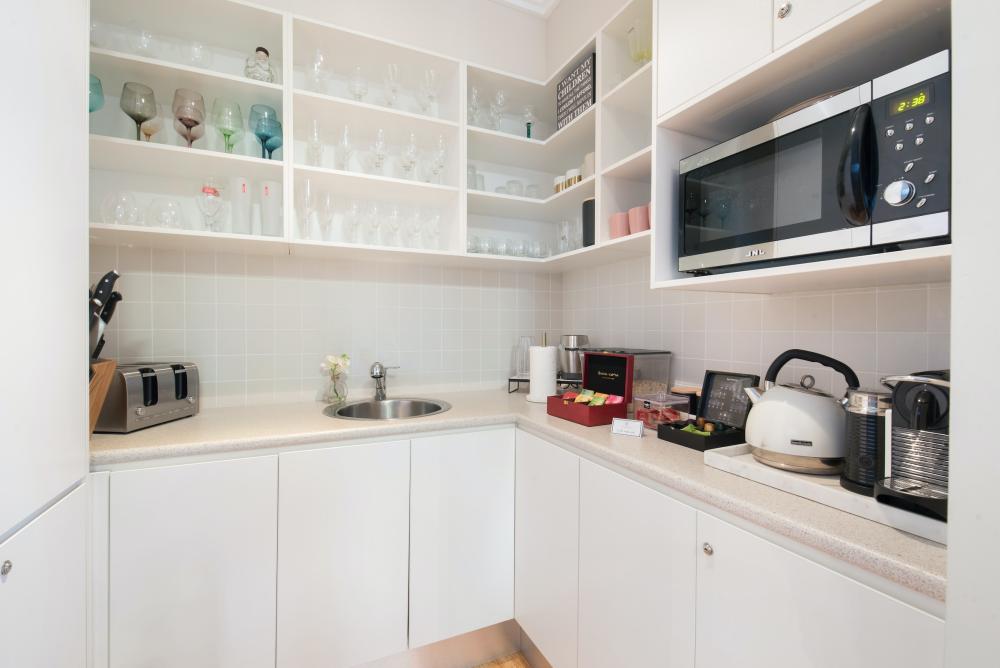 7. Indoor Garden
Indoor gardens are smart kitchen devices that have gained traction recently. If you love growing your own herbs or produce but can't due to climate restrictions, a smart indoor garden can help. These devices make it easier to grow plants indoors and curate your garden by removing the guesswork.
These automated gardens control the environment for your plants. This feature includes maintaining the right temperature, humidity, and light based on the plants you're growing. They use smart technology, usually through an app, to ensure optimal conditions for your produce.
Most smart indoor gardens use LED lights that mimic the natural sunlight they need. The lights will give the full spectrum needed for photosynthesis, ensuring your plants grow correctly. You can also control the settings and schedules on your phone and check nutrient levels for your plants.
Many gardens will even notify you when a plant needs maintenance. If you have a history of neglecting your plants due to forgetfulness, this feature will help prevent that issue with your future plants.
A smart indoor garden will save you time and effort while growing and let you grow your garden all year. You'll also likely notice faster growth in the controlled environment, giving you higher yields of healthier plants. An indoor garden is a space-saving way to garden, with many sizes available to fit any kitchen.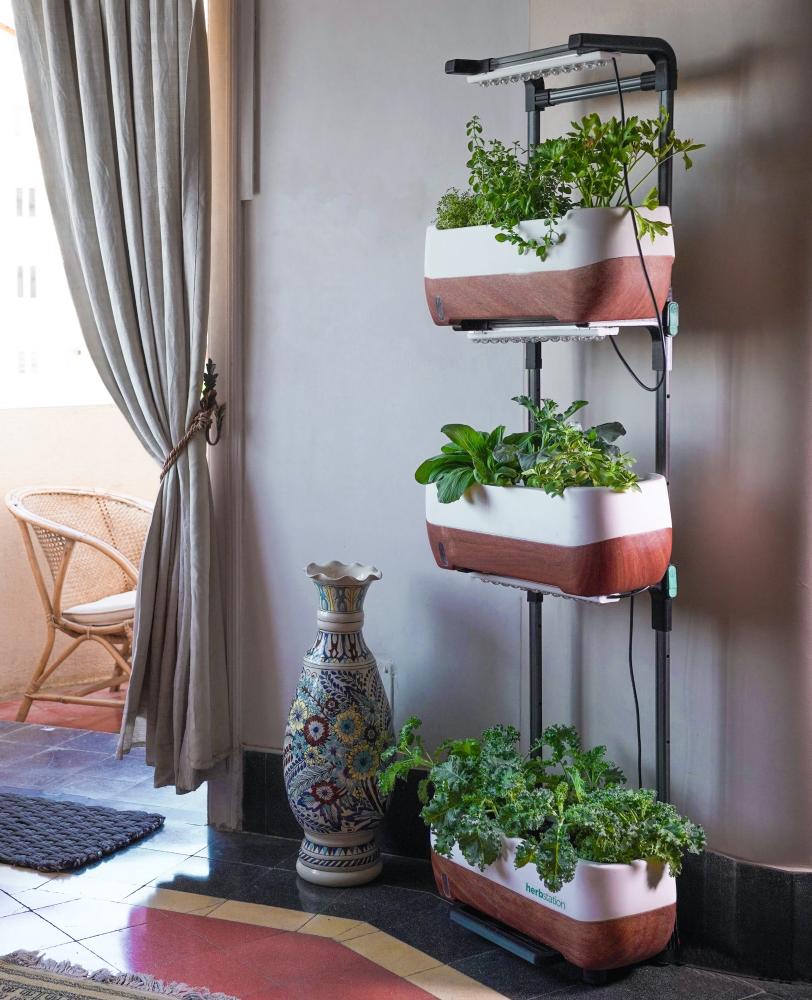 8. All-in-One Appliance
Do you love the idea of a smart kitchen, but you have a small kitchen that makes it hard to have tons of appliances? You're not alone, which is why all-in-one appliances are on the market. Appliances like the Thermomix TM6 combine many of the smart kitchen devices that people want into a single appliance you put on your counter.
The Thermomix TM6 has 28 different cooking functions. You can do prep work like chopping, weighing, and blending. Then, use the same appliance to cook with functions like caramelizing, sauteing, and slow cooking. The 10-speed mixing blade makes it easy to blend precisely how you want to.
The smart features of this device include Wi-Fi connectivity and a 6.8-inch touchscreen. The Wi-Fi connection gives you unlimited access to thousands of recipes that will guide you through every step of the cooking process and show you which function to use. The touchscreen makes it easy to navigate all the smart features like videos and colored cooking steps.
No matter which cooking function you're looking for, these smart kitchen devices give you the perfect space to perform it. Out of all the smart kitchen trends, these appliances are the ones that make the most of a single device.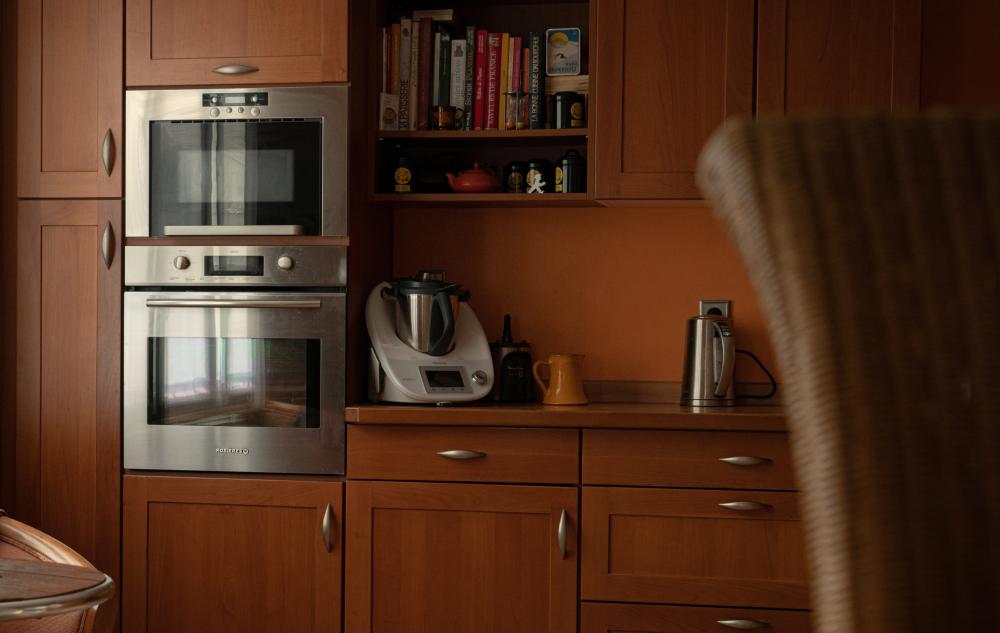 9. Smart Scale
Kitchen scales make it easy to measure ingredients for your recipes easily. If you want a smart kitchen, you need a smart kitchen scale. A smart scale can connect to nutrition apps on your phone and log the food you eat or show you its nutritional information. Some can even connect you to easy recipes that use the ingredients you're measuring.
Smart scales often have incredibly accurate apps to go along with, measuring food to the nearest decimal. This accuracy makes preparing meals even easier because you know you're adding the right amount of every ingredient.
These precise measurements are even more critical if you are baking. The incorrect amount of just one ingredient can cause the whole dish to be ruined. A smart kitchen scale is the best way to ensure these mistakes don't happen to you.
A smart kitchen scale is a compact device that's easy to store no matter the size of your kitchen, so it makes sense for everyone to have one for the convenience of unlimited access to accurate nutrition information and measurements in the kitchen.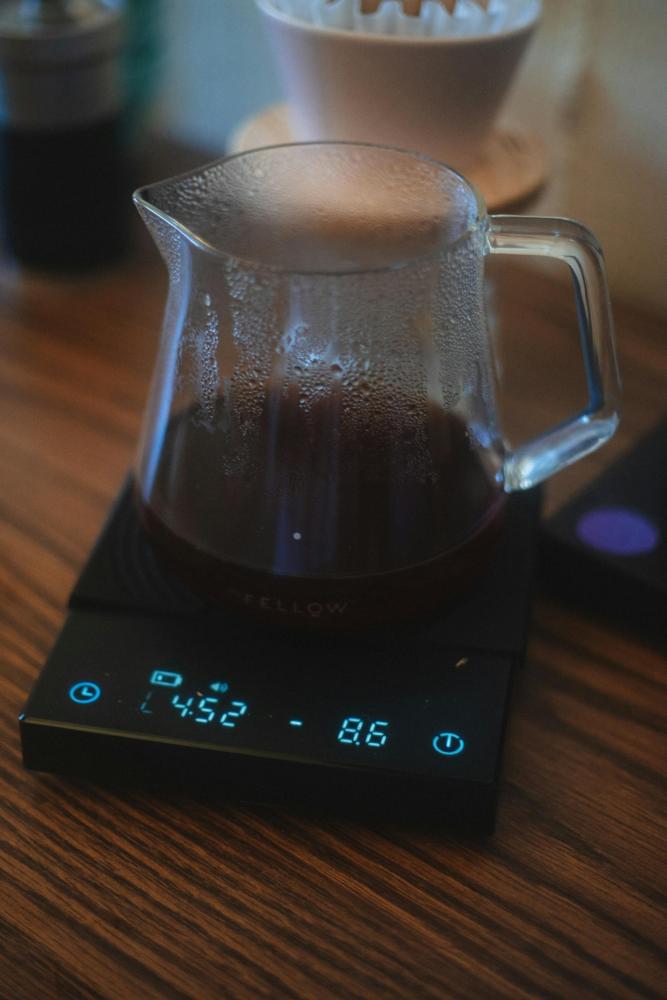 10. Load Sensing Dishwasher
The biggest convenience in your kitchen is your dishwasher. After a dinner party, you load all the dirty dishes in, and the dishwasher does the rest of the work. Now, think about making these appliances even more convenient with smart technology.
A smart dishwasher can connect to your favorite virtual home assistant like Google Assistant or an app, giving you more flexibility than ever before. Plus, they have improvements on standard dishwashers like load sensing.
Load sensing is a feature that allows the dishwasher to automatically detect the size of the load and how dirty the dishes inside are. This will control the water and energy used for the load, ensuring you get the best wash without wasting resources.
There are many more smart features than that with a smart dishwasher, too. Depending on the brand, your dishwasher may have any combination of these features:
Wi-Fi connectivity that will connect your device to other smart devices in your home.

The ability to control the dishwasher from your phone: start a cycle, monitor the performance, check the cycle status, and more.

Lock and unlock the door remotely.

Use Google Assistant or Alexa's voice control to start a cycle with your voice.

Get notifications on your phone when your detergent and rinse aid get low or if there are any issues with the dishwasher.

Choose customized cleaning cycles for special items.

Monitor your energy use; the dishwasher may even learn the energy use of your area and run during off-peak hours to save money on your energy bills.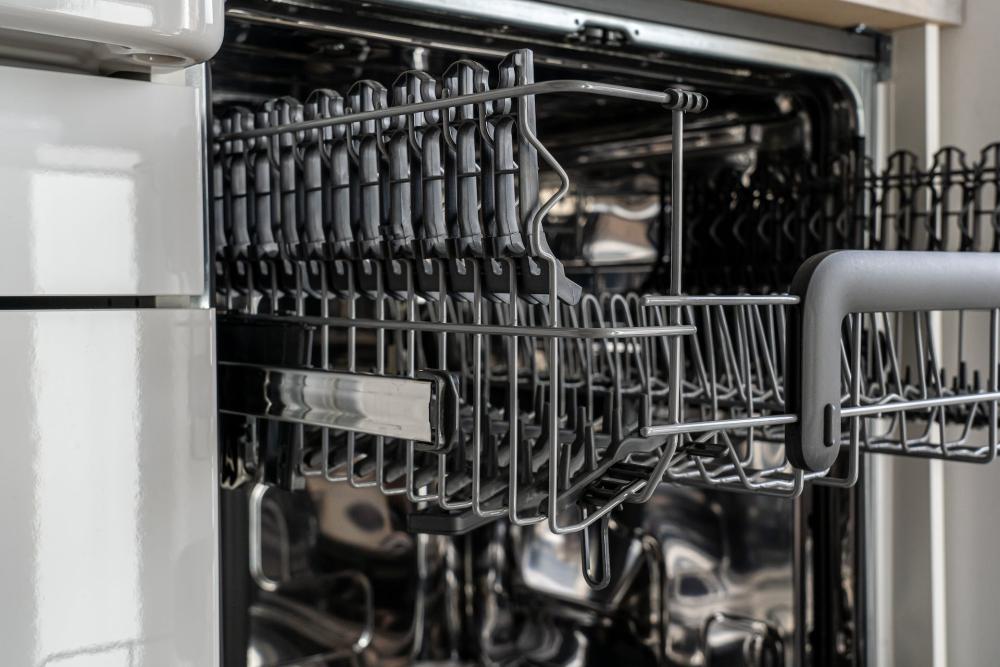 The Smart Kitchen: The Future of Appliances
The smart kitchen trend is here to stay. It seems that new smart appliances are hitting the market all the time. The boost of artificial intelligence will likely make smart appliances even smarter. If you're in the mood to up the convenience in your kitchen, designing a smart kitchen is the way to do it.
Not only are smart appliances more convenient, but they're more energy efficient. With so many options on the market, these appliances aren't a fad that will fade in a couple of years. Make the jump on smart kitchen trends with these great appliances and watch life get easier.

Sources
https://www.realhomes.com/advice/smart-ovens
https://www.livingetc.com/advice/15-smart-kitchen-ideas-that-use-tech-to-transform-the-way-you-cook-eat-and-live
https://www.albertlee.biz/blog/what-is-a-speed-oven
https://www.lifewire.com/smart-refrigerator-4158327
https://www.digitaltrends.com/home/what-is-a-smart-coffee-maker/
https://www.nytimes.com/wirecutter/blog/is-an-induction-stove-for-you/
https://www.lifewire.com/smart-oven-range-4159902
https://www.taste.com.au/taste-test-kitchen/articles/best-smart-air-fryers/lfxxgzix#
https://smartcookingtechnology.com/blog/smart-microwave-key-features/
https://www.thermomix.com/pages/tm6
https://history-computer.com/reasons-to-buy-a-smart-food-scale-today-and-which-are-best/