Undermount Sinks
Undermount SW - Rustic Copper Workstation Sink
Sustainable sourced from recycled copper
Undermount SW - Rustic Copper Workstation Sink
Sustainable sourced from recycled copper
CSQS-USW-33229-RUHAa
Undermount SW - Rustic Copper Workstation Sink
Going for a charming, antique look in your kitchen? The CopperSmith® workstation sink in rustic copper is just what you need. The unique dark copper has tints of red for a special look, and the 33" single bowl provides more than enough space for your everyday tasks. Made for undermount installation, this sink is sustainably sourced and thoughtfully handcrafted in North America. Our craftsmen pay special attention to detail, and carefully hand hammered this household essential with a 16 gauge heavy duty recycled copper. Comes with a living finish, a CopperSmith® limited lifetime warranty, and an optional cutting board and rinsing accessories. 
To really bring your kitchen vision to life, you'll have the option to select a matching faucet, disposal drain, or basket. As you're exploring our offerings, take a look at our reviews for testimonials and photos from previous clients. Our team is always available if you have questions!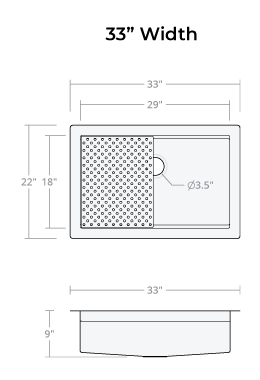 "The quality of their work is unsurpassed! Totally exceeded our expectations. Customer service was phenomenal! I would highly recommend to anyone and everyone!"
Julie
"Our experience was excellent. Communication was awesome from the company and the final product was GREAT quality and EXACTLY what we wanted."
Chad
"Absolutely beautiful product--everything I wanted and more!! The wooden crate it was packed in was just as nice! Highly recommend!"
Tracy
"Received excellent customer service, and great advice from the World Coppersmith experts. Loved the sink and hood I purchased … they're truly are pieces of art."
Barbie
Superior quality starts with design.
We tirelessly work to ensure every detail of your masterpiece is handcrafted to perfection. We work with heavy gauge metals not only for their durability, but cleaner and more refined finished look. Carefully selecting only premium accessories ensures your product not only looks fantastic - but functions flawlessly.

Made from natural materials, our products age beautifully and are a sustainable choice for the home.
Landfills are overflowing with products built from unsustainable materials. CopperSmith works extensively with recycled materials, and continually works to reduce the carbon footprint of it's operations.

We found other products you might like!
---