Undermount SW - Natural Copper Workstation Sink
Virgin Cold Rolled Copper
CSQS-USW-NCa
Undermount SW - Natural Copper Workstation Sink
Harnessing the beauty of natural copper, this CopperSmith® workstation sink is sure to light up any kitchen. Crafted using precision manufacturing with a handcrafted touch, it's heavy duty and constructed from a 16 gauge virgin cold rolled copper. Designed to be installed under your counter, this 33" single bowl features a smooth texture and a living finish that allows your sink to age elegantly over time. An optional cutting board and cleaning accessories make food prep and clean up simple as well.
Combine the option to add an identical faucet, disposal drain, or basket with a CopperSmith® limited lifetime warranty, and you have everything you need to complete your kitchen. Whatever your dreams are, our sales team loves to answer questions about each of our products. Send them a message or give them a call here. You can also scroll through hundreds of reviews from past customers in our picture review section.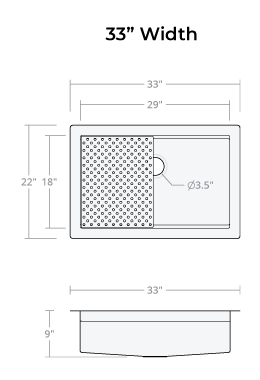 "The quality of their work is unsurpassed! Totally exceeded our expectations. Customer service was phenomenal! I would highly recommend to anyone and everyone!"
Julie
"Our experience was excellent. Communication was awesome from the company and the final product was GREAT quality and EXACTLY what we wanted."
Chad
"Absolutely beautiful product--everything I wanted and more!! The wooden crate it was packed in was just as nice! Highly recommend!"
Tracy
"Received excellent customer service, and great advice from the World Coppersmith experts. Loved the sink and hood I purchased … they're truly are pieces of art."
Barbie
Superior quality starts with design.
We tirelessly work to ensure every detail of your masterpiece is handcrafted to perfection. We work with heavy gauge metals not only for their durability, but cleaner and more refined finished look. Carefully selecting only premium accessories ensures your product not only looks fantastic - but functions flawlessly.

Made from natural materials, our products age beautifully and are a sustainable choice for the home.
Landfills are overflowing with products built from unsustainable materials. CopperSmith works extensively with recycled materials, and continually works to reduce the carbon footprint of it's operations.

We found other products you might like!
---