Sink Accessories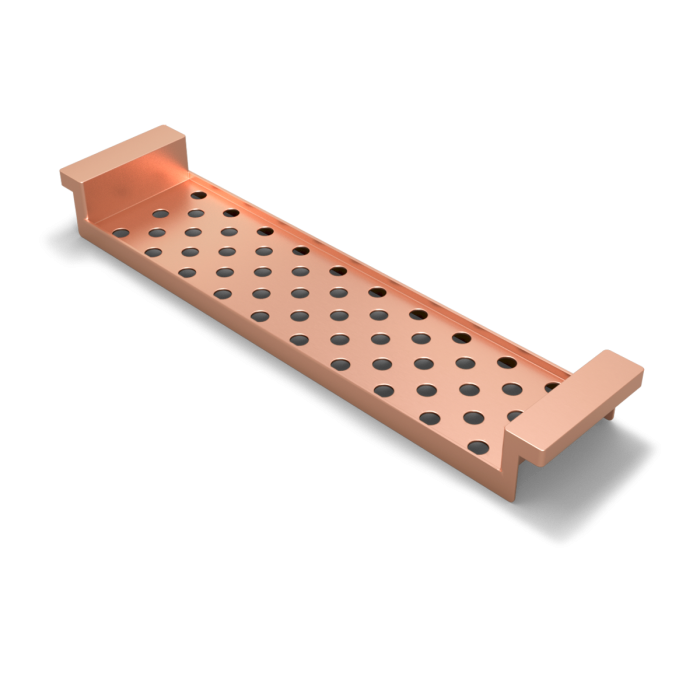 Sponge Rack
While dishwashers are found in the majority of homes and apartments these days, they're never a guarantee. Even those that do have dishwashers find themselves handwashing dishes from time to time. Especially pots and pans with caked-on food. No matter what your reason for handwashing, sponges are an undeniable necessity in any kitchen. However, a sad fact is that sponges can easily collect bacteria, mold, and even mildew if not stored properly. That's why it's important that you rinse sponges thoroughly, always allowing them to dry out completely after use. That's where a sponge rack comes in. Too many times sponges are left on the countertop or back in the sink, making a soapy, watery mess. When this occurs, sponges left in to sit without ventilation don't properly dry, leaving behind a bacteria breeding ground. Luckily, this virgin copper sponge rack promotes ventilation, eliminating instances of bacteria, mildew, and more, so you never have to worry about contamination.
Constructed from highly durable 16 gauge virgin copper, this handsome sponge rack is both long-lasting and visually appealing. It is designed to sit atop your sink with a slightly elevated, porous platform that promotes ventilation and keeps your countertops clean and dry. Featuring a vintage copper finish, this sponge rack doubles as a statement piece, delivering a pop of intelligent design and style to any kitchen. Whether you're a home cook or you work in a commercial kitchen, this luxurious rack for sponges is compact enough to save precious counter space but roomy enough to store multiple sponges with no overlay. You can even employ it to hold your dish soap! When it comes down to it, bacteria is no joke. With this sponge rack, you can feel confident that you and your loved ones are safe from illness while saving money by prolonging the lifespan of your sponges. For use with our copper workstation sinks. 
Constructed with highly durable 16 gauge virgin copper for long-lasting functionality and convenience

Complete with a lovely finish that adds character while actively resists corrosion, tarnishing, fading, and damage from sharp or heavy objects

Features several holes in a raised platform for airflow and ventilation

Designed to sit conveniently on the back of the sink, maximizing space in the kitchen

Reduces the risk of bacteria growth, mold, and mildew

Prolongs the lifespan of your sponge, saving you a few extra dollars 
Specifications
Downloads
No current downloads
"The quality of their work is unsurpassed! Totally exceeded our expectations. Customer service was phenomenal! I would highly recommend to anyone and everyone!"
Julie
"Our experience was excellent. Communication was awesome from the company and the final product was GREAT quality and EXACTLY what we wanted."
Chad
"Absolutely beautiful product--everything I wanted and more!! The wooden crate it was packed in was just as nice! Highly recommend!"
Tracy
"Received excellent customer service, and great advice from the World Coppersmith experts. Loved the sink and hood I purchased … they're truly are pieces of art."
Barbie
Superior quality starts with design.
We tirelessly work to ensure every detail of your masterpiece is handcrafted to perfection. We work with heavy gauge metals not only for their durability, but cleaner and more refined finished look. Carefully selecting only premium accessories ensures your product not only looks fantastic - but functions flawlessly.

Made from natural materials, our products age beautifully and are a sustainable choice for the home.
Landfills are overflowing with products built from unsustainable materials. CopperSmith works extensively with recycled materials, and continually works to reduce the carbon footprint of it's operations.