Sink Accessories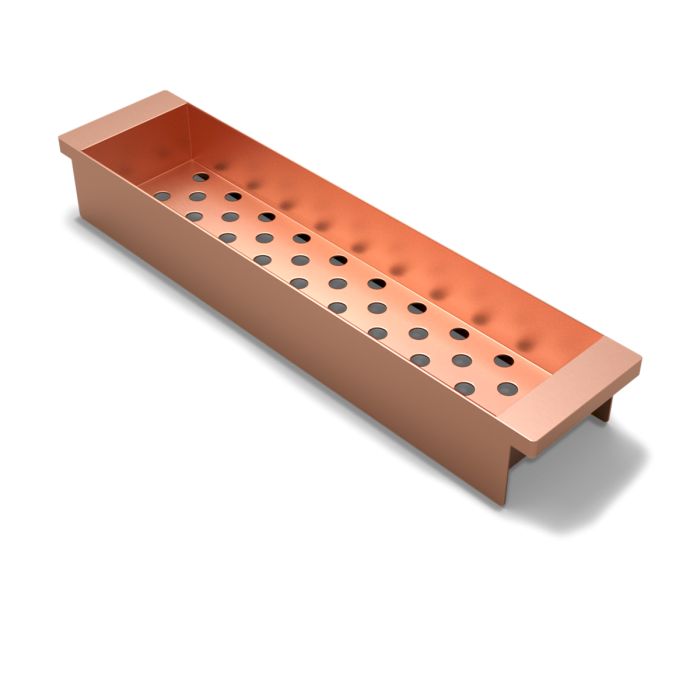 Silverware Tray
CSS-ACC-07
Silverware Tray
Are you looking for a way to streamline kitchen tasks either at home or in the workplace? If the answer is yes, look no further than this stylish copper silverware tray. Designed to allow silverware to dry right in the sink, it features numerous small holes in the bottom to promote proper drainage and fast, efficient drying. From forks and spoons to butter knives and cleavers, this copper silverware drying tray makes it easy to quickly get silverware of all kinds out of the way during busy times in the kitchen. Whether you're a sous chef at a popular restaurant or a passionate home cook, this is a highly useful tool that proves beneficial for cooks of all skill levels. Thanks to its size and depth, this silverware tray can hold many flatware and prep knives alike, so you don't have to worry about it overflowing–even in busy restaurant kitchens. 
Are you not looking for a drying solution? No problem. This silverware tray is equally useful for storage purposes. So, if you're looking for a way to streamline service in your kitchen, it's a great product because it allows you to grab frequently used utensils quickly, without having to waste time searching. Furthermore, it can be used to store other frequently used kitchen items, including herbs, fruits, and vegetables, allowing you to rinse them and easily transport the tray over to your cooking area. No matter what your preferred use, this handy kitchen accessory can make a major difference in your cooking routine. Thanks to its intelligent, compact design, this silverware tray is as easy to clean as it is to store. Either wash it in the sink with soap and hot water or toss it in the dishwasher as needed and it's good to go. Finally, with solid, 16 gauge virgin copper construction, you can depend on this tray to maintain its structure and appearance for years to come. For use with our workstation sinks. 
Designed to increase efficiency and promote cleanliness in the home and commercial kitchens alike

Crafted from 16 gauge virgin copper, guaranteed to resist rust, corrosion, tarnishing, fading, and damage from sharp objects

Features a vintage, copper finish that's perfect for classic and modern kitchens

Complete with an anti-slip design, protecting your sink from unwanted damage

Easy to clean and sanitize

Versatile for use with both food and silverware
Specifications
Downloads
No current downloads
"The quality of their work is unsurpassed! Totally exceeded our expectations. Customer service was phenomenal! I would highly recommend to anyone and everyone!"
Julie
"Our experience was excellent. Communication was awesome from the company and the final product was GREAT quality and EXACTLY what we wanted."
Chad
"Absolutely beautiful product--everything I wanted and more!! The wooden crate it was packed in was just as nice! Highly recommend!"
Tracy
"Received excellent customer service, and great advice from the World Coppersmith experts. Loved the sink and hood I purchased … they're truly are pieces of art."
Barbie
Superior quality starts with design.
We tirelessly work to ensure every detail of your masterpiece is handcrafted to perfection. We work with heavy gauge metals not only for their durability, but cleaner and more refined finished look. Carefully selecting only premium accessories ensures your product not only looks fantastic - but functions flawlessly.

Made from natural materials, our products age beautifully and are a sustainable choice for the home.
Landfills are overflowing with products built from unsustainable materials. CopperSmith works extensively with recycled materials, and continually works to reduce the carbon footprint of it's operations.